Air Fryer Twice Baked Potatoes
Air Fryer Twice Baked Potatoes - zweimal gebackene Kartoffeln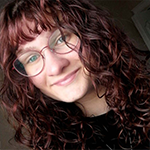 by: Lydia Fulson  /  Writer, Artist, Traveler, Granddaughter & Ever-Learning German Cook

This post may contain affiliate links, which means I'll receive a commission if you purchase through my links, at no extra cost to you. Please read full disclosure for more information.
Air fryer twice baked potatoes, Luftfritteuse zweimal gebackene Kartoffeln, are for those times you're looking for something extra special, something extra yummy, and yet, something quite easy! 
Crispy on the outside and creamy ooey-gooey goodness on the inside, these potatoes are irresistible.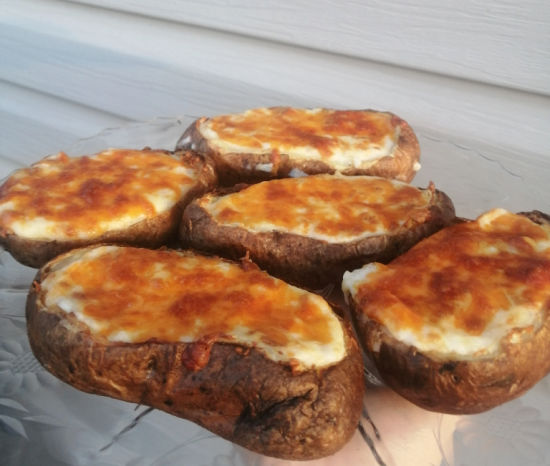 These potatoes done in the air fryer are the quick alternative to these twice-baked potatoes, made by Oma and me.
I made these twice-baked potatoes above in the Instant Vortex Plus Air Fryer Oven, a machine that I'm so happy to have learned how to use. It's amazing to think that such a simple, convenient oven that sits right on the countertop can make something SO lecker!

Why Use the Air Fryer for Twice Baked Potatoes ...
I grew up making these potatoes ALL the time in the kitchen with Oma, and little did I know I'd still be making them many years later. I remember it being a longer recipe to make, with the long baking time. We used to get all of our other dishes made while these were baking in the oven. But now, by making these potatoes in the air fryer, you cut your bake times almost completely in half! Talk about a time saver.
The potatoes fit perfectly on the trays of the fryer and get a nice evenly crisped skin. Thanks to the wunderbar Instant Vortex Plus Air Fryer, my family was able to enjoy a traditional German favorite quickly!
You can have these lecker potatoes on your plate in no time, and there are lots of snacking opportunities along the way. The filling is my favorite part. I love to sneak a couple of spoonfuls of this after I mix it up! That was the best part about cooking with Oma too, we both like to snack along the way. Of course, how are you going to know that it's good to go if you don't have a taste test!

Want to know which recipes are Oma's favorites? Grab your copy of her very favorite recipes in Favorite German Recipes eCookbook.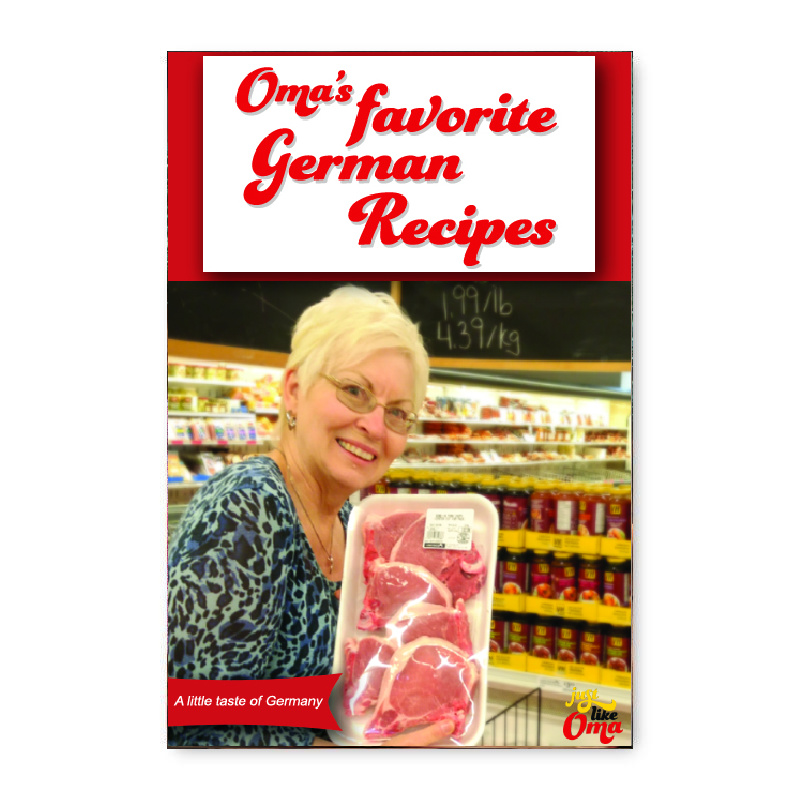 Take a peek at all Oma's eCookbooks. They make sharing your German heritage a delicious adventure!

Is it Safe/Healthy to Eat Potato Skins?
My Dad has asked this exact question at the dinner table so many times, wondering if it's okay to eat the skins of the twice-baked potatoes.
The answer is, of course! Potato skins are so very healthy for you and are safe to eat. Especially those of russet potatoes. Believe it or not, their skins are a part of many healthy diets because they are just that good for you. The skin is the healthiest part of the potato. It is always encouraged to be eaten just as much as the inside of the potato.
Potato skins are packed full of fiber and vitamins to boost your immune system. 
The same rules apply to sweet potatoes and other potatoes as well. But the best part is, these can be made in the air fryer too. Check out my recipe for sweet potatoes here!
Where Did Twice-Baked Potatoes Originate?
We've been enjoying and loving our baked and twice-baked potatoes for generations now. But where did they originate?
Here's some potato history for you! Baked potatoes first became known and loved among the Inca in Peru during 8,000–5,000 B.C. When the Spanish took over the lands of Peru, they discovered baked potatoes.
They thought the simplicity and convenience of the baked potato were brilliant and brought the idea of this recipe back to Europe. Its fame quickly spread through Europe and our lovely Germany. 
While baked potatoes still remained in popularity in Europe, people wanted to experiment and try adding a little this and that. The outcome? The delicious twice-baked potatoes that we know and love today.
But the best and my favorite part of this dish is that you really can just add a little this and that. Whichever cheese, spice, filling, it's up to you! That's why the concept of twice-baking became so popular. While it was still a simple, convenient thing to bake, they could be made fancy or casual for whichever occasion. 
My cheese of choice for the final touches is a classic old cheddar. Bubbling and lightly browned to perfection in the air fryer.
Ready to Make These Twice-Baked Potatoes?

Is the recipe below locked? Here's why.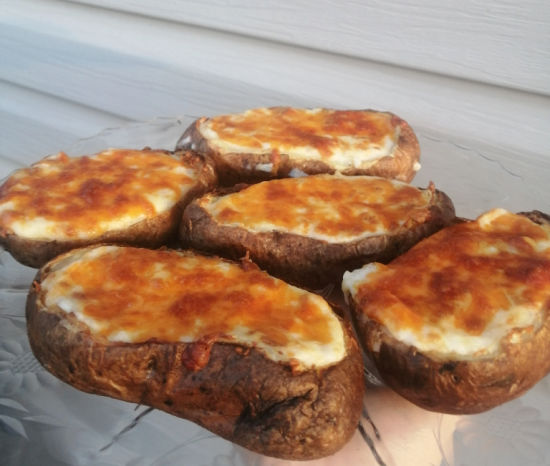 Air Fryer Twice Baked Potatoes - zweimal gebackene Kartoffeln

Air fryer twice baked potatoes, Luftfritteuse zweimal gebackene Kartoffeln, are for those times you're looking for something extra special, something extra yummy, and yet, something quite easy! 
I used the Instant Vortex Plus Air Fryer Oven to make these delicious potatoes. If you have something different, no problem. Simply adjust settings and cook time accordingly. 
Prep Time


30 minutes


Cook Time


43 minutes


Total Time

73 minutes

Servings:

Makes 5 servings
Ingredients:
Instructions:
Preheat air fryer oven to 400°F on bake.
Scrub potatoes and brush with olive oil if crispy skin is desired.
Bake on middle rack for 35 minutes or until potatoes are tender when pierced with a knife.
Remove potatoes from air fryer and let them cool for about 15 minutes.
Lower temperature to 350°F.
Cut potatoes in half lengthwise. Scoop out the flesh into a large bowl, being careful not to break the skins (potato shells).
Into bowl with the potato flesh add sour cream, butter, salt, pepper and 

½

 cup cheese. Mix with hand mixer, slowly adding just enough milk to make the mixture creamy. 
Spoon mixture back into the potato skins. Sprinkle remaining cheese on top.
Bake for a further 8 minutes or until cheese is bubbly.
Notes/Hints:

I used smaller baking potatoes so I could fit them all on one tray. I was only cooking for three people as well. If you're cooking for more people, you can use bigger potatoes on two trays.

 If you have leftover filling, no worries! It makes a great side dish by itself. Simply cover it and serve the next day with dinner, or serve it with your potatoes if you'd like. It's yummy when cold or hot.
*  *  *  *  *

Unless otherwise noted recipe, images and content © Just like Oma | www.quick-german-recipes.com

Leave a comment about this recipe or ask a question?

Pop right over to my private Facebook group, the Kaffeeklatschers. You'll find thousands of German foodies, all eager to help and to talk about all things German, especially these yummy foods. 
Meet with us around Oma's table, pull up a chair, grab a coffee and a piece of Apfelstrudel, and enjoy the visit.

Cooking just like Oma, making those German meals, is actually quite easy. Let me, Oma Gerhild, help you with my step-by-step methods to re-create those yummy meals you remember from your Oma.

If you're looking for tasty, traditional, and easy German cake recipes (in English) to try, then you've come to the right place! Check out these lecker treats!

Discover the ultimate German schnitzel recipe with Oma's quick and easy method - perfect for any occasion! Taste the authentic flavors of Germany today.
*  *  *  *  *
PIN to SAVE this recipe to your Pinterest board!
And let's be friends on Pinterest!
---
Air Fryer Twice Baked Potatoes ~ Zweimal gebackene Kartoffeln
By
Lydia Fulson
Air fryer twice baked potatoes are for those times you're looking for something extra special, something extra yummy, and yet, something quite easy!
Ingredients:
potatoes,
sour cream,
milk,
cheese,
olive oil,
butter,
seasonings,
For the full recipe, scroll up ...
Words to the Wise
"The generous will prosper; those who refresh others will themselves be refreshed."
Proverbs 11:25 (NLT)