Lydia's Twice Baked Potato Recipe
FTC Disclosure: Making a purchase via a link on the page? I may earn a small commission on the transaction - at no added cost to you. Thanks!
Yum
This twice-baked potato recipe is one I created together with my granddaughter, Lydia. She loves mashed potatoes. She loves cheese. So, together we mixed several recipes and came up with her own version. Below, she shows off her creation. So very delicious! She served them for her own birthday dinner party, something we love to do together. 
This is definitely not a traditional German recipe, but it made our "German taste buds" sit up and take notice!

Lydia's Twice Baked Potato Recipe
Ingredients:
6 large potatoes (baking variety if possible)
olive oil (optional)
1½  cups sour cream
about ¾ cup milk
6 Tbsp butter
½ tsp salt
freshly ground pepper (about ½ tsp)
1½ cups shredded Cheddar cheese
Instructions:
Preheat oven to 400° F.
Scrub potatoes and brush with olive oil if crispy skin is desired.
Bake for about 1 hour or until potatoes are tender when pierced with a knife.
Lower oven temperature to 350° F.
Remove potatoes from oven and let them cool for about 10 - 20 minutes.
Cut potatoes in half lengthwise. Scoop out the flesh into a large bowl, being careful not to break the skins (potato shells).
Into bowl with the potato flesh add sour cream, butter, salt, pepper and 1 cup cheese. Mix with hand mixer, slowly adding just enough milk to make the mixture creamy. 
Spoon mixture back into the potato skins. Sprinkle remaining ½ cup of cheese on top.
Bake for a further 15 minutes or until cheese is bubbly.
Serves 6.
Hints:
Use low-fat or no-fat sour cream if desired.
Make them ahead early in the day. After sprinkling withe the ½ cup of cheese, cover loosely with plastic wrap and put in fridge. Then, about ½ hour before serving time, place in a preheated 350° F. oven and bake until cheese is bubbly.

These are absolutely delicious served with almost any meal. In fact, they'd make a nice lunch with a salad on the side. 
They are best served right from the oven. 
We made enough for our party of six, but you can adjust the recipe accordingly.
---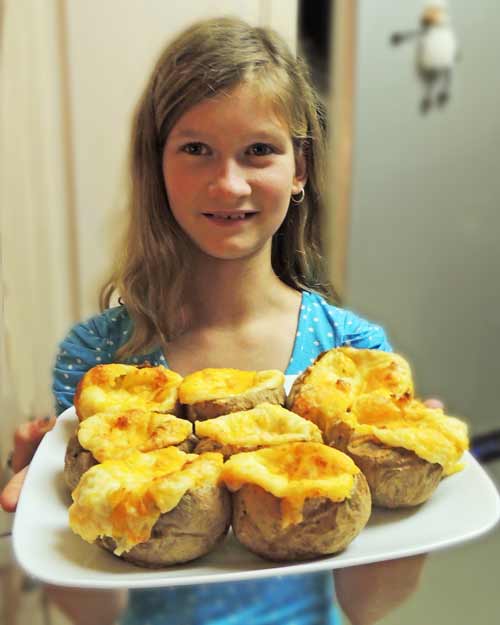 Here's the first time Lydia made these. This photo was taken several minutes after they came out of the oven. Even though they collapsed, they tasted great!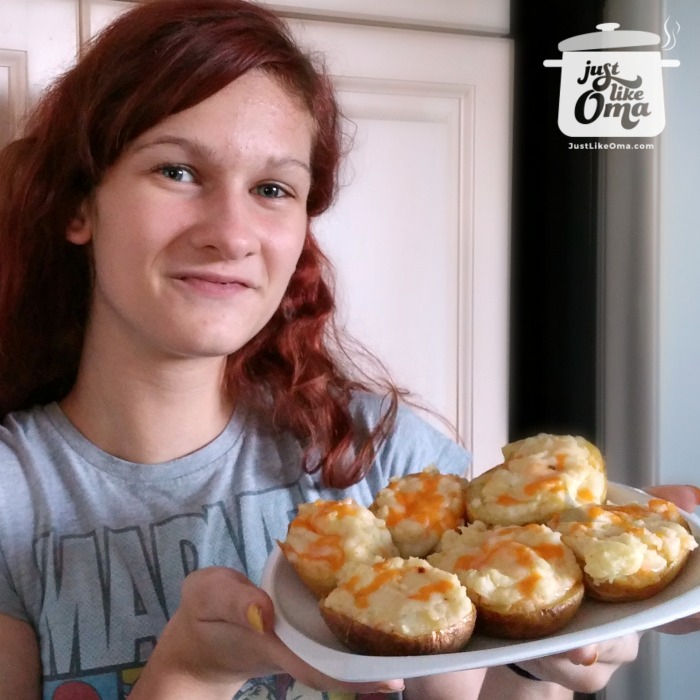 Here's Lydia, a few years older, making and serving her cheesy stuffed baked potatoes. Again, sooo sooo gooood!
---
Some more Potato Recipes
*  *  *  *  *
Want nutritional information for a recipe?
Copy and paste the ingredient list and the number of servings into Calorie Count. 
It will give you an approximate calculation.

*  *  *  *  *
Need help doing conversions between cups and grams or any such thing?
Use this site to give you all the different conversions for the different types of ingredients. 
*  *  *  *  *
---
PIN this ...
---
Make every day a BLESSED day!
"God blesses those who work for peace, for they will be called the children of God."
Matthew 5:9 (NLT)