My Best Scalloped Potatoes ❤️
➤ by Oma Gerhild Fulson
FTC Disclosure: As an Amazon Associate, I earn from qualifying purchases.
These are the BEST scalloped potatoes you can make. Why? Because this is such an easy and fool-proof way to make them. In German this is called "Kartoffelgratin" and is so German - it uses whipping cream, of course! And, that makes it gluten-free! No, this isn't the low-fat way to eat potatoes, but my recipe for scalloped potatoes is among the most delicious.
My method works all the time. It's great for first-time chefs because it's so delicious AND easy! What a great way to eat German potatoes, German-style! 

---
And, to do all the cutting, I use my adjustable mandoline slicer.
It provides a quick, easy, AND safe way to cut everything, just the way I need it.
I always use the guard, so I don't need to be concerned about adding any fingers to the dish
This one comes with  5 ultra-sharp surgical stainless steel blades that are German-engineered, of course!
The best part, other than it's easy to use, is that it's dishwasher safe. YAY!
---
Why my dish is so easy ...
If you've made scalloped potatoes before, you know the mess 'the flour and milk method' makes - when it boils out of the baking dish all over the oven or is still watery when you serve (or worse, yet, lumpy!). That doesn't happen with this method!
The best part of this dish? Why, it's the top crust, of course. That's why I always use a fairly large dish, so the potato layer is not too thick and there's a large top surface. Make sure you grease the dish well. 
If you have really new potatoes, you can always leave the skin on. That does make it healthier. Just wash the potatoes really well!
1.  Best Scalloped Potatoes Recipe ❤️

Ingredients:
5 - 6 lbs potatoes, peeled and thinly sliced
salt and pepper
2 - 2½ cups whipping cream
1 - 2 cups grated cheese, preferably Emmentaler (optional)
Instructions:
Preheat oven to 400°F.
Grease casserole dish (a larger shallow dish is better than a deep one - there's more crust to enjoy!)
Place separated potato slices in the dish in rows, as if you were shingling a roof, by overlapping rows. Once your dish is almost full, push the rows back so that they are almost vertical against the back of the dish. Now keep adding rows of potato slices, pushing back as the dish is filling. (Your rows will almost be vertical in the end.)
Sprinkle with salt and freshly ground pepper.
Pour whipping cream over the potatoes.
Bake, uncovered, for about 60 minutes. Sprinkle with cheese, if using, and continue baking for about another 30 minutes or until potatoes are tender and top is nicely browned.
Serves 6 - 8
Hints:
Sprinkle 1 tbsp chopped fresh thyme or marjoram.
You can add 1 sliced red onion to the potatoes if you wish.
2.  Helen's Easy Scalloped Potatoes❤️
Here's my sister's way of making scalloped potatoes. Tastes creamy without using cream!
Layer pan with sliced, partly boiled potatoes.
Spread grated onion and green pepper on potatoes.
Add ½ can of undiluted mushroom soup.
Add more sliced potatoes over top.
Cover with more grated onions and green pepper.
Add the rest of undiluted mushroom soup.
Mix another can of mushroom soup with equal amount of milk.
Pour over top and bake at 350° F. till done. 

---
Leave a comment about this recipe or ask a question?
Pop right over to my private Facebook group, the Kaffeeklatschers. You'll find thousands of German foodies, all eager to help and to talk about all things German, especially these yummy foods. 
I pop in all the time as well, to chat and to answer questions. 
Meet with us around Oma's table, pull up a chair, grab a coffee and a piece of Apfelstrudel, and enjoy the visit.
*  *  *  *  *
Want nutritional information for a recipe?
Copy and paste the ingredient list and the number of servings into Calorie Count. 
It will give you an approximate calculation.

Need help doing conversions
between cups and grams or any such thing?
Use this site to give you all the different conversions for the different types of ingredients. 
---
PIN this ...

---
Jagerschnitzel: Rich creamy bacon & mushroom gravy over crispy breaded pork schnitzel (cutlets). HEAVENLY! A traditional German meal that's PERFECT anytime.

My Bienenstich recipe is a quick version of the traditional "German Bee Sting Cake". Sweet, chewy, nutty top with a creamy filling. Yummy!
---
Words to the Wise
"If you ignore criticism, you will end in poverty and disgrace; if you accept correction, you will be honored."
Proverbs 13:18 (NLT)
---
Best Scalloped Potatoes Recipe ❤️


By
Oma Gerhild Fulson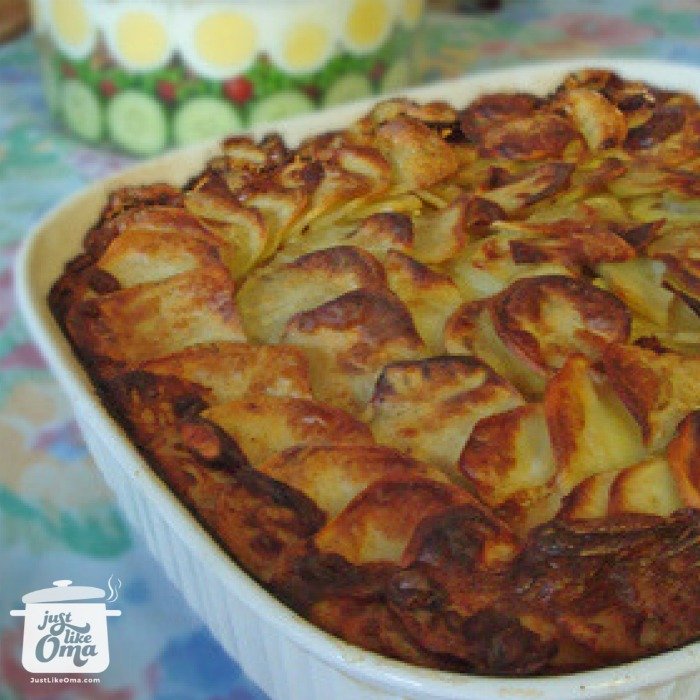 These are the BEST scalloped potatoes you can make because this is such an easy and foolproof way to make them. Not only that, but they are Gluten Free, using whipping cream to thicken!

Cook time: 2 hours total time

Yield:
6 - 8 servings

Ingredients:
6 lb potatoes,
2.5 cups whipping cream,
2 cups cheese,
For the full recipe, scroll up ...