Oma's German Fried Potatoes Dinner

➤ by Oma Gerhild Fulson
FTC Disclosure: Making a purchase via a link on the page? I may earn a small commission on the transaction - at no added cost to you. Thanks!
Use this fried potatoes dinner, aka Bratkartoffel-Mittagessen,  as an idea to use up leftovers. However, this is so good, you may just want make it from scratch - still only takes less than 30 minutes.

Bratkartoffeln (fried potatoes) are best made from potatoes you cook the day before. That makes it a quick meal the next day within 30 minutes. Perfect with leftover meat, or you can use some sliced ham, cook some sausage, or BBQ some hamburgers. Still done within 30 minutes.
Method:

Prepare the meat while the potatoes are cooking. Either use leftover smoked pork loin or some other cooked leftover meat. Serve it cold or heat it in the microwave. Even frying up some sausage to go along with the potatoes is a quick alternative to using cooked meat. If the sausage is a cooked type, then it really only needs to be warmed through thoroughly.

Prepare the vegetables. If using frozen veggies, cook according to the package instructions. If you have some leftover veggies, just reheat them in the microwave. Using canned vegetables is also a great alternative. This just needs to be warmed up, either in the microwave or on the stove.

Sprinkle with freshly chopped parsley or dill to garnish.
Serve

---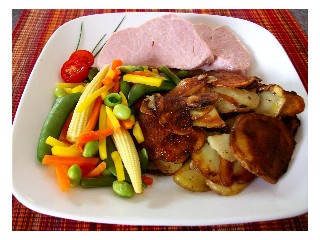 So, if you need some leftover recipes or easy dinner ideas, give this meal a try.
You'll soon be making alterations to it, it create your very own quick and easy dinner recipes file.
Here I've fried up left-over potato slices, cooked some frozen veggies, and served with some leftover peameal bacon.
Such a quick meal to put together. And, so wunderbar!
---
30 Minute Meal Recipes made Just like Oma

Leave a comment about this recipe or ask a question?
Pop right over to my private Facebook group, the Kaffeeklatschers. You'll find thousands of German foodies, all eager to help and to talk about all things German, especially these yummy foods. 
I pop in all the time as well, to chat and to answer questions. 
Meet with us around Oma's table, pull up a chair, grab a coffee and a piece of Apfelstrudel, and enjoy the visit.
*  *  *  *  *
Thinking of starting your own Handmade Business?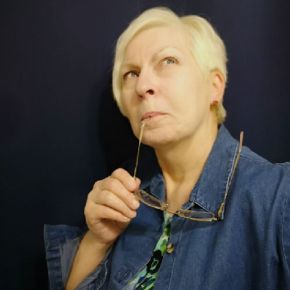 This Oma KNOWS you CAN do it.
How do I know?
Well, if I can do it, anyone can.
I've even figured out how I can help you.
I've teamed up with my own business coach, Renae Christine (yes, do google her!), to bring you this free masterclass. After you watch it, ask me any questions and I'll gladly answer them.
Don't hesitate. I'm not sure how long Renae will keep this free masterclass available.
PS:  Yes, Renae really is as amazing as all the reviews say.
PPS: Yes, the course is for handmade items, but I've used it successfully for my cookbooks. I know others are using her methods for services, direct sales, and even a local ice cream bar & grill that's constantly selling out. You've nothing to lose by taking a look ... and a whole bunch to gain.
*  *  *  *  *
Oma's Cookbooks (downloadable & print)
*  *  *  *  *
Want nutritional information for a recipe?
Copy and paste the ingredient list and the number of servings into Calorie Count. 
It will give you an approximate calculation.

Need help doing conversions
between cups and grams or any such thing?
Use this site to give you all the different conversions for the different types of ingredients. 
---
---
Try this slow cooker roast beef and you'll be amazed at how much this tastes like rouladen WITHOUT the work.

Learn how to cook pork hocks, anytime you want something traditionally German and wonderfully delicious! A hearty meal for any time of the year!
---
Words to the Wise
"I walked by the field of a lazy person, the vineyard of one with no common sense. I saw that it was overgrown with nettles. It was covered with weeds, and its walls were broken down.  Then, as I looked and thought about it, I learned this lesson:  A little extra sleep, a little more slumber, a little folding of the hands to rest— then poverty will pounce on you like a bandit; scarcity will attack you like an armed robber."
Proverbs 24:30-34 (NLT)