Lydia's Air Fryer Crescent Rolls Recipe ~ Luftfritteuse Hörnchen
➤ by Lydia Fulson
These delicious crescent rolls, Luftfritteuse Hörnchen, made just like Lydia in the air fryer are stuffed, rolled, and baked to perfection! These sweet treats are perfect for company or your 3 o'clock coffee break. These are so quick and ever so simple to make, exactly how we like it!
It can be tricky to find a simple snack for one person. Everything comes in bulk or makes way too big of servings nowadays. These rolls are the perfect snack to make if you're craving something sweet and flavorful. It's great for two people, or one! 
Down below, you can see how Oma and I have made them, some filled with poppy seed and some with lovely blueberry pie filling. You can see the yummy blueberry goodness oozing out the sides of this one, and boy, was it packed with Wunderbar flavor.

This was my first recipe done in the Instant Vortex Plus Air Fryer Oven, and judging by the taste and all the smiling thumbs-ups I received during coffee time, I'd say I did alright! Of course, I couldn't do it without Oma's guidance and beautiful picture-taking.
There are so many ways to make this recipe, whether you want them plain to dip into a warm homemade bowl of soup or stuffed with your choice of filling as a sweet dessert ... 

It really is an easy one, and there is no right or wrong way to roll and stuff the crescents. Just keep on scrolling, and you'll see our methods and our tips we have for you along the way. So, let's get baking!

Lecker Filling Tips & Ideas!
There are so many options when filling your crescents, and for us, we used our favorites! The classic poppy seed filling is Oma's absolute favorite. The rest we made blueberry, which, you guessed it, is mine. I love any recipe that allows me to be creative, especially with fruity flavors, and that's why this Crescent Rolls recipe is so fantastic!
When choosing your filling, keep in mind that the more liquid-based ones will run out the sides just like my blueberry filling. Simply drain the liquid before filling your crescents, and you shouldn't have too big of a mess.
As I mentioned earlier, how you fill your rolls is completely up to you and your preference. If you're a fruity person like I am, perhaps ...
Peaches

Jams

Drained pie fillings, such as cherry, apple, blueberry, etc.
If you're looking to keep it more traditionally German, poppy seed is the way to go! 
Another great filling you can use that is SOOO German would be good ol' fashioned Nutella! Doesn't that sound delicious? Yummy chocolate hazelnut filling accompanied by the sweet crescent dough. Can you smell it already? Now, that sounds lecker!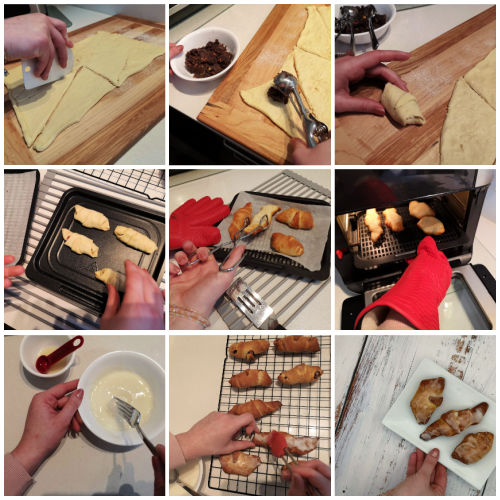 Oma says,
As you can see above, Lydia did four on a parchment paper-lined tray and four on the baking tray (bottom drip tray). She baked one tray at a time on the middle shelf. The ones on the baking tray didn't need to be turned over halfway through the baking time.
Since you need to leave space between them, you can only do four at a time. If you decide to do them all on the baking tray, you'll need to have the remaining four ready to be placed quickly on the hot tray once the first batch is ready.
---
What's so great about the Air Fryer Oven?
The air fryer is such a handy machine to add to your kitchen collection. If you're looking for convenience, quality, and speed, this is the handy-dandy tool for you!
What makes it so great, you ask??
Its small size makes storing so easy, and it's such a time saver!
Say it's a hot summer day, you have your windows open, you're listening to the birds sing, you're dreading turning on the big oven and heating the house even more ... then hubby walks in, asking when you'll be starting the chicken for dinner. Have no fear! Just turn on your trusty little air fryer! I've never had such quick, delicious, crispy skin on a chicken before than the one that Oma and I made in the air fryer, and crispy skin is my favorite!
Is it safe??
If there's one thing I noticed about using the air fryer, it's that it doesn't produce a whole lot of heat. There is some heat coming out of the back of the oven, but not a concerning amount at all. But remember, it's always a good idea to pull your air fryer oven away from the wall, just so your heat does have somewhere to go.
You can make almost anything in this oven, and you'll be amazed by how simple it is to use and how much time you'll save with it as well. So ...
Is it worth it??
YES!
---
Ready to bake?
Lydia's Air Fryer Crescent Rolls Recipe ~ Luftfritteuse Hörnchen

These delicious crescent rolls made just like Oma in the air fryer are stuffed, rolled, and baked to perfection! These sweet treats are perfect for company or your 3 o'clock coffee break. These are so quick and ever so simple to make, exactly how we like it! Best of all, it's a great recipe for two people, or one! 
Prep Time


10 minutes


Cook Time


9 minutes


Total Time

19 minutes

Servings:

Makes 8 rolls
Ingredients:
1 tube Pillsbury crescent rolls
8 tbsp fillings (see Hints below)
¼ cup powdered sugar
approx 3 tsp lemon juice
Instructions:
Preheat air fryer to 350°F on bake.
Prepare 2 air fryer trays by lining with parchment paper. 

Open tube of Pillsbury crescent rolls, unroll and lay dough flat on flour-dusted cutting board. 
Use plastic bench scraper or knife to cut into 8 separate triangles.
Scoop about 1 tablespoon of your filling with a cookie scoop onto the large end of your triangle.
Tuck corners in overtop of filling and roll until you have desired crescent shape.
Lay four crescents on each tray, leaving space between them.

Bake for 5 minutes on the middle shelf, flip rolls, remove parchment paper, and bake for 4 minutes or until nicely browned. Repeat with remaining tray.
Place on cooling rack.
Mix powdered sugar and just enough lemon juice in a small bowl to make icing.
Brush icing over crescent rolls.
Plate and serve! 
Notes/Hints:

Flipping halfway through baking time allows even browning to each side of your rolls. If you use the baking tray instead (the bottom tray), you don't need to flip them over.
Don't over fill your rolls! If you pack too much filling into one roll, it will spill out the edges.
Use prepared fillings, such as canned poppy seed filling, pie fillings, jam, Nutella, etc.
I used 4 tbsp poppy seed filling and 4 tbsp blueberry pie filling for the ones pictured above.
Dust the tops of your crescent rolls with powdered sugar for a tasty and quick topping.
*  *  *  *  *

Unless otherwise noted recipe, images and content © Just like Oma | www.quick-german-recipes.com

Want Nutritional Information?

Copy and paste the above ingredient list and the number of servings into Calorie Count for an approximate calculation.
Need Help Doing Conversions?

Make it easier to convert between cups and grams, etc. Use this site to give you all the different conversions for the different types of ingredients. 
05.10.2021 revision update
Leave a comment about this recipe or ask a question?

Pop right over to my private Facebook group, the Kaffeeklatschers. You'll find thousands of German foodies, all eager to help and to talk about all things German, especially these yummy foods. 
I pop in all the time as well, to chat and to answer questions. 
Meet with us around Oma's table, pull up a chair, grab a coffee and a piece of Apfelstrudel, and enjoy the visit.
Oma's German asparagus salad recipe is one of those great spring asparagus recipes. It makes a such a great luncheon meal that's light and tasty. Hurry up, Spring! I WANT asparagus!

This Flädlesuppe, German pancake soup recipe, is a comfort food that many Germans recall from their childhood. A hearty broth poured over rolled crepe-like pancakes. Heavenly!

This fruit flan recipe (Obsttorte) is so quick and easy, takes just one hour from the start to the table. So versatile, so pretty ... and so good! Use fresh or canned fruit, pudding, etc.!
*  *  *  *  *
---
Lydia's Air Fryer Crescent Rolls Recipe ~ Luftfritteuse Hörnchen


By
Lydia Fulson
Enjoy these delicious crescent rolls made just like Lydia in the Vortex Oven air fryer! Stuffed, rolled, and baked to perfection, these sweet treats are perfect for company or for your 3 o'clock coffee break!

Ingredients:
Pillsbury crescent rolls,
filling,
lemon juice,
powdered sugar,
For the full recipe, scroll up ...
Words to the Wise
"Watch your tongue and keep  your mouth shut, and you will stay out of trouble."
Proverbs 21:23 (NLT)