Air Fryer Cream Puffs – Luftfritteuse Windbeutel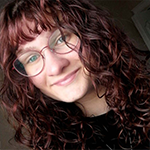 by: Lydia Fulson  /  Writer, Artist, Traveler, Granddaughter & Ever-Learning German Cook
As an Amazon Associate, I earn from qualifying purchases.
Making air fryer cream puffs, luftfritteuse Windbeutel, is a delightfully easy endeavor. This easy cream puff recipe will become your go-to company dessert! 
No air fryer? No problem. Use this recipe and make them in your oven instead.
This is such a refreshing treat alongside a hot cup of tea. I made these in my air fryer for my parents and myself, and we only had three left the next day! ... It's hard to have leftovers with something this yummy!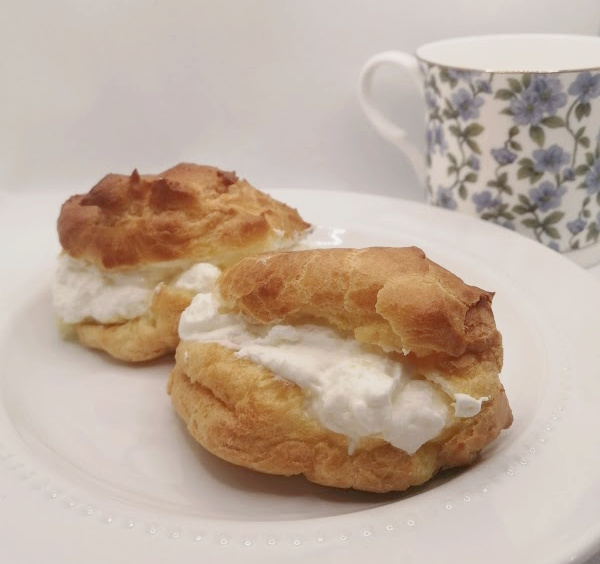 I absolutely love cream puffs and have many memories of making them with Oma for birthdays, summer parties, etc. So, to make these for my family at home brought back some old kitchen nostalgia!
I had only made these cream puffs in the oven, and making them in my Instant Pot Vortex Plus Air Fryer Oven was so much fun. I was skeptical at how well it would work and if they would turn out as good as they did when I made them with Oma.
Speaking of ... do check out the recipe for our fancy Cream Puff Swans! 
This recipe for cream puffs in the air fryer is very similar, just a bit quicker, and different due to having to switch trays halfway through bake time. I know it seems that there are lots of steps, but this is a very simple recipe!
It's as simple as that!
What Else Can I Make With The Dough?
There are so many things to make with the dough used to make these cream puffs. 
Using a piping bag, you can make longer cylinder shapes to make eclair-style donuts. These are one of my favorite desserts, but I can't always find them in stores. So, why not make them myself in my handy fryer.
You could always make smaller puffs and use the leftover dough to make eclairs. Then you have a mix of different, fun, and yummy pastries. 
Grab your copy of Oma's favorites in her Special Occasion German Cakes & Tortes e-Cookbook.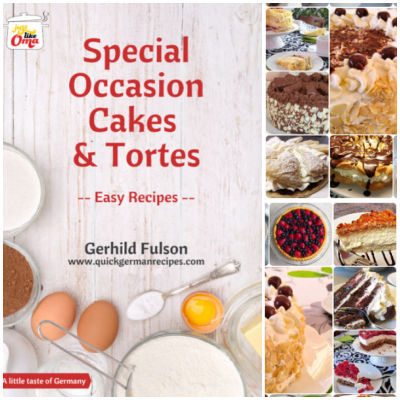 Take a peek at all Oma's eCookbooks. They make sharing your German heritage a delicious adventure!
You could also make the cream puff swans as mentioned above, they're perfect for parties and add a funky flair to your dessert. Also, on the swan puff page, you can see a cream puff cake made by my sister, Alana, and my Oma. This is an amazing way to get that cream puff flavor but in a larger, more classy way!
Don't forget to drizzle your pastry choice with chocolate sauce! Whichever design you choose, chocolate sauce is a beautiful and delicious topper!
Can't find Dr. Oetker Whip It?
Whip It can sometimes be a tricky ingredient to find. If you live in the country or a small town like I do, then it may be hard to find at your local grocery store. However, sometimes I'm just not looking hard enough! It does come in such a small package, and they always tend to hide it in between big things in the baking section. 
If you still can't find it at your local grocery store and just so happen to be in a bigger city or stores with more variety, then that will most likely be your best bet. Places such as Walmart and Fortinos often are where I can find mine. If you have these in your area, be sure to check their baking aisle or international aisle.
But if you still can't seem to find it in any of your stores, no worries! There are substitutes for sure. I can personally relate to needing to do this as well.
The best substitute that I've used is one that Oma taught me. Use 1 tbsp instant vanilla pudding powder for every 1 package of Whip It. Or, perhaps you're more of a chocolate person. In that case, use chocolate instant pudding powder instead of vanilla. Don't be afraid to switch it up to your liking!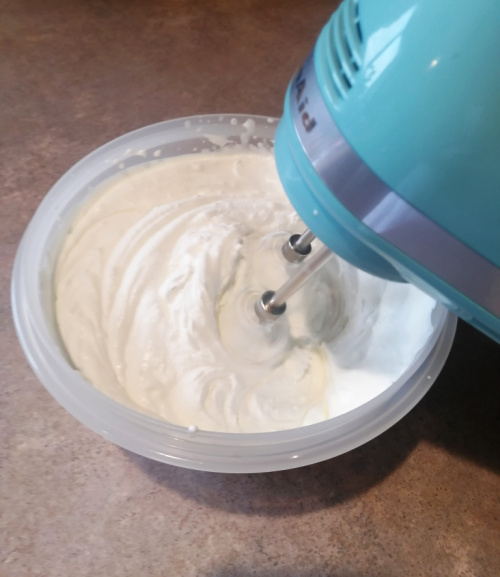 Remember not to overwhip while making your whipping cream. If you over-mix it, you can end up making butter! This has happened to me before ... and I won't make that mistake again!
When mixing, keep an eye on the texture. If you see stiff peaks forming, that's exactly what you want. You'll notice pretty quickly if you start making butter. You'll notice that it becomes a lot harder to mix, seeing as you're starting to create something more substantial than whipped cream. If you see chunks are starting to form, that's also a sign that you're over mixing. 
But if it isn't too far gone just yet, you can add a little more cream to your mixture and mix on a low setting.
Once you get the right consistency, it's so simple to scoop into your cream puffs!
Ready to air fry cream puffs?

Is the recipe below locked? Here's why. 
As an Amazon Associate, I earn from qualifying purchases.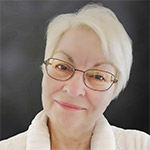 For more German-inspired items that make life easier and yummier, especially in the kitchen and for entertaining, follow my Amazon Storefront.
➙ For groceries,
Try Amazon Fresh
.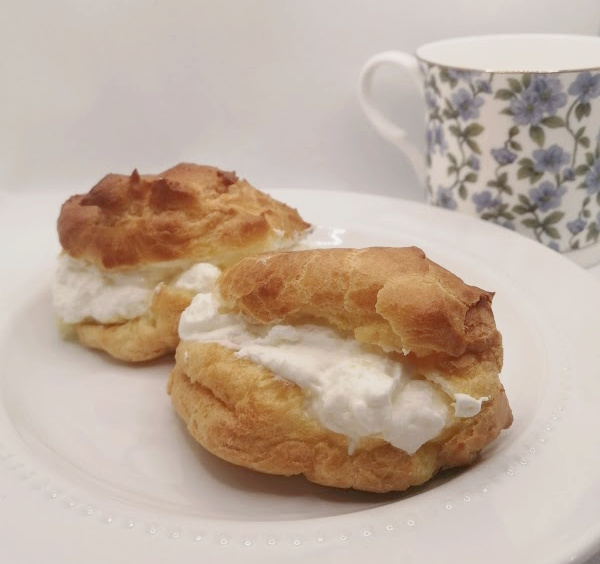 Air Fryer Cream Puffs - Luftfritteuse Windbeutel

Making air fryer cream puffs, luftfritteuse Windbeutel, is a delightfully easy endeavor in the Instant Pot Vortex Plus Air Fryer Oven. This easy cream puff recipe will become your go-to company dessert! 

Prep Time


25 minutes


Cook Time


20 minutes


Total Time

45 minutes

Servings:

Makes 18 - 20 
Ingredients:
1 cup water
½ cup butter
pinch salt
1 cup all-purpose flour
4 large eggs
2 teaspoons vanilla extract
2 cups heavy (whipping) cream
2 packages Dr. Oetker Whip It or 2 tablespoon instant vanilla pudding powder to stabilize whipped cream
Instructions:
Preheat Instant Pot Vortex Plus Air Fryer Oven to 400°F on air fryer mode. 

Prepare two air fryer trays by lining each with parchment paper and set aside.

In a medium-sized pot, bring water, butter, and salt to boil until butter is melted.

Remove from heat and add flour, stirring until smooth and mixture comes away from the sides of the pan. Reduce heat and cook for 1 minute, stirring constantly.

Remove from heat and transfer to a mixing bowl to let it cool slightly, (just a few minutes). Using either a wooden spoon or a mixer, beat in eggs one at a time, mixing well after each one. 

Drop by tablespoons onto parchment-lined baking trays, leaving about 1-inch space between puffs. 

Slide one tray on the bottom rack and one tray on the middle rack of the fryer.

Bake for 10 minutes, then switch trays, alternating the bottom rack to the middle and the middle to the bottom. Bake 10 more minutes. 

Immediately upon removing from oven, cut a small slit in side of puff to release steam.

Prepare the filling by whipping the cream together with Whip It and vanilla until thick.

Once cooled, split puffs in half with a sharp knife and remove any 'doughy' parts from inside the puff.

Using a small spoon, scoop your whipped cream filling inside the puffs. Add your top half back on and enjoy!
Notes/Hints:

Do NOT open oven door during first half of baking or puffs will collapse.
Eating the doughy parts from the insides of the puffs is my favorite part. I find it tastes just like Oma's German apple pancake.

By alternating the trays halfway through bake time, the puffs will all evenly bake. The air fryer's main heat source is at the top of the fryer. Therefore the tray closest to the top (the middle tray) will bake more quickly than the bottom. 

After adding the eggs to your flour mixture, you'll notice that it has a sticky texture when you try to scoop it. That's normal! It may be tricky to get the sticky dough off the spoon to drop onto trays. Try rubbing your hands with flour first, then using your hands to help it off the spoon. Or you can use your hands instead.

Instead of using Dr. Oetker's Whip It, you can use 2 tablespoons instant vanilla pudding powder.
*  *  *  *  *

Unless otherwise noted recipe, images and content © Just like Oma | www.quick-german-recipes.com

11.07.2021 revision update
Leave a comment about this recipe or ask a question?

Pop right over to my private Facebook group, the Kaffeeklatschers. You'll find thousands of German foodies, all eager to help and to talk about all things German, especially these yummy foods. 
Meet with us around Oma's table, pull up a chair, grab a coffee and a piece of Apfelstrudel, and enjoy the visit.

This easy German Apple Strudel recipe is one of those German desserts that brings the traditional strudel taste to your table without all the work. Wunderbar!!

Make the perfect German Spaetzle with Oma's easy recipe! This traditional German egg noodle pairs perfectly with caramelized onions for a delicious meal.

Choose from Oma's cookbooks that are immediately downloadable & start cooking easy classic German foods tonight. Or get her newest paperback cookbook. LECKER!
*  *  *  *  *
PIN to SAVE this recipe to your Pinterest board!
---
Air Fryer Cream Puffs ~ Luftfritteuse Windbeutel
By
Lydia Fulson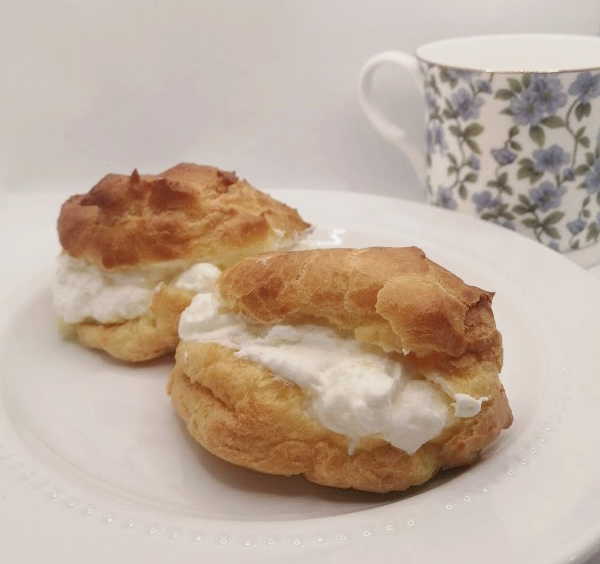 Making air fryer cream puffs, luftfritteuse Windbeutel, is a delightfully easy endeavor in the Instant Pot Vortex Plus Air Fryer Oven. This easy cream puff recipe will become your go-to company dessert!
Ingredients:
water,
butter,
salt,
flour,
eggs,
vanilla,
heavy (whipping)cream,
Whip it or instant vanilla pudding powder,
For the full recipe, scroll up ...
Words to the Wise
"For wisdom is far more valuable than rubies. Nothing you desire can compare with it."
Proverbs 8:11 (NLT)