German Apple Pancake Recipe❤️
➤ by Oma Gerhild Fulson
FTC Disclosure: As an Amazon Associate, I earn from qualifying purchases.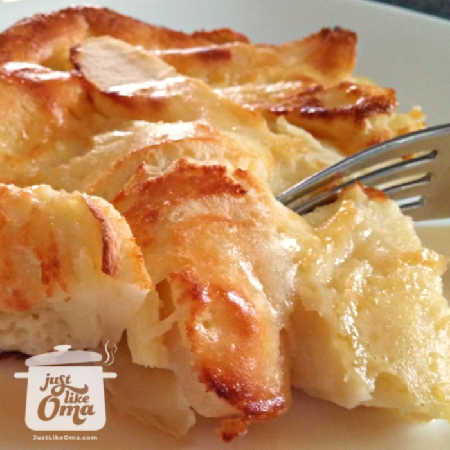 My German Apple Pancake recipe is so easy, so quick, and so absolutely wunderbar! If you have company ... this will impress them. It's easy! 
This pancake can be made with your blender. If you don't have one, use a mixer. Or, just use a whisk and bowl. Anything works! 
It's baked in the oven, so you're not standing there making one pancake after the other on top of the hot stove.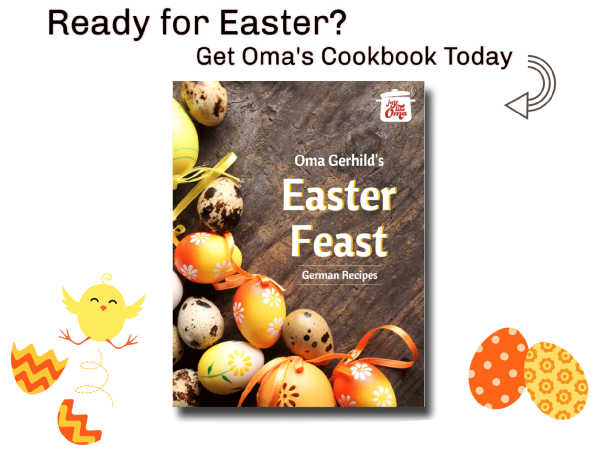 Yes, you'll love my oven-baked apple pancake ... you can trust Oma!
Check out below if you want to use buttermilk. There are also several size dishes you can use, depending on how you like your pancake.
Let me show you what I mean:

---
This recipe  easily serves 4 to 6 people for a breakfast brunch. If it's the main attraction, count on serving 4 people. Serve it with maple syrup, sausages, bacon, or your favorite pancake toppings. 
Personally, I usually leave out the brown sugar. The pancake is sweet enough ... especially when accompanied with wonderful local Canadian maple syrup!
If there are leftovers, it tastes great cold as well. :)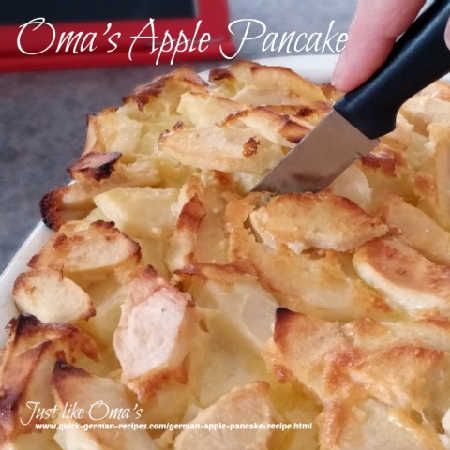 It's sort of like a soufflé. It's nicely puffed as soon as it's out of the oven, but will slowly fall as you start to serve it.
I usually call everyone to the table, just before I'm ready to serve. That way, they get to see it in all its puffed splendor.
Use Buttermilk instead?
I had some buttermilk that needed to be used. I thought, "Why not this apple pancake?" I made no changes to anything else. Just subbed the buttermilk in place of the regular milk.
Result?
YUMMY! In fact, I may just plan on buying buttermilk on purpose, just for this.

The resulting pancake is just a bit fluffier. Wunderbar! Here's how it looked: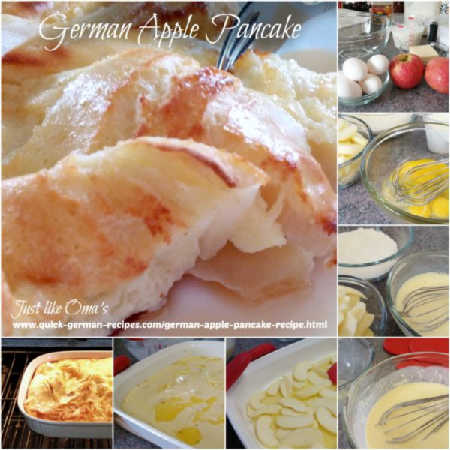 Oma's notes:
I used this recipe to show my two young granddaughters how to make pancakes. Their dad likes to make them pancakes on Sunday mornings, but this one is just a bit different from what they are used to.
It's become an "Oma" tradition when they sleep over. That's what they come to expect for a late breakfast the next morning. Late, because it's always holidays and we stay up late the night before.
Because it's usually late in the morning, this puffed oven-baked pancake filled with apples and served with maple syrup is usually all they want until an early afternoon snack.
Dutch Baby Recipe? Really?
The recipe above is based off an authentic German Pfannkuchen (pancake) recipe but is also known as  Dutch baby pancake, Bismarck, Dutch puff, puffed apple pancake, caramelized apple soufflé pancake ... All interesting names for a wonderful dish!
For us, it's our German Apple Pancake. Whatever you call it, it's scrumptious! You'll find the center isn't fluffy, rather more custardy/or egg-y. Absolutely wunderbar!

German Apple Pancake Recipe❤️
NOTE: Want to cut back on the butter? My dear friend Heidi tells me that using only ¼ cup works. As well, she sprays her baking dish with a baking spray. 
Ingredients:
6 eggs

1½ cups milk (or buttermilk)

1 cup all-purpose flour

3 tbsp granulated sugar

½ tsp salt

½ cup butter

2 apples, peeled and sliced

2 tbsp brown sugar (optional)
Instructions:

Preheat oven to 425° F.

In a blender, mix eggs, milk, flour, sugar, and salt. Or, if you prefer, just put into a bowl and whisk till smooth. 

Put butter in 10 x 13 inch baking dish (see video above for more ideas) and place dish in oven until butter is melted.

Add apple slices to baking dish and leave in oven until butter sizzles. This can take about 5 minutes. Do not let apples brown.

Remove baking dish from oven and pour batter over apples. Sprinkle with brown sugar (if using). Return to oven and bake 20 minutes or until browned and nicely puffed. Depending on the dish size, this can take an extra 5 - 10 minutes.

Serve immediately. Makes 4 - 6 servings.

Hints:
Add 1 tsp vanilla or almond extract to batter

Add ¼ tsp cinnamon to batter

Add some raisins to apples
Use pears instead of apples

Want nutritional information? Copy and paste the above ingredient list and the number of servings into Calorie Count for an approximate calculation.
Need help doing conversions between cups and grams, etc.? Use this site to give you all the different conversions for the different types of ingredients. 
Leave a comment about this recipe or ask a question?
Pop right over to my private Facebook group, the Kaffeeklatschers. You'll find thousands of German foodies, all eager to help and to talk about all things German, especially these yummy foods. 
I pop in all the time as well, to chat and to answer questions. 
Meet with us around Oma's table, pull up a chair, grab a coffee and a piece of Apfelstrudel, and enjoy the visit.
*  *  *  *  *
Want nutritional information for a recipe?
Copy and paste the ingredient list and the number of servings into Calorie Count. 
It will give you an approximate calculation.

Need help doing conversions
between cups and grams or any such thing?
Use this site to give you all the different conversions for the different types of ingredients. 
---
Pin the following post so when you're pulling out the casserole dish, baking pan and maple syrup, you'll be all set to make Oma's German Apple Pancake recipe ...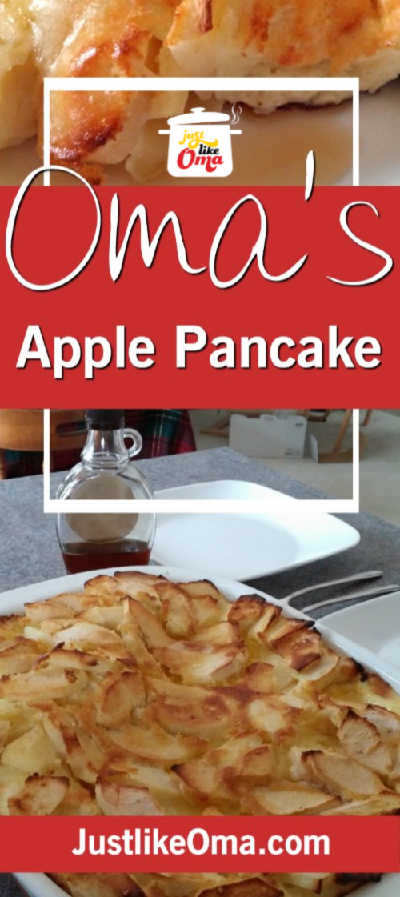 ---
German Crumb Cake recipes (Streuselkuchen) are easy, delicious, quick, very traditional, and great for family and friends. Use any variety of fruit. I love using apples, & top with whipped cream!

Here's an easy Cherry Tart recipe with peaches that is covered in delicious butter streusel - a traditional German cake that's so easy to make.
---
---
German Apple Pancake Recipe made Just like Oma


By
Oma Gerhild Fulson
A German Apple Pancake recipe that's sure to please. Puffs up in your oven, filled with apples, and feeds a crowd. This is very similar to a Dutch Baby recipe

Ingredients:
apple,
eggs,
milk,
flour,
For the full recipe, scroll up ...
Words to the Wise
"The heart of the godly thinks carefully before speaking; the mouth of the wicked overflows with evil words."
Proverbs 15:28