Penny's Apple Dump Cake ❤️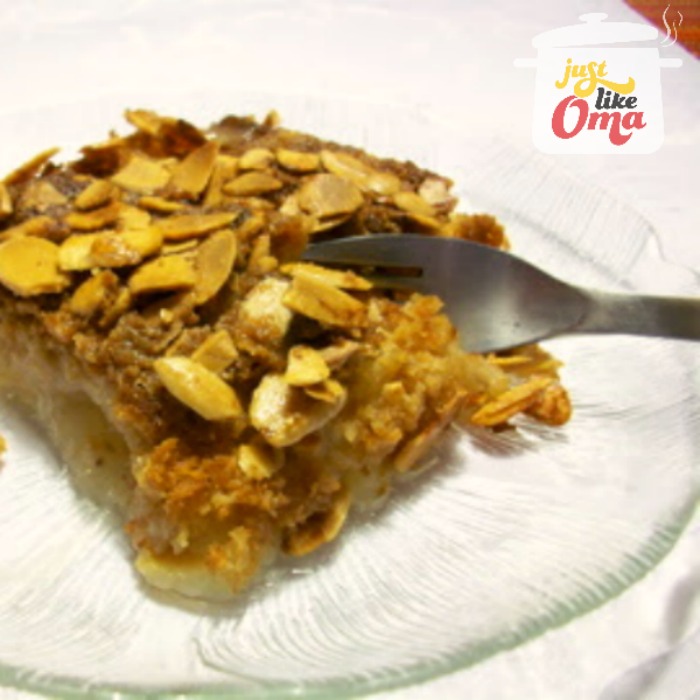 Penny's Apple Dump Cake is so easy and so delicious. 
Keep all the ingredients in your cupboard ready for unexpected company. You whip up this easy apple cake in minutes.
Is this German? Nope. Is it delicious? Yep!
This is one of the easy-to-make quick dessert recipes that comes from my friend, Penny, and has become a favorite of ours.
Let me see if I can describe it?
It's chewy and sweet. It reminds me of a candy bar, only nice and moist with the apples.
German Recipe?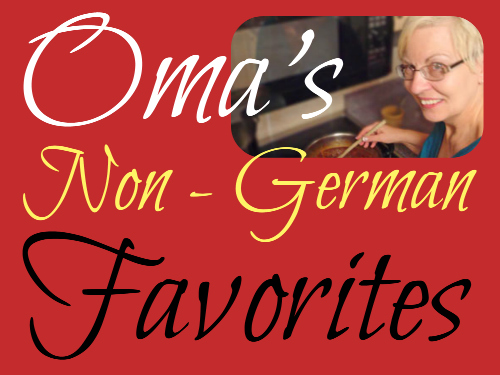 How German is this recipe? It's NOT! But it makes a great finish after a traditional German meal. Served with a good coffee, it's a treat, for sure! Whipped cream is a nice touch!
I really like cinnamon, pineapple, and coconut. It's all in this cake, including the apples. My husband really only likes the apples. Cinnamon, pineapple, and coconut aren't on his "like" list.
However, Penny's cake looked delicious: I made it anyway.
It was so easy. I just dumped everything into the pan, baked it. Then, I offered my hubby a little bit to try. He wanted more. And more. And more!
His comment? "It's like eating peanuts. Can't stop with just one bite!"
Guess what's now stocking my cupboard? Yep, the ingredients for this Apple Cake!
Oma's Disclaimer:
Yes, sometimes quick wins over nutritious. Sometimes quick wins over German-style cooking.
This dessert is something that goes so quick that I'll use it when I need something that's a treat ... that everyone loves. 
I like things that are easy to make. Things I can have all the ingredients already in the pantry. Things I don't need to go shopping for. 
This recipe is one of those. The only problem with it is that portion control is so difficult ... because it's so YUMMY!
Penny's Apple Dump Cake 

❤️


Ingredients:
1 can apple pie filling (with or without cinnamon)

1 13-ounce can crushed pineapple

1 yellow cake mix

1 cup melted butter

1 cup shredded coconut

1 cup chopped nuts or sliced almonds

Instructions:
Preheat oven to 325°F.

Grease or spray with non-stick cooking spray a 13" X 9" pan.

Dump apple pie filling into pan. Spread evenly on bottom.

Dump pineapple evenly over the pie filling layer.

Sprinkle dry yellow cake mix evenly over the pineapple layer.

Pour melted butter over the yellow cake mix layer.

Sprinkle coconut and nuts on top.

Bake for about one hour, until nicely browned.

Serve warm with vanilla ice cream or whipped cream.

Leave a comment about this recipe or ask a question?
Pop right over to my private Facebook group, the Kaffeeklatschers. You'll find thousands of German foodies, all eager to help and to talk about all things German, especially these yummy foods. 
I pop in all the time as well, to chat and to answer questions. 
Meet with us around Oma's table, pull up a chair, grab a coffee and a piece of Apfelstrudel, and enjoy the visit.
*  *  *  *  *
Want nutritional information for a recipe?
Copy and paste the ingredient list and the number of servings into Calorie Count. 
It will give you an approximate calculation.

Need help doing conversions
between cups and grams or any such thing?
Use this site to give you all the different conversions for the different types of ingredients. 
---
PIN this ...

---
These German gingerbread cookies, or Lebkuchen, are such a traditional cookie to have for Christmas. They're very easy to make, there's no reason to buy them.

Oma's German schnitzel recipe (Jägerschnitzel) is great if you need something delicious that's quick to make as well. So traditionally German and so WUNDERBAR!
---
Words to the Wise
"The name of the Lord is a strong fortress; the godly run to Him and are safe."
Proverbs 18:10 (NLT)