Apfeldessert - Penny's Apple Dump Cake 


This post may contain affiliate links, which means I'll receive a commission if you purchase through my links, at no extra cost to you. Please read full disclosure for more information.
Penny's Apple Dump Cake (Apfeldessert) is so easy and so delicious. 
Keep all the ingredients in your cupboard ready for unexpected company. You whip up this easy apple cake in minutes.
Is this German food? Nope. Is it delicious? Yep!
This is one of the easy-to-make quick dessert recipes that comes from my friend, Penny, and has become a favorite of ours.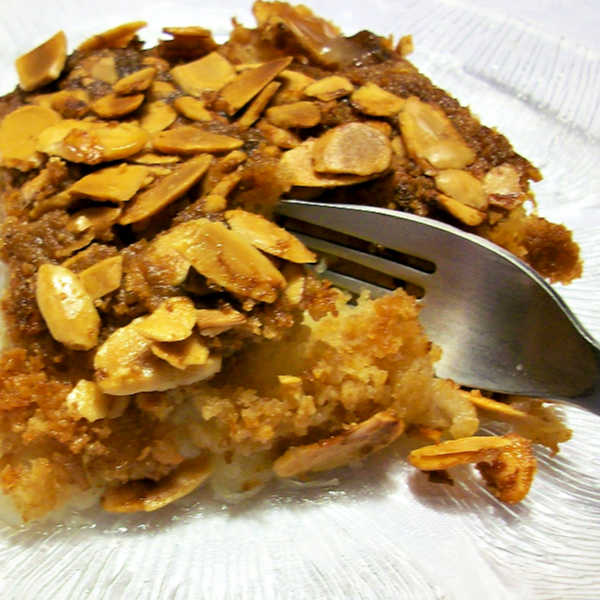 Let me see if I can describe it?

It's chewy and sweet. It reminds me of a candy bar, only nice and moist with the apples.
German Food?
How German is this recipe? It's NOT! 
But it makes a great finish after a traditional German meal. Served with a good coffee, it's a treat, for sure! Whipped cream is a nice touch!

I really like cinnamon, pineapple, and coconut. It's all in this cake, including the apples.
My husband really only likes the apples. Cinnamon, pineapple, and coconut aren't on his "like" list.
However, Penny's cake looked delicious: I made it anyway.
It was so easy. I just dumped everything into the pan, baked it. Then, I offered my hubby a little bit to try. He wanted more. And more. And more!
His comment? "It's like eating peanuts. Can't stop with just one bite!"
Guess what's now stocking my cupboard? Yep, the ingredients for this Apple Cake!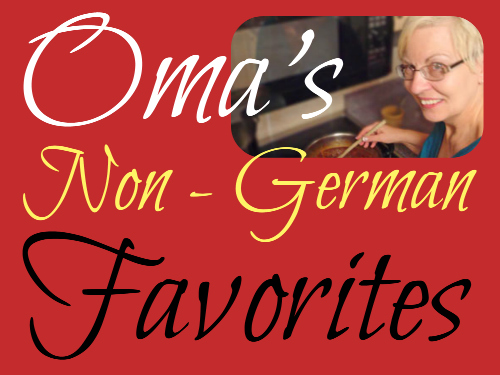 Does Dump Cake Have To Be Refrigerated?
Most cakes such as nut-based cakes, pound cakes, and dump cakes, can last sitting out on the counter for about 4-5 days. But make sure you keep it covered to keep it from drying out. The same rule applies for the fridge. Your cake should keep for up to 5 days covered tightly with plastic wrap. It's totally up to you if you want to store it on the counter or store it in the fridge. 
Cakes can take up a lot of fridge room, so if that's the case for you, yes, keeping it out will work. Just be sure that you cover it tightly to keep the moisture from escaping.
Looking For Something Similar?
Here we have Oma's Rhubarb Dump Cake. This is such a refreshing summery dessert that is absolutely wunderbar for family get-togethers. Use your freshly picked rhubarb from the garden and give this lecker recipe a try!
While this style of cake may not be German, they're still amazingly yummy. If apple isn't your style, give this rhubarb one a go. You won't be disappointed, and neither will your guests. 
Why Is It Called A 'Dump Cake'?
An interesting name, I know. But seeing how it's made, the name suits the cake. To get this cake ready and prepped to bake, you quite literally dump all of the ingredients into your pan. So, that's what they decided to call it. 
Dump cakes often get confused for cobblers due to their similar look and tastes. But there can be a few differences. Cobblers are baked low and slow and can be done in the slow cooker even. Dump cakes will often still have some cake-like shape to them and will almost always be done in the oven. 
Grab your copy of Oma's favorites in her Special Occasion German Cakes & Tortes e-Cookbook.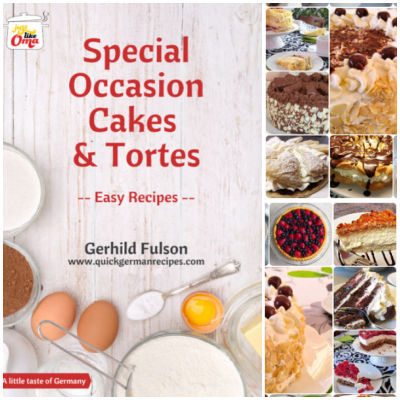 Take a peek at all Oma's eCookbooks. They make sharing your German heritage a delicious adventure!
---
Oma's Disclaimer:
Yes, sometimes quick wins over nutritious. Sometimes quick wins over German-style cooking.
This dessert is something that goes so quick that I'll use it when I need something that's a treat ... that everyone loves. 
I like things that are easy to make. Things I can have all the ingredients already in the pantry. Things I don't need to go shopping for. 
This recipe is one of those. The only problem with it is that portion control is so difficult ... because it's so YUMMY!
---
Ready to Make This Apple Dump Cake?
Is the recipe below locked? Here's why.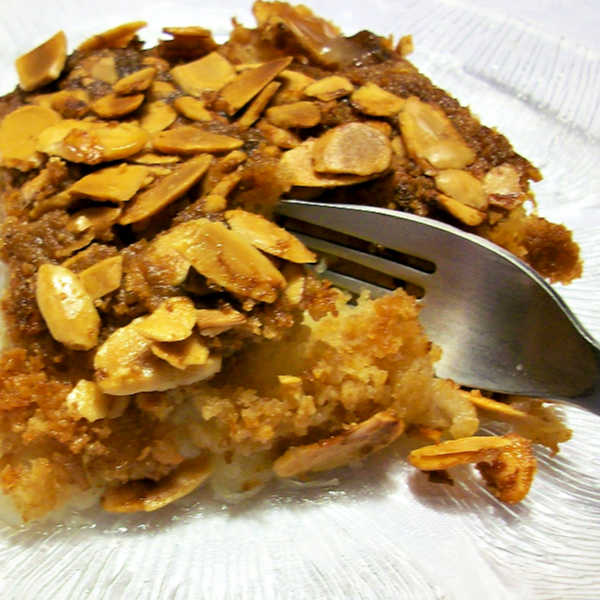 Apfeldessert - Penny's Apple Dump Cake 
Penny's Apple Dump Cake is so easy and so delicious. Keep all the ingredients in your cupboard ready for unexpected company. You can whip up this easy apple cake in minutes.
Is this German? Nope. Is it delicious? Yep!
Prep Time


10 minutes


Bake Time


60 minutes


Total Time

70 minutes

Servings:

Makes 10 servings
Ingredients:
1 can apple pie filling (with or without cinnamon)

1 13-ounce can crushed pineapple

1 yellow cake mix

1 cup melted butter

1 cup shredded coconut

1 cup chopped nuts or sliced almonds
Instructions:
Preheat oven to 325°F.

Grease or spray with non-stick cooking spray a 13x9-inch pan.

Dump apple pie filling into pan. Spread evenly on bottom.

Dump pineapple evenly over the pie filling layer.

Sprinkle dry yellow cake mix evenly over the pineapple layer.

Pour melted butter over the yellow cake mix layer.

Sprinkle coconut and nuts on top.

Bake for about one hour, until nicely browned.

Serve warm with vanilla ice cream or whipped cream.
*  *  *  *  *

Unless otherwise noted recipe, images and content © Just like Oma | www.quick-german-recipes.com

Leave a comment about this recipe or ask a question?

Pop right over to my private Facebook group, the Kaffeeklatschers. You'll find thousands of German foodies, all eager to help and to talk about all things German, especially these yummy foods. 
Meet with us around Oma's table, pull up a chair, grab a coffee and a piece of Apfelstrudel, and enjoy the visit.

Cooking just like Oma, making those German meals, is actually quite easy. Let me, Oma Gerhild, help you with my step-by-step methods to re-create those yummy meals you remember from your Oma.

If you're looking for tasty, traditional, and easy German cake recipes (in English) to try, then you've come to the right place! Check out these lecker treats!

Discover the ultimate German schnitzel recipe with Oma's quick and easy method - perfect for any occasion! Taste the authentic flavors of Germany today.
*  *  *  *  *
PIN to SAVE this recipe to your Pinterest board!
And let's be friends on Pinterest!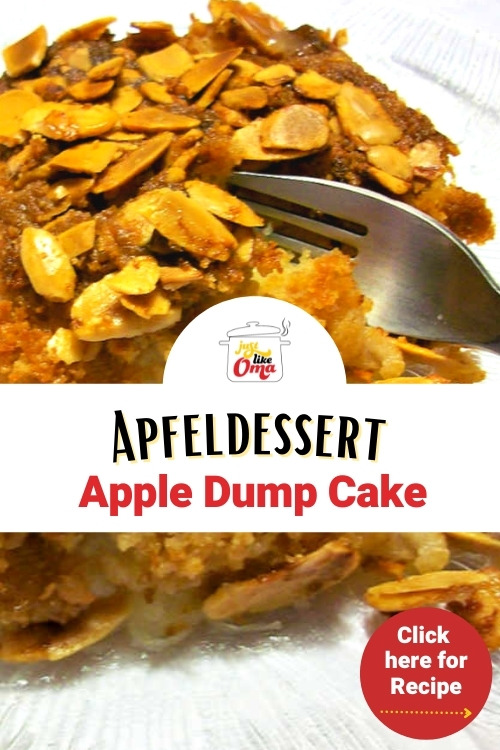 ---
Apple Dump Cake made Just like Oma
By
Oma Gerhild Fulson
This Apple Dump Cake is so easy and so delicious. Keep all the ingredients in your cupboard ready for unexpected company. You whip up this dump cake recipe in minutes.
Ingredients:
apple pie filling,
shredded coconut,
crushed pineapple,
cake mix,
butter,
chopped nuts/sliced almonds,
For the full recipe, scroll up ...
Words to the Wise
"The name of the Lord is a strong fortress; the godly run to Him and are safe."
Proverbs 18:10 (NLT)