Melania's Easy Apple Strudel ❤️
➤ by Oma Gerhild Fulson
FTC Disclosure: Making a purchase via a link on the page? I may earn a small commission on the transaction - at no added cost to you. Thanks!
Yum
Easy apple Strudel? Really? YES! Here's an easy recipe that really, really is easy. Slightly cake-like, its flavor really shines through. It's a make-your-hubby-happy kind of cake. This recipe was given to me (and made for me) by my dear friend, Melania Orasch. It is Austrian in origin, and is slightly different the 'flaky-type' strudels, but is so wonderfully yummy!
Melania says she fills hers with apples, cheese, walnuts, or dried fruits, (the regular strudel fillings). The recipe below is the apple one. THIS IS WUNDERBAR!


---
Strudel, similar to baklava, came to Austria through Turkish and Hungarian influences
The German word, "Strudel"  means "whirlpool" or "eddy" and describes the flaky layers of pastry surrounding the filling
The traditional strudel dough is rolled and pulled until it is so thin that a newspaper can be read through it
The most popular type is the apple strudel, but there are many other fillings, including sweet and savoury ones. Spinach, sauerkraut, and cabbage strudels are common as are meat ones
Melania's Easy Apple Strudel Recipe ❤️
Ingredients:
½ lb lard
3 cups flour
2 tsp salt
2 eggs beaten
¾ cup ginger ale
4 apples, peeled and diced
small handful of raisins
2 Tbsp granulated sugar
cinnamon
Instructions:
Preheat oven to 350° F.
Cut the lard into the flour to which the salt has been added. 
Add beaten eggs and ginger ale.
Gather together and knead slightly.
Make into a ball. Cut in half.
Roll out one half as thinly as possible.
Spread half the apples in a row lengthwise on the dough, keeping about 2 inches from the long edge and 1 inch from the ends. Sprinkle half the raisins over, 1 Tbsp sugar, and dust with cinnamon. Fold over the 1-inch edges and then the 2-inch edge and roll as for a strudel. 
Place, seam side down on a parchment paper lined cookie sheet.
Repeat with the remaining dough.
Bake at 350° F for approximately 30 minutes.
Let cool before sprinkling with powdered sugar and serving.
Makes 2 strudels
Hints:
Make just one strudel now and keep the remaining dough for use another day. Wrap securely. Either refrigerate for a day or two. Or, freeze for longer term storage. 

---
"Strudel" is an old German word that means "whirlpool" and that is pictured in the rolled up structure of the cake. Usually a 'strudel' dough is made that is very elastic and can be stretched extremely thinly. Or a puff pastry or phyllo is used.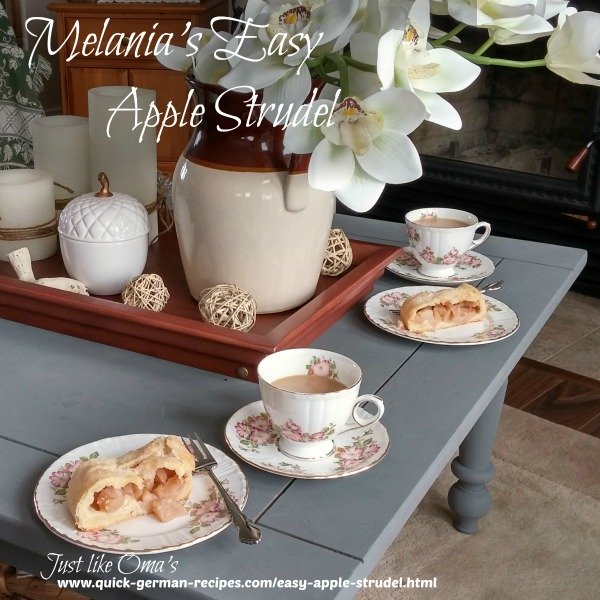 Melania served this apple strudel when I went to visit last time. Enjoyed sitting in the living room with the orchids and her newly chalk-painted table.
So many Strudels ...
Melania's strudel is different. The texture is more cake-like, but the method of rolling out thinly, covering with the filling, and rolling it up (think whirlpool) is very similar.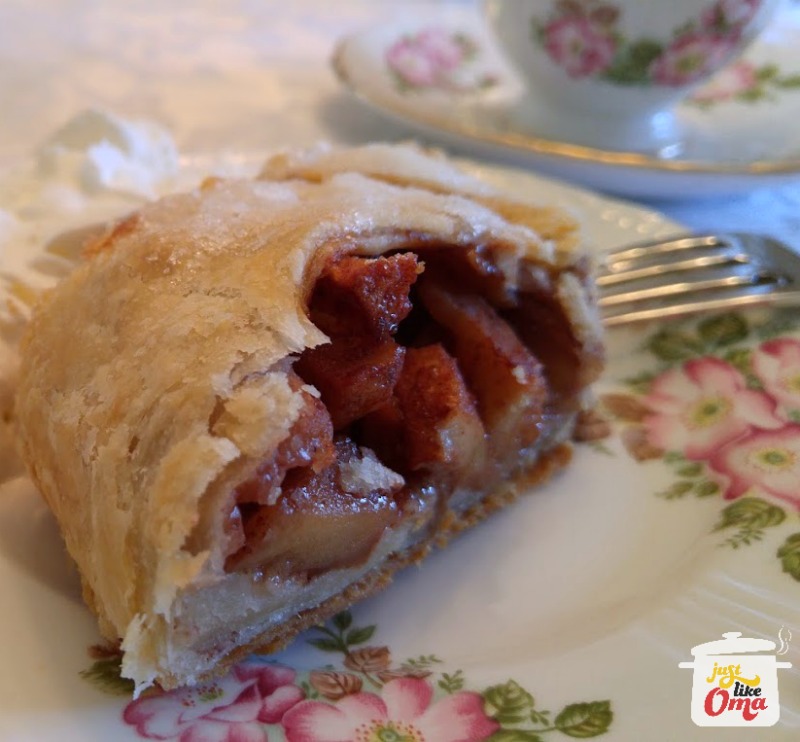 Popular strudels in Germany include the apple strudel (of course), a Topfenstrudel filled with sweet quark cheese, sour cherry, sweet cherry, nut, apricot, poppy seed, and raisin strudels. 

Another easy Strudel ...
Looking for the 'flaky pastry type' strudel? Here's my recipe using frozen phyllo dough. SO EASY!
---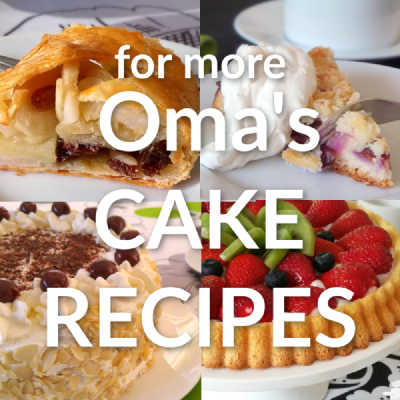 *  *  *  *  *
Thinking of starting your own Handmade Business?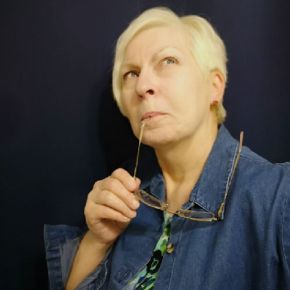 This Oma KNOWS you CAN do it.
How do I know?
Well, if I can do it, anyone can.
I've even figured out how I can help you.
I've teamed up with my own business coach, Renae Christine (yes, do google her!), to bring you this free masterclass. After you watch it, ask me any questions and I'll gladly answer them.
Don't hesitate. I'm not sure how long Renae will keep this free masterclass available.
PS:  Yes, Renae really is as amazing as all the reviews say.
PPS: Yes, the course is for handmade items, but I've used it successfully for my cookbooks. I know others are using her methods for services, direct sales, and even a local ice cream bar & grill that's constantly selling out. You've nothing to lose by taking a look ... and a whole bunch to gain.
*  *  *  *  *
Oma's Cookbooks (downloadable & print)
*  *  *  *  *
Want nutritional information for a recipe?
Copy and paste the ingredient list and the number of servings into Calorie Count. 
It will give you an approximate calculation.

Need help doing conversions
between cups and grams or any such thing?
Use this site to give you all the different conversions for the different types of ingredients. 
---
PIN this ...
---
Make every day a day of AFFIRMATION!
"For His Spirit joins with our spirit to affirm that we are God's children."
Romans 8:16 (NLT)
---
Melania's Easy Apple Strudel Recipe ❤️


By
Oma Gerhild Fulson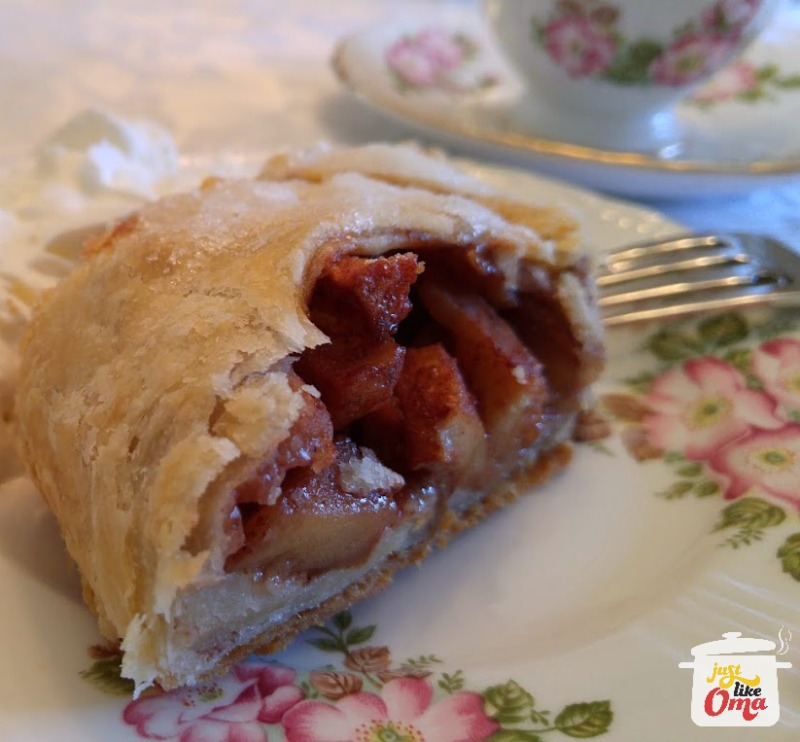 Easy apple Strudel? Really? YES! Here's an easy recipe that really, really is easy. Slightly cake-like, its flavor really shines through. It's a make-your-hubby-happy kind of cake.

Yield:
2 strudels

Ingredients:
½ lb lard,
3 cups flour,
2 eggs beaten,
¾ cup ginger ale,
4 apples,
For the full recipe, scroll up ...