Melania's Easy Apple Strudel
➤ by Gerhild Fulson
Easy apple Strudel? Really? YES! Here's an easy recipe that really, really is easy. Slightly cake-like, its flavor really shines through. It's a make-your-hubby-happy kind of cake.
This recipe was given to me (and made for me) by my dear friend, Melania Orasch. It is Austrian in origin, and is slightly different the 'flaky-type' strudels, but is so wonderfully yummy!
For the full list of ingredients & detailed instructions, see the recipe card at the end of this post. But before you scroll, there's important & interesting stuff to know right below.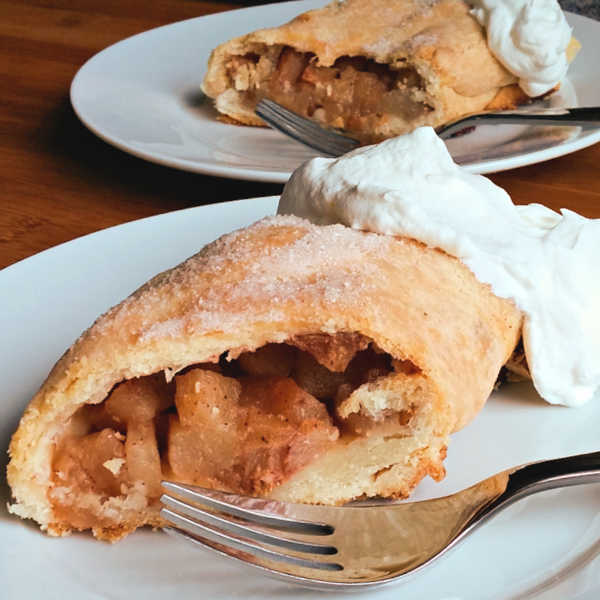 Melania says she fills hers with apples, cheese, walnuts, or dried fruits, (the regular strudel fillings). The recipe below is the apple one. THIS IS WUNDERBAR!

---

Strudel, similar to baklava, came to Austria through Turkish and Hungarian influences
The German word, "Strudel"  means "whirlpool" or "eddy" and describes the flaky layers of pastry surrounding the filling
The traditional strudel dough is rolled and pulled until it is so thin that a newspaper can be read through it
The most popular type is the apple strudel, but there are many other fillings, including sweet and savory ones. Spinach, sauerkraut, and cabbage strudels are common as are meat ones
---
Above, Melania served her easy apple strudel when I went to visit last time. We enjoyed sitting in the living room with the orchids and her newly chalk-painted table.

So many Strudels ...
Melania's strudel is different. The texture is more cake-like, but the method of rolling out thinly, covering with the filling, and rolling it up (think whirlpool) is very similar.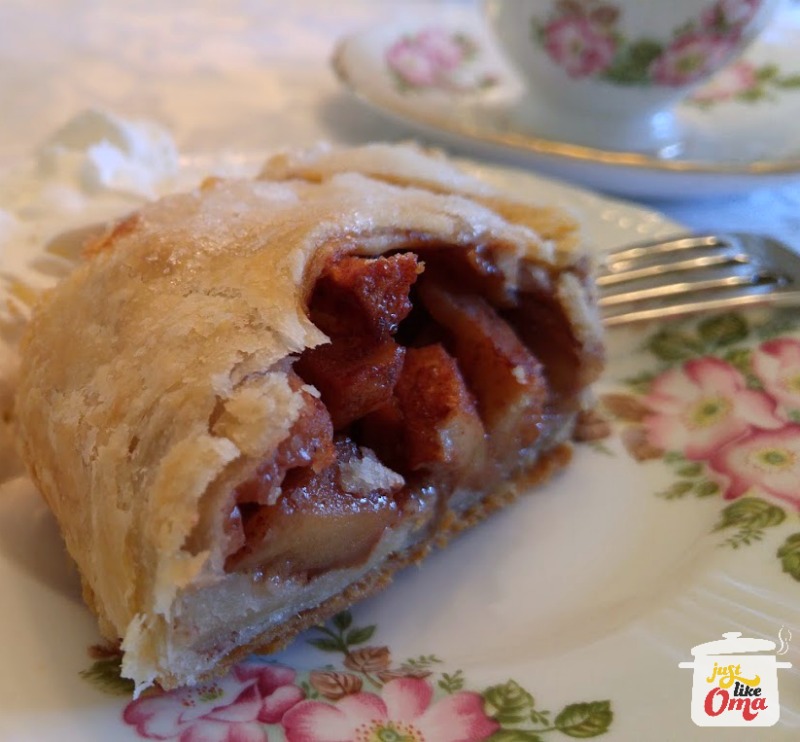 Popular strudels in Germany include the apple strudel (of course), a Topfenstrudel filled with sweet quark cheese, sour cherry, sweet cherry, nut, apricot, poppy seed, and raisin strudels. 

Grab your copy of Oma's favorites in her Special Occasion German Cakes & Tortes e-Cookbook.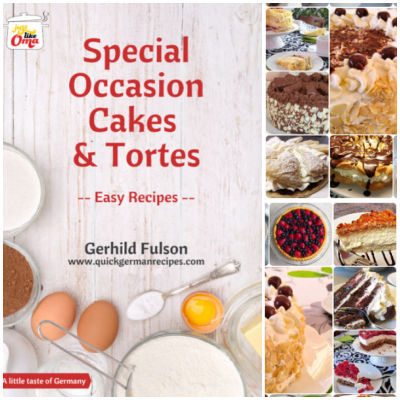 Take a peek at all Oma's eCookbooks. They make sharing your German heritage a delicious adventure!
Another easy Strudel ...
"Strudel" is an old German word that means "whirlpool" and that is pictured in the rolled up structure of the cake. Usually a 'strudel' dough is made that is very elastic and can be stretched extremely thinly. Or a puff pastry or phyllo is used.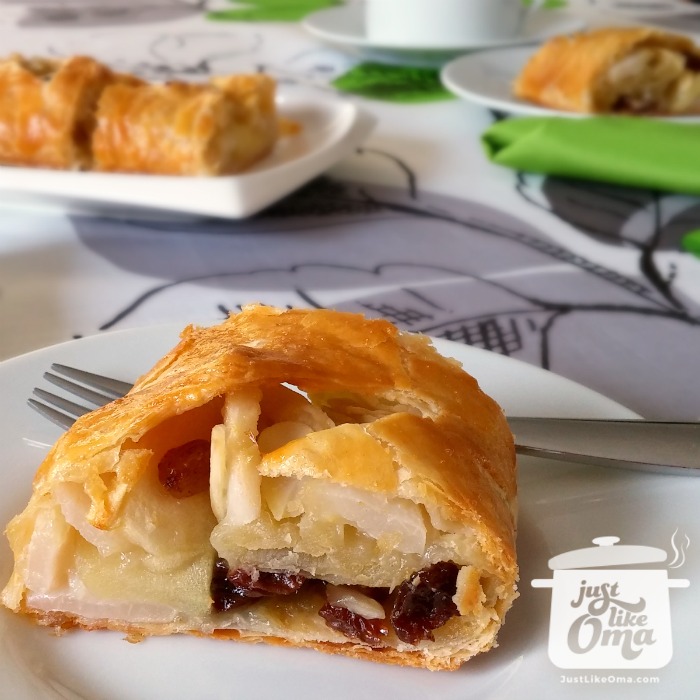 Looking for the 'flaky pastry type' strudel? Here's my recipe using either  frozen phyllo  or butter puff pastry. SO EASY!
---
Ready to make this easy Apple Strudel?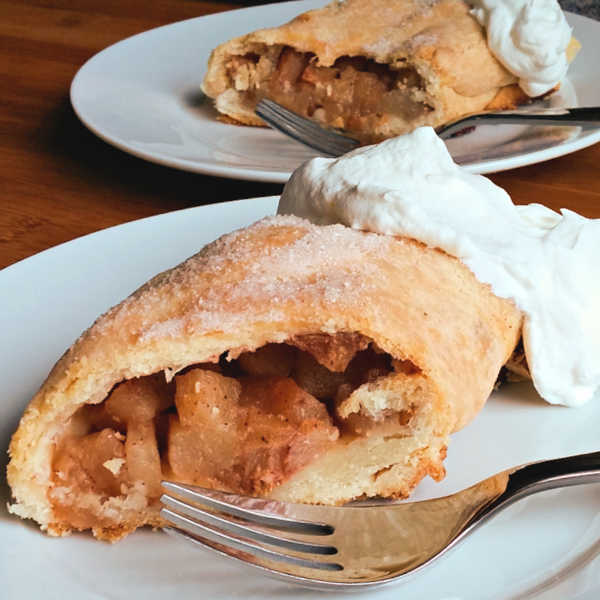 Melania's Easy Apple Strudel Recipe
Easy apple Strudel? Really? YES! Here's an easy recipe for an Austrian version that's slightly cake-like and different than the 'flaky-type' strudels, but is so wonderfully yummy! Make enough dough for three strudels, then make one apple strudel right away and save the rest of the dough for another time.
Prep Time


20 minutes


Bake Time


30 minutes


Total Time

50 minutes

Servings:

Makes 1 strudel + 2 extra dough

Ingredients:
Dough for 3 strudels:
½ pound lard
3 cups flour, all-purpose
2 teaspoons salt
2 large eggs, beaten
¾ cup ginger ale
Filling for one strudel:
3 apples, peeled and diced
small handful of raisins
2 tablespoons granulated sugar
cinnamon
Instructions:
Preheat oven to 350°F.
Cut the lard into the flour to which the salt has been added. 
Add beaten eggs and ginger ale.
Gather together and knead slightly.
Make into a ball. Divide into three portions. Wrap two portions and refrigerate.
Roll out one portion as thinly as possible.
Spread the apples in a row lengthwise on the dough, keeping about 2 inches from the long edge and 1 inch from the ends. Sprinkle  the raisins and sugar over the apples and dust with cinnamon. Fold over the 1-inch edges and then the 2-inch edge and roll as for a strudel. 
Place, seam side down on a parchment paper lined cookie sheet.
Bake at 350°F for approximately 30 minutes.
Let cool before sprinkling with powdered sugar and serving.
Notes/Hints:

Wrap the refrigerated dough securely and keep refrigerated for a day or two. Or, freeze for longer term storage.

Or give this puff pastry apple strudel a try as well and see which is your favorite.
*  *  *  *  *

Unless otherwise noted recipe, images and content © Just like Oma | www.quick-german-recipes.com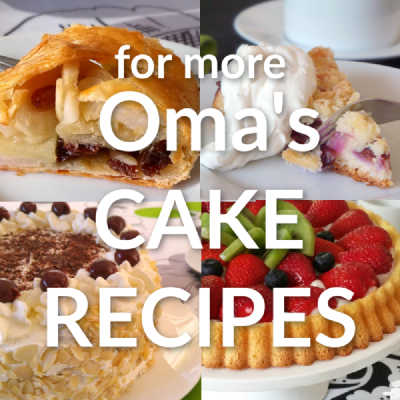 Leave a comment about this recipe or ask a question?

Pop right over to my private Facebook group, the Kaffeeklatschers. You'll find thousands of German foodies, all eager to help and to talk about all things German, especially these yummy foods. 
Meet with us around Oma's table, pull up a chair, grab a coffee and a piece of Apfelstrudel, and enjoy the visit.

Oma's German schnitzel recipe (Schweineschnitzel) is great if you need something delicious that's quick to make as well. So traditionally German and so WUNDERBAR!

Need ideas for what to serve with burgers? Everyone loves a lecker hamburger done on the summer BBQ. But what to serve alongside? Check out these great options!

Oma's baked pork chops with sauerkraut is an easy German dinner that's quick to make. Adding both browned onion rings and apples are scrumptious additions to this traditional meal.
*  *  *  *  *
PIN to SAVE this recipe to your Pinterest board!
And let's be friends on Pinterest!
---
Melania's Easy Apple Strudel Recipe
By
Oma Gerhild Fulson
Easy apple Strudel? Really? YES! Here's an easy recipe that really, really is easy. Slightly cake-like, its flavor really shines through. It's a make-your-hubby-happy kind of cake.
Yield:
2 strudels
Ingredients:
lard,
all-purpose flour,
eggs,
ginger ale,
apples,
raisins,
sugar,
spices,
For the full recipe, scroll up ...
Make every day a day of AFFIRMATION!
"For His Spirit joins with our spirit to affirm that we are God's children."
Romans 8:16 (NLT)