Mutti's Rote Grütze ~ Fruit Pudding Recipe ❤️
➤ by Oma Gerhild Fulson
FTC Disclosure: As an Amazon Associate I earn from qualifying purchases.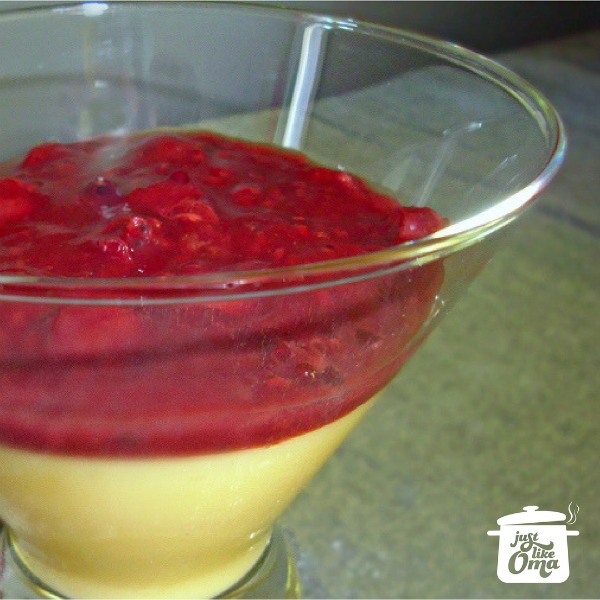 This fruit pudding recipe, the original Rote Grütze, is one of Schleswig-Holstein's traditional desserts.  It could also be described as Germany's national dessert! Traditionally made with just fresh red currants or a combination of red currants and raspberries, there are many variations possible. You can always use a mix of fruits or just stay with one type.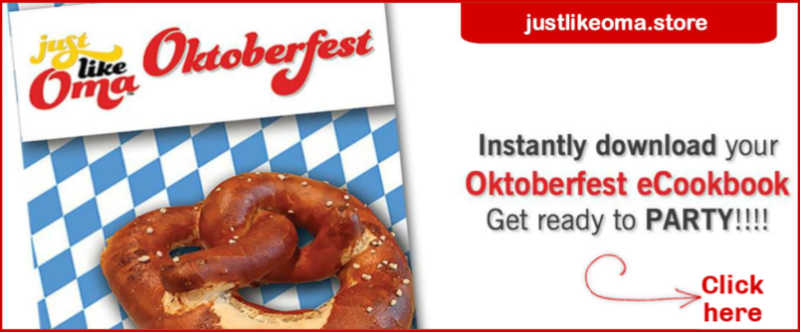 Some of these possibilities are ripe berries, such as strawberries, red or black currants, raspberries, cherries, cranberries, and even rhubarb can be used.


What do you do with Rote Grütze?

It's served over cream or custard. It's also great layered in a glass with cottage cheese, "Quark", or even yogurt.
Put it over ice cream. Be creative.
Traditionally, this fruit pudding recipe is served with vanilla sauce. Above, made with red currants and sour cherries, it's poured over vanilla custard.
Rote Grütze at the Hallig
My favorite memories of this dessert are very recent. Our friends took us on a "must do" excursion: taking a walk to a Hallig which is part of the Schleswig-Holstein's Wattenmeer National Park. This was a 6 km. walk from the beach to the Hallig (island) following the tide that was going out.
Hiking barefoot through the wet sand and navigating around the little sea creatures such as stingrays and areas of sharp shells, was quite an adventure. Once on the Hallig, we rested with a cup of coffee and Rote Grütze, all the while keeping our eyes on the clock. Rested and nicely filled, we quickly hiked back to the mainland before the tide came back in.
My Mutti had this as well in her cookbook and my Papa's Mutti as well. She used freshly picked sour cherries for hers and served them with Griessknödel. :)
Oma says,
I've been asked, "Why bother draining the fruit and then adding the fruit back to the sauce?"
Well, let's say you decide not to drain it and continue with the recipe, adding the corn starch, stirring until done. It'll still taste good, but looks more like a stewed fruit pudding with the fruit all broken and mushy.
Draining and then thickening (and cooking) the sauce and THEN returning the softened, but whole, fruit back to the sauce, leaves the fruit whole. It just gives a great "mouth feel", looks pretty, and is traditional.
Want to save time and work? Then leave out the "drain, strain, and return" steps!
Ready to enjoy this ...
Mutti's Rote Grütze ~ Fruit Pudding Recipe ❤️

Ingredients:
2 lbs ripe fruit, using at least 2 types (see hints below)
3 cups water
¼ cup cornstarch
granulated sugar as needed
Instructions:
Wash and prepare fruit. If using cherries, remove pits. If using rhubarb, cut into large dice.
In a large pot, combine fruit and water. Cook over low heat until fruit is tender.
Line a sieve with cheesecloth and place over large bowl. Pour cooked fruit into sieve. Do not crush fruit. Put fruit into large serving dish.
Add water to juice to make 1 quart (1 litre) and bring to boil over medium heat.
Mix cornstarch with a bit of cold water. Add to hot juice, stirring constantly.
Sweeten with sugar if needed. Pour thickened juice over fruit.
Sprinkle lightly with sugar to prevent a skin from forming on surface.
Refrigerate until serving. Makes 4 servings.
Hints:
Use ripe berries, such as strawberries, red or black currants, raspberries, cherries, cranberries
Leave a comment about this recipe or ask a question?
Pop right over to my private Facebook group, the Kaffeeklatschers. You'll find thousands of German foodies, all eager to help and to talk about all things German, especially these yummy foods. 
I pop in all the time as well, to chat and to answer questions. 
Meet with us around Oma's table, pull up a chair, grab a coffee and a piece of Apfelstrudel, and enjoy the visit.
*  *  *  *  *
Want nutritional information for a recipe?
Copy and paste the ingredient list and the number of servings into Calorie Count. 
It will give you an approximate calculation.

Need help doing conversions
between cups and grams or any such thing?
Use this site to give you all the different conversions for the different types of ingredients. 
---
PIN this ... while pulling out your large serving dish and preparing your ingredients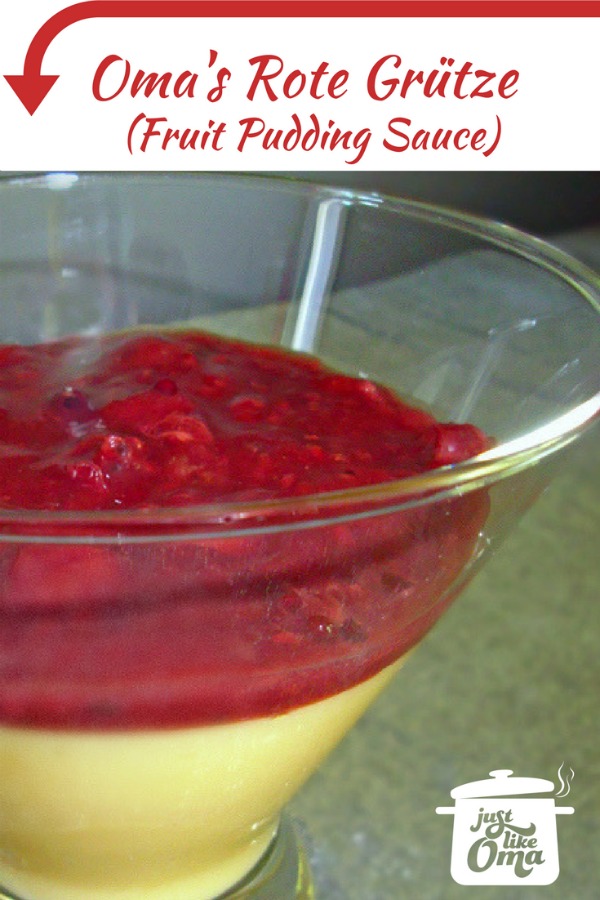 ---
Schwenkbraten recipe that has been a delish hit an alle familien & freunde... Total Approx. Time: Prep: 15 min. + Marinating 8 hrs min. + Grill: 15 min.

My Oma made this cake every Christmas. She iced it with a white frosting that ran down the sides. She decorated it with little silver balls (candy). It
---
Words to the Wise
"Hatred stirs up quarrels, but love makes up for all offenses."
Proverbs 10:12 (NLT)
---
❤️ Fruit Pudding Recipe - Rote Grütze made Just like Oma


By
Oma Gerhild Fulson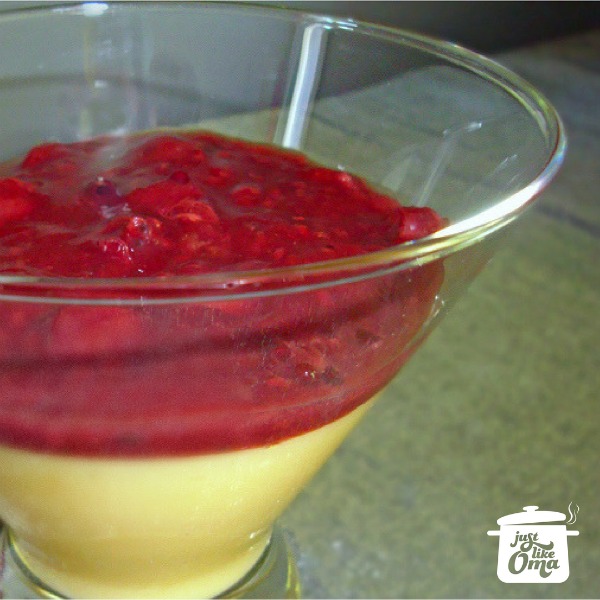 This fruit pudding recipe, the original Rote Grütze, is one of Schleswig-Holstein's traditional desserts. Now it's found throughout Germany. And at our house in Canada!

Ingredients:
fruit,
sugar,
water,
cornstarch,
For the full recipe, scroll up ...