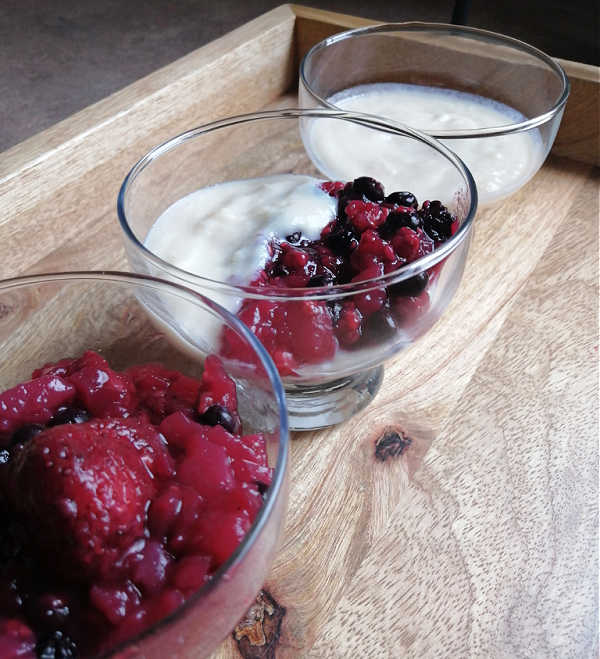 Mutti's Rote Grütze ~ Fruit Pudding Recipe

This fruit pudding recipe, the original Rote Grütze, is one of Schleswig-Holstein's traditional desserts.  It could also be described as Germany's national dessert! 
Traditionally made with just fresh red currants or a combination of red currants and raspberries, there are many variations possible.
Prep Time


10 minutes


Cook Time


15 minutes


Total Time

25 minutes

Servings:

Makes 4 servings
Ingredients:
2 pounds ripe fruit, using at least 2 types (see hints below)
3 cups water
¼ cup cornstarch
granulated sugar as needed
Instructions:
Wash and prepare fruit. If using cherries, remove pits. If using rhubarb, cut into large dice.
In a large pot, combine fruit and water. Cook over low heat until fruit is tender.
Line a sieve with cheesecloth and place over large bowl. Pour cooked fruit into sieve. Do not crush fruit. Put fruit into large serving dish.
Add water to juice to make 1 quart (1 litre) and bring to boil over medium heat.
Mix cornstarch with a bit of cold water. Add to hot juice, stirring constantly.
Sweeten with sugar if needed. Pour thickened juice over fruit.
Sprinkle lightly with sugar to prevent a skin from forming on surface.
Serve over pudding, iced cream, etc.
Notes/Hints:

Use ripe berries, such as strawberries, red or black currants, raspberries, cherries, cranberries.
Refrigerate any leftovers. To use, heat gently to thin the sauce. 
*  *  *  *  *

Unless otherwise noted recipe, images and content © Just like Oma | www.quick-german-recipes.com