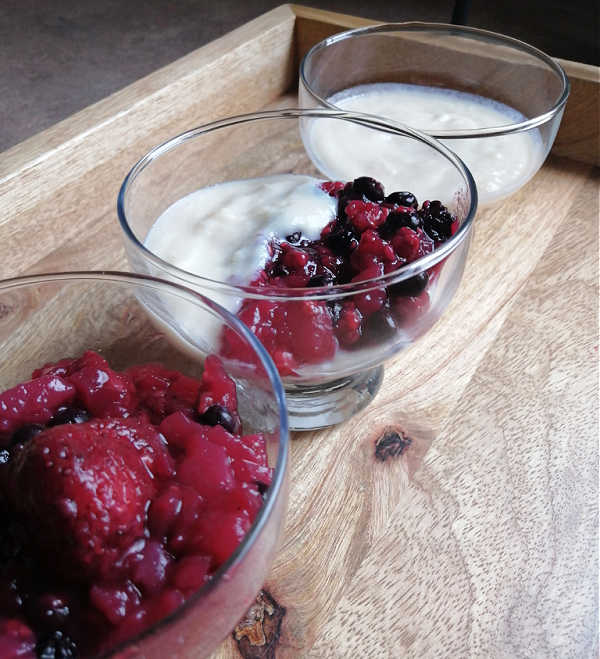 Mutti's Rote Grütze – Fruit Pudding Recipe

This fruit pudding recipe, the original Rote Grütze, is one of Schleswig-Holstein's traditional desserts.  It could also be described as Germany's national dessert! 
Traditionally made with just fresh red currants or a combination of red currants and raspberries, there are many variations possible.
Prep Time


10 minutes


Cook Time


15 minutes


Total Time

25 minutes

Servings:

Makes 4 servings
Ingredients:
2 tbsp (16 g) cornstarch 
1 cup (240 ml) red juice (see Notes/Hints below) 
 ⅓ cup (67 g) granulated sugar 
 1½ lb (608 g) fresh or frozen berries
Instructions:
1. In a saucepan, mix the cornstarch with the juice. Stir in the sugar.

2. Gently stir in the berries.

3. Bring to a simmer, gently stirring to keep from scorching. Simmer for one to three minutes, or until the fruit is softened, stirring constantly. Do not overcook.

4. Remove from heat and let cool. It will thicken slightly as it cools.

5. Serve warm or cold.
Notes/Hints:

Use one or a mixture of the following: strawberries, blueberries, raspberries, black berries, red or black currants, cherries, or cranberries.
When using frozen berries, thaw them first. Drain and use the liquid as part of the juice.
The amount of sugar can be varied and will be dependent upon the sweetness of the berries and the juice. The best juices are cherry, strawberry, or a mix of cranberry & raspberry.
Optional additions: add 1 tsp (5 ml) vanilla extract or some freshly squeezed lemon juice.
Serve with cream, yogurt, custard, vanilla sauce, pudding, ice cream, or a dollop of fresh whipped cream. 
Refrigerate any leftovers.
*  *  *  *  *

Unless otherwise noted recipe, images and content © Just like Oma | www.quick-german-recipes.com

09.09.2023 revision update