Heidi's Apple Pudding Cake
FTC Disclosure: Making a purchase via a link on the page? I may earn a small commission on the transaction - at no added cost to you. Thanks!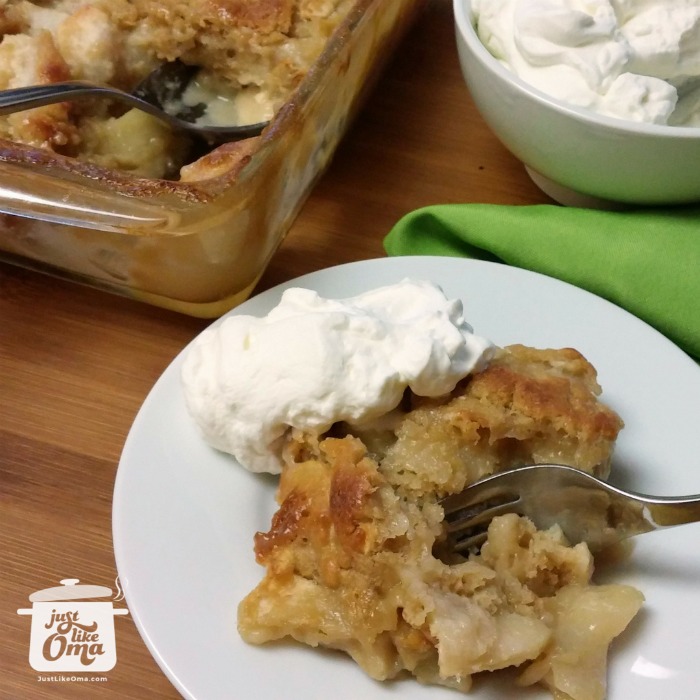 Yum
This apple pudding cake, aka Apfel-Puddingkuchen, tastes just like a traditional Apple Bread Pudding recipe. It's one of those easy dessert recipes that's delicious served warm with ice cream and sprinkled with cinnamon. It's also one of those dessert recipes because it's a "quick clean-up" version. It's made right in the baking dish, so it's really quick and easy. 
Apple Pudding Cake is best served warm, right from the oven. Top it with whipped cream or ice cream for an extra special treat and sprinkle extra cinnamon over it if you wish.
Heidi's Apple Pudding Cake
Ingredients:
4 apples, peeled and sliced
1 cup brown sugar
1 cup flour
2 tsp baking powder
½ tsp salt
¼ tsp cinnamon
½ cup milk
1 tsp vanilla or almond extract
2 - 3 tsp butter
2 cups boiling water
Instructions:
Preheat oven to 400° F.

In a deep 9 X 9 inch pan, mix together the sugar, flour, baking powder, salt, and cinnamon.

Add the apple slices and mix until coated with the flour mixture.

Add the milk that has been mixed with the vanilla or almond extract.

Stir until everything has been moistened. Smooth out the top. Dot the butter on top.

Put pan on rack in oven and carefully pour the 2 cups of boiling water over the top. DO NOT STIR. (Put a baking sheet on the rack under your pan. Sometimes it bubbles over when it's baking.)

Bake for 40 - 50 minutes or until top is golden brown.

Let cool slightly before serving. Sprinkle extra cinnamon on top if desired.

Hints:
Omit cinnamon if desired.

Sprinkle slivered almonds on top before baking if desired.

Cake Origins ...
This recipe comes from my German friend, Heidi. It was a recipe she tweaked from a newspaper years ago. She would often treat us to this warm apple pudding cake and was very willing to pass on the recipe for you AND me to enjoy!
Actually, since it's best warm, it's great to make when company comes calling. Not only is it best fresh, but clean up is so easy. Everything for the dough is mixed right in the baking pan. I prefer to use a 9 X 9 inch glass baking dish, because it looks pretty enough to serve from.
Have the kids (grandkids) help with this ...
This is a fun dessert to make with kids, because it looks really weird when you pour in the water. You'll want to stir. Don't! Don't stir this. It'll work out. Trust me. You'll have delicious apple pudding cake to enjoy once it's baked!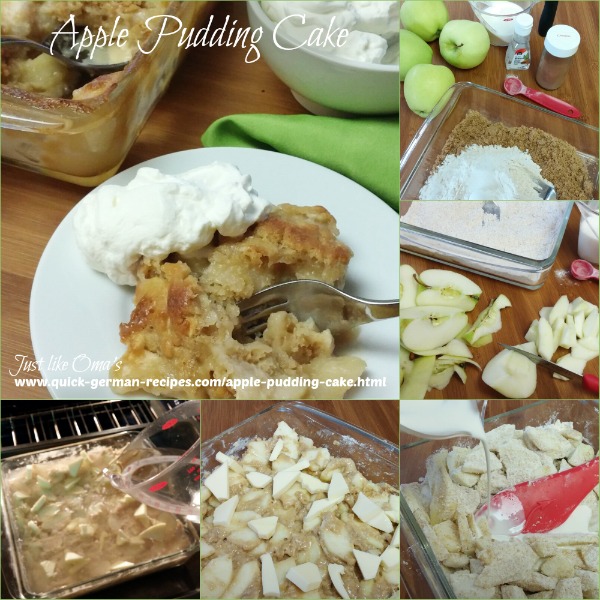 Leftovers?
They're good too. However, I like to zap them in the microwave for a few moments to warm up. Brings back that "fresh" taste and aroma. Again, top with ice cream. Yummy!

More Dessert Recipes ...
*  *  *  *  *
Want nutritional information for a recipe?
Copy and paste the ingredient list and the number of servings into Calorie Count. 
It will give you an approximate calculation.

*  *  *  *  *
Need help doing conversions between cups and grams or any such thing?
Use this site to give you all the different conversions for the different types of ingredients. 
*  *  *  *  *
---
PIN this ...
---
Words to the Wise
"A wise woman builds her home, but a foolish woman tears it down with her own hands."
Proverbs 14:1 (NLT)