Heidi's Apple Pudding Cake

➤ by Gerhild Fulson
This apple pudding cake, aka Apfel-Puddingkuchen, tastes just like a traditional Apple Bread Pudding recipe. It's one of those easy dessert recipes that's delicious served warm with ice cream and sprinkled with cinnamon.
It's also one of those dessert recipes because it's a "quick clean-up" version. It's made right in the baking dish, so it's really quick and easy. 
For the full list of ingredients & detailed instructions, see the recipe card at the end of this post. But before you scroll, there's important & interesting stuff to know right below.
This Apple Pudding Cake is best served warm, right from the oven. Top it with whipped cream or ice cream for an extra special treat and sprinkle extra cinnamon over it if you wish.
Cake Origins ...
This recipe comes from my German friend, Heidi. It was a recipe she tweaked from a newspaper years ago. She would often treat us to this warm apple pudding cake and was very willing to pass on the recipe for you AND me to enjoy!
Actually, since it's best warm, it's great to make when company comes calling. Not only is it best fresh, but clean up is so easy.
Everything for the dough is mixed right in the baking pan. I prefer to use a 9 X 9 inch glass baking dish, because it looks pretty enough to serve from.
Need that "all's good with the world" feeling? Comfort food will do that. Get your copy of Oma's German favorites in her Comfort Foods e-Cookbook.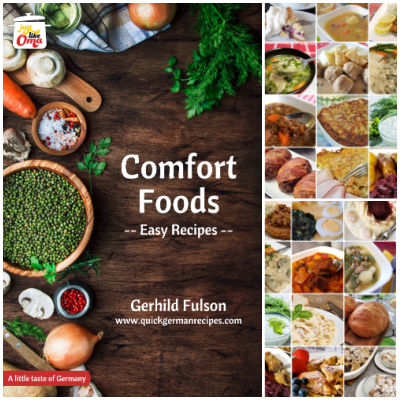 Take a peek at all Oma's eCookbooks. They make sharing your German heritage a delicious adventure!
You'll enjoy serving this all year long. Apples are readily available and it's so easy to make this "pudding" that's true comfort food, warm from the oven.

Have the kids (grandkids) help with this ...
This is a fun dessert to make with kids, because it looks really weird when you pour in the water. You'll want to stir. Don't! Don't stir this. It'll work out. Trust me.
You'll have delicious apple pudding cake to enjoy once it's baked!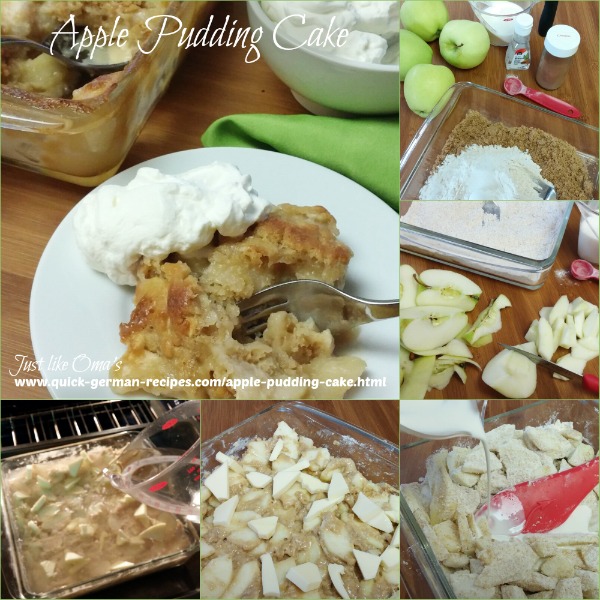 Leftovers?
They're good too. However, I like to zap them in the microwave for a few moments to warm up. Brings back that "fresh" taste and aroma. Again, top with ice cream. Yummy!

Ready to make this apple pudding cake?
Heidi's Apple Pudding Cake
This apple pudding cake, aka Apfel-Puddingkuchen, tastes like a traditional Apple Bread Pudding. It's an easy dessert recipe that's delicious served warm with ice cream and sprinkled with cinnamon.
Since it's made right in the baking dish, it's really super quick and easy.

Prep Time


10 minutes


Bake Time


50 minutes


Total Time

60 minutes

Servings:

Makes 9 servings
Ingredients:
4 apples, peeled and sliced
1 cup brown sugar
1 cup flour, all-purpose
2 teaspoons baking powder
½ teaspoon salt
¼ teaspoon cinnamon
½ cup milk
1 teaspoon vanilla or almond extract
2 - 3 teaspoons butter
2 cups boiling water
Instructions:
Preheat oven to 400° F.

In a deep 9x9-inch pan, mix together the sugar, flour, baking powder, salt, and cinnamon.

Add the apple slices and mix until coated with the flour mixture.

Add the milk that has been mixed with the vanilla or almond extract.

Stir until everything has been moistened. Smooth out the top. Dot the butter on top.

Put pan on rack in oven and carefully pour the 2 cups of boiling water over the top. DO NOT STIR. (Put a baking sheet on the rack under your pan. Sometimes it bubbles over when it's baking.)

Bake for 40 to 50 minutes or until top is golden brown.

Let cool slightly before serving. Sprinkle extra cinnamon on top if desired.
Notes/Hints:

Omit cinnamon if desired.

Sprinkle slivered almonds on top before baking if desired.
*  *  *  *  *

Unless otherwise noted recipe, images and content © Just like Oma | www.quick-german-recipes.com

Leave a comment about this recipe or ask a question?

Pop right over to my private Facebook group, the Kaffeeklatschers. You'll find thousands of German foodies, all eager to help and to talk about all things German, especially these yummy foods. 
Meet with us around Oma's table, pull up a chair, grab a coffee and a piece of Apfelstrudel, and enjoy the visit.

Oma's German schnitzel recipe (Schweineschnitzel) is great if you need something delicious that's quick to make as well. So traditionally German and so WUNDERBAR!

Need ideas for what to serve with burgers? Everyone loves a lecker hamburger done on the summer BBQ. But what to serve alongside? Check out these great options!

Oma's baked pork chops with sauerkraut is an easy German dinner that's quick to make. Adding both browned onion rings and apples are scrumptious additions to this traditional meal.
*  *  *  *  *
PIN to SAVE this recipe to your Pinterest board!
And let's be friends on Pinterest!
---
Apple Pudding Cake baked Just like Oma
By
Oma Gerhild Fulson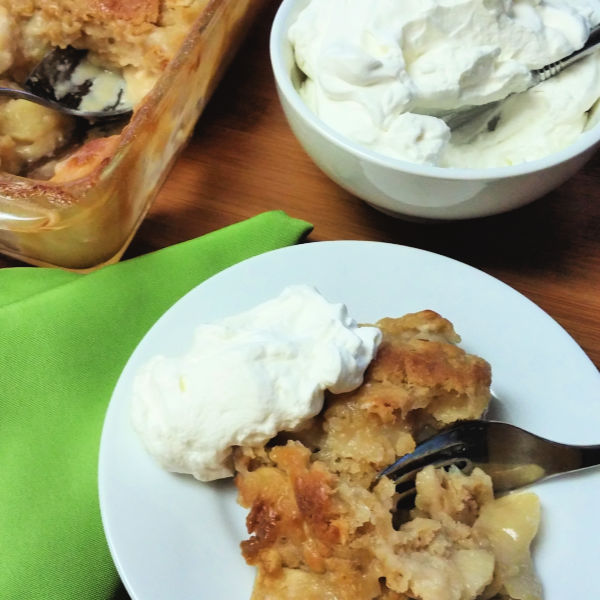 This apple pudding cake tastes like a traditional apple bread pudding cake. It's one of those easy desserts that's delicious warm with ice cream and sprinkled with cinnamon. Wunderbar!
Ingredients:
apples,
brown sugar,
butter,
all-purpose flour,
baking powder,
salt,
cinnamon,
vanilla/almond extract,
milk,
For the full recipe, scroll up ...
Words to the Wise
"A wise woman builds her home, but a foolish woman tears it down with her own hands."
Proverbs 14:1 (NLT)