Oma's Vanilla Sauce Recipe ❤️
➤ by Oma Gerhild Fulson
FTC Disclosure: Making a purchase via a link on the page? I may earn a small commission on the transaction - at no added cost to you. Thanks!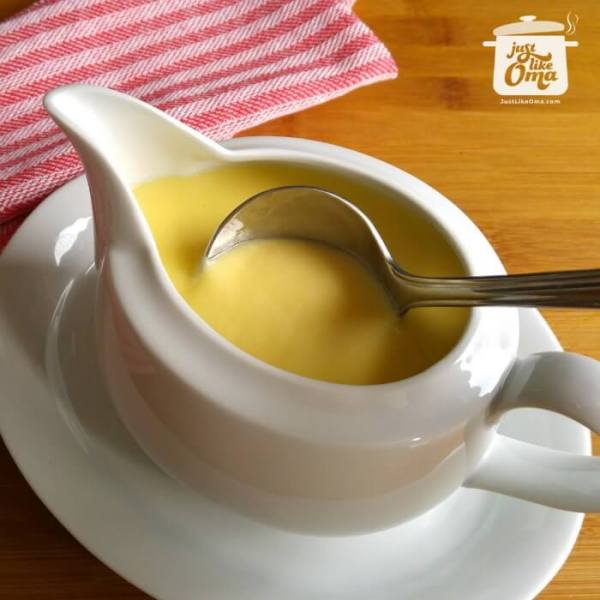 My vanilla sauce recipe is an easy one to make when you're needing that something special to go along with your dessert. This is very similar to Crème anglaise (English cream) and is a light pouring custard that fits perfectly with some freshly baked apple strudel or over some stewed fruit.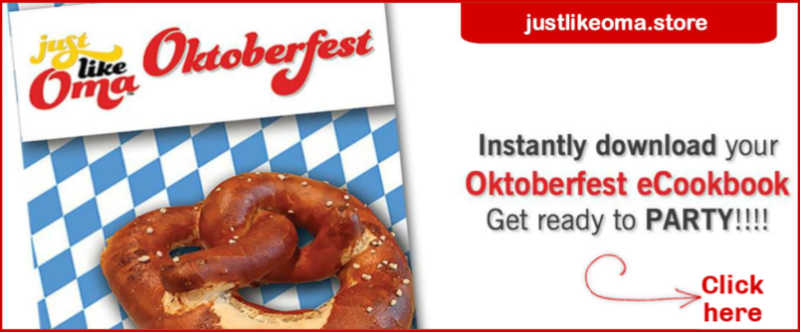 There are many variations of the sauce, from using vanilla pods (which, unfortunately, are not readily available everywhere), to using yellow food coloring to replace the yellow from the egg yolks! 
There are three basic ways to make the German Vanillesosse, one uses egg yolks to thicken the sauce, another uses corn starch, and the third uses both. Below, my recipe uses both. 
Try this variation ...
Whip 2 to 4 egg whites until stiff peaks form. Fold the egg whites into the cold sauce and serve.
Super Rich Vanilla Sauce ...
After the vanilla sauce has cooled, whip 1 cup of whipping cream until soft peaks form. Fold this into the vanilla sauce. YUMMY!
A simpler, less rich vanilla sauce ...
Mix together 1 tablespoon flour and 1 egg yolk and gradually stir in 2 cups 2% milk. Add 1 tablespoon vanilla sugar. Bring to a slow simmer, stirring constantly, until thickened to a sauce. Add sugar to taste. 
Serve this Vanilla Sauce with ...
Desserts like Dampfnudeln, Götterspeise, Rote Grütze, Apfelstrudel, bread pudding, rice pudding, chocolate pudding, steamed fruit, Kaiserschmarrn, Hefeklösse, etc.
---
Oma's Vanilla Sauce Recipe ❤️
Ingredients:
4 egg yolks

2 teaspoon cornstarch
2 cup milk
¼ cup sugar
1 tsp vanilla extract
Instructions:

In a large bowl, whisk egg yolks with cornstarch. 
In top of double boiler, combine milk with sugar and bring to a simmer.  
In a thin stream, whisk hot milk into the egg yolks and return to double boiler. Cook until sauce is thick enough to coat a wooden spoon, about 3 minutes. DO NOT let the sauce boil or it can curdle. Stir in vanilla extract.
Serve hot or cover with plastic wrap right on top of the pudding so that no 'skin' forms and refrigerate.

Hints:
Use 6 egg yolks instead of the 4 if you'd like a thicker sauce.
If the sauce curdles, you can try putting it in a blender or you can put it into a cheesecloth-lined sieve. Both methods should give you a smooth sauce to use. 
For a richer sauce, use cream instead of milk.

Leave a comment about this recipe or ask a question?
Pop right over to my private Facebook group, the Kaffeeklatschers. You'll find thousands of German foodies, all eager to help and to talk about all things German, especially these yummy foods. 
I pop in all the time as well, to chat and to answer questions. 
Meet with us around Oma's table, pull up a chair, grab a coffee and a piece of Apfelstrudel, and enjoy the visit.
*  *  *  *  *
Want nutritional information for a recipe?
Copy and paste the ingredient list and the number of servings into Calorie Count. 
It will give you an approximate calculation.

Need help doing conversions
between cups and grams or any such thing?
Use this site to give you all the different conversions for the different types of ingredients. 
---
PIN this ... for quick recipe access when looking for the perfect sauce to pair with your desserts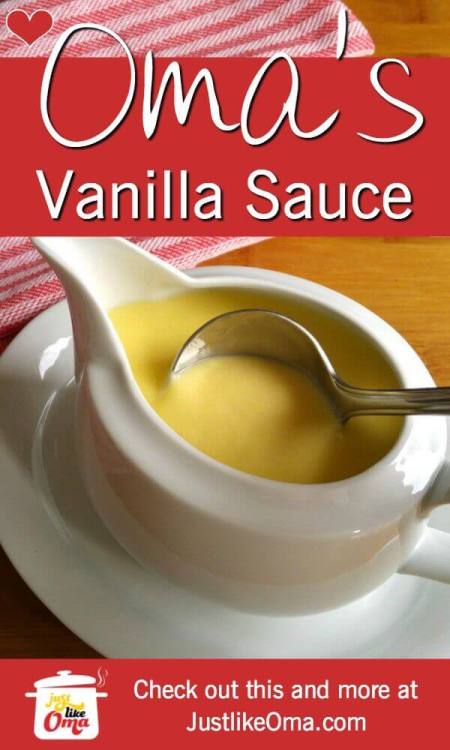 ---
Schwenkbraten recipe that has been a delish hit an alle familien & freunde... Total Approx. Time: Prep: 15 min. + Marinating 8 hrs min. + Grill: 15 min.

My Oma made this cake every Christmas. She iced it with a white frosting that ran down the sides. She decorated it with little silver balls (candy). It
---
Words to the Wise
"The blessing of the Lord makes a person rich, and He adds no sorrow with it."
Proverbs 10:22 (NLT)
---
❤️ German Vanilla Sauce Recipe (Vanillesosse) made Just like Oma


By
Oma Gerhild Fulson
Oma's vanilla sauce recipe is an easy one to make when you're needing that something special to go along with your dessert. Classic!

Ingredients:
egg yolks,
milk,
vanilla,
sugar,
For the full recipe, scroll up ...