Oma's Apfelstrudel ~ German Apple Strudel Recipe
➤ by Oma Gerhild Fulson
This German Apple Strudel recipe, aka Apfelstrudel, is one of those quick easy dessert recipes that I really love. It brings the traditional strudel taste to my table without all the work.
The secret to quick and easy?  Frozen puff pastry. 
Just try this German apple strudel recipe and you'll be convinced. This really is the easiest way to make an absolutely wonderful traditional German dessert.
For the full list of ingredients & detailed instructions, see the recipe card at the end of this post. But before you scroll, there's important & interesting stuff to know right below.
Serve with a fresh cup of coffee and lots of whipped cream. Or, serve it southern German style with a warm vanilla sauce.
Yes, a quick and very easy German food recipe you will enjoy!
Strudel Tips ...
Frozen puff pastry makes a great alternative to making strudel dough from scratch - a long and somewhat difficult process of stretching dough thin enough to read through and big enough to cover a table. Do read what Oma Says below!
Just as with other recipes with apples, the type of apple to use depends on what you like. I like using a tart apple.

Great ones to use are Boskoop, Braeburn, Golden Delicious, and Granny Smith. The raisins are optional.
I don't recall Mutti ever making a traditional German apple strudel recipe. It wasn't part of her upbringing.
Since then though, I've found out it seems to be something that is handed down from generation to generation.

---

Strudel, similar to baklava, came to Austria through Turkish and Hungarian influences 
The German word, "Strudel"  means "whirlpool" or "eddy" and describes the flaky layers of pastry surrounding the filling
The traditional strudel dough is rolled and pulled until it is so thin that a newspaper can be read through it
The most popular type is the apple strudel, but there are many other fillings, including sweet and savory ones. Spinach, sauerkraut, and cabbage strudels are common as are meat ones
---
Making a Traditional Strudel ...
Years ago, I met a really nice elderly German lady at church who took pity on me when she realized that I didn't know how to make strudel recipes.
Her feeling was that every German girl needed to learn this skill. She came over to teach me. I was surprised when she asked for a large table and tablecloth. Then I realized what was involved.
The dough was stretched over my big dining room table. We cut apples over it all. Rolled it. Baked it. Devoured it. Oh, it was so good.
But, I never made it myself. I appreciate all the hard work that goes in to making an original strudel recipes. But, you see, I discovered one can use frozen puff pastry or frozen phyllo dough. So much easier. 
Grab your copy of Oma's favorites in her Special Occasion German Cakes & Tortes e-Cookbook.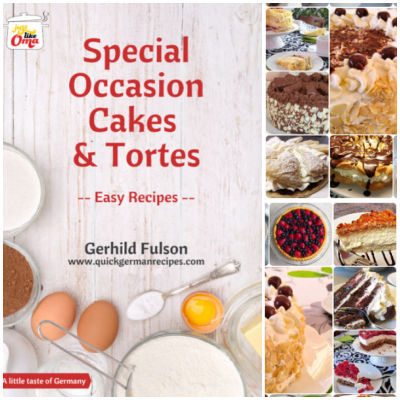 Take a peek at all Oma's eCookbooks. They make sharing your German heritage a delicious adventure!
Oma Says, ... Frozen phyllo?

I mentioned this strudel on my Facebook page and was so thrilled at Dorie Bochantin-Neuhaus's comment. I asked her permission to copy it here ... I think you'll like this:
"I learned to make it the old way - with the big table and tablecloth, pulling all the dough. My father-in-law, a master baker from Germany, came for Christmas one time years ago, and caught me doing the old way. He said I was nuts and that current bakers use the phyllo dough. He showed me how and I've never made it the old way again.
I don't make the phyllo dough. I buy it in the freezer case at the store and work quickly.The store bought stuff can dry out quickly so you have to keep it moist and work quickly. I have all of my filling stuff ready to go and the butter melted before I even open up the dough."
Who would have guessed that some (or many or all?) the bakeries are using the phyllo dough! So, the apple strudel above, is more actually really similar to the bakery apple strudels you can buy in Germany!
My Favorite - Use Puff Pastry!
Not one to give up trying to come up with easy, I started using purchased frozen butter puff pastry. Even easier than phyllo!
What's so great is that one can even buy a vegan puff pastry dough. Here I'm making a strudel with an apple and a pear and using thawed puff pastry. I'm trying out a silicon baking sheet liner for this. It worked great. No sticking at all.
I also discovered that many brands of puff pastry dough are vegan. So, that works well if vegan is necessary.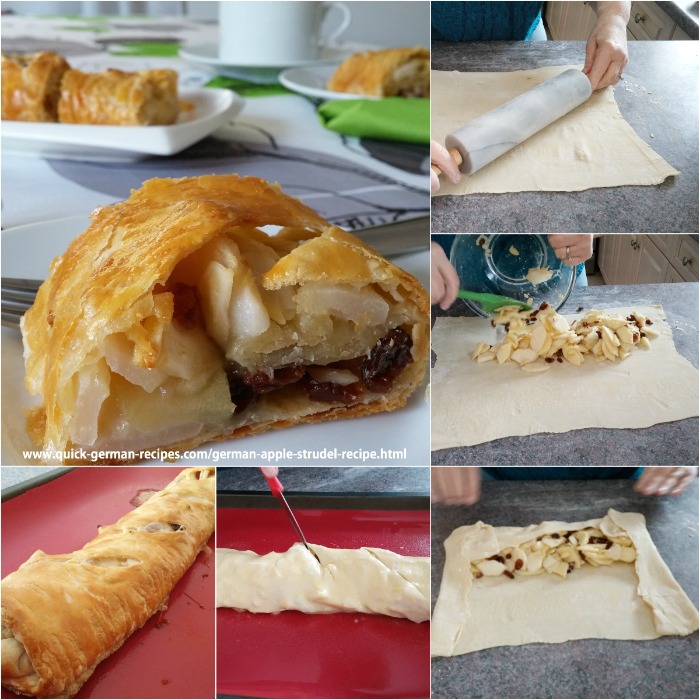 Read to make this apple strudel?
German Apple Strudel Recipe

This German Apple Strudel recipe, aka Apfelstrudel, is one of those quick easy dessert recipes that I really love. It brings the traditional strudel taste to my table without all the work.

The secret to quick and easy?  Frozen puff pastry.

Prep Time


15 minutes


Bake Time


35 minutes


Total Time

50 minutes

Servings:

Makes about 8 servings
Ingredients:
1 pound (454 grams) apples (or pears), peeled and thinly sliced
2 tablespoons (26 grams) sugar
1 tablespoon (8 grams) flour
¼ cup (25 grams) sliced almonds (optional)
¼ cup (38 grams) raisins (optional)
½ pound (227 grams) package of frozen butter puff pastry, thawed
1 large egg
1 tablespoons (15 milliliter) water
Instructions:
Preheat oven to 375°F (190°C). Line a cookie sheet with parchment paper and grease and flour. 
Mix together apple slices, sugar, flour, almonds (if using) and raisins (if using) in a bowl.
Roll out dough on a floured surface until about 12x16 inches.
Put the apple mixture down the bottom half of the long side of the pastry, leaving a 1-inch border around the outside.
Fold in the short sides and then roll up like a jelly roll.
Put strudel on baking sheet with the seam side down. 
Mix egg and water. Brush on strudel. Cut ¼-inch deep slashes across diagonally across top.
Bake for 35 to 40 minutes or until golden brown.
Let cool before sprinkling with powdered sugar and serving.
Notes/Hints:

I like using a tart apples, but other great ones to use are Boskoop, Braeburn, Golden Delicious, and Granny Smith. 
If you have extra apples, try my Versunkener Apfelkuchen, a traditional and really quick German apple cake.
Unless otherwise noted recipe, images and content © Just like Oma | www.quick-german-recipes.com

03.31.2021 revision update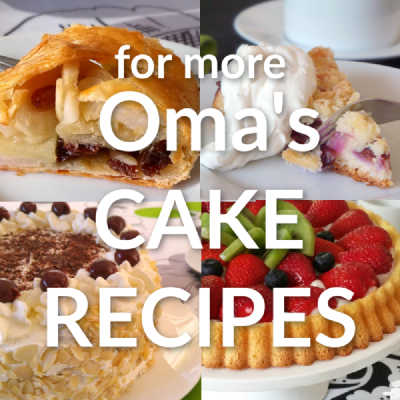 Leave a comment about this recipe or ask a question?

Pop right over to my private Facebook group, the Kaffeeklatschers. You'll find thousands of German foodies, all eager to help and to talk about all things German, especially these yummy foods. 
Meet with us around Oma's table, pull up a chair, grab a coffee and a piece of Apfelstrudel, and enjoy the visit.

Vanillekipferl are melt-in-your-mouth vanilla crescent cookies, similar to shortbread cookies made with ground almonds. Austrian & German traditional Christmas cookies!

Oma's Christmas Stollen is the BEST. Why? Because it's always moist, has a wonderful flavor using Greek yogurt (instead of Quark) and is super quick to make. And it's got Marzipan in it!!!

Oma's Lebkuchen recipe is SO easy. Made in one bowl, baked, decorated, & cut. It's authentic German gingerbread that smells like Christmas. The bars taste wunderBAR!
*  *  *  *  *
PIN to SAVE this recipe to your Pinterest board!
And let's be friends on Pinterest!
---
Oma's Apfelstrudel ~ German Apple Strudel Recipe
By
Oma Gerhild Fulson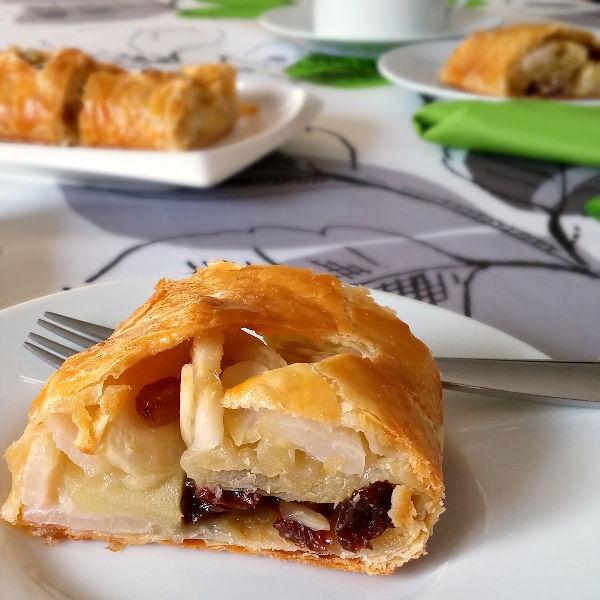 This easy German Apple Strudel recipe is one of those German desserts that brings the traditional strudel taste to your table without all the work. Wunderbar!!
Ingredients:
apples,
sugar,
frozen puff pastry,
flour,
almonds,
egg,
raisins (optional),
For the full recipe, scroll up ...
Make every day a day of AFFIRMATION!
"For His Spirit joins with our spirit to affirm that we are God's children."
Romans 8:16 (NLT)
---