German Apple Strudel Recipe – Oma's Apfelstrudel Rezept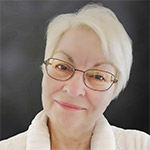 by: Gerhild Fulson  /  Cookbook Author, Blogger, German Oma!

This post may contain affiliate links, which means I'll receive a commission if you purchase through my links, at no extra cost to you. Please read full disclosure for more information.
This German Apple Strudel recipe, aka Apfelstrudel, is one of those quick and easy dessert recipes that I really love. It brings the classic apple strudel taste to my table without all the work.
The secret to this quick and easy apple strudel? Frozen puff pastry. 
Just try this German Apfelstrudel recipe and you'll be convinced. This really is the easiest way to make an absolutely wonderful and traditional German dessert.
But, is apple strudel really German? I answer that below :)
My piece of apple strudel waiting for that warm vanilla sauce.
Serve the strudel with a fresh cup of coffee and a big dollop of whipped cream or a scoop of vanilla ice cream. Or, serve it Southern Germany style with a warm homemade vanilla sauce.
Perfect for the holiday season and other special occasions, or a simple afternoon snack.
Strudel Tips ...
Frozen puff pastry makes a great alternative to making homemade strudel dough - a long and somewhat difficult process of stretching the dough thin enough to read through and big enough to cover a table. Do read what Oma Says below!

Just as with other recipes with apples, the type of apple to use depends on what you like. I like using a tart apple.
Great ones to use are Boskoop, Braeburn, Golden Delicious, and Granny Smith. The raisins are optional.

I don't recall Mutti ever making a traditional German apple strudel recipe. It wasn't part of her upbringing.
Since then though, I've found out it seems to be something that is handed down from generation to generation.
---

Apfelstrudel is actually not of German origin; the oldest known recipe dates back to 1697 in Vienna and gained popularity throughout the Austro-Hungarian Empire in the 18th century. The strudel is said to have other cultural influences as it is reminiscent of the Turkish baklava with its thin layers of dough
Not only is Apfelstrudel a popular dessert in Austria and Germany, but also throughout Central Europe, including the Czech Republic
The German word "Strudel" means "whirlpool" or "eddy" and describes the flaky crust surrounding the delicious filling
The traditional strudel dough is rolled over a large work surface (often a kitchen or dining room table) and pulled and stretched using the back of your hands until it is so thin that a newspaper can be read through it
The most popular type is the apple strudel, but there are many other fillings, including sweet and savory ones. Spinach, sauerkraut, and cabbage strudels are common, as are meat ones
---
Making a Traditional Strudel ...
Years ago, I met a really nice elderly German lady at church who took pity on me when she realized that I didn't know how to make strudel recipes.
Her feeling was that every German girl needed to learn this skill. She came over to teach me. I was surprised when she asked for a large table and tablecloth. Then I realized what was involved.
The dough was stretched into a thin rectangle over my big dining room table. We covered the stretched dough with small pieces of apples. We rolled it. Baked it. Devoured it. Oh, it was so good.
But, I never made it myself. I appreciate all the hard work that goes into making a traditional Viennese apple strudel recipe. But, you see, I discovered one can use frozen puff pastry or frozen phyllo dough instead. So much easier and just as delicious!
Grab your copy of Oma's favorites in her Special Occasion German Cakes & Tortes e-Cookbook.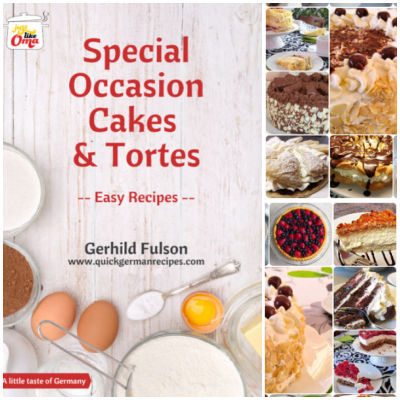 Take a peek at all Oma's eCookbooks. They make sharing your German heritage a delicious adventure!
Oma Says, ... Frozen phyllo?

I mentioned my homemade apple strudel on my Facebook page and was so thrilled at Dorie Bochantin-Neuhaus's comment. I asked her permission to copy it here. I think you'll like this:
"I learned to make it the old way - with the big table and tablecloth, pulling all the dough. My father-in-law, a master baker from Germany, came for Christmas one time years ago, and caught me doing the old way. He said I was nuts and that current bakers use the phyllo dough. He showed me how and I've never made it the old way again.

I don't make the phyllo dough. I buy it in the freezer case at the store and work quickly. The store bought stuff can dry out quickly so you have to keep it moist and work quickly. I have all of my filling stuff and the melted butter ready to go before I even open up the dough."
Who would have guessed that some (or many or all?) the bakeries are now using the phyllo dough for this authentic German recipe! So, the apple strudel mentioned above is actually really more similar to the bakery apple strudels you can buy in Germany!
Using Frozen Phyllo Dough
I started to use the frozen phyllo dough, with the same filling as in the recipe below. It works. However, it's a tad more difficult to use and finding the dough is not always easy. 
The end result is delicious, but still it's a bit of a hassle to work with phyllo dough and takes more time than my newest easiest way to make apple strudel. 
Enter ... frozen puff pastry. 
My Favorite - Use Puff Pastry!
Not one to give up trying to come up with an even easier way to make a traditional Apfelstrudel recipe, I started to use store-bought frozen butter puff pastry and found that it's even easier to use than the phyllo dough!
What's so great is that one can even buy a vegan puff pastry dough. Actually, I've discovered that many brands of puff pastry dough are vegan. This is great if you want to make a strudel suitable for vegans.
Here, below, I'm making a strudel with a pear and apple filling using thawed puff pastry. I'm trying out a silicon baking sheet liner for this. It worked great. No sticking at all.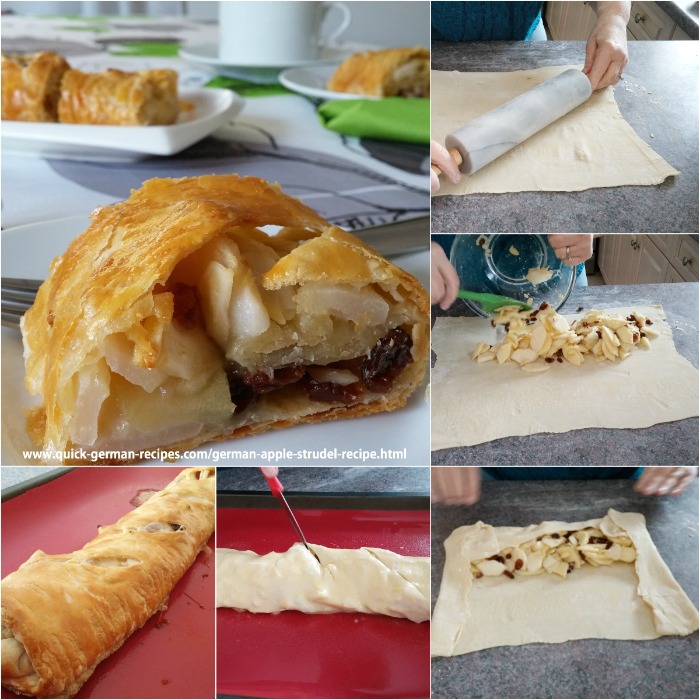 How to Make Easy Apfelstrudel

Core, peel, and cut one pound of apples into thin slices. Combine apples with 2 tablespoons granulated sugar, 1 tablespoon all-purpose flour, a quarter cup sliced almonds and a quarter cup run-soaked raisins. (Almonds and raisins are optional.) Set aside.
Roll out thawed puff pastry into a large rectangle, about 12x16 inches.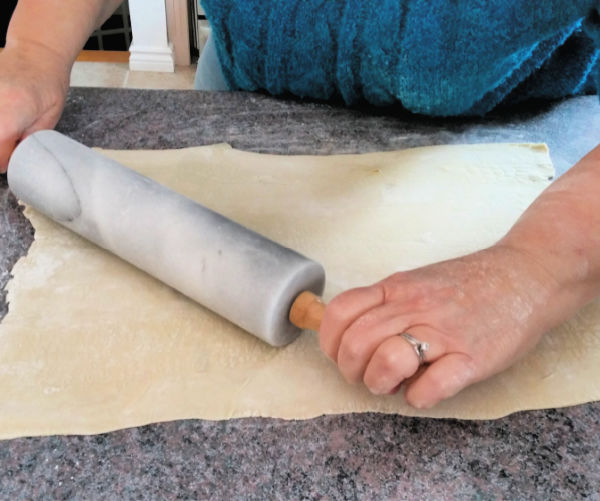 Spread the apple mixture evenly over the bottom half of the long side of the puff pastry. Leave a 1-inch border around the outside edge.
As pictured below, fold in the short sides of the dough, then roll up the strudel like you would a jelly roll.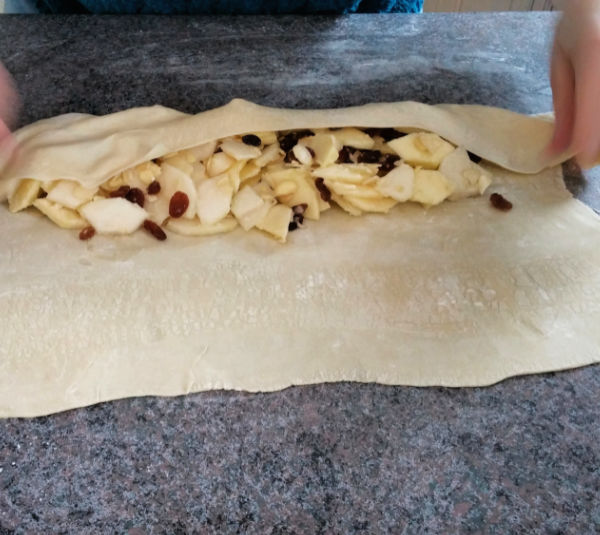 Place the strudel, seam side down, on a baking sheet that has been lined with parchment paper. Or, line your baking sheet with a silicon baking mat.

In a small bowl, mix a large egg with one tablespoon of water to make an egg wash. Brush the egg wash over the strudel.
Cut one-quarter-inch-deep slashes diagonally into the dough.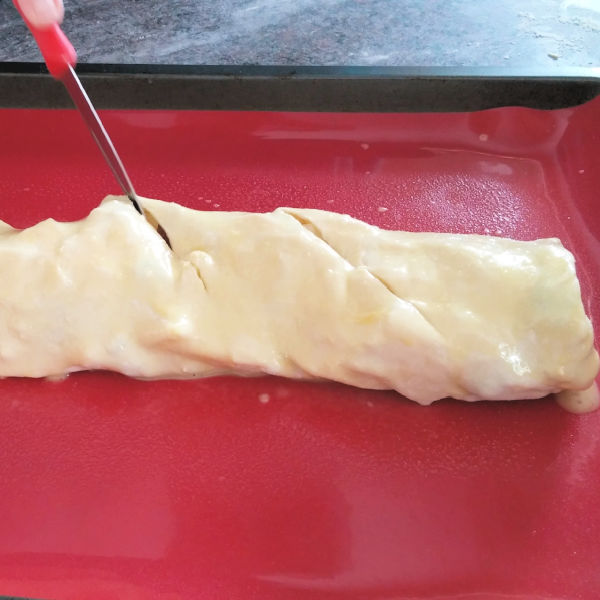 Place the strudel in the preheated oven and bake for 35 to 40 minutes, or until golden brown.

Let it cool before dusting with some powdered sugar.
Serve with some whipped cream, ice cream, or vanilla sauce. Lecker!
But, is Apple Strudel really German?
Looking way, way back in history, in the 17th century, one good thing happened when the Turks besieged Vienna. It appears that they left behind some culinary knowledge: how to make their layered pastry, baklava. 
Using this method of layering wafer-thin dough and wrapping it around a filling, the Austrians turned this into a traditional strudel, though the first ones appeared to be savory. Soon fruit, and even cheese, became popular.
With the closeness of the border to Germany, it didn't take long for the apple strudel to cross the border and end up on the Bavarian tables. Some say that it was the Germans who decided to add rum-soaked raisins to the apple filling. 
Apple strudel is now considered a Bavarian dessert that many Germans consider their own. After all, their recipes have been handed down within their families from one generation to the next. 
In this shared Austrian and German culinary history, the enjoyment of that golden-brown crust enveloping a warm apple filling with rum-soaked raisins makes the merging of cultures a wonderful thing. 
Ready to make this traditional apple strudel recipe?

Is the recipe below locked? Here's why. 

German Apple Strudel Recipe – Oma's Apfelstrudel Rezept

This German Apple Strudel recipe, aka Apfelstrudel, is one of those quick and easy dessert recipes that I really love. Made with simple ingredients, it brings the traditional strudel taste to my table without all the work. This is traditionally served with warm vanilla sauce.
The secret to this quick and easy strudel? Frozen puff pastry.
Prep Time


15 minutes


Bake Time


35 minutes


Total Time

50 minutes

Servings:

Makes about 8 servings
Ingredients:
1 pound (454 grams) apples (or pears), peeled and thinly sliced
2 tablespoons (26 grams) granulated sugar
1 tablespoon (8 grams) all-purpose flour
¼ cup (25 grams) sliced almonds (optional)
¼ cup (38 grams) raisins (optional)
½ pound (227 grams) package of frozen butter puff pastry, thawed
1 large egg
1 tablespoon (15 milliliter) water
Instructions:
Preheat oven to 375°F (190°C). Line a cookie sheet with parchment paper and set aside. 
Mix together apple slices, sugar, flour, almonds (if using) and raisins (if using) in a large bowl.
On a floured surface, roll out the thawed puff pastry dough with a rolling pin into a rectangular shape, about 12x16 inches.
Put the apple mixture down the bottom half of the long side of the pastry, leaving a 1-inch border around the outside.
Tuck in the short sides of the dough and then roll it up jelly-roll style.
Transfer strudel to the prepared baking sheet making sure to place seam side down. 
Mix egg and water together and brush over strudel. Cut ¼-inch deep slashes diagonally across the top.
Bake for 35 to 40 minutes or until golden brown.
Let it cool before dusting with powdered sugar, and serve.
Notes/Hints:

This recipe is wonderful to make when apple season comes around.
There are different types of apples you can use. I like using tart apples, but other great ones to use are Boskoop, Braeburn, Golden Delicious,

and

Granny Smith. 
Almond slices and raisins are optional, but they really add wonderful flavor and texture to the strudel.
This strudel tastes the best the day it is made, but is still wunderbar the next day. It will keep for 1 to 2 days at room temperature.
If you have extra apples, try my Versunkener Apfelkuchen, a traditional German apple cake that's also quick and easy to make.
If you are using raisins, you can soak them in some rum for extra flavor prior to baking. Soak the raisins for at least 30 minutes. Alternatively, you can soak them in some apple juice if you don't have rum on hand. Make sure to discard the rum or apple juice before using (or save it to drink later!).
Grind poppy seeds (or leave them whole, if you prefer) and use them instead of the raisins for a delicious alternative.
Unless otherwise noted recipe, images and content © Just like Oma | www.quick-german-recipes.com

09.07.2023 revision update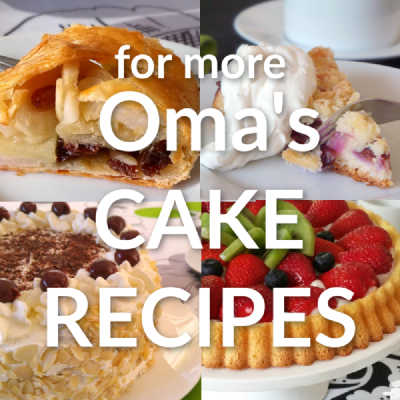 Leave a comment about this recipe or ask a question?

Pop right over to my private Facebook group, the Kaffeeklatschers. You'll find thousands of German foodies, all eager to help and to talk about all things German, especially these yummy foods. 
Meet with us around Oma's table, pull up a chair, grab a coffee and a piece of Apfelstrudel, and enjoy the visit.

Cooking just like Oma, making those German meals, is actually quite easy. Let me, Oma Gerhild, help you with my step-by-step methods to re-create those yummy meals you remember from your Oma.

If you're looking for tasty, traditional, and easy German cake recipes (in English) to try, then you've come to the right place! Check out these lecker treats!

Discover the ultimate German schnitzel recipe with Oma's quick and easy method - perfect for any occasion! Taste the authentic flavors of Germany today.
*  *  *  *  *
PIN to SAVE this recipe to your Pinterest board!
And let's be friends on Pinterest!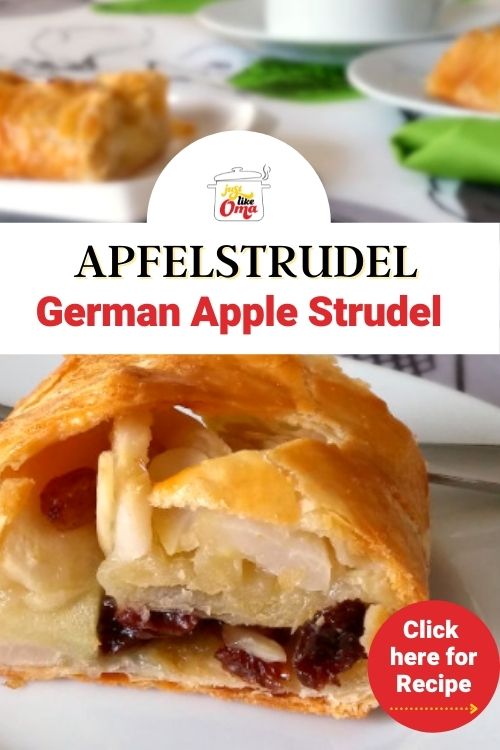 ---
Oma's Apfelstrudel ~ German Apple Strudel Recipe
By
Oma Gerhild Fulson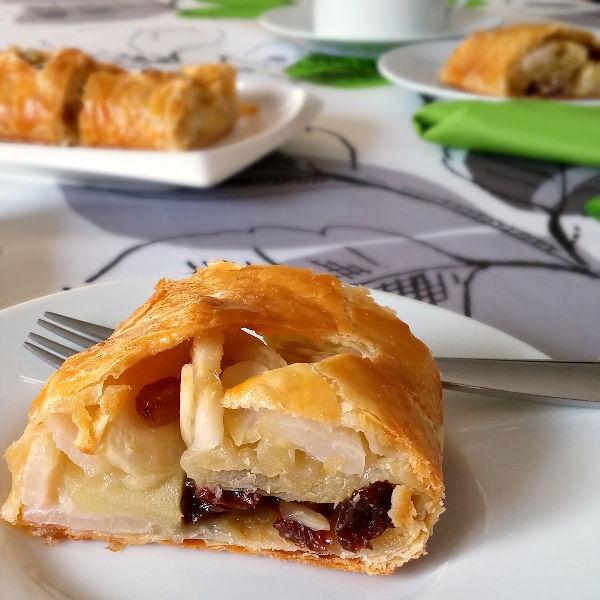 This easy German Apple Strudel recipe is one of those German desserts that brings the traditional strudel taste to your table without all the work. Wunderbar!!
Ingredients:
apples,
sugar,
frozen puff pastry,
flour,
almonds,
egg,
raisins (optional),
For the full recipe, scroll up ...
Make every day a day of AFFIRMATION!
"For His Spirit joins with our spirit to affirm that we are God's children."
Romans 8:16 (NLT)
---