Traditional German Apple Cake Recipe – Oma's Versunkener Apfelkuchen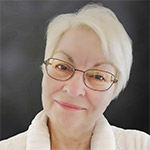 by: Gerhild Fulson  /  Cookbook Author, Blogger, German Oma!

This post may contain affiliate links, which means I'll receive a commission if you purchase through my links, at no extra cost to you. Please read full disclosure for more information.
This traditional German apple cake recipe, aka Versunkener Apfelkuchen, is sure to please.
If you're looking for an easy and impressive dessert to make, look no further. This delicious cake is one I often helped Mutti make while growing up. Once married, I really depended on it to make a good impression on my new in-laws.
It's a simple vanilla cake topped with thinly sliced fresh apples. Slicing the apples without cutting all the way through produces a lovely fanned effect as the apples bake.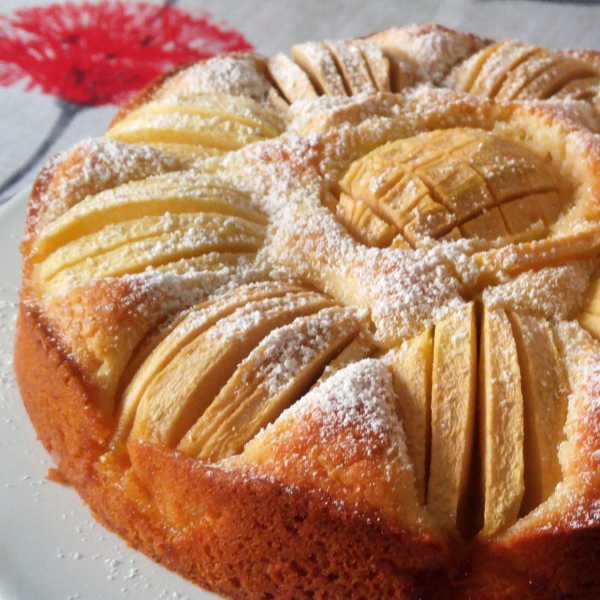 In other words, the cake goes into the oven looking pretty ordinary, but comes out looking mighty extraordinary, as the batter rises up and bakes around the fanned apples.
With a fresh dusting of icing sugar on top of the cake, it looks so pretty and fancy! Which is pretty amazing for something that's so quick and easy to make. 

What's so extra nice about this German apple cake recipe is that it ALWAYS turns out, whether you're making it for the first time, second time, or umpteenth time.

---

Apple recipes come in a variety of types such as apple strudel, apple pie, apple crumble, apple crisp, apple cake, apple galette, applesauce cake, apple cheesecake, apple dumplings, etc.
---
This cake is absolutely delicious when served warm right out of the oven, especially with a dollop of whipped cream or a scoop of vanilla ice cream. Perfect for 3:00 Kaffee und Kuchen, aka Kaffeeklatsch.
Amazingly, it tastes even better the next day; thanks to the apples, it remains a moist cake for 3 to 4 days and becomes even more flavorful as the apples infuse the cake with flavor.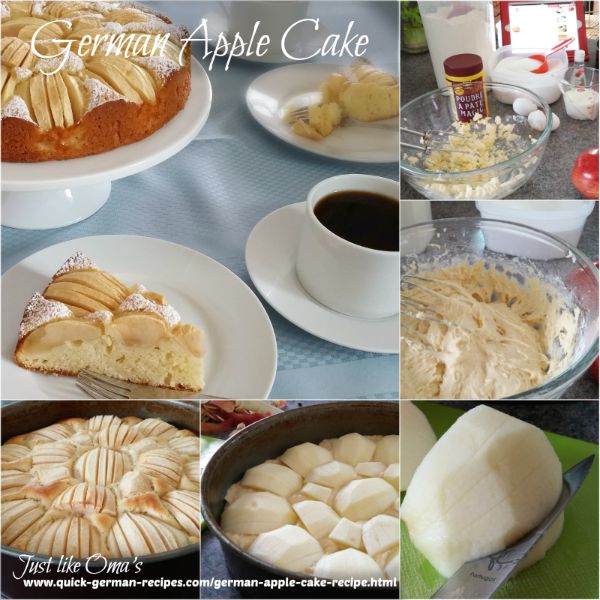 This German apple cake usually finds its way onto my holiday table. It always looks so festive and it's so quick and easy to make - perfect for the busy holiday season!
It's an excellent dessert option any time of the year. It's perfect for picnics, potlucks, family dinners, and parties. No matter the occasion, it's always a winner! And, did I mention it's quick and easy?
If you're into quick German recipes like I am, this delicious apple cake may very well become one of your favorite German cakes. You may even love it so much, you'll have it memorized!
What type of Apples to use for Apple Cake?

Although any type of apple can be used when cooking and baking, certain types are better for cakes since they keep their shape longer.
The best apples to use are those that are both sweet and tart; or use a combination of sweet and tart apples.
McIntosh, Cortland, Empire, Golden Delicious, Granny Smith, Pink Lady, and Mutsu are especially wonderful when used in cakes and strudels.
Grab your copy of Oma's favorites in her Special Occasion German Cakes & Tortes e-Cookbook.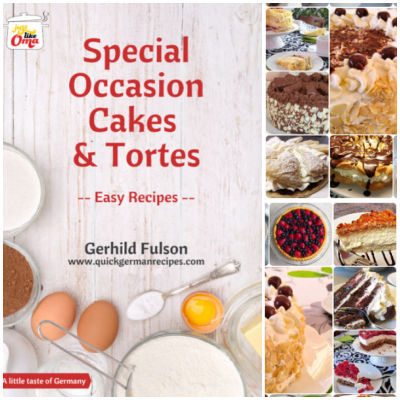 Take a peek at all Oma's eCookbooks. They make sharing your German heritage a delicious adventure!
Oma says,
German apple cake is what I call an emergency cake.
What's an "emergency cake"?

Well, the phone just rang and company's on its way!

My head spins -- I need a quick dessert recipe, but which one? Ah, my best cake recipe -- German apple cake!
Why? It's quick, easy, and the ingredients are pantry staples. I always have them on hand!
By the way, this German recipe is called Versunkener Apfelkuchen, which translates as sunken apple cake... sounds so much prettier in German than in English! LOL
---
Lydia Remembers...
I have so many wunderbar memories in the kitchen with my Oma, and have had MANY of her most popular and traditional recipes, like this apple cake! 
I've enjoyed this recipe multiple times on my work days at Oma's. I'll walk in to see this scrumptious cake sitting on the counter, and my mouth just starts to water. But I have to tell myself, "No, Lydia. Wait until 3 o'clock coffee break time!"

The absolute best part about this recipe is when you take a big dollop of Oma's homemade whipped cream and plop it right on top! Especially when the cake is fresh out of the oven and it's still warm, then the whipped cream melts over it. Or serve it with French vanilla ice cream! Oh my, what a lecker treat that is too! 

I LOVE this cake! The soft crunch of the sweet apples is absolutely delicious! It gives you so much opportunity to be creative and if you've read up on me, you know how much I love when something gives the chance to show creativity. With an artsy mind you can really get creative with anything if you put your mind to it!
This cake is no exception. Get your creative juices flowing! Make a fancy design with those apples, add cinnamon to make it taste like apple pie, sprinkle powdered sugar… it's all in your hands. :)
Now, I know Oma may call this her emergency cake, but I call it her exquisitely beautiful cake! Her cake made with love, and made deliciously German.
Learn a little bit about me, Lydia, and my kitchen adventures with Oma!
---
Looking for more apple cake recipes?

Ready to bake this German apple cake?

Is the recipe below locked? Here's why.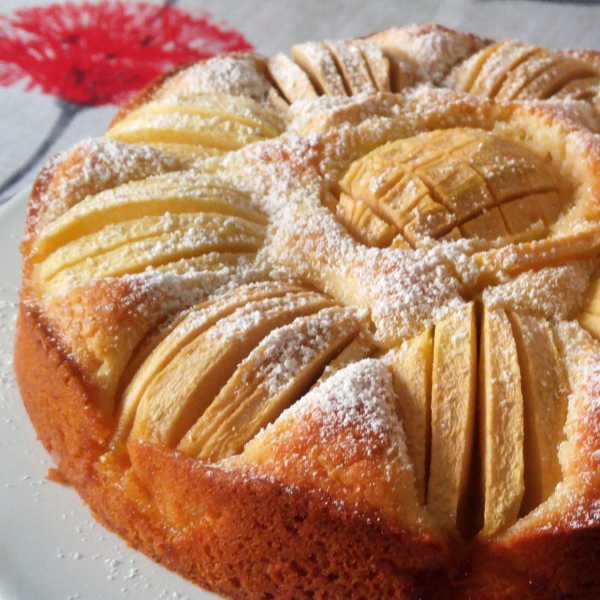 Traditional German Apple Cake Recipe – Oma's Versunkener Apfelkuchen
If you're looking for an easy and impressive dessert to make, look no further. This simple vanilla cake topped with thinly fanned apples and a fresh dusting of icing sugar looks so pretty and fancy!
Prep Time


25 minutes


Cook Time


50 minutes


Total Time

75 minutes

Servings:

Makes 12 servings
Ingredients:
3 to 5 apples, depending on size
½ cup (114 grams) unsalted butter, room temperature 
¾ cup (150 grams) granulated sugar
2 large eggs
1 teaspoon (5 milliliters) lemon juice
½ - 1 teaspoon (3 - 5 milliliters) vanilla or almond extract
1¾ cup (228 grams) all-purpose flour
1½ teaspoon (6 grams) baking powder
½ teaspoon (3 grams) salt
½ cup (120 milliliters) milk
1 tablespoon (6 grams) powdered sugar
Instructions:
Preheat oven to 350°F (180°C).
Grease bottom and sides of a 10-inch springform pan.
Peel, quarter, and core the apples. Set aside.
In a large bowl, beat the butter and sugar. Beat in the eggs, lemon juice, and vanilla until creamy.
In a medium bowl, mix flour, baking powder, and salt. Stir the flour mixture into sugar mixture a little at a time, alternating with the milk.
Spread the cake batter in the prepared pan.
Cut thin slices into each apple quarter from the outer part toward the center several times without cutting all the way through. The apple slices will separate from each other while the cake bakes. Arrange sliced apple quarters on top of the batter (see photos above).
Bake 50 to 55 minutes or until a wooden pick inserted in the center of the cake comes out clean.
Cool in pan on a wire rack. Remove the cake from pan.
Put powdered sugar into a small sieve and gently tap to dust sugar evenly over the entire cake.
Notes/Hints:

Extra apples? Make this buffet treat!
Add ½ to 1 teaspoon almond extract instead of or as well as the lemon juice.
Brush hot sieved apricot jam over the apples right after the cake comes out of the oven.
Serve with a dollop of whipped cream or a scoop of vanilla ice cream.
Tastes best warm right out of the oven or the second day once the apples have infused their flavor throughout the cake.
I've made this in a foil 9x12-inch pan and it works just as well.
*  *  *  *  *

Unless otherwise noted recipe, images and content © Just like Oma | www.quick-german-recipes.com

12.21.2021 revision update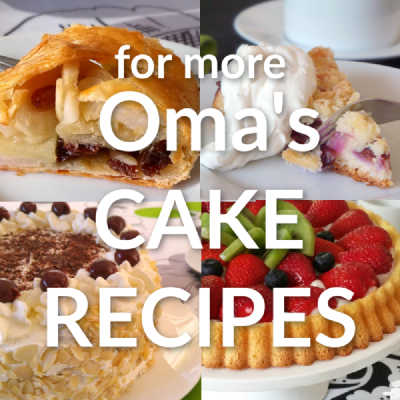 Leave a comment about this recipe or ask a question?

Pop right over to my private Facebook group, the Kaffeeklatschers. You'll find thousands of German foodies, all eager to help and to talk about all things German, especially these yummy foods. 
Meet with us around Oma's table, pull up a chair, grab a coffee and a piece of Apfelstrudel, and enjoy the visit.

Cooking just like Oma, making those German meals, is actually quite easy. Let me, Oma Gerhild, help you with my step-by-step methods to re-create those yummy meals you remember from your Oma.

If you're looking for tasty, traditional, and easy German cake recipes (in English) to try, then you've come to the right place! Check out these lecker treats!

Discover the ultimate German schnitzel recipe with Oma's quick and easy method - perfect for any occasion! Taste the authentic flavors of Germany today.
*  *  *  *  *
PIN to SAVE this recipe to your Pinterest board!
And let's be friends on Pinterest!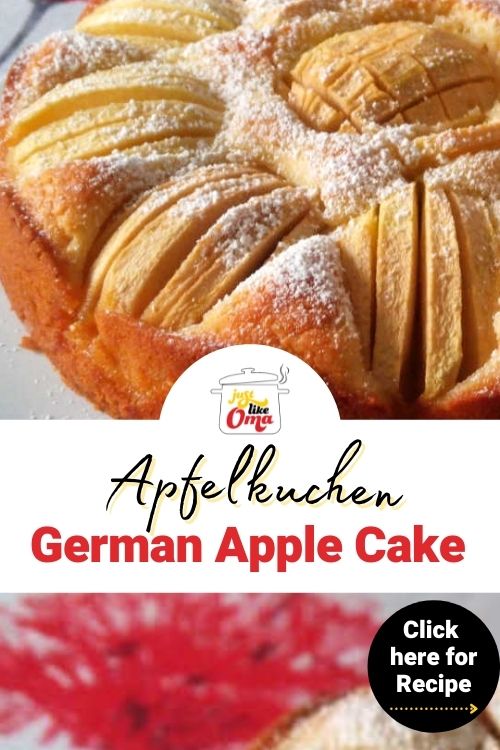 ---
Oma's German Apple Cake Recipe ~ Versunkener Apfelkuchen
By
Oma Gerhild Fulson
This German apple cake always looks amazing and tastes scrumptious! So quick and easy to make, it's just like Oma's versunkener Apfelkuchen served fresh from the oven.
Ingredients:
apples,
butter,
sugar,
eggs,
lemon juice,
flour,
baking powder,
salt,
milk,
powdered sugar,
For the full recipe, scroll up ...
Words to the Wise
"The godly are showered with blessings; the words of the wicked conceal violent intentions."
Proverbs 10:6 (NLT)