Oma's German Apple Cake Recipe ❤️
➤ by Oma Gerhild Fulson
FTC Disclosure: As an Amazon Associate, I earn from qualifying purchases.
Here's my traditional German apple cake recipe, aka Versunkener Apfelkuchen, that's sure to please. It looks so pretty and is so easy to make.
It's one I learned early on in my marriage and I really depended upon it to make a good impression on the in-laws! A fresh dusting of icing sugar just before company comes, and ta-da, looks fancy.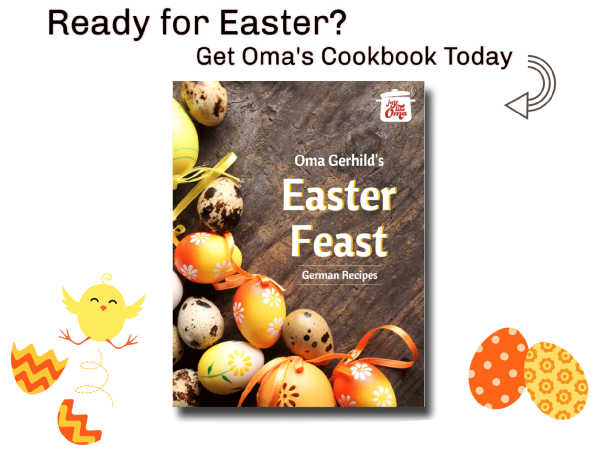 What's so nice about this easy apple cake is that it ALWAYS turns out. And it looks so pretty too! 

---

> Apple desserts come in a variety of types such as apple strudel, apple pie, apple crumble, apple crisp, apple cake, apple galette, applesauce cake, apple cheesecake, etc.
> Although any type of apple can be used when cooking and baking, certain types are better for cakes since they keep their shape longer
> The best apples to use are those that are both sweet and tart. Mackintosh, Cortlands, Empires, Golden Delicious, Granny Smith, and Mutsu are especially wonderful when used in cakes and strudels
---
If you're into quick German recipes like I am, this German apple cake recipe will be one of your favorite ones you'll probably memorize! The German word for this is Versunkener Apfelkuchen translated as "sunken apple cake" ... sounds so much prettier in German than in English LOL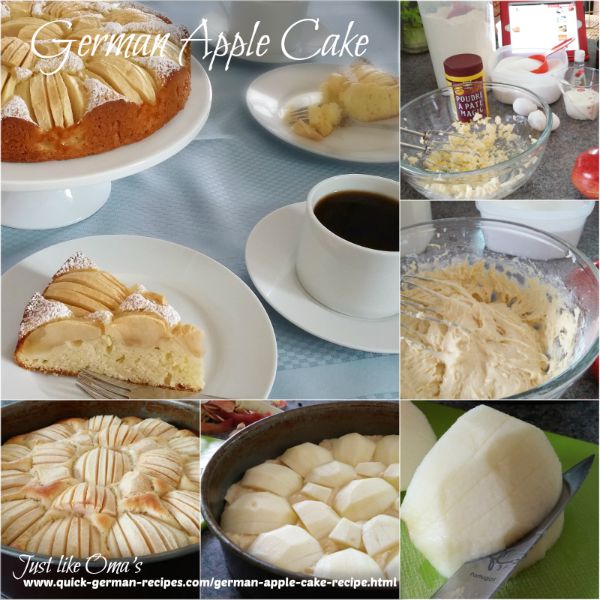 Such a quick and easy recipe to make .... and it looks so pretty!

This German Apple Cake usually finds its way onto my holiday table. Always looks so festive and it's so quick and easy to make.

This cake is absolutely delicious when served fresh, warm right out of the oven. However, it does last for a couple of days, remaining nice and moist because of the apples.
I've made this in a foil 9" x 12" pan ... works just as good. Great if you're taking it to a picnic. Perfect for a picnic, for a family dinner, and for a party! Always a winner!
Oma says,
"What's an "emergency cake?"
Well, the phone just rang and company's on its way!
My head spins -- quick dessert recipes, which one? Ah, My best cake recipe -- this one!
Oma's German Apple Cake Recipe ❤️
Ingredients:
3 - 5 apples

½ cup butter, room temperature

¾ cup granulated sugar

2 eggs

1 tsp lemon juice

1¾ cup all-purpose flour

1½ tsp baking powder

½ tsp salt

½ cup milk

powdered sugar 

Instructions:
Preheat oven to 350° F.

Grease bottom and sides of a 10-inch springform pan.

Peel, quarter, and core apples. Thinly slice each quarter several times without cutting all the way through. Do this just before you place them on cake. The apples "open" when they are baked.
In a medium bowl, beat butter and sugar, eggs and lemon juice until creamy.

Blend flour, baking powder, and salt. Stir into sugar mixture alternately with the milk.

Spread batter in the pan. Arrange apple quarters as shown.

Bake 50 - 55 minutes or until a wooden pick inserted in center comes out clean.

Cool in pan on wire rack. Remove the cake from pan.
Dust with icing sugar just before serving. Put a tablespoon of powdered sugar into a small sieve. Gently strike the sieve with a spoon to dust it evenly over cake.
Hints:
Add ½ to 1 tsp almond extract instead of or as well as the lemon juice.

Want nutritional information? Copy and paste the above ingredient list and the number of servings into Calorie Count for an approximate calculation.
Need help doing conversions between cups and grams, etc.? Use this site to give you all the different conversions for the different types of ingredients.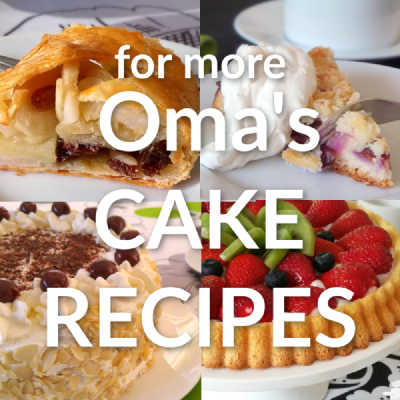 Leave a comment about this recipe or ask a question?
Pop right over to my private Facebook group, the Kaffeeklatschers. You'll find thousands of German foodies, all eager to help and to talk about all things German, especially these yummy foods. 
I pop in all the time as well, to chat and to answer questions. 
Meet with us around Oma's table, pull up a chair, grab a coffee and a piece of Apfelstrudel, and enjoy the visit.
*  *  *  *  *
Want nutritional information for a recipe?
Copy and paste the ingredient list and the number of servings into Calorie Count. 
It will give you an approximate calculation.

Need help doing conversions
between cups and grams or any such thing?
Use this site to give you all the different conversions for the different types of ingredients. 
---
PIN this ...
---
Dyeing Easter eggs naturally using common foods such as coffee, cabbage, onions, and tea will transform the eggs into a rainbow of colors. Either hang or hide them

Cheese Spätzle is a traditional German noodle dish. A sort of Germanized version of 'Mac & Cheese', only better!
---
Words to the Wise
"The godly are showered with blessings; the words of the wicked conceal violent intentions."
Proverbs 10:6 (NLT)