Oma's Apfelpastete aka Apple Galette aka Flat Strudel! 

➤ by Gerhild Fulson
This Apfelpastete is as easy Apple Pie. Make this Apple Galette using frozen butter puff pastry. It tastes divine. In fact, it tastes just like an Apple Strudel!
That's right. Apple Strudel!
In fact, this is really all just the same recipe, just different shapes turning it into an international dessert. The only real difference is the shape.
A galette is a free-form pie and it sounds so elegant. So French-like. The best part is that it's quick and easy. And, it becomes a great tasting German dessert! German food at its best!
---

Apple desserts come in a variety of types such as apple strudel, apple pie, apple crumble, apple crisp, apple cake, apple galette, applesauce cake, apple cheesecake, etc.
Although any type of apple can be used when cooking and baking, certain types are better for cakes since they keep their shape longer
---
How to make this a Caramel Apple Galette ...
I altered the original recipe after discovering my daughter-in-love, Sylvie, loved caramel. I needed a dessert for her birthday and this Caramel Apple Galette was it.
I added two tablespoons of melted butter and eight quartered caramels because I knew Sylvie loved caramels. Apples and caramels go together so nicely. Think of caramel apples. So good.
Grab your copy of Oma's favorites in her Special Occasion German Cakes & Tortes e-Cookbook.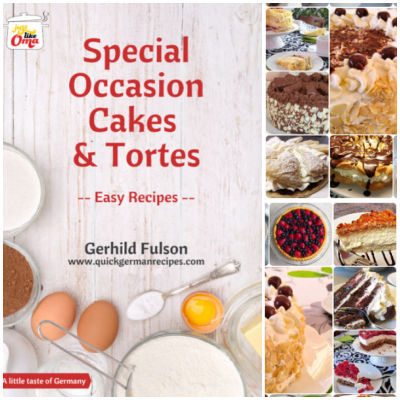 Take a peek at all Oma's eCookbooks. They make sharing your German heritage a delicious adventure!
"Galette" is a French term for a flat, round, or free-form tart.
Instead of the usual pie crust, the filling, and then a topping of pie crust, the pastry is rolled out, the filling put in, and the edge is just folded over the outside part of the tart.
I've made this before using a regular pie crust, but using frozen puff pastry that's been thawed is super easy and the resulting galette is DELICIOUS!
Easy dough. Easy shaping. Easily among the best easy apple recipes!
Which Apples Work Best For Galette?
The best apples to use are those that are both sweet and tart. Mackintosh, Cortlands, Empires, Golden Delicious, Granny Smith, and Mutsu are especially wonderful when used in cakes and strudels. Gala apples are very good for any kind of baking as well. They give such mild sweetness but have exceptional crispiness to them.
Have you ever made a berry crisp or a fruit incorporated recipe that came out VERY sweet, even though you followed the recipe exactly? Well, a lot of berries and fruits, like watermelon, have their own natural sweeteners. This makes them awesome sweeteners for recipes, meaning you could even cut back on the amount of sugar in your recipes. When using apples with sweetness, this can act as a substitute. 
Lydia Remembers...
I have so many wunderbar memories in the kitchen with my Oma and have had MANY of her most popular and traditional recipes, like this apple galette.
I remember my first time trying this treat at Oma's. The first thing that came to mind was ... 'Wow! That looks just like the German apple pancake!", which is by far one of my favorite recipes that Oma has taught me to make. When I heard that it was a cake, I was so excited to give it a try, and I wasn't let down. Although, I've never had a recipe from Oma that I didn't LOVE.
This cake was so flavorful, delicious, and yes, it does taste like apple strudel! It will always remind me of the apple pancake though!
Ready To Make This Apple Galette?
➤ As an Amazon Associate, I earn from qualifying purchases.
Is the recipe below locked? Here's why. Unlock to see ALL the exclusive recipes on this site. Click here for help.
Oma's Easy Apple Pie, aka Galette, aka flat Strudel
Want an easy apple pie? Make this Apple Galette using frozen butter puff pastry. It tastes divine. In fact, it tastes just like an apple strudel! In fact, the only real difference is the shape.
A galette is a free-form pie and it sounds so elegant. So French-like. The best part is that it's so quick and easy.
Prep Time


10 minutes


Bake Time


35 minutes


Total Time

45 minutes

Servings:

Makes 4 - 6 servings
Ingredients:
½ pound frozen butter puff pastry, thawed 
1 tablespoon granulated sugar
1 tablespoon flour
1 tablespoon lemon juice
½ teaspoon cinnamon (optional)
2 large apples, peeled and thinly sliced
1 large egg
1 teaspoon granulated sugar
Instructions:
Preheat oven 375°F.
Line cookie sheet with baking parchment paper.
Roll puff pastry out into a 10-inch square and put on cookie sheet.
Add 1 tablespoon sugar, lemon juice, and cinnamon to the apple slices and mix gently.
Pile the apple filling in the center of the puff pastry leaving 2 inches around the edge free.
Pull up the outside edge of the pastry, over the outer edge of the apples, leaving the center part uncovered, folding the pastry as needed (See photo).
Beat the egg. Brush it on the pastry. Sprinkle with 1 teaspoon sugar.
Bake 25 to 35 minutes, until the apples are soft and the pastry is golden.
Serve warm or cold.
Notes/Hints:

Topping the galette with sliced almonds before baking is really nice
I added 2 tablespoons of melted butter and 8 unwrapped and quartered caramels.
*  *  *  *  *

Unless otherwise noted recipe, images and content © Just like Oma | www.quick-german-recipes.com

Leave a comment about this recipe or ask a question?

Pop right over to my private Facebook group, the Kaffeeklatschers. You'll find thousands of German foodies, all eager to help and to talk about all things German, especially these yummy foods. 
Meet with us around Oma's table, pull up a chair, grab a coffee and a piece of Apfelstrudel, and enjoy the visit.

Oma's Butterkuchen, aka Zuckerkuchen, is a traditional German Butter Cake (or Sugar Cake) that's often served for afternoon coffee. Loved by all, easy to make and so delicious to eat!

Learn how to make this German cheesecake recipe and this includes an easy recipe for making quark ... at home! Tastes just like you're back in Germany in Oma's kitchen!

Frankfurter Kranz, aka Frankfurt Crown Cake or German Crown Cake, is a ring-shaped, three-layered cake filled with red jam and delicious German buttercream.
*  *  *  *  *
PIN to SAVE this recipe to your Pinterest board!
And let's be friends on Pinterest!
---
Easy Apple Pie (Apple Galette) baked Just like Oma
By
Oma Gerhild Fulson
Want an easy apple pie? Make this Apple Galette using frozen puff pastry. It tastes divine. In fact, it tastes just like an apple strudel!
Ingredients:
frozen puff pastry,
sugar,
flour,
lemon juice,
cinnamon,
apples,
egg,
For the full recipe, scroll up ...
Words to the Wise
"There are 'friends' who destroy each other, but a real friend sticks closer than a brother."
Proverbs 18:24 (NLT)