Oma's Plum Cake Recipe ~ Pflaumenkuchen with Streusel
➤ by Oma Gerhild Fulson
German Plum Cake recipe, aka Pflaumenkuchen with Streusel or Zwetschgenkuchen, is one of the most requested recipes.
Many are made with yeast. This one isn't! 
It's so quick to make with "Quark-Öl" dough. I had to play a bit with the original recipe, since Quark isn't available here where I live. So, when I'm in a real hurry, this German plum cake with streusel is the winner!
OR, make this with various other fillings: check below for ideas. Most importantly, don't forget that dollop of freshly whipped cream! Sweet German food - lecker!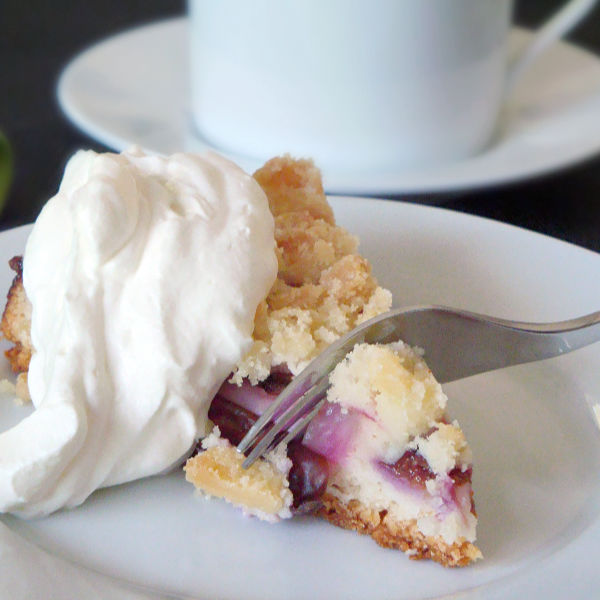 If you really, really want to use Quark to make this, and can't buy it, you can make it easily with your Greek yogurt maker or even in the oven! Check it out here.
However, for this recipe, you can also use Greek yogurt. Works just as well. That is awesome, since it makes this recipe available for use whenever you want.
What are the best plum to use for baking?
Well, unfortunately, the answer to this could be, what kind can you find?
I have yet to find a plum that's available where I live that doesn't make a good cake. Each type will make a different tasting cake, but each will be delicious.
The traditional type use for this German Zwetschgenkuchen are the Italian prune plums, shown below.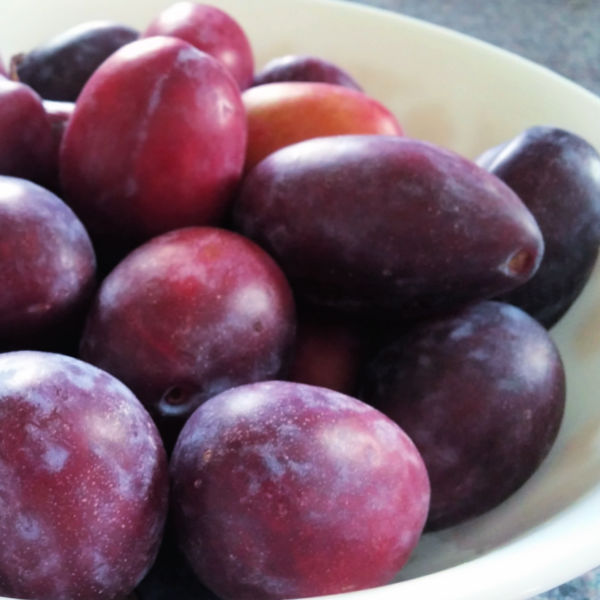 Do you peel plums before baking?
The simple answer to this is ... no ... do not peel plums before baking. The peels give the final cake such a pretty color. Especially using the Italian prune plums, with their 'greenish' pulp, once baked, the cake is such a pretty purplish-red color. 
How long will this cake keep?
Most people say that when you use a "Quark-Öl" dough, it should be eaten fresh. However, I find that the recipe below keeps very well. The photo of the German plum cake at the top was taken on the THIRD day.
I find that this cake keeps much fresher much longer than the yeast version. That's one of the reasons I prefer to use the "Quark-Öl" dough. As well as that it's quicker and easier for me.
Leftovers, if there are any, I put in the fridge on the second day. However, it does freeze really well. You can bake lots when the plums are available, freeze, and then enjoy them 'fresh' in the winter. 
Grab your copy of Oma's favorites in her Special Occasion German Cakes & Tortes e-Cookbook.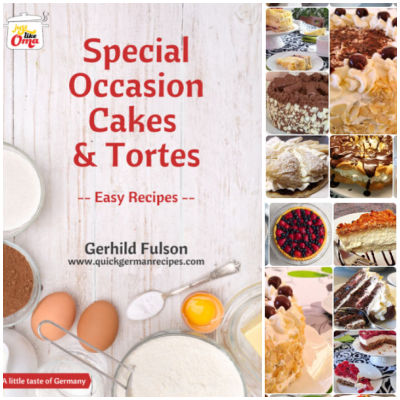 Take a peek at all Oma's eCookbooks. They make sharing your German heritage a delicious adventure!
Use other Fruits and Jams ...
Take a look at these two cakes below. I made the same recipe as above and divided the batter into two which is enough for 2 9-inch spring form pans. 
The one in the foreground is covered with canned peach slices and topped with streusel. The one in the background is covered in plum jam and topped with streusel. Serve with whipped cream, of course!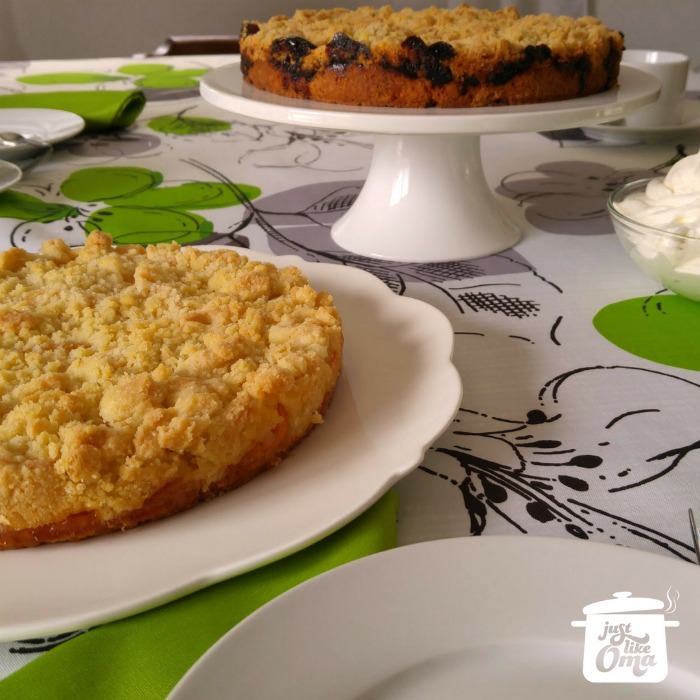 Oma Says:

I love making other German dessert recipes from this same dough.
For example, I used this same easy dough and pressed it into a 9" x 13" pan. Then I covered it with fresh peaches that I had peeled and cut into thick slices. 
I sprinkled that with about 1 tbsp of sugar and baked it. This only took about 45 minutes since it had no streusel layer.
Delicious Peach Cake! Wunderbar!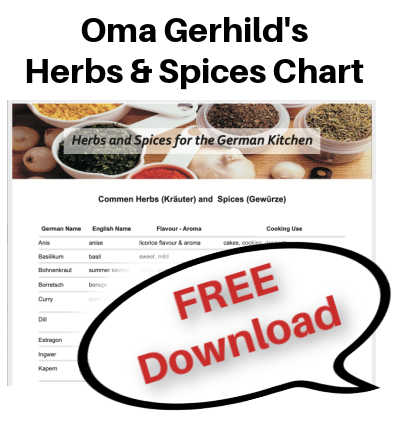 More Plum Cakes aka Pflaumenkuchen
Here are some different plum cakes to try:
But, right below, is my favorite ... it's so easy and so lecker!

More Info re: German Plum Cake
The best plums to use for this are the Italian prune plums.

Since they are quite tart, you can sprinkle the plums with sugar underneath the streusel layer if you wish.
Some even like to include a sprinkle of cinnamon.
However, my hubby and I like it a bit tart, so I omit the extra sugar and cinnamon. But, do serve this with a dollop of whipped cream. WUNDERBAR! A German plum pie :)
---
Lydia Remembers...
I have so many wunderbar memories in the kitchen with my Oma, and have had MANY of her most popular and traditional recipes, like this delicious plum cake!
I remember making this cake with Oma for our 3 o'clock coffee break, and enjoying it several times around the table together. 
Oma has introduced me to several cake recipes throughout the years, though this one really is the most refreshing. The moisture from the plums just soaks right into that yummy dough, not in a soggy way, but a flavorful juicy way that makes you want piece after piece!
I enjoy this plum cake served with a big dollop of Oma's homemade whipped cream on top. 
Learn a little bit about me, Lydia, and my kitchen adventures with Oma!
---
Ready to make this Zwetschgenkuchen?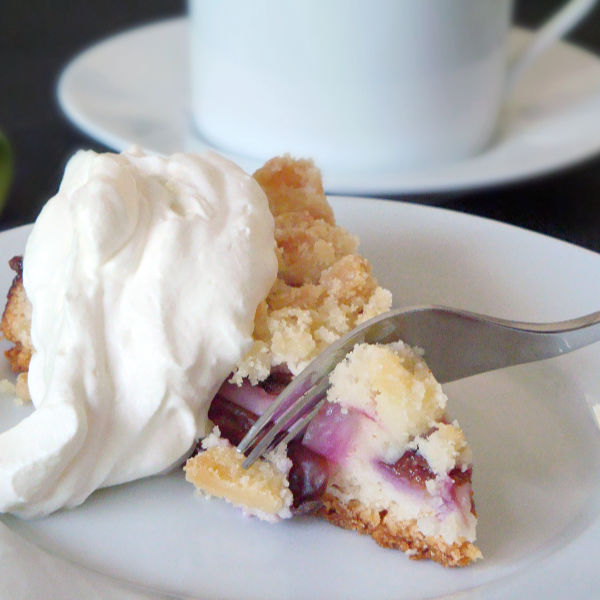 Oma's Quick German Plum Cake Recipe
A German Plum Cake, aka Pflaumenkuchen, is one of the most requested recipes. Many are made with yeast, such as this one. The one below isn't! 
It's so quick to make with "Quark-Öl" dough, but instead of Quark, I use Greek yogurt. So, when I'm in a real hurry, this German plum cake with streusel is the winner! 
Prep Time


15 minutes


Bake Time


60 minutes


Total Time

75 minutes

Servings:

Makes 10 servings
Ingredients:
2⅓ cups all-purpose flour
3 tsp baking powder
⅓ cup granulated sugar
1 tbsp vanilla sugar
pinch salt
½ cup Greek yogurt
⅓ cup milk
⅓ cup sunflower oil (I use light olive oil)
about 2 lbs prune plums, pitted, quartered
2 cups all-purpose flour
1 cup granulated sugar
1 cup cold butter
Instructions:
Preheat oven to 350°F.
Into a large mixing bowl, mix 2⅓ cups flour, baking powder, ⅓ cup sugar, vanilla sugar, and salt.
Add yogurt, milk, and oil and using dough hook, mix for a minute or so until dough holds together (do not over-beat!) ... if you wish, you can just mix it in a bowl with a wooden spoon, and knead lightly with hands till it holds together.
Press dough into a greased 9" x 13" pan or divide dough into two if using 9" springform pans.
Place plum quarters in rows on top of dough.
Mix together the 2 cups flour, 1 cup sugar, and 1 cup butter to make the streusel dough. Crumble over top of plums.
Bake at 350° F for about 50 - 60 minutes or until top is lightly browned.
Let cool and serve. 
Notes/Hints:

 Instead of plums, put a layer of jam on the dough and cover with streusel.

Use this same easy dough and press it into a 9" x 13" pan. Cover with fresh peach slices, sprinkle with about 1 tbsp of sugar and bake for about 45 minutes.

If you're wanting to use yeast, you can use this peach streusel cake recipe and just substitute with plums.
*  *  *  *  *

Unless otherwise noted recipe, images and content © Just like Oma | www.quick-german-recipes.com

Want Nutritional Information?

Copy and paste the above ingredient list and the number of servings into Calorie Count for an approximate calculation.
Need Help Doing Conversions?

Make it easier to convert between cups and grams, etc. Use this site to give you all the different conversions for the different types of ingredients.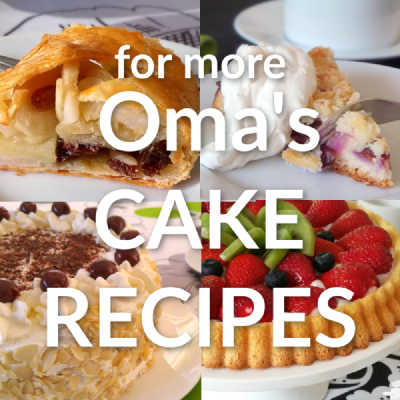 ---
Leave a comment about this recipe or ask a question?
Pop right over to my private Facebook group, the Kaffeeklatschers. You'll find thousands of German foodies, all eager to help and to talk about all things German, especially these yummy foods. 
I pop in all the time as well, to chat and to answer questions. 
Meet with us around Oma's table, pull up a chair, grab a coffee and a piece of Apfelstrudel, and enjoy the visit.
Pork hocks and sauerkraut, a favorite of my Opa, is a real traditional German food. This version of Eisbein is a classic in northern Germany, not to be confused with Schweinshaxe from the southern par…

Make this chicken fricassee recipe and you'll think you're back in Oma's kitchen. German comfort food. Originally just a 'leftover' meal, now it graces the best restaurant menus.

Oma's TOP 10 German foods that will have you thinking you're back in your Omas kitchen in Germany. Cooking and baking together, but best of all, making memories!
*  *  *  *  *
Pin this ...
---
Oma's Plum Cake Recipe ~ Pflaumenkuchen with Streusel
By
Oma Gerhild Fulson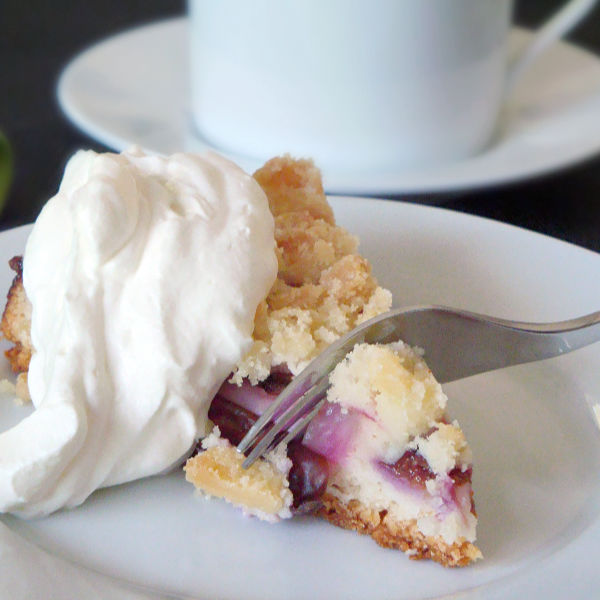 This classic German plum cake recipe that uses a Quark or Greek yogurt/oil dough instead of yeast means it's quick and easy to make this Pflaumenkuchen. Traditional and underbar!
Yield:
10 servings
Ingredients:
all-purpose flour,
baking powder,
sugar,
vanilla sugar,
salt,
Greek yogurt,
milk,
oil,
prune plums,
butter,
For the full recipe, scroll up ...
Words to the Wise
"The life of the godly is full of light and joy, but the light of the wicked will be snuffed out."
Proverbs 13:9 (NLT)