Peach Cherry Tart Recipe with Streusel


➤ by Oma Gerhild Fulson
FTC Disclosure: Making a purchase via a link on the page? I may earn a small commission on the transaction - at no added cost to you. Thanks!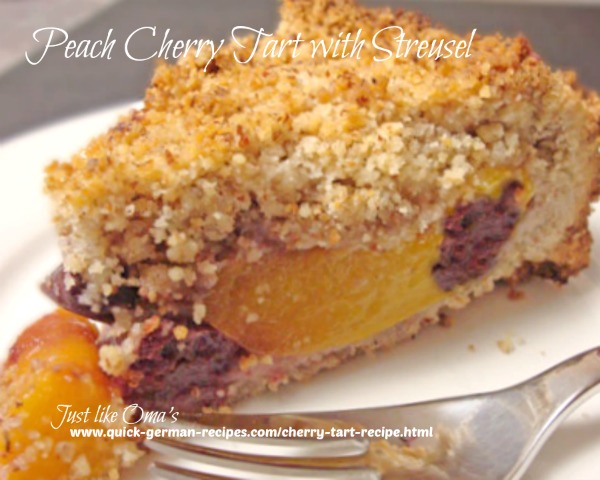 Yum
Here's an easy Peach Cherry Tart recipe, aka Kirsch-Pfirsich-Butterstreuseltart,  that is covered in delicious butter streusel - a traditional German cake that's so easy to make. Using cherries and peaches in combination makes this tart extra special. A 10-inch spring-form pan with a removable bottom is ideal. It makes serving so much easier. If you happen to have a tart pan with a removable bottom, that's great too. Then the edge will have a pretty fluted look.
I'll restate my standard warning for "streusel" cakes. The streusel topping is SO delicious, even un-baked, that it often finds its way into stray little mouths that might be near :-)

Peach Cherry Tart Recipe with Streusel

Ingredients:
½ lb cherries, pitted (fresh or jarred)
18 oz can peach halves (or fresh)
⅞ cup granulated sugar
1 tsp vanilla
½ Tbsp cinnamon (optional)
1¾ cups ground almonds or hazelnuts
2½ cups flour, all purpose
1 egg
1 cup butter
Instructions:
Preheat oven to 400° F.
If using canned fruit, drain well.
Grease springform pan.
In large bowl, mix sugar, cinnamon, ground nuts and flour. Add egg and vanilla. Melt butter (in microwave) and add to bowl. Mix until crumbs are formed.
Press ¾ of crumbs into spring-form pan including up the sides.
Put fruit into tart pan and distribute evenly.
Put rest of crumbs over top of fruit.
Bake for 40 - 50 minutes until top is nicely browned. Place baking sheet under springform pan in case any butter oozes out.
Serve either warm or cold, with whipped cream or ice cream.

Fresh cherries are best. Wash and pit them. You can use jarred or canned ones, but fresh is best. Be careful with both though. I've found pits in jarred and canned ones, usually when eating. I always tell my guests to be careful when eating something with cherries. Just in case!
For the peaches, using canned peach halves is fine. If using fresh, peel them first by briefly plunging into boiling water to help loosen peel.
I  found that I needed to put a baking sheet under the springform pan. Sometimes the butter comes oozing out of the pan during baking and smokes if it drips onto the bottom of the oven.
Perhaps it's just my pan, but it's always safer to use a baking sheet anyways.
Some more German Cakes with Fruit
*  *  *  *  *
Want nutritional information for a recipe?
Copy and paste the ingredient list and the number of servings into Calorie Count. 
It will give you an approximate calculation.

*  *  *  *  *
Need help doing conversions between cups and grams or any such thing?
Use this site to give you all the different conversions for the different types of ingredients. 
*  *  *  *  *
---
---
Words to the Wise
"Don't rejoice when your enemies fall; don't be happy when they stumble."
Proverbs 24:17 (NLT)