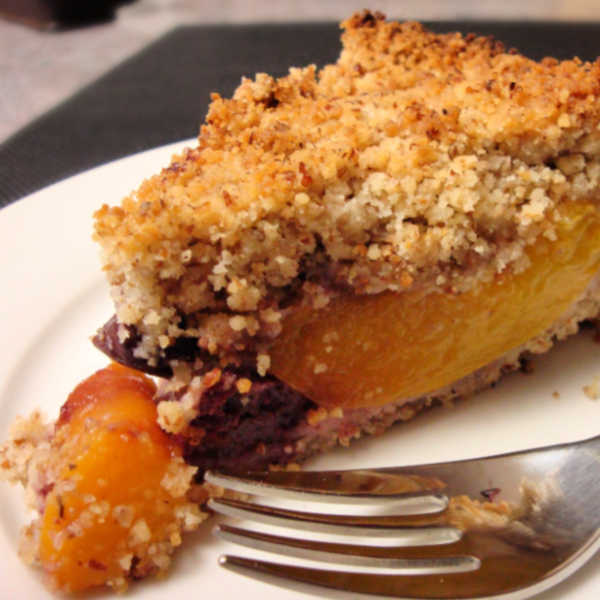 Peach Cherry Streusel Cake: Oma's Pfirsich-Kirsch-Streuselkuchen

Here's an easy Peach Cherry Streusel Cake recipe, aka Oma's Pfirsich-Kirsch-Streuselkuchen,  that is covered in delicious butter streusel – a traditional German cake that's so easy to make. 
A 10-inch spring-form pan with a removable bottom is ideal. It makes serving so much easier.
Prep Time


15 minutes


Bake Time


50 minutes


Total Time

65 minutes

Servings:

Makes 10 - 12 servings
Ingredients:
½ pound cherries, pitted (fresh or jarred)
18-ounce can peach halves (or fresh)
⅞ cup granulated sugar
1 teaspoon vanilla
½ tablespoon cinnamon (optional)
1¾ cups ground almonds or hazelnuts
2½ cups flour, all-purpose
1 large egg
1 cup butter
Instructions:
Preheat oven to 400°F.
If using jarred fruit, drain well.
Grease a 10-inch springform pan.
In large bowl, mix sugar, cinnamon, ground nuts and flour. Add egg and vanilla. Melt butter (in microwave) and add to bowl. Mix until crumbs are formed.
Press ¾ of crumbs into spring-form pan including up the sides.
Put fruit into springform pan and distribute evenly.
Put rest of crumbs over top of fruit.
Bake for 40 - 50 minutes until top is nicely browned. Place baking sheet under springform pan in case any butter oozes out.
Serve either warm or cold, with whipped cream or ice cream.
*  *  *  *  *

Unless otherwise noted recipe, images and content © Just like Oma | www.quick-german-recipes.com