Oma's Fruit Tart Recipe ❤️

➤ by Oma Gerhild Fulson
FTC Disclosure: As an Amazon Associate, I earn from qualifying purchases.
Make this fruit tart recipe covered with streusel using fresh or canned fruit, such as apricots, peaches, cherries, etc. A delicious German treat, just like your Oma used to make.  Above, it's made with canned peaches (Pfirsich-Streuseltarte) and below it's made with apricots (Aprikosen-Streuseltarte). Any way you make it, it's a quick and easy dessert! It tastes great warm or cold, especially when topped with whipped cream!
If you like streusel, you'll really love this tart. Why? Because the whole tart is made of streusel! Half is pressed into the bottom of the tart pan, then fruit is put on top. Over the fruit, you sprinkle the rest of the streusel. Easy? You bet!

---
"Streusel" comes from the German word "streuen" which means to sprinkle or scatter
Streusel is traditionally a crumbly mix of 1 part butter, 1 part sugar, and 2 parts flour
Streusel usually tops muffins, pies, and cakes giving a sweet crunch
Chopped nuts and spices can be added to the streusel
WARNING: Streusel tastes so good raw as well as baked, it's easy to sneak some off the cake before serving ... keep an eye on hubby, the kids and yourself if you want to have the cake covered with streusel when you serve it ;)
Tips on Making this Cake:
Oma says,
Again the warning when making streusel cakes: the streusel tastes so-o-o-o good that it's easy to eat the topping before it's baked or as it's sitting cooling on the rack.
---
Fruit Tart Recipe with Streusel ❤️

Ingredients:
½ cup + 2 tbsp soft butter
⅜ cup granulated  sugar
1 tsp vanilla extract
1¾ cup flour, all-purpose
2 tbsp ground almonds (optional)
1 lb fruit or 1½ - 2 cans well-drained fruit (peaches, apricots, cherries, plums, etc.)
Instructions:

Preheat oven to 375° F. Grease 9-inch tart pan (preferable with removable bottom) and dust with flour.
Put butter, sugar, vanilla, and flour into mixing bowl. Using dough hook (if available) mix until crumbly.
Put half of crumb mixture into tart pan and press down.

Sprinkle with ground almonds, if using.
Prepare fruit (see tips below) and place on top of crumb crust
Sprinkle remaining crumbs evenly over fruit.
Bake for about 30 - 40 minutes, until nicely browned. Cool on cake rack.
Serve warm or cold.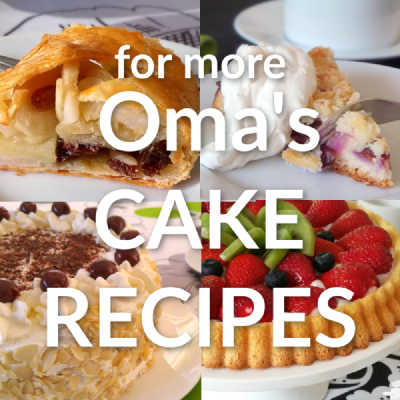 Leave a comment about this recipe or ask a question?
Pop right over to my private Facebook group, the Kaffeeklatschers. You'll find thousands of German foodies, all eager to help and to talk about all things German, especially these yummy foods. 
I pop in all the time as well, to chat and to answer questions. 
Meet with us around Oma's table, pull up a chair, grab a coffee and a piece of Apfelstrudel, and enjoy the visit.
*  *  *  *  *
Want nutritional information for a recipe?
Copy and paste the ingredient list and the number of servings into Calorie Count. 
It will give you an approximate calculation.

Need help doing conversions
between cups and grams or any such thing?
Use this site to give you all the different conversions for the different types of ingredients. 
---
PIN this ...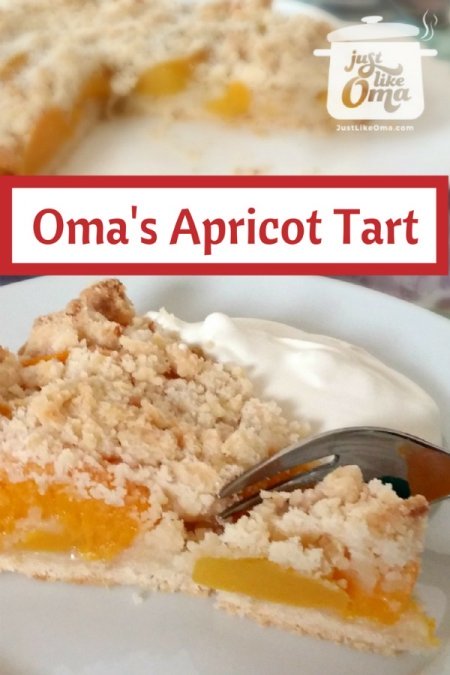 ---
Jagerschnitzel: Rich creamy bacon & mushroom gravy over crispy breaded pork schnitzel (cutlets). HEAVENLY! A traditional German meal that's PERFECT anytime.

My Bienenstich recipe is a quick version of the traditional "German Bee Sting Cake". Sweet, chewy, nutty top with a creamy filling. Yummy!
---
Words to the Wise
"Watch your tongue and keep your mouth shut, and you will stay out of trouble."
Proverbs 21:23 (NLT)