Apricot Tart Recipe with Streusel – Oma's Aprikosen-Streusel-Tarte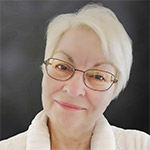 by: Gerhild Fulson  /  Cookbook Author, Blogger, German Oma!
As an Amazon Associate, I earn from qualifying purchases.
Make this apricot tart recipe with streusel, Aprikosen-Streuseltarte, using either fresh or canned fruit or substitute with other fruit, such as peaches or cherries. A delicious German treat, just like Oma used to make.
It's such a quick and easy dessert that tastes great warm or cold, especially when topped with whipped cream!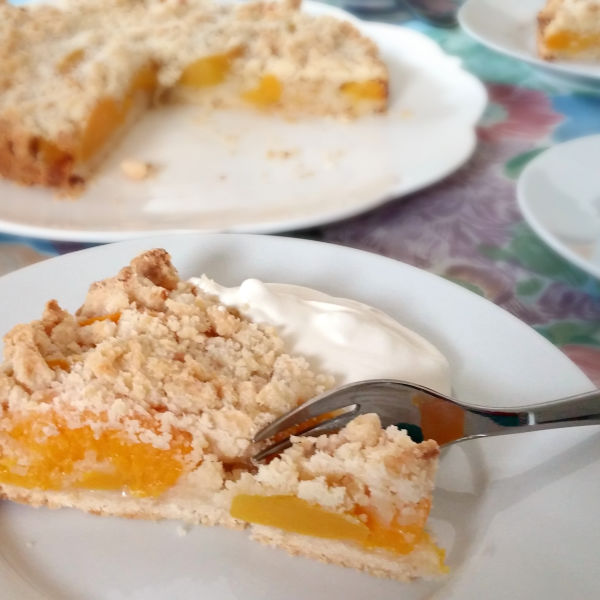 If you like streusel, you'll really love this tart. Why? Because the whole tart is made of streusel! Half is pressed into the bottom of the tart pan, then fruit is put on top.
Over the fruit, you sprinkle the rest of the streusel. Easy? You bet!
---
Grab your copy of Oma's favorites in her Special Occasion German Cakes & Tortes e-Cookbook.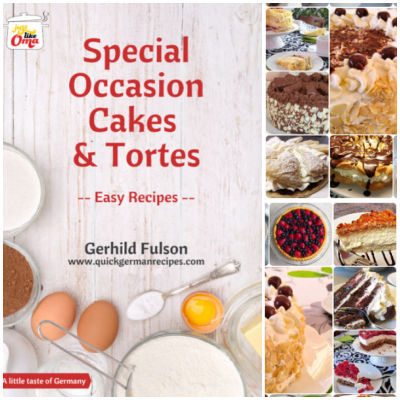 Take a peek at all Oma's eCookbooks. They make sharing your German heritage a delicious adventure!
Roswitha's Fruit Tart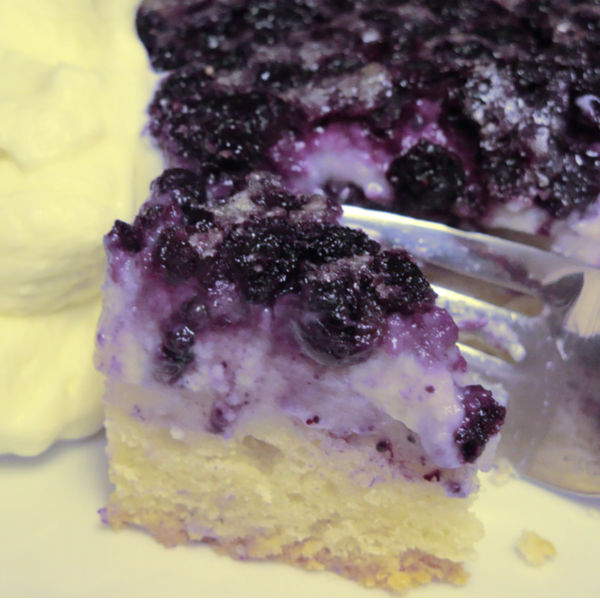 This lecker blueberry tart recipe was sent in by Roswitha, one of our fans! Her recipe is totally different than my streusel fruit tart, but with hers, you can use frozen fruit as a substitute! How handy! In her recipe you can also use a variety of fruits.
Check out Roswitha's tart recipe for yourself and find out! She has written lots of little tips and tricks for you along the way. 

"Streusel" comes from the German word "streuen" which means to sprinkle or scatter
Streusel is traditionally a crumbly mix of one part butter, one part sugar, and two parts flour
Streusel usually tops muffins, pies, and cakes giving a sweet crunch
Chopped nuts and spices can be added to the streusel
WARNING: Streusel tastes so good raw as well as baked, it's easy to sneak some off the cake before serving… keep an eye on hubby, the kids, and yourself if you want to have the cake covered with streusel when you serve it ;)
---
Tips on Making this Apricot Tart Recipe

Use either fresh or well-drained canned fruits.
If using fresh apricots: To make peeling apricots easier, cut an "X" in apricots. Dip them in boiling water for several seconds and then into cold water. Peel and cut in half, removing pits.
For a different flavor, you can add some chopped candied ginger to the crumb mixture. Delicious!
---
Lydia Remembers...
I have so many wunderbar memories in the kitchen with my Oma, and have had MANY of her most popular and traditional recipes, like this yummy apricot tart recipe! 
Oma has made this fruit tart many times for us to enjoy during our 3 o'clock breaks. It is always such a refreshing treat! Especially with a big dollop of her homemade whipped cream on top… YUM! 

Fruit is certainly one of my favorite snacks. I love melons, peaches, and just about anything similar! To have it topped with Oma's Streusel AND whipped cream, it really makes for a special dessert!

I remember Oma telling me that the best part about a cake like this is that it can be made with pretty much any fruit you'd like! With its versatility you can throw in blueberries, cherries, peaches, apricots, and the list can go on! You know how much we love a versatile recipe!
You have got to try making this recipe just like my Oma does. Simple, but best of all, delicious!
Learn a little bit about me, Lydia, and my kitchen adventures with Oma!
---
Oma says,
Again the warning when making streusel cakes: the streusel tastes so-o-o-o good that it's easy to eat the topping before it's baked or as it's sitting cooling on the rack.
I quite often find myself snacking on it before it even makes it to the oven! It's so good, it's hard to resist! It takes some will power but do try not to eat it all before it's baked! The end result is worth the wait. 
How to make this Apricot Streusel Tart

If this is your first time making an apricot pie or tart, this is a great recipe to start with. You'll be pleasantly surprised at how easy it is to make, especially since there's no need to get the rolling pin out to make a more time-consumig pie crust.
Instead of a pastry crust, this tart dough is made entirely of delectable streusel, which is also sprinkled over the tart filling.

Start by blanching the apricots by placing them in boiling water for 20 seconds, and then plunging them immediately into ice cold water. This will make the skins peel off easily.

Cut the peeled apricots in half and remove the pits. This fruit tart can also be made with apricot wedges or apricot slices, but that will require a little more time.
For the streusel, combine ½ cup + 2 tablespoons unsalted butter at room temperature, just over ¼ cup sugar, a teaspoon vanilla extract, a pinch of salt, and 1¾ cups all-purpose flour in a large mixing bowl and stir until the mixture turns into fine crumbs. Using your hands works great. You can also use a food processor if you prefer.
Evenly press half of the streusel over the bottom and sides of the pan, and sprinkle with 2 tablespoons of ground almonds.
Place apricot halves over the crust. Sprinkle remaining streusel over apricots.

Bake in preheated oven for 30 to 40 minutes until golden brown. Remove from oven and cool on a wire rack.

It is delicious served warm or cold, especially with a dollop of whipped cream or a scoop of vanilla ice cream. Lecker!
Ready to make this Apricot Streusel Tart?
Is the recipe below locked? Here's why. 
As an Amazon Associate, I earn from qualifying purchases.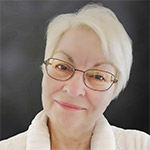 For more German-inspired items that make life easier and yummier, especially in the kitchen and for entertaining, follow my Amazon Storefront.
➙ For groceries,
Try Amazon Fresh
.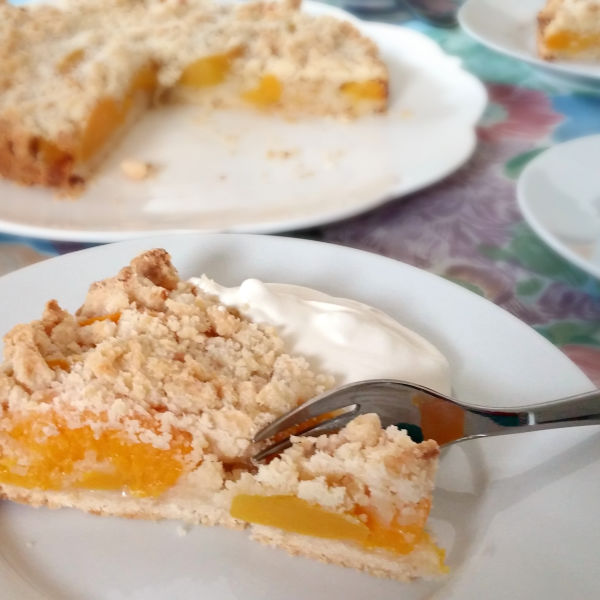 Apricot Tart Recipe with Streusel – Oma's Aprikosen-Streusel-Tarte

German streusel fruit tarts, Obstkuchen mit Streusel, use either fresh or canned summer fruits, such as apricots, peaches, or cherries.
In this particular recipe, the tartness of the apricots combined with sweet buttery streusel is such a delicious treat!
Prep Time


15 minutes


Cook Time


30 minutes


Total Time

45 minutes

Servings:

Makes 8 servings
Ingredients:
1 lb (454 g) fresh apricots or 1½ to 2 cans well-drained fruit
½ cup + 2 tbsp (142 g) unsalted butter, room temperature
⅜ cup (75 g) granulated sugar
1 teaspoon (5 ml) vanilla extract
pinch of salt
1¾ cups (228 g) all-purpose flour
2 tablespoons (16 g) ground almonds (optional)
Instructions:
To peel apricots, blanch in boiling water for 20 seconds and then plunge into ice water. The skins should peel off easily. Cut in half with a sharp knife and remove pits.
Preheat oven to 375°F (190°C). Grease a 9-inch tart pan (with or without a removable bottom) and dust with flour.
To make the streusel, put butter, sugar, vanilla, salt, and flour into a large bowl or food processor and mix until crumbly.
Put half the crumb mixture into the tart tin and evenly press down over the bottom and sides of the pan to make the crust.
Sprinkle with ground almonds, if using.
Place apricot halves cut side down on top of the crust. Sprinkle remaining streusel evenly over fruit.
Bake for 30 to 40 minutes until golden brown. Let tart cool on a wire rack once out of the oven.
Serve warm or cold with a dollop of whipped cream or a scoop of vanilla ice cream.
Notes/Hints:

Use either fresh or well-drained canned fruits.
Try using brown sugar instead.
Make it an apricot almond tart by replacing the vanilla with almond extract and mixing some sliced almonds with the streusel.
For extra sweetness and apricot flavor, spread a thin layer of apricot jam along the tart crust before sprinkling with ground almonds.
For a different flavor, you can add some chopped candied ginger to the crumb mixture. Delicious!
If you have peaches and cherries, then you'll want to make this streusel cake!
*  *  *  *  *

Unless otherwise noted recipe, images and content © Just like Oma | www.quick-german-recipes.com

01.08.2022 revision update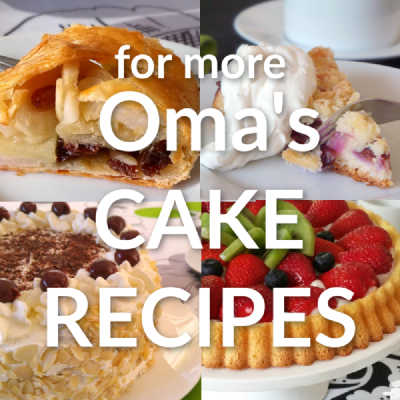 Leave a comment about this recipe or ask a question?

Pop right over to my private Facebook group, the Kaffeeklatschers. You'll find thousands of German foodies, all eager to help and to talk about all things German, especially these yummy foods. 
Meet with us around Oma's table, pull up a chair, grab a coffee and a piece of Apfelstrudel, and enjoy the visit.

Make the perfect German Spaetzle with Oma's easy recipe! This traditional German egg noodle pairs perfectly with caramelized onions for a delicious meal.

Discover the ultimate German schnitzel recipe with Oma's quick, easy, and delicious pork version - perfect for any occasion! Taste the authentic flavors of Germany today.

This easy German Apple Strudel recipe is one of those German desserts that brings the traditional strudel taste to your table without all the work. Wunderbar!!
*  *  *  *  *
PIN to SAVE this recipe to your Pinterest board!
Words to the Wise
"Watch your tongue and keep your mouth shut, and you will stay out of trouble."
Proverbs 21:23 (NLT)