German Sour Cherry Cake Recipe – Oma's Sauerkirschkuchen
➤ by Lydia Fulson
As an Amazon Associate, I earn from qualifying purchases.
This sour cherry cake, aka Sauerkirschkuchen, is just the one you've been searching for! It's German, totally picture-perfect, and it is guaranteed to please. 
Cherry cake is a great summertime treat. Just imagine, you're sitting back in your chair, enjoying your front porch in the warm summer breeze, as you indulge in the taste of fresh cherries baked in a delicious cake.
It really doesn't get much better than that. So make that a reality and try this simple cake today!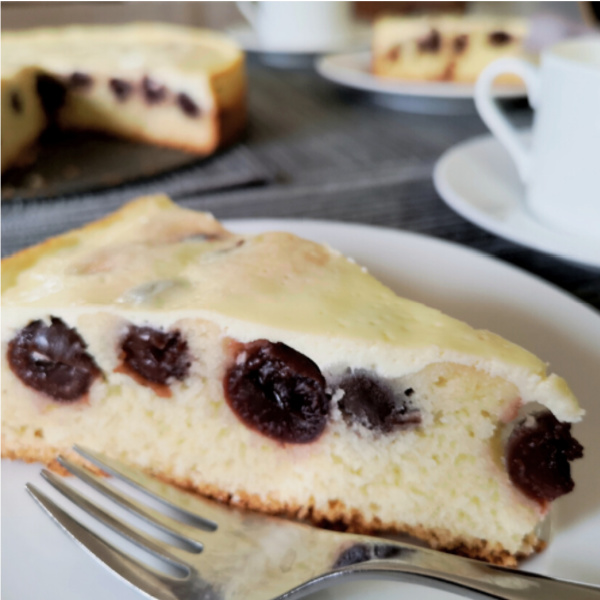 Prepare to hear lots of 'ooo's' and 'ahhh's' as you serve this lecker German cake to your family
Don't forget a warm cup of tea or coffee to make the perfect pair. Hmm... or perhaps lemonade during the hot weather. Maybe even a scoop of vanilla ice cream on the side.
German cakes and tortes are some of my favorites among all of the German recipes that Oma has introduced me to. I'll admit I have a bit of a sweet tooth. Especially when it comes to cakes with fresh fruit in them, like this one!
The famous Black Forest cake and the fruity streusel cake are also two of my favorites. (Streusel cake is a popular German cake, also known as crumb cake. It gets this name from the crumb-like topping that layers the cake.) Think of this cherry cake as a lighter, summery version of the Black Forest cake.
This is THE cake to make during prime cherry season. Speaking of which: when is cherry season? 
Cherry Season in Germany
Cherry season here in Canada runs from June through until early September. It's one of the best parts of summertime. I love going to the farmers market or visiting our local farmers, and leaving with a basket of fresh sour cherries.
Cherry season in Germany runs anytime in between June - mid August. During this time, you can find an abundance of snackable cherries being sold in supermarkets and local festivals. 
Cherries, aka, Kirschen, are most commonly grown in the Southern parts of Germany. Baden-Würtemberg being the most popular for its cherries. But the most amazing part of cherry season is seeing...  
The Cherry Blossoms
The mesmerizing cherry trees when they are in full bloom will have you feeling like you're in a fairy tale. Walking through the trails of fallen pedals and smelling the lovely scent of the blooms is such an experience. 
You can find the trees in full bloom during the months of April and May. There are several cities in Germany where you can visit these picturesque cherry trees.
If you're looking to make a special trip to find them, it is worth it! Places like Berlin, Bonn, Hamburg, Baden-Würtemberg, Munich, and Dortmund are all great places to see the spectacular display.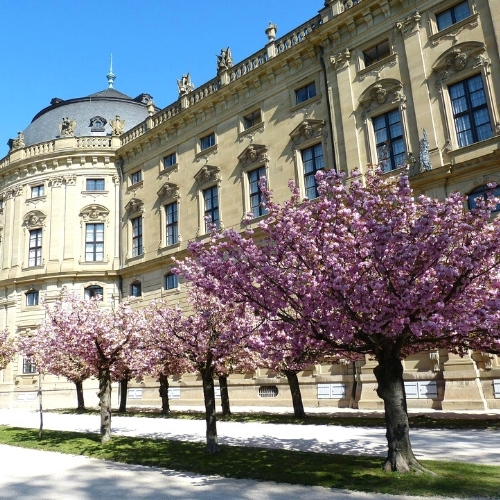 Cherry trees in full bloom in the historic city of Würzburg
Did you know that there are special festivals dedicated to the cherry blossoms? It's a festival that stems from Japanese culture, called Hanami. In Germany it's known as, Kirschblütenfest. 
During these festivals, of course, you may visit the trees, and take loads of pictures, but that's not all. There's live music, dancing, lots of culinary delights made by local vendors, art to buy and admire, and lots of, well, cherries!
Grab your copy of Oma's favorites in her Special Occasion German Cakes & Tortes e-Cookbook.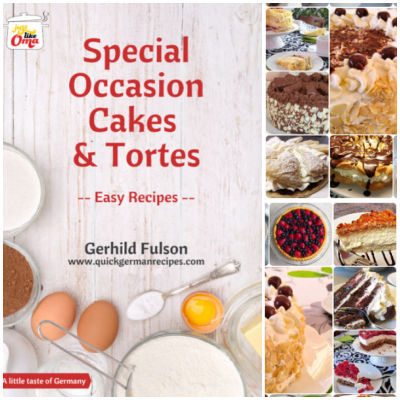 Take a peek at all Oma's eCookbooks. They make sharing your German heritage a delicious adventure!
Oma has told me the sweet stories of visiting her Aunt Erika's array of cherry trees and sneakily snacking on their fresh homegrown cherries.
She mentioned how she would sometimes not look at them at all as she was eating them, because you never know what bugs may have found their way inside the cherries. But really, what's the harm in having a bite of protein with your berries... YUCK! Well, sometimes homegrown cherries are just worth it! 
How to make this cherry cake:
Making this cake is such a simple task. The baking time may be longer than most for cakes, but the prep is quick and the outcome is worth the wait in the oven. With so few steps, this cake is such a good one to make.
Start by mixing ingredients together to make the dough, and pour into prepared pan. Add your cherries on top of the poured dough. It will look something similar to this when done.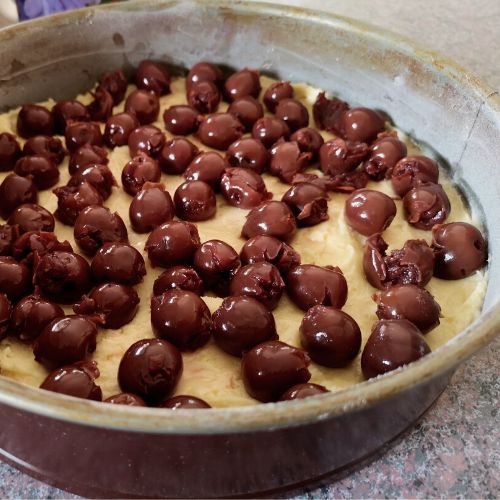 See how to make this cherry cake in just a couple simple steps
Then, let it bake! Doesn't that look sooo lecker?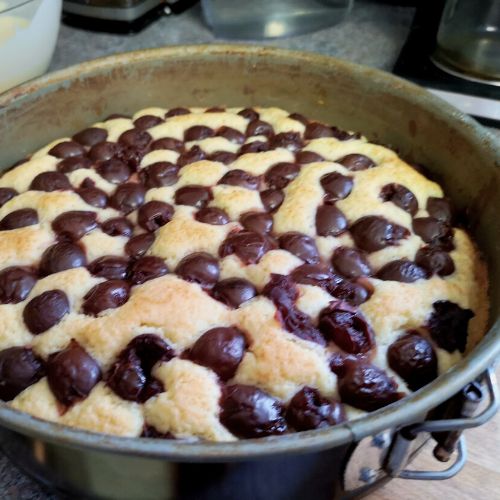 Like a giant cherry muffin! But wait, we're not done yet
Now, to add the best part. That delicious topping that you made while the cake was baking to pour over top!
Now for the satisfying pour of the icing!
Continue to bake to set the topping of the cake. Let it cool, and serve with a great big dollop of whipped cream.
You'll love this super original recipe made with the yummiest tart cherries. It will take you back to the days of enjoying Black Forest cake with your Oma back in Germany.
It's also comparable to a fresh cherry pie. That's one of my Mutti's favorites. Anything with cherries, really! Who can blame her, though? 
Delicious recipes that are this easy, deserve to be made and absolutely loved. It really is easy.  No separating of the egg yolks from the egg whites, which can be such a hassle. It's so healthy, it doesn't even have a cup of sugar in the ingredients. That's something that is hard to find in cake recipes nowadays. 
Ready to bake this sour cherry cake?

Is the recipe below locked? Here's why. 
As an Amazon Associate, I earn from qualifying purchases.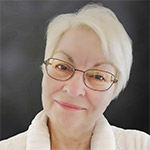 For more German-inspired items that make life easier and yummier, especially in the kitchen and for entertaining, follow my Amazon Storefront.
➙ For groceries,
Try Amazon Fresh
.
German Sour Cherry Cake Recipe – Oma's Sauerkirschkuchen
This sour cherry cake recipe, Sauerkirschkuchen, is just the one you've been searching for! It's totally German, and it's a picture-perfect dessert that's certain to please. Don't wait! Try it now! 
Cherry cake is a great summertime treat. Just imagine, you're sitting back in your chair, enjoying your front porch in the warm summer breeze, as you indulge in the taste of fresh cherries baked in a delicious cake.
Prep Time


15 minutes


Cook Time


60 minutes


Total Time

75 minutes

Servings:

Makes 8 servings
Cake Ingredients:
2⁄3 cup butter
2⁄3 cup granulated sugar
1 teaspoon almond extract
 pinch of salt
 3 large eggs
1 1⁄4 cups all-purpose flour
1⁄2 cup cornstarch
2 teaspoons baking powder
28-oz jar sour cherries, drained
Topping Ingredients 
2 large eggs
3 tablespoons granulated sugar
1 cup Greek yogurt (or quark)
Instructions:
Grease and flour a 10" springform pan. Preheat oven temperature to 350°F.
Beat together the first 4 ingredients using hand mixer on medium speed until creamy. Mix in the 3 eggs.
Stir together the flour, cornstarch and baking powder in a small bowl. Add these dry ingredients to the wet ingredients and mix well. This will make a thick smooth dough for the cake batter.
Spread dough into the prepared pan, using a wet spoon to smooth the dough. Cover with the cherries. Bake for 35 minutes.
About 5 minutes before the 35 minutes are up, whip the 2 eggs, 3 tbsp sugar and Greek yogurt together until creamy.
Spread over the hot cake and continue baking for a further 25 minutes.
Serve when cooled, topped with a dollop of whipped cream. Yum!
Notes/Hints:

As mentioned in the ingredient list above, I mention using quark as a substitute to Greek yogurt. Quark is a healthier and alternative that can be made in place of yogurts or sour cream. It is especially used in salads, spread on sandwiches, or in Germany, commonly you can find it served as a dessert with honey and berries mixed in with the quark.
When cherry juice is drained, you can set it aside in a cup or container and use it later on. You can pour a little bit of cherry juice over your ice cream for a yummy dessert. 
Did you know that cherry juice is also rich in iron, antioxidants, potassium, and can help fight inflammation?
*  *  *  *  *

Unless otherwise noted recipe, images and content © Just like Oma | www.quick-german-recipes.com

Leave a comment about this recipe or ask a question?

Pop right over to my private Facebook group, the Kaffeeklatschers. You'll find thousands of German foodies, all eager to help and to talk about all things German, especially these yummy foods. 
Meet with us around Oma's table, pull up a chair, grab a coffee and a piece of Apfelstrudel, and enjoy the visit.

This easy German Apple Strudel recipe is one of those German desserts that brings the traditional strudel taste to your table without all the work. Wunderbar!!

Make the perfect German Spaetzle with Oma's easy recipe! This traditional German egg noodle pairs perfectly with caramelized onions for a delicious meal.

Choose from Oma's cookbooks that are immediately downloadable & start cooking easy classic German foods tonight. Or get her newest paperback cookbook. LECKER!
*  *  *  *  *
PIN to SAVE this recipe to your Pinterest board!
And let's be friends on Pinterest!
Words to the Wise
In a loud voice they were saying: "Worthy is the Lamb, who was slain, to receive power and wealth and wisdom and strength and honor and glory and praise!"
Revelation 5:12