Oma's Crumb Cake Recipes ❤️
➤ by Oma Gerhild Fulson
Crumb cake recipes, aka Streuselkuchen, are quick and delicious treats to make for your family and friends. These traditional cakes, which are so easy to make, look so pretty, too. 
The fruit and flavorings can be changed to provide variation. The method of making these crumb cakes, though, is a basic recipe to learn. Do check out the warning below!
Usually I put apple slices under the streusel. However, peach slices, pear slices, halved plums, even pitted cherries would be delicious. You'll be able to create various crumb cakes this way. Don't forget to add a dollop of whipped cream! 
Warning :)
A warning though - the crumb topping is so delicious, if you have kids (or a husband) around, they may try to sneak some topping off the cake while it is cooling (and even before it is baked)!
I admit that I always sneak some!

Some more hints ...
Crumb cakes are great when you need easy dessert ideas. 
Most mix up quickly using a mixer. Others use a yeast base, but these can usually be made using a bread machine to speed things up.
By the time the oven preheats, you'll have finished making the cake.
The only real time is preparing the fruit, unless you use canned fruit. Then you just need to make sure you drain it well.
Types of Apples to Use for Baking...
If I'm making an apple crumb cake recipe, I'll use whatever type of apple I have on hand, although Mackintosh, Golden Delicious, and Mutsu are especially tasty.

I also like using Granny Smith - my all-time favourite apple for eating and cooking!
Oma's Crumb Cake (Streuselkuchen) ❤️



Cake Ingredients:
½ cup butter, room temperature

1 cup sugar

2 eggs

2 cups all-purpose flour

1½ tsp baking powder

1 tbsp lemon peel, grated

½ cup milk

2 - 3 apples or other fruit, as desired (optional)

Topping Ingredients:
1¼ cup all-purpose flour

¾ cup sugar

¾ cup butter, chilled
Instructions:
Preheat oven to 350° F. Grease 13" X 9" baking pan.

In medium bowl, beat butter and sugar. Add eggs and beat.

Blend flour, baking powder, and lemon peel together. 

Add flour mixture alternately with milk into butter mixture and mix well.

Spread batter in greased pan. 

Arrange fruit (if using) on top of batter in slightly overlapping rows.

To make Streusel Topping:
In a small bowl, combine flour and sugar. 

Using 2 knives or a pastry blender cut in butter until mixture resembles large crumbs.

Sprinkle over apples.

Bake for 40 - 45 minutes. Check with wooden toothpick to see if it is done (should come out clean - no batter on toothpick).

Cool in pan on a wire rack.

Makes about 16 servings. Tastes great served with whipped cream!

Hints:
You can use margarine instead of butter.

Instead of lemon peel, add 1 tsp almond extract. 

Instead of using knives or pastry blender, I just use my hands to quickly rub the butter into the flour/sugar mixture.

Want nutritional information? Copy and paste the above ingredient list and the number of servings into Calorie Count for an approximate calculation.
Need help doing conversions between cups and grams, etc.? Use this site to give you all the different conversions for the different types of ingredients.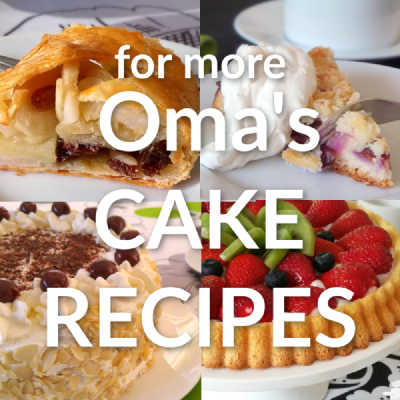 Leave a comment about this recipe or ask a question?
Pop right over to my private Facebook group, the Kaffeeklatschers. You'll find thousands of German foodies, all eager to help and to talk about all things German, especially these yummy foods. 
I pop in all the time as well, to chat and to answer questions. 
Meet with us around Oma's table, pull up a chair, grab a coffee and a piece of Apfelstrudel, and enjoy the visit.
*  *  *  *  *
Want nutritional information for a recipe?
Copy and paste the ingredient list and the number of servings into Calorie Count. 
It will give you an approximate calculation.

Need help doing conversions
between cups and grams or any such thing?
Use this site to give you all the different conversions for the different types of ingredients. 
---
Pin this ...
---
This German sourdough whole grain no knead bread recipe is so delicious and so healthy. Learn this basic method and then alter it to suit your needs. Healthy never tasted this good!

Want a Rhubarb Cake recipe that tastes just like Oma's? Not too sweet, but wunderbar? Try my Rhubarb Streusel Cake that's super quick and easy to make.
---
---
❤️ Crumb Cake Recipes made Just like Oma


By
Oma Gerhild Fulson
German Crumb Cake recipes (Streuselkuchen) are easy, delicious, quick, very traditional, and great for family and friends. Use any variety of fruit. I love using apples, & top with whipped cream!

Ingredients:
butter,
sugar,
eggs,
flour,
For the full recipe, scroll up ...
Words to the Wise
"The tongue can bring death or life; those who love to talk will reap the consequences."
Proverbs 18:21 (NLT)