Oma's German Peach Cake Recipe
➤ by Oma Gerhild Fulson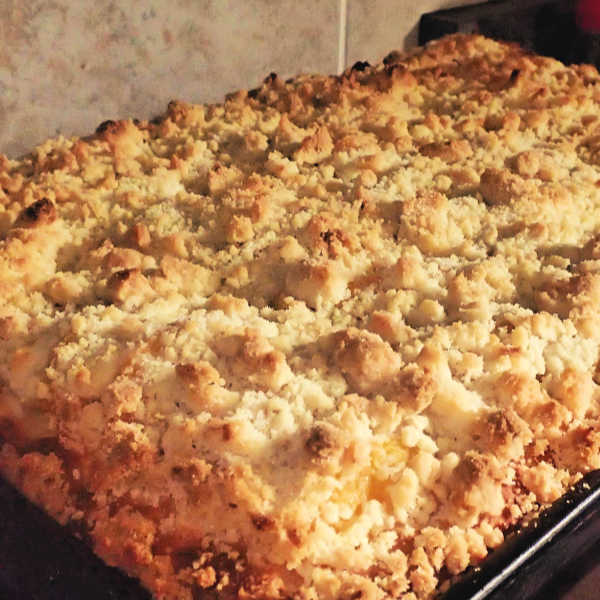 Want a German Peach Cake recipe that's easy to make and wonderful to eat, especially warm out of the oven? This Pfirsich-Streuselkuchen is a bread machine cake recipe for a yeast dough.
It is then followed by a quick finishing off by hand before baking in the oven. You can make it with streusel topping as shown or omit the streusel, if you wish.
Best served fresh, this Peach Streusel Cake also tastes great and keeps for several days due to the fruit keeping the yeast base moist. It does taste wonderful when served with whipped cream or vanilla ice cream on the side.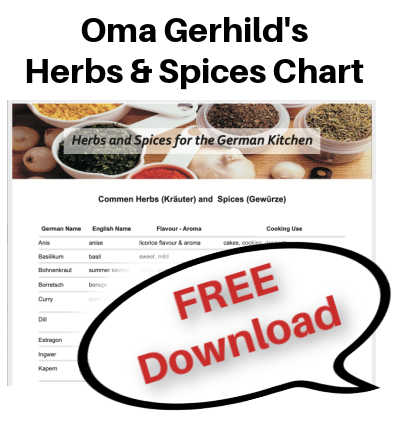 I used canned peaches for this one, and you may find that you'll want to use 2 cans of peaches if you want more fruit on top. However, you can change it by adding different fruits.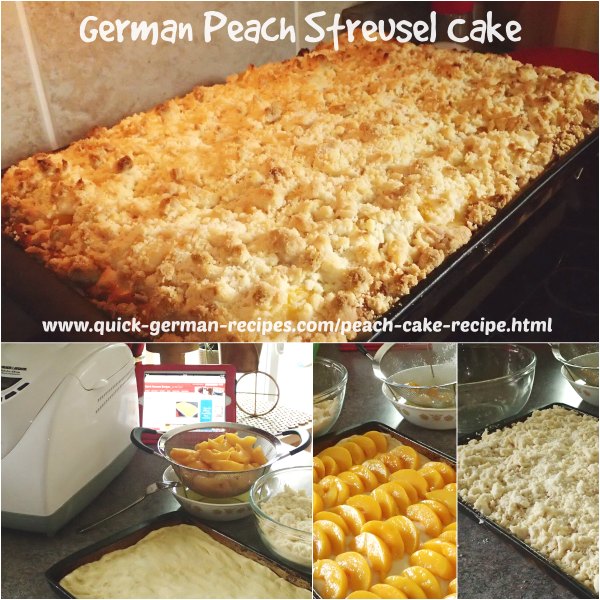 Don't have a bread machine?
Can't use this bread maker recipe because you don't have a bread machine? That's ok. The only reason I use the bread machine is to make quick and easy work of making the dough.
However, you can make the yeast dough following the normal way, such as the way it's made in the Poppy Seed Cake and finish it the same way as here.
Grab your copy of Oma's favorites in her Special Occasion German Cakes & Tortes e-Cookbook.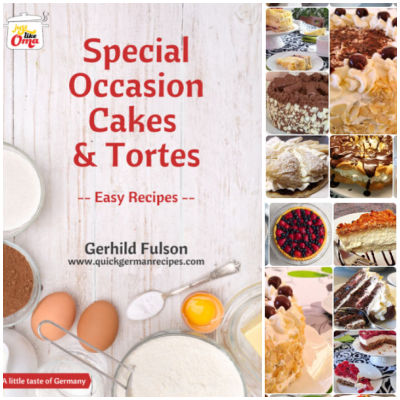 Take a peek at all Oma's eCookbooks. They make sharing your German heritage a delicious adventure!
---
Oma says,
Want something a bit different? Omit the Streusel Topping and sprinkle with ⅓ cup sugar crystals and ½ tsp cinnamon after it is baked.

If you want to make this a German Plum Cake, Pflaumenkuchen, use 2 pounds of fresh prune plums, wash and pit, cutting plums lengthwise into quarters. Place them in rows over the dough. Let rise. Cover with streusel or sprinkle with sugar. Bake. Enjoy!
---
Ready to make this Peach Streusel Cake?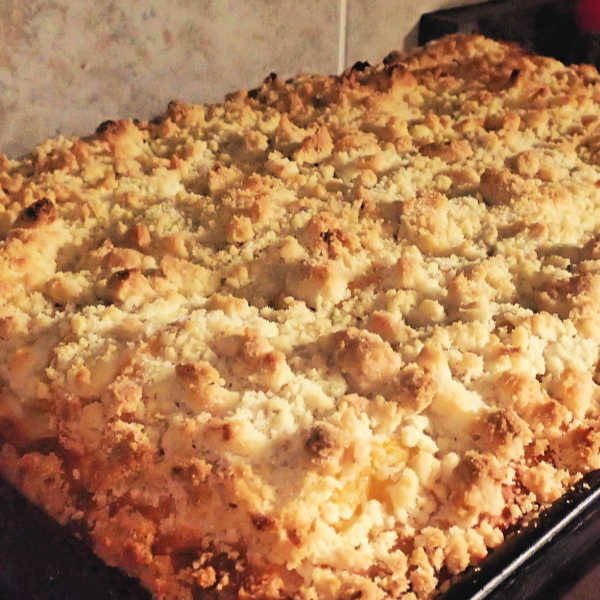 Oma's German Peach Cake Recipe

This German Peach Cake recipe, aka Pfirsich-Streuselkuchen, is a bread machine cake recipe for a yeast dough. 
It is then followed by a quick finishing off by hand before baking in the oven. You can make it with streusel topping as shown or omit the streusel.
Prep Time


20 minutes +105 min rise time


Bake Time


30 minutes


Total Time

155 minutes

Servings:

Makes 8 - 10 servings
Ingredients:
Yeast Dough
2 tsp active dry yeast
¼ cup sugar
2¼ cups all-purpose flour
1 tsp salt
⅞ cup lukewarm milk
1 egg yolk
1 tbsp soft butter
Topping & Streusel
28-oz can sliced peaches, well drained
2 cups all-purpose flour
1 cup sugar
1 cup cold butter
Instructions:
Put all the Yeast Dough ingredients into the Bread Machine pan.
Use the "dough" setting and start (usually takes about 1½ hours).
Grease  a 15" x 11" baking sheet.
Once dough cycle is finished, pat dough onto baking sheet. Pierce dough all over with a fork. 
Preheat oven to 400°F.
Arrange fruit on dough in rows.
Let rise in a warm place about 20 to 25 minutes.
Meanwhile, make streusel topping by mixing flour, sugar and cold butter together to get a crumbly mix. Crumble over fruit just before baking.
Bake 25 - 30 minutes or until yeast pastry is puffed up and streusel is golden brown.
Cool slightly in pan then cut into squares.
*  *  *  *  *

Unless otherwise noted recipe, images and content © Just like Oma | www.quick-german-recipes.com

Want Nutritional Information?

Copy and paste the above ingredient list and the number of servings into Calorie Count for an approximate calculation.
Need Help Doing Conversions?

Make it easier to convert between cups and grams, etc. Use this site to give you all the different conversions for the different types of ingredients.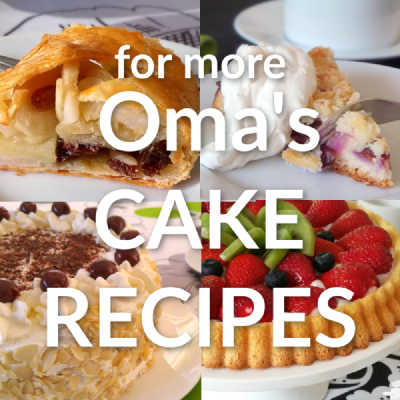 Leave a comment about this recipe or ask a question?
Pop right over to my private Facebook group, the Kaffeeklatschers. You'll find thousands of German foodies, all eager to help and to talk about all things German, especially these yummy foods. 
I pop in all the time as well, to chat and to answer questions. 
Meet with us around Oma's table, pull up a chair, grab a coffee and a piece of Apfelstrudel, and enjoy the visit.
This recipe for cheesecake is called Käse-Sahne Torte, a baked sponge cake and a no-bake whipped cream/quark or Greek yogurt filling. Add mandarin oranges for a traditional dessert.

Pork hocks and sauerkraut, a favorite of my Opa, is a real traditional German food. This version of Eisbein is a classic in northern Germany, not to be confused with Schweinshaxe from the southern par…

Make this chicken fricassee recipe and you'll think you're back in Oma's kitchen. German comfort food. Originally just a 'leftover' meal, now it graces the best restaurant menus.
*  *  *  *  *
PIN this ...
---
German Peach Cake Recipe made Just like Oma


By
Oma Gerhild Fulson
Here's a peach cake recipe you'll love to make. With a yeast cake base, covered with peaches and a streusel topping, you'll be singing 'Wunderbar' all day long!

Ingredients:
yeast,
flour,
sliced peaches,
butter,
For the full recipe, scroll up ...
Words to the Wise
"Lazy people want much but get little, but those who work hard will prosper."
Proverbs 13:4 (NLT)