Mutti's Poppy Seed Cake ~ Mohnkuchen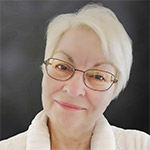 by: Gerhild Fulson  /  Cookbook Author, Blogger, German Oma!
As an Amazon Associate, I earn from qualifying purchases.
My Mutti's German Poppy Seed Cake recipe, aka Mohnkuchen, is so WUNDERBAR! It's among my favorite holiday baking recipes, especially since I just love poppy seed in any type of cake! Delicious and, oh, so traditionally German.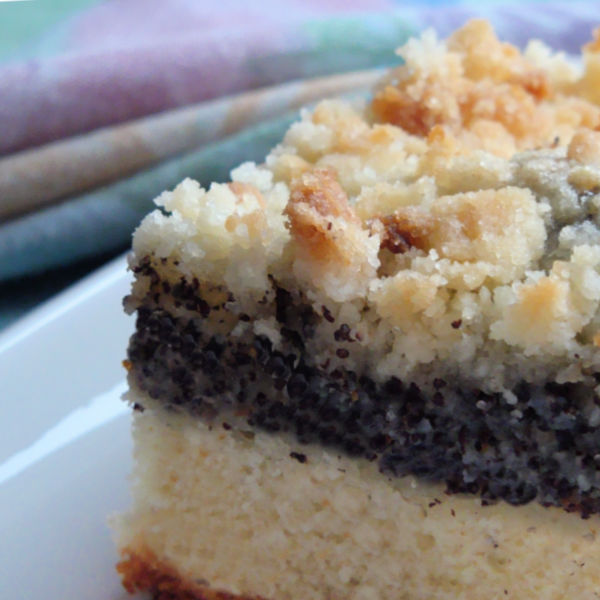 For example, if you're fortunate to be celebrating Christmas in Germany, you'll find this poppyseed cake on the dessert table, sitting right alongside the Stollen and Lebkuchen. OH!!!! Don't just wait for the holidays to make this fabulous German food!!! (Cake is one of the food groups, isn't it?)

Even though it uses yeast, it's simple to make. You may not think that yeast recipes can be quick. This one is though. It only uses one main 'rising' and during that time you make the filling.

Poppy seed filling ~ from scratch or can?
If you are blessed to live close to a German or Polish Deli, you can buy prepared poppy seed filling and use that instead. You can even buy it online. Actually, you may find that finding the prepared filling is a lot easier than finding the actual poppy seeds.
Personally, I like using the prepared canned type when it's available. Simply, because the brand I can buy tastes amazing. It makes this cake so much quicker to make and I can easily keep several cans in the cupboard.
Finding the actual fresh poppy seeds can be much more daunting. Then, the seeds do need to be ground, not super fine, but just enough to crack them open.
Once they are ground, they need to be used right away or frozen until needed. When I say, fresh, I mean fresh. Using stale poppy seeds will totally ruin your cake. The rancid taste and smell is quite unpleasant.
Below, my recipe is my Mutti's. She used fresh poppyseeds, and it's the recipe I grew up with. Sometimes I'll still make it this way. Other times, I will sub in a can of prepared poppy seed filling. You choose the way you wish to make it. Both are yummy!
When it's time for Christmas, baking is at the forefront of preparations. Get Oma's collection of her favorites in Christmas Baking eCookbook.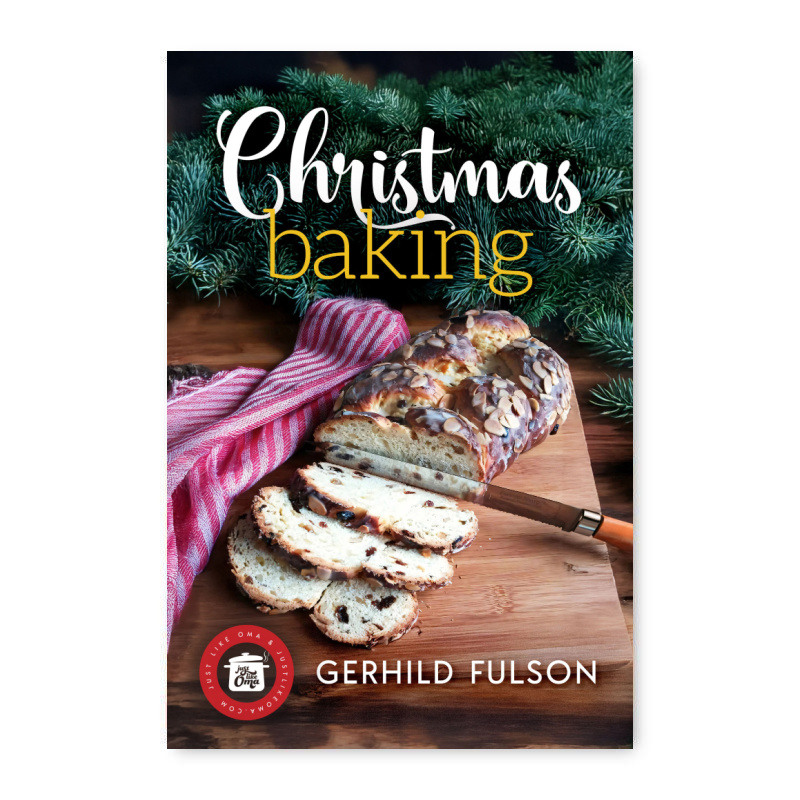 Take a peek at all Oma's eCookbooks. They make sharing your German heritage a delicious adventure!

Mutti's Streusel (Crumb) Warning!
A warning I give when making any of the crumb cake recipes (cakes with a crumb or "streusel" topping): the crumbs taste great even before baking.
Keep the kids (and hubby) away from the streusel -- they'll eat it up before you can use it!
Oma says,
I know this looks like a long and complicated recipe. It's not!
Just take it step-by-step and you'll soon be enjoying this poppyseed cake. It's so similar to other crumb cake recipes, it'll be a breeze to make them as well.
Ready to make this poppyseed cake?
Is the recipe below locked? Here's why. Unlock to see ALL the exclusive recipes on this site. Click here for help.
As an Amazon Associate, I earn from qualifying purchases.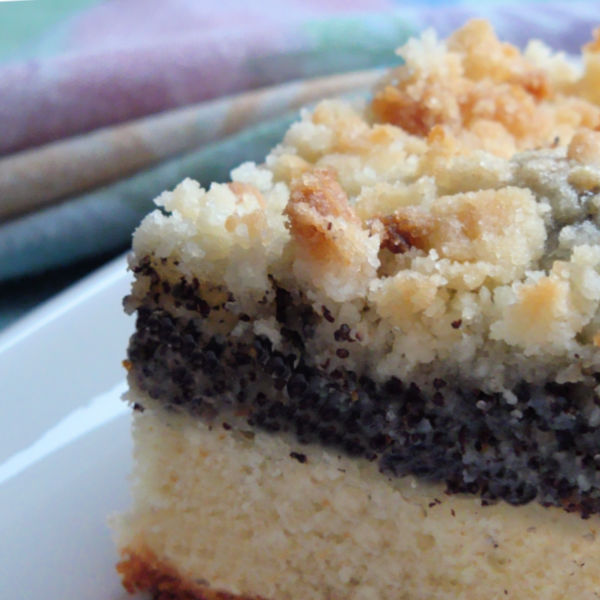 Mutti's Poppy Seed Cake Recipe

My Mutti's German Poppy Seed Cake recipe, aka Mohnkuchen, is so WUNDERBAR! It's among my favorite holiday baking recipes, especially since I just love poppy seed in any type of cake! (Actually, I love this anytime of the year, including my poppy seed roll.) 

Prep Time


30 minutes


Bake Time


30 minutes


Total Time

60 minutes + rise time

Ingredients:
Yeast Dough:
¼ cup granulated sugar
½ cup milk, lukewarm
1 package active dry yeast
2⅓ cups flour, all-purpose
½ teaspoon salt
4 tablespoon butter, melted
2 large eggs
Poppyseed Filling:
⅓ cup Wheatlets (Cream of Wheat)
2 cups water
1 cup poppy seeds, ground
1 cup granulated sugar
1 teaspoon vanilla or almond flavoring
2 large eggs
1 tablespoon butter
Crumb Topping:
1 cup cold butter
1 cup granulated sugar
2 cups flour, all-purpose
Instructions:
Yeast Dough:
Stir 1 teaspoon of sugar into warm milk. Sprinkle yeast on top. Let sit 5 minutes or until surface is frothy. If it doesn't get frothy, don't continue with the recipe. Get new yeast with an expiry date far into the future.
Into a large mixing bowl, stir together the flour, sugar and salt.
Stir yeast. Lightly beat cooled butter and egg into yeast mixture.
Pour yeast mixture into flour, mixing to make a dough.
On a floured surface, knead dough lightly for about 5 minutes. Cover and let rise in a warm place for 1 hour.
Poppy Seed Filling:
While waiting for dough to rise, make the filling and topping.
Follow package instructions and make cereal with Wheatlets and water. Let cool slightly.
Add poppy seed, flavoring, butter, and sugar. Mix well. Add eggs. Mix well.
Let cool.
Crumb Topping:
Mix ingredients to a crumbly texture.
Finish Cake:
Grease 9x13-inch cake pan or use a large springform pan.
Knead risen dough lightly and roll out to fit cake pan. Pierce dough all over with fork.
Pour poppyseed filling over cake.
Gently crumble topping evenly over filling.
Preheat oven to 400°F.
Let rise in a warm place 15 minutes.
Bake 25 to 30 minutes - or until top is a rich golden brown.
Cool and serve.
Hints:
Instead of making the poppy seed filling, use a good brand of purchased canned poppy seed filling. Try various brands to find your favorite. 
*  *  *  *  *

Unless otherwise noted recipe, images and content © Just like Oma | www.quick-german-recipes.com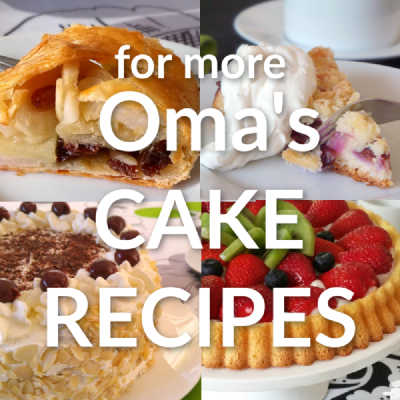 Leave a comment about this recipe or ask a question?

Pop right over to my private Facebook group, the Kaffeeklatschers. You'll find thousands of German foodies, all eager to help and to talk about all things German, especially these yummy foods. 
Meet with us around Oma's table, pull up a chair, grab a coffee and a piece of Apfelstrudel, and enjoy the visit.

Oma's Favorite Finds offer a range of Oma's favorite German-inspired must-have items that make cooking and entertaining more enjoyable, yummy, and efficient.

Indulge in Elegance: Small porcelain dessert bowls by Dowan for a pop of colour on your table and perfect for little desserts.

Discover the Easter traditions in Germany that will engage your senses and uplift your spirit. Ostern is a cultural celebration filled with delight, wonder, and yummy food.
*  *  *  *  *
PIN to SAVE this recipe to your Pinterest board!
And let's be friends on Pinterest!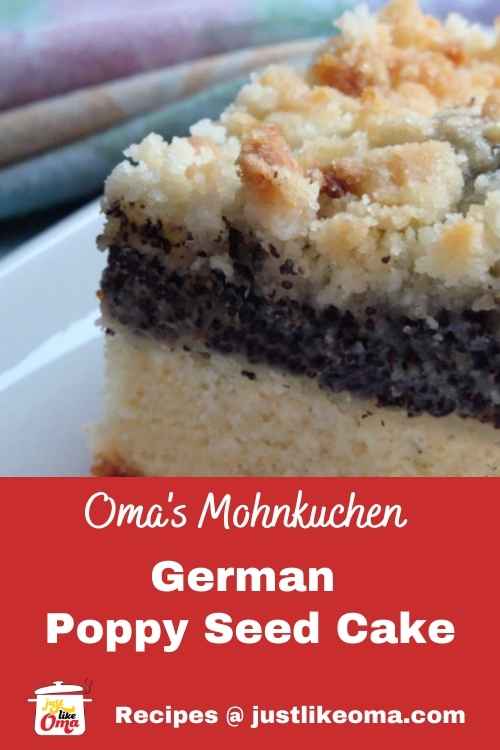 ---
Poppy Seed Cake Recipe made Just like Oma


By
Oma Gerhild Fulson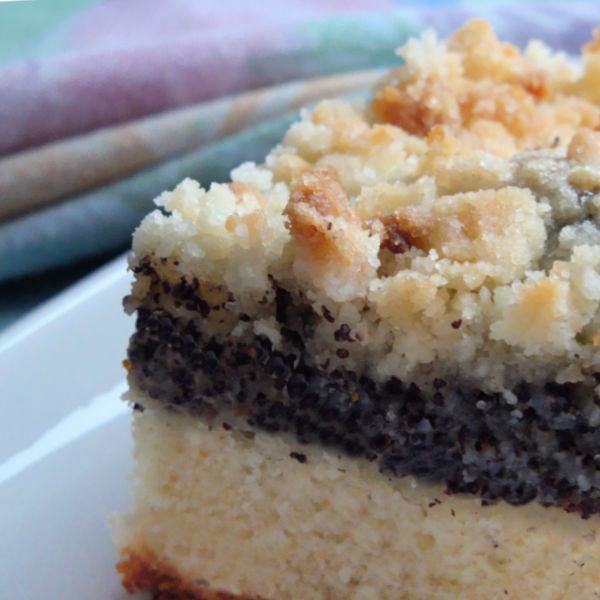 My Mutti's Poppy Seed Cake recipe is so wunderbar! Even though it uses yeast, it's simple to make. Delicious and, oh, so traditional. You'll have to give this one a try!

Ingredients:
sugar,
milk,
yeast,
all-purpose flour,
salt,
butter,
eggs,
Cream of Wheat,
poppy seeds,
vanilla flavoring,
For the full recipe, scroll up ...
Words to the Wise
"A friend is always loyal, and a brother is born to help in time of need."
Proverbs 17:17 (NLT)