Oma's Christmas "Quark" Stollen Recipe with Marzipan & Greek Yogurt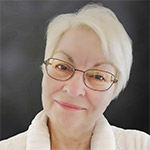 by: Gerhild Fulson  /  Cookbook Author, Blogger, German Oma!

This post may contain affiliate links, which means I'll receive a commission if you purchase through my links, at no extra cost to you. Please read full disclosure for more information.
This non-yeast German Christmas Stollen recipe is the BEST in my opinion. Why? Because it's always moist, has a wonderful flavor, and is so super quick to make. 
Best of all, this Quarkstollen (although I use Greek yogurt instead of Quark) is ready to serve immediately and doesn't need to age like the yeasted Stollen.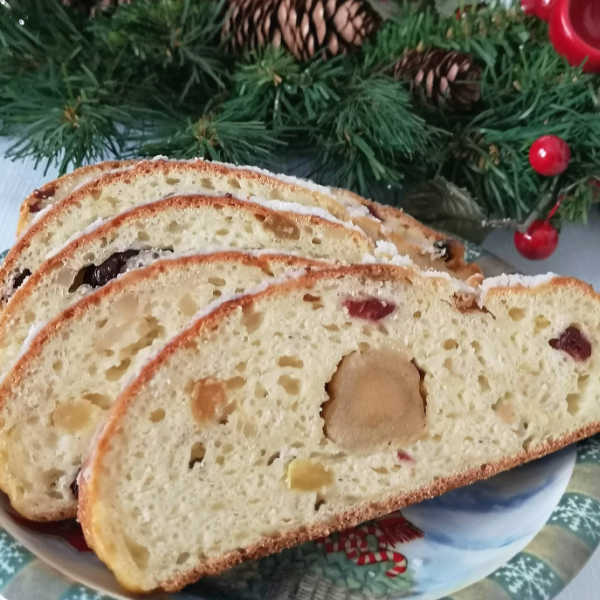 As well, the Stollen made with yeast, such as the Dresdner Stollen (considered the traditional German Christmas bread) does take a bit of time to make as it needs to rise twice during the making process. 
To make my German stollen bread extra special, I add a roll of Marzipan right down the middle, so that everyone gets a bit. Lecker, lecker!!!!
If you don't like marzipan, just omit it. And, if you don't like raisins, just omit them. If you like more nuts, add them. Make Oma's Christmas Stollen (Weihnachtsstollen) just the way you like it! Delicious German food!
Quark vs Cottage Cheese vs Greek Yogurt
My Mutti made a very similar German stollen recipe, but used cottage cheese that she would cream by pressing through a metal sieve. She had no access to quark in the northern Canadian city that we emigrated to. 
And, in those early 1950s, she didn't know how to make quark herself (no way to google for info, back then).

However, if you want to make this with quark, just use the same measurements as I do using the Greek yogurt. 

Or, you can easily make your own quark using buttermilk.
For me, it's just much simpler to use the Greek yogurt. It's so readily available. I use the full-fat type. After all, this IS Christmas time! It's not the time for a diet.
You choose how to fill the Stollen ...
There are the traditional fillings for a Stollen recipe. The most traditional of all, the Dresdner Christstollen, has candied citrus peel, dried fruit, and nuts. It usually has a roll of marzipan down the middle.
You can choose to make your quarkstollen the same way. For me, I prefer to use golden raisins, dried cranberries, and almond slivers. For flavoring, I use vanilla extract. Marzipan? Absolutely!

Don't like the candied lemon peel or orange peel or candied fruits? Then omit them. I did. I prefer using just raisins and dried cranberries. You choose what you'd like, keeping the total quantities about the same.

Another great addition is citrus zest (either lemon zest or orange zest). You can easily add around 1 tbsp to your nut and fruit mixture. Or, perhaps use almond extract instead of vanilla. Your choice.
When it's time for Christmas, baking is at the forefront of preparations. Get Oma's collection of her favorites in Christmas Baking eCookbook.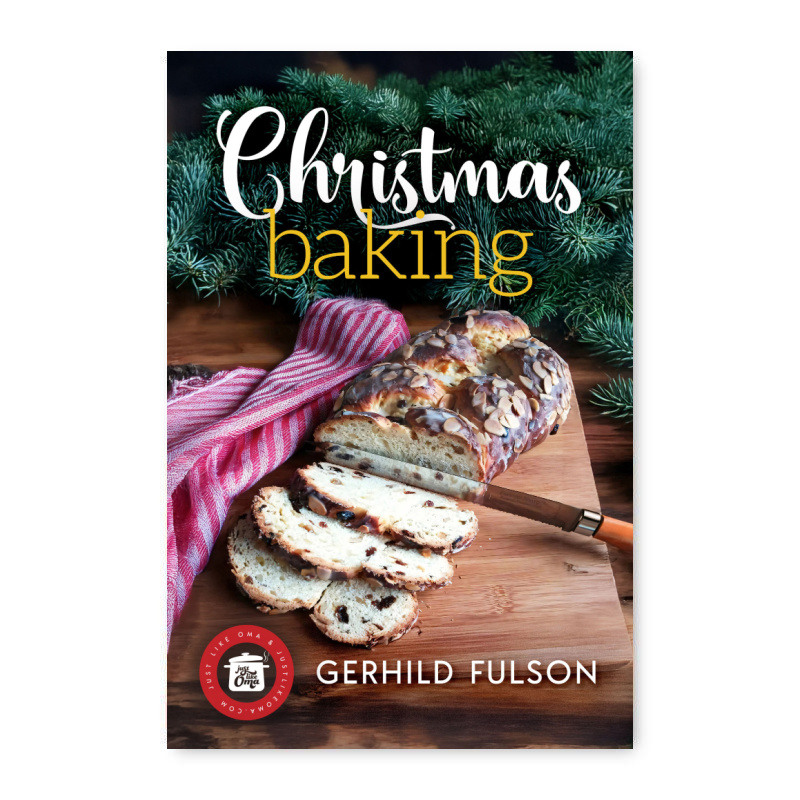 Take a peek at all Oma's eCookbooks. They make sharing your German heritage a delicious adventure!

Not adding Marzipan, ...
If you decide to make yours without marzipan, then shaping it is very easy. Shape it into a long loaf. Then press one side (lengthwise) down a bit.
That way, when you slice the stollen (after it is baked) the pieces will have one side higher than the other. This is the traditional shape. BUT, you can just keep it as a long loaf. After all, looks aren't everything. :)
How to make your Stollen
Thankfully, homemade stollen doesn't have to be difficult to make. Although the recipe below looks quite long, it actually is a very easy, one-bowl recipe.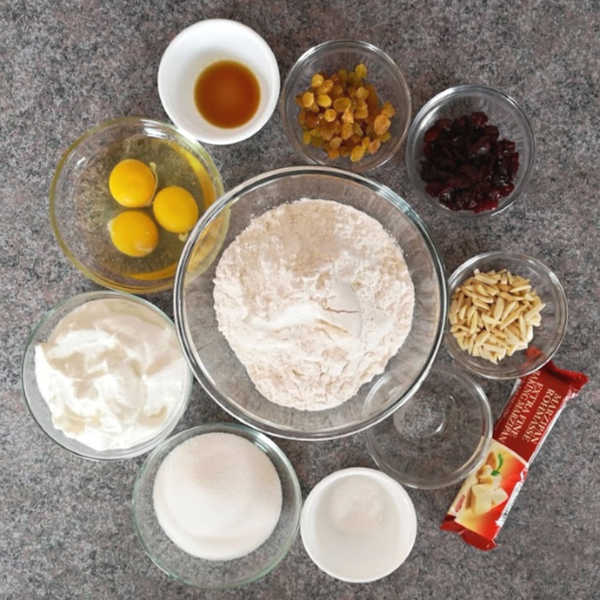 Get all your ingredients out, measure them, and you'll be able to literally throw everything together.
Once the dry ingredients are in a large bowl, create a crater in the middle.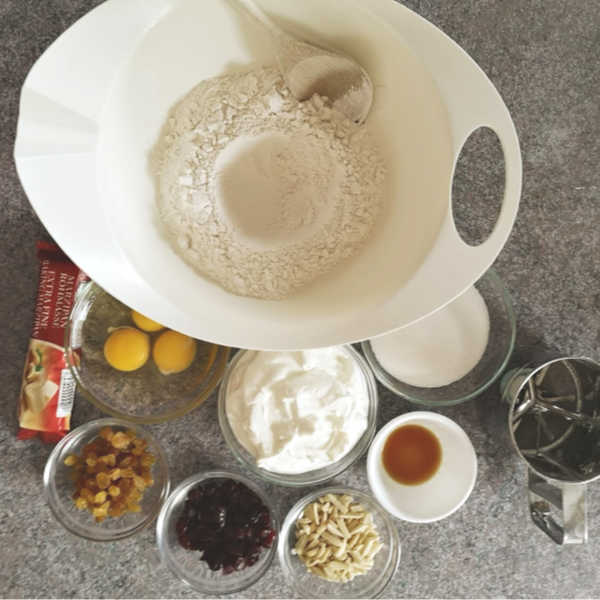 Add the rest of the ingredients (minus the melted butter and powdered sugar.)
You can first mix with a wooden spoon, or just get your hand in it right away. Feels so good!!!!
Knead it lightly until it holds together. It will be a bit sticky, but that's ok. If it's very moist, and this will depend totally on how moist your Greek yogurt is, you can add a little bit of flour.
Then take your dough and plop it onto some parchment paper on your work surface. Push it into an oval shape. Cover with another sheet of parchment paper and use your rolling pin to roll it to a large oval, about 9x12 inches.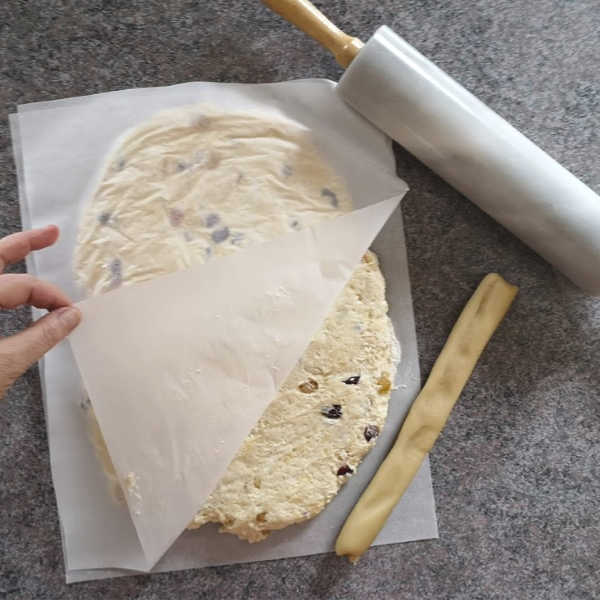 Pull off the top parchment paper and place the marzipan roll right down the middle. 
Using the parchment paper to lift one side of the stollen dough over the marzipan so that it almost folds in half, but not quite. You want the final stollen to be thicker on the folded side. 
Carefully pull back the parchment paper. Trim off part of the parchment paper that has dough stuck on it so it doesn't burn. Lift the stollen with the parchment paper underneath onto the parchment paper-lined baking sheet.
It's easier to move the dough with the paper than trying to lift the unbaked stollen to put onto the baking sheet.
Using your fingers, moistened with water, press down the top edge so that it sticks to the bottom. Then push in the outer edges a bit to give the Stollen appearance.
Once baked, let the Quarkstollen cool momentarily. Get your butter melted and have your powdered sugar ready to go. Place your Stollen on top of a rack. Placing some parchment paper underneath will make clean-up a breeze.
Brush the very warm Stollen with melted butter. Do NOT skimp with this. If you want, you can first poke your Stollen with a wooden pick so that the butter absorbs a bit into the cake.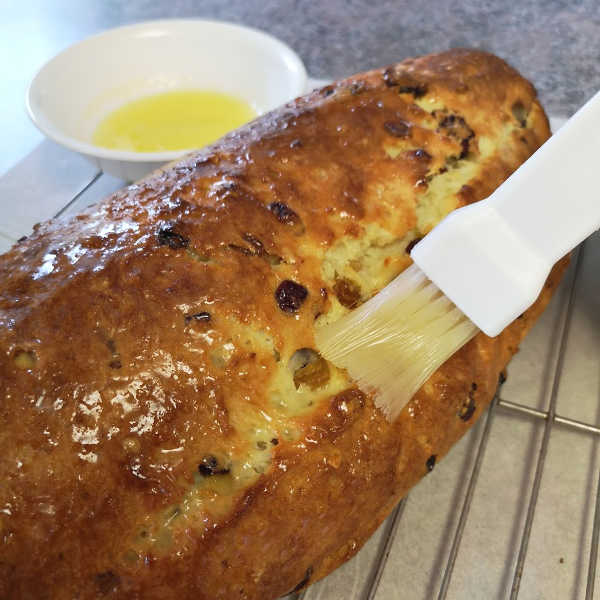 With the baked loaf still very warm and covered with melted butter, dust the powdered sugar (also called icing sugar or confectioners' sugar) over the top of the Stollen using a sieve. Make the layer of sugar quite thick. It will absorb into the butter as it sits.
As it sits, you can always dust more powdered sugar on top if you wish.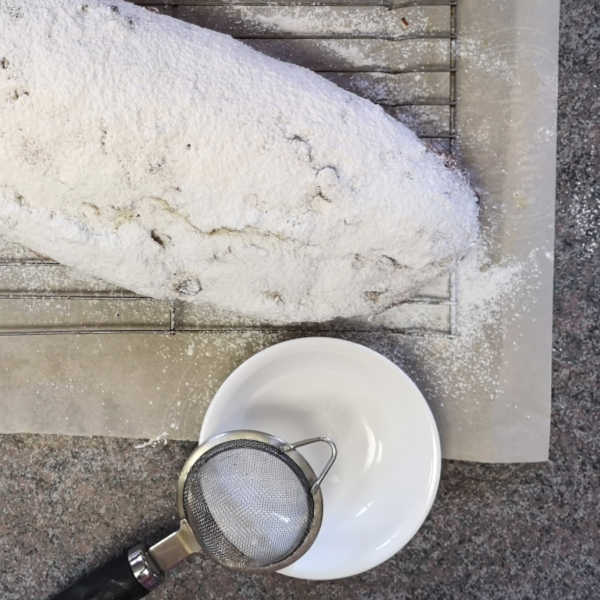 And… it's ready to serve. No need to let this sit for days or weeks to mellow. It's ready to go.
But, it does taste better the next day, and you can choose to let it age longer if you wish. However, I also think it tastes good when it's still a tad warm from the oven.

This may not be a traditional Stollen made with yeast, but it is just as delicious and so much quicker and easier to make. It is such a special treat to enjoy during the holiday season, especially when served with a cup of coffee!
Ready to make this Stollen?
Is the recipe below locked? Here's why.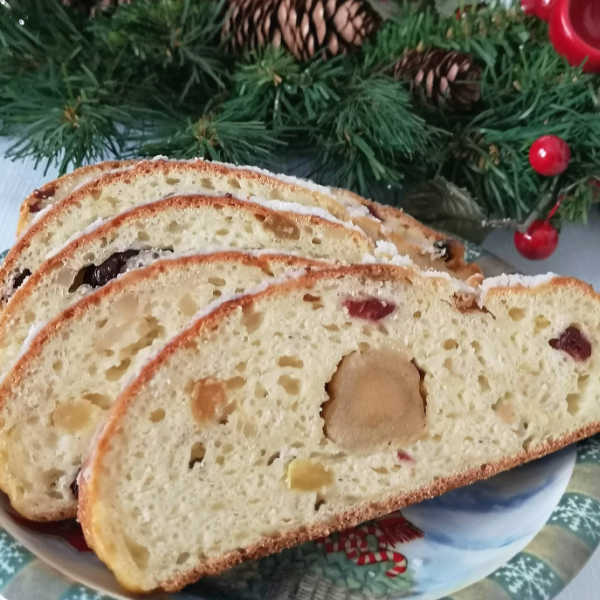 Oma's "Quark" Stollen Recipe with Marzipan & Greek Yogurt

This non-yeast Christmas Stollen recipe is the BEST in my opinion. Why? Because it's always moist, has a wonderful flavor, and is so super quick to make. 
Best of all, this Quarkstollen (although I use Greek yogurt instead of Quark) is ready to serve immediately and doesn't need to age like the yeasted Stollen.
Prep Time


20 minutes


Bake Time


55 minutes


Total Time

75 minutes

Servings:

Makes 1 large loaf
Ingredients:
3⅓ cups (434 grams) all-purpose flour
2 teaspoons (8 grams) baking powder
pinch salt
2 cups (490 grams) full-fat Greek yogurt
3 large eggs, slightly beaten
1 teaspoon (5 milliliter) vanilla
¾ cup (150 grams) granulated sugar
⅓ cup (50 grams) raisins (soaked in 1 tablespoon (15 milliliters) rum, optional)
⅓ cup (53 grams) dried cranberries or candied peel 
⅓ cup (37 grams) slivered almonds
5 ounces (142 grams) baking marzipan or almond paste
2 tablespoons (28 grams) butter, melted
2 tablespoons (16 grams) powdered sugar
Instructions:
Preheat oven to 375°F (190°C).
Line a baking sheet with parchment paper. Have two extra sheets of parchment paper available. Set these aside.
Sift flour mixed with baking powder and salt into large mixing bowl. Make an indentation in the center.
Add the Greek yogurt, eggs, vanilla, sugar, raisins, cranberries, and almonds into the center.
Mix to a firm dough with your hands and knead LIGHTLY. It should hold its shape, but it will be sticky. If it is too moist, add a bit of extra flour.
Place the dough onto one of the extra sheets of parchment paper and press into an oval shape with your hands (dip hands in water first).
Cover dough with the second piece of parchment paper and roll lightly to a 9x12-inch oval. Peel off top parchment paper.
Roll marzipan into a 10-inch log and place down the middle of the dough. Using the bottom parchment paper to help, fold over one side of the dough over the marzipan.
Using your hands (dipped in a bit of water first), press the Stollen into the proper shape, sealing the marzipan inside the loaf. See photo above.
Lift the Stollen with the parchment paper underneath onto the parchment paper-lined baking sheet. Trim off part of the parchment paper that has dough stuck on it so it doesn't burn.
Bake 45 to 55 minutes or until a wooden pick inserted in the center comes out clean. Be careful not to insert the pick into the marzipan center when checking… that will be moist.
Transfer to a cookie rack.
Brush melted butter over warm loaf and sift powdered sugar over it.
Ready to serve when cooled. Tastes better the next day.
Hints:
For a different version, check out my Mutti's Christmas Stollen. She used cottage cheese for hers and different additions.
Wrap Stollen in waxed paper or parchment paper and then either put into a sealable plastic bag or wrap tightly with aluminum foil. Then keep in a cool place or fridge. It can also be kept in the freezer after it has aged a couple of days in a cool place.
*  *  *  *  *

Unless otherwise noted recipe, images and content © Just like Oma | www.quick-german-recipes.com

11.19.2021 revision update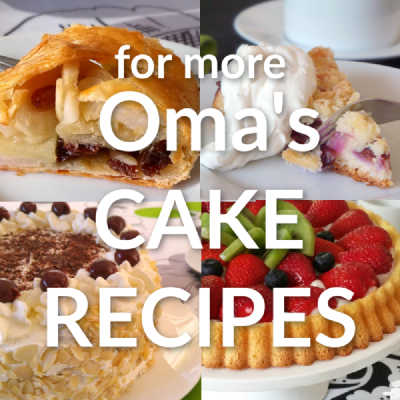 Leave a comment about this recipe or ask a question?

Pop right over to my private Facebook group, the Kaffeeklatschers. You'll find thousands of German foodies, all eager to help and to talk about all things German, especially these yummy foods. 
Meet with us around Oma's table, pull up a chair, grab a coffee and a piece of Apfelstrudel, and enjoy the visit.

Cooking just like Oma, making those German meals, is actually quite easy. Let me, Oma Gerhild, help you with my step-by-step methods to re-create those yummy meals you remember from your Oma.

If you're looking for tasty, traditional, and easy German cake recipes (in English) to try, then you've come to the right place! Check out these lecker treats!

Discover the ultimate German schnitzel recipe with Oma's quick and easy method - perfect for any occasion! Taste the authentic flavors of Germany today.
*  *  *  *  *
PIN to SAVE this recipe to your Pinterest board!
And let's be friends on Pinterest!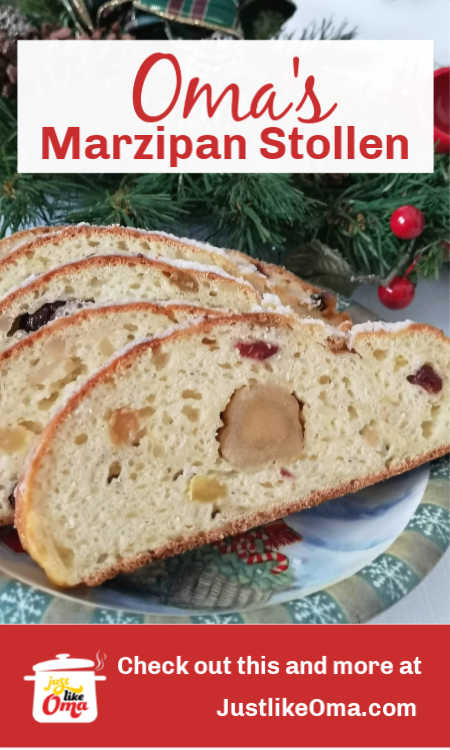 ---
Best Christmas "Quark" Stollen Recipe made Just like Oma


By
Oma Gerhild Fulson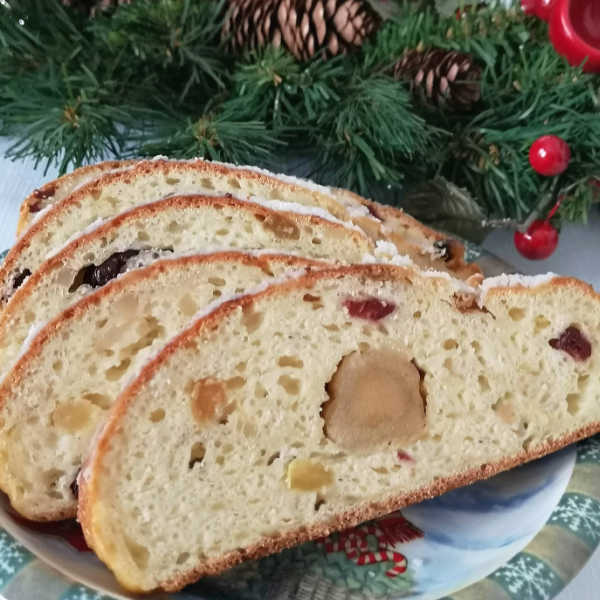 Oma's Christmas Stollen is the BEST. Why? Because it's always moist, has a wonderful flavor using Greek yogurt (instead of Quark) and is super quick to make. And it's got Marzipan in it!!!

Ingredients:
Greek yogurt,
flour,
baking powder,
eggs,
vanilla,
sugar,
salt,
raisins,
dried cranberries,
almonds,
baking marzipan,
butter,
powdered sugar,
For the full recipe, scroll up ...
The Good News!
"All right then, the Lord himself will give you the sign. Look! The virgin will conceive a child! She will give birth to a son and will call him Immanuel (which means 'God is with us')."
Isaiah 7:14 (NLT)