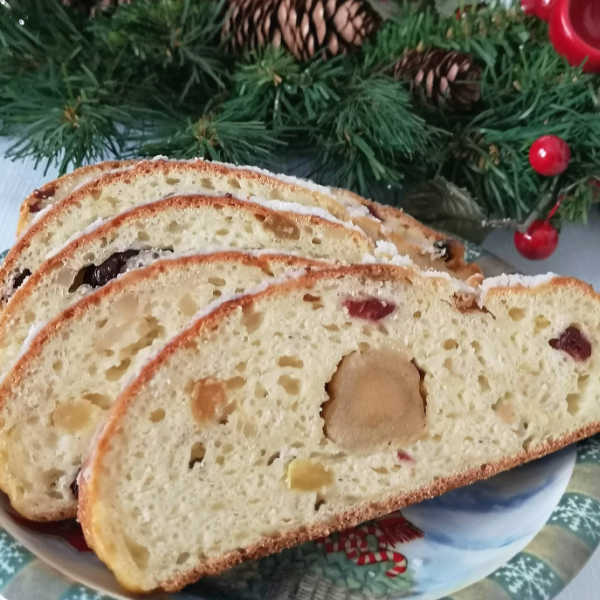 Oma's "Quark" Stollen Recipe with Marzipan & Greek Yogurt

This non-yeast Christmas Stollen recipe is the BEST in my opinion. Why? Because it's always moist, has a wonderful flavor, and is so super quick to make. 
Best of all, this Quarkstollen (although I use Greek yogurt instead of Quark) is ready to serve immediately and doesn't need to age like the yeasted Stollen.
Prep Time


20 minutes


Bake Time


55 minutes


Total Time

75 minutes

Servings:

Makes 1 large loaf
Ingredients:
3⅓ cups (434 grams) all-purpose flour
2 teaspoons (8 grams) baking powder
pinch salt
2 cups (490 grams) full-fat Greek yogurt
3 large eggs, slightly beaten
1 teaspoon (5 milliliter) vanilla
¾ cup (150 grams) granulated sugar
⅓ cup (50 grams) raisins (soaked in 1 tablespoon (15 milliliters) rum, optional)
⅓ cup (53 grams) dried cranberries or candied peel 
⅓ cup (37 grams) slivered almonds
5 ounces (142 grams) baking marzipan or almond paste
2 tablespoons (28 grams) butter, melted
2 tablespoons (16 grams) powdered sugar
Instructions:
Preheat oven to 375°F (190°C).
Line a baking sheet with parchment paper. Have two extra sheets of parchment paper available. Set these aside.
Sift flour mixed with baking powder and salt into large mixing bowl. Make an indentation in the center.
Add the Greek yogurt, eggs, vanilla, sugar, raisins, cranberries, and almonds into the center.
Mix to a firm dough with your hands and knead LIGHTLY. It should hold its shape, but it will be sticky. If it is too moist, add a bit of extra flour.
Place the dough onto one of the extra sheets of parchment paper and press into an oval shape with your hands (dip hands in water first).
Cover dough with the second piece of parchment paper and roll lightly to a 9x12-inch oval. Peel off top parchment paper.
Roll marzipan into a 10-inch log and place down the middle of the dough. Using the bottom parchment paper to help, fold over one side of the dough over the marzipan.
Using your hands (dipped in a bit of water first), press the Stollen into the proper shape, sealing the marzipan inside the loaf. See photo above.
Lift the Stollen with the parchment paper underneath onto the parchment paper-lined baking sheet. Trim off part of the parchment paper that has dough stuck on it so it doesn't burn.
Bake 45 to 55 minutes or until a wooden pick inserted in the center comes out clean. Be careful not to insert the pick into the marzipan center when checking… that will be moist.
Transfer to a cookie rack.
Brush melted butter over warm loaf and sift powdered sugar over it.
Ready to serve when cooled. Tastes better the next day.
Hints:
For a different version, check out my Mutti's Christmas Stollen. She used cottage cheese for hers and different additions.
Wrap Stollen in waxed paper or parchment paper and then either put into a sealable plastic bag or wrap tightly with aluminum foil. Then keep in a cool place or fridge. It can also be kept in the freezer after it has aged a couple of days in a cool place.
*  *  *  *  *

Unless otherwise noted recipe, images and content © Just like Oma | www.quick-german-recipes.com

11.19.2021 revision update