Oma's Bethmännchen Cookies❤️

➤ by Oma Gerhild Fulson
FTC Disclosure: As an Amazon Associate, I earn from qualifying purchases.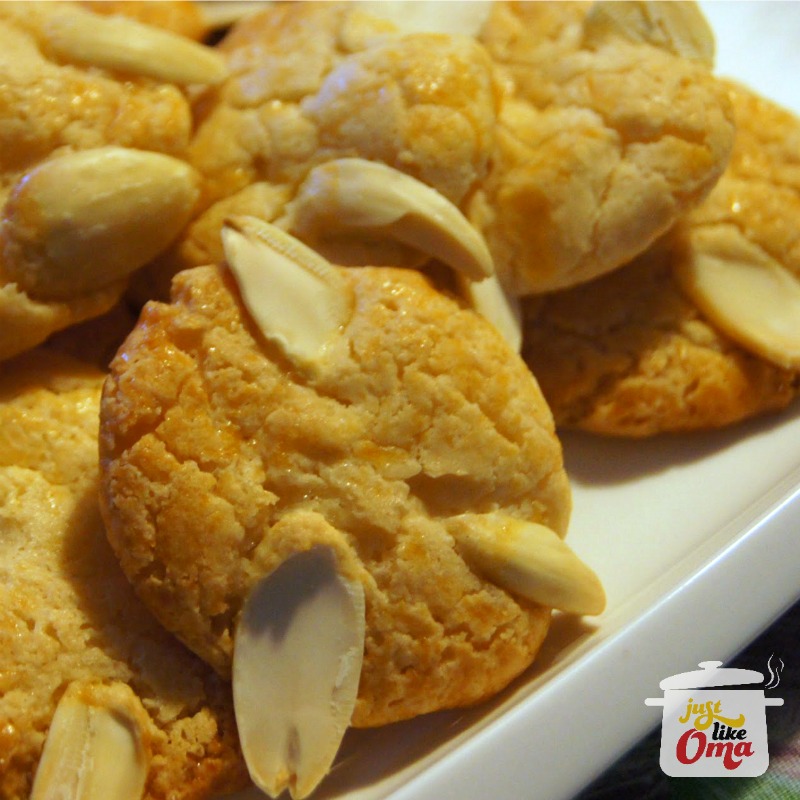 Bethmännchen cookies are among the traditional German Christmas cookie recipes.  These cookies were originally created to honour the Bethmann family. Theobald von Bethmann-Hollweg was the Chancellor of the German Empire in the early 1900's. Why three almonds on top of these cookies?  Because the Chancellor had three sons.
If you love marzipan, you'll love these Bethmännchen, because that's one of the main ingredients.
You need to purchase marzipan for this. It can be found in the baking sections of most grocery stores and, of course, at German delis. With its high sugar content, marzipan will keep almost indefinitely. (Not in our house, though. We so enjoy it, it keeps disappearing!)

Make your own Marzipan ...
It is possible to make your own marzipan. It really is just a mixture of ground almonds, powdered sugar, and rosewater.
My Mutti had a recipe she made that also included mashed potatoes. It helped to decrease the cost, since almonds were very expensive. 
However, because it's not a real marzipan, I wouldn't use it to bake with. It works fine for decorating or just eating. It was made with mashed potatoes, almond extract, and powdered sugar. 
Oma says,
There's one hint that you'll definitely need when making these cookies. When you are rolling the dough into little balls, keep moistening your hands with water so that the dough won't stick.
Oma's Bethmännchen Cookies❤️
Ingredients:
about 3 oz almonds, skinless, halved 
8 oz marzipan, coarsely grated
½ cup powdered sugar
¼ cup flour
1 egg
1 tbsp milk
Instructions:
Preheat oven to 350° F. Line cookie sheet with parchment paper.
Separate egg.
Mix powdered sugar and flour together. Add egg white and marzipan.
Mix with a dough hook in mixer until you have a smooth dough. (Or knead with your hands.)
Roll dough into balls the size of walnuts. You may need to add 1 - 2 tbsp flour extra so the dough isn't too sticky.
Place cookies onto cookie sheet. Mix egg yolk and milk together. Brush mixture on cookies.
Press three almond halves into each cookie with the tips pointing upward.
Bake for about 15 - 20 minutes or until pale golden.
Place on a cookie rack until cold.
Makes about 35 cookies.

Leave a comment about this recipe or ask a question?
Pop right over to my private Facebook group, the Kaffeeklatschers. You'll find thousands of German foodies, all eager to help and to talk about all things German, especially these yummy foods. 
I pop in all the time as well, to chat and to answer questions. 
Meet with us around Oma's table, pull up a chair, grab a coffee and a piece of Apfelstrudel, and enjoy the visit.
*  *  *  *  *
Want nutritional information for a recipe?
Copy and paste the ingredient list and the number of servings into Calorie Count. 
It will give you an approximate calculation.

Need help doing conversions
between cups and grams or any such thing?
Use this site to give you all the different conversions for the different types of ingredients. 
---
PIN this ...

---
Jagerschnitzel: Rich creamy bacon & mushroom gravy over crispy breaded pork schnitzel (cutlets). HEAVENLY! A traditional German meal that's PERFECT anytime.

My Bienenstich recipe is a quick version of the traditional "German Bee Sting Cake". Sweet, chewy, nutty top with a creamy filling. Yummy!
---
Words to the Wise
"When people's lives please the Lord, even their enemies are at peace with them."
Proverbs 16:7 (NLT)