Oma's Hazelnut Cookies (Hazelnut Macaroons)
➤ by Gerhild Fulson
These hazelnut cookies, aka Haselnussmakronen, bring back such wonderful memories of my Mutti's Christmas cookie platter.
Also, they bring back memories of my sister and me sitting at the kitchen table, busy cracking hazelnuts! Mutti would then lightly roast them in order to remove the skins and, somehow, ground them.
For the full list of ingredients & detailed instructions, see the recipe card at the end of this post. But before you scroll, there's important & interesting stuff to know right below.
I don't recall how she did that or what she had to do it successfully. I've found out since, that it's not that easy to get perfectly ground hazelnuts! 
Whenever possible, I buy the ground hazelnuts, however in the photo above, you'll see the ones I made from 'scratch'. I only had about half of the nuts ground properly before the rest became too oily to continue.
The cookies are a bit flatter than usual, but, OH, MY, so GOOD! 

Get ready for Christmas! Grab your copy of Oma's collection of her favorites in Christmas Cookies e-Cookbook.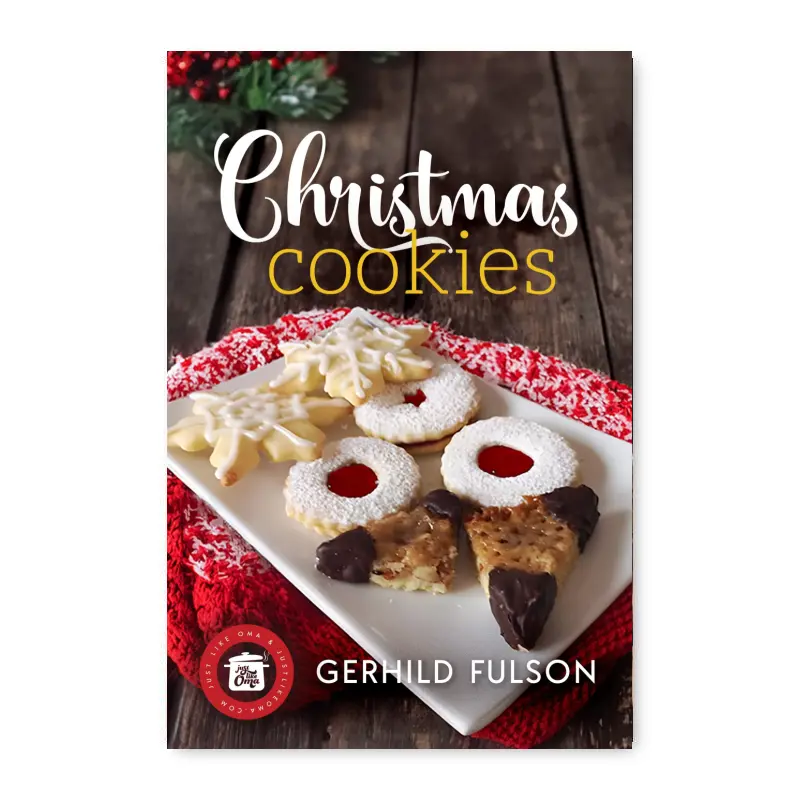 Take a peek at all Oma's eCookbooks. They make sharing your German heritage a delicious adventure!
How to prepare whole Hazelnuts ...
If you've purchased whole hazelnuts, you'll notice that they probably still have their skins on. These need to be removed because they can make the cookies bitter.
Although there is a new way to do this by boiling in a baking soda water mixture, I still prefer to do it the 'old-fashioned' way by roasting them. Roasting always brings out a wonderful flavor in nuts. Boiling in a baking soda water bath just doesn't sound that appetizing to me!
To remove the skins, roast the whole hazelnuts in a preheated 325°F on a cookie sheet (in a single layer) for about 10 minutes. Meanwhile, prepare a dishtowel (I prefer my 'waffle-knit' one for this) by folding up the edges so that when you pour on the hazelnuts, they wouldn't roll all over the place.

When the nuts have been roasted about 10 minutes, carefully pour them into the dishtowel. Spread them out and fold over the towel (pulling in the ends so the nuts won't roll out) and rub the towel back and forth to loosen the skins. 
I scoop out the 'skinless' nuts into a bowl and the ones that still have their skins clinging to them, I put into a large metal sieve. These, I rub back and forth in the sieve and the skins will loosen.
To grind them, I used my mini-chopper ... BUT MAKE SURE THAT THE NUTS ARE COLD! I even put them in the freezer for about 1 hour first. If they get warm in the grinding, they will become too oily to get ground properly. That happened in the photo above.
However, I'm posting the photo to show that the cookies still worked, even though only about half the nuts were ground fine and the remaining half were coarsely ground.

Ready to make these Hazelnut Cookies?
Oma's Hazelnut Cookies

These hazelnut cookies, aka Haselnussmakronen, bring back such wonderful memories of my Mutti's Christmas cookie platter.
Also, they bring back memories of my sister and me sitting at the kitchen table, busy cracking hazelnuts! 
Prep Time


25 minutes


Bake Time


25 minutes


Total Time

50 minutes

Servings:

Makes 4 dozen
Ingredients:
3 egg whites
1 teaspoon lemon juice
¾ cup granulated sugar
½ teaspoon cinnamon
½ pound ground hazelnuts
about 50 whole hazelnuts to decorate
Instructions:
Preheat oven to 300°F. Prepare 3 cookie sheets by lining them with parchment paper.
Whip egg whites with lemon juice until stiff.
Slowly add sugar, continuing to whip until the meringue is shiny and you can't feel sugar when you take a bit between your fingers.
Fold in cinnamon and hazelnuts.
Using a teaspoon, drop spoonfuls of the hazelnut meringue mixture onto the parchment paper lined sheets. Place a whole hazelnut on top of each cookie.
Bake for 20 to 25 minutes.
Let cool completely before removing from parchment paper. They will stick if you try to do this when they are still warm.
Notes/Hints:

½ pound of whole hazelnuts is about 1½ cups. Once they are ground, the quantity changes, depending on how coarsely or finely they are ground. 
*  *  *  *  *

Unless otherwise noted recipe, images and content © Just like Oma | www.quick-german-recipes.com

Why not make a batch of each of these cookies for your holiday platter. The different textures and flavours look so pretty, especially when arranged together on a tray. They also make great 'hostess gifts.' Just be ready to pass on the recipes!
Leave a comment about this recipe or ask a question?

Pop right over to my private Facebook group, the Kaffeeklatschers. You'll find thousands of German foodies, all eager to help and to talk about all things German, especially these yummy foods. 
Meet with us around Oma's table, pull up a chair, grab a coffee and a piece of Apfelstrudel, and enjoy the visit.

Oma's German schnitzel recipe (Schweineschnitzel) is great if you need something delicious that's quick to make as well. So traditionally German and so WUNDERBAR!

Need ideas for what to serve with burgers? Everyone loves a lecker hamburger done on the summer BBQ. But what to serve alongside? Check out these great options!

Oma's baked pork chops with sauerkraut is an easy German dinner that's quick to make. Adding both browned onion rings and apples are scrumptious additions to this traditional meal.
*  *  *  *  *
PIN to SAVE this recipe to your Pinterest board!
And let's be friends on Pinterest!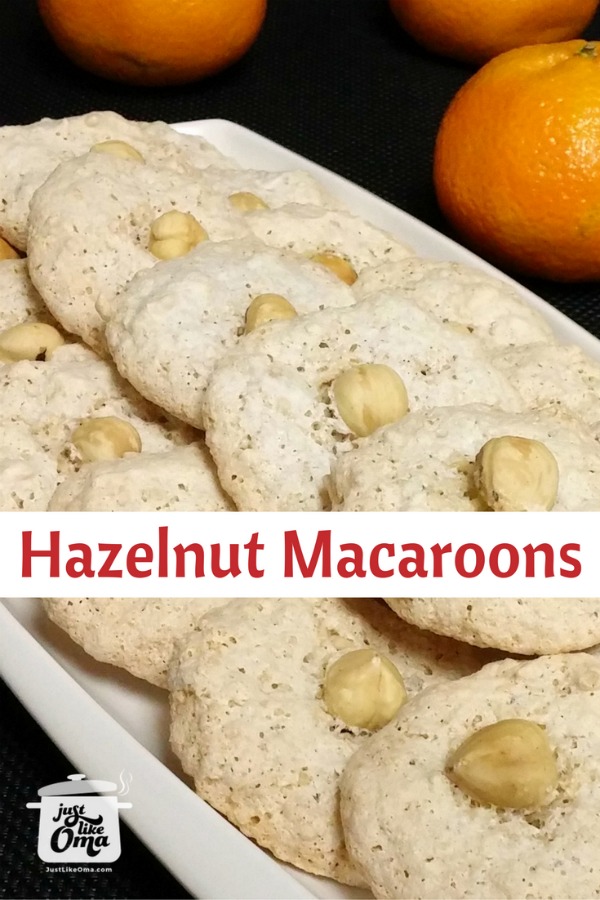 ---
German Hazelnut Cookies made just like Oma


By
Oma Gerhild Fulson
German Christmas Hazelnut Cookies are such a treat. So easy to make. So deliciously Christmas-y! These will remind you of your Oma's kitchen.

Ingredients:
hazelnuts,
sugar,
egg whites,
cinnamon,
lemon juice,
For the full recipe, scroll up ...
Words to the Wise
"The prudent understand where they are going, but fools deceive themselves."
Proverbs 14:8 (NLT)