Melania's Vanillekipferl ~ Almond Cookie❤️
➤ by Oma Gerhild Fulson
FTC Disclosure: As an Amazon Associate, I earn from qualifying purchases.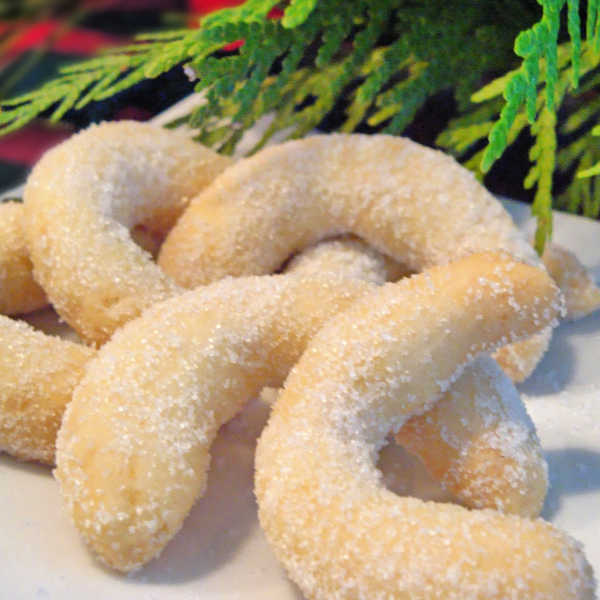 Vanillekipferl are an almond cookie which is very similar to a shortbread cookie, but made with ground almonds.
This is one of the many German Christmas traditions that are so delicious, but taste great all year long. WUNDERBAR!
This almond cookie is one that I had at my friend Melania's house at Christmas. Her recipe starts with one from her old Dr. Oetker cookbook. 
However, Melania loves to adapt recipes to her own liking, often making them easier than the original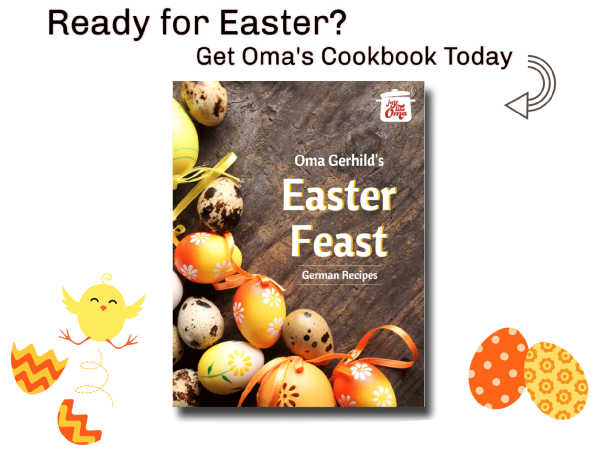 Holiday cookies these may be, but there's no reason not to enjoy them throughout the year!

---

Vanillekipferl

originated in Austria but are now 

traditional in Germany, Czech, Slovakia, Romania, and Hungary as well

They have a unique flavor combination of almonds and vanilla
They are traditional for Christmas and often served with coffee, hot fruit tea, or mulled wine
This is normally considered difficult cookie to make! The dough can be very fragile and can be difficult to form into the crescent shape
---
Melania's Christmas Cookies ... ❤️
Originally from Austria, these cookies are now a specialty of the Bavaria. It's assumed these are hard to make because the dough is quite fragile.
However, it just takes a bit of practice ... and you'll do fine.
You can make these in two basic varieties. One uses almonds and the other hazelnuts. Melania's here use almonds ...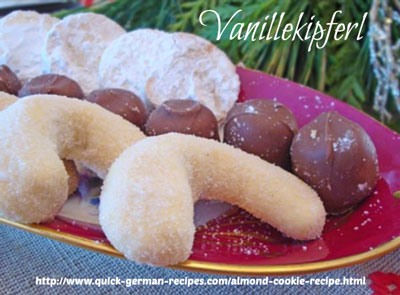 For another version of these Vanillekipferln check out this Vanilla Shortbread Cookie that is a translation of a German recipe sent in by one of our readers.
She's altered the recipe to make it simple and fast.
The recipe, below, and this other one are actually similar, yet different. Why not try them both and you judge which is best!
---
Why not make a batch of each of these cookies for your holiday platter. The different textures and flavors look so pretty, especially when arranged together on a tray.
They also make great 'hostess gifts.' Just be ready to pass on the recipes!
Ready to make Melania's cookies? ...
Melania's Vanillekipferl ~ Almond Cookie ❤️
Ingredients:
1¾ cups flour, all-purpose
1 cup ground almonds
¼ cup granulated sugar
2 tsp vanilla sugar
1 cup butter, cold
1 cup powdered sugar
6 tsp vanilla sugar
Instructions:
Preheat oven to 300° F.
Mix flour, ground almonds, sugar and 2 tsp vanilla sugar together in a large bowl.
Cut in cold butter. 
Quickly mix all ingredients together to make a smooth dough.
Roll a small amount of dough into a thin roll. Cut into 2" rolls.
Place onto greased baking sheet and form into crescents.
Bake for 10 - 15 minutes or until lightly golden.
Remove from oven and roll warm cookies in the powdered sugar that has been mixed with 6 tsp vanilla sugar.
Makes about 4 dozen.
Hints:
These cookies store very well, actually getting better the longer they stand.

Want nutritional information? Copy and paste the above ingredient list and the number of servings into Calorie Count for an approximate calculation.
Need help doing conversions between cups and grams, etc.? Use this site to give you all the different conversions for the different types of ingredients. 
Leave a comment about this recipe or ask a question?
Pop right over to my private Facebook group, the Kaffeeklatschers. You'll find thousands of German foodies, all eager to help and to talk about all things German, especially these yummy foods. 
I pop in all the time as well, to chat and to answer questions. 
Meet with us around Oma's table, pull up a chair, grab a coffee and a piece of Apfelstrudel, and enjoy the visit.
*  *  *  *  *
Want nutritional information for a recipe?
Copy and paste the ingredient list and the number of servings into Calorie Count. 
It will give you an approximate calculation.

Need help doing conversions
between cups and grams or any such thing?
Use this site to give you all the different conversions for the different types of ingredients. 
---
PIN this ...
---
German Crumb Cake recipes (Streuselkuchen) are easy, delicious, quick, very traditional, and great for family and friends. Use any variety of fruit. I love using apples, & top with whipped cream!

Here's an easy Cherry Tart recipe with peaches that is covered in delicious butter streusel - a traditional German cake that's so easy to make.
---
Words to the Wise
"The prudent understand where they are going, but fools deceive themselves."
Proverbs 14:8 (NLT)