Oma's Königskuchen ❤️

➤ by Oma Gerhild Fulson
Königskuchen. One of the most of the traditional holiday baking recipes made in Germany. Translated this means "King's Cake." This is not the Three Kings' Cake that is served in the southern part of Germany bordering Switzerland, but rather a non-yeast raisin and currant-filled fruit cake baked in its own traditional loaf pan.
My husband loves this Königskuchen when it's served buttered and covered in black currant jam. Although I usually only make it during the holidays, it's a good cake to serve for a Kaffeeklatsch any time of the year.

This recipe is so traditional, there is even a special baking pan sold for it. I've been fortunate to find one at Winners, here in Canada. You could always order one online, if you really wanted to.
OR, just use two regular loaf pans. 
Either way, you'll have a wonderful fruity cake, that's so marvelous to enjoy! Do try it soon!
Königskuchen pans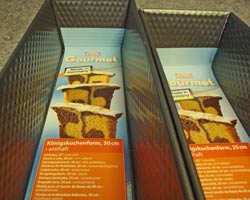 I was so happy when I found these two pans the other day. Not that I really NEEDED them. But, I did WANT them!
Now, my Koenigskuchen looks traditional as well!
There's a similar version for this cake that's been sent in by one of our readers. Helen's Königskuchen uses whole wheat flour (see her changes) and a jar of sour cherries.
---
Oma's Königskuchen ❤️
Ingredients:
1 cup butter
1 cup granulated sugar
3 tsp vanilla sugar or 1 tsp vanilla
4 eggs
pinch salt
3½ cups all-purpose flour
1 cup cornstarch
3 tsp baking powder
½ cup milk
4 tbsp rum 
⅓ cup candied peel
1 cup raisins
1 cup dried currants
Instructions:
Preheat oven to 350°F and grease loaf pan (see Hints below)
In a large mixing bowl, cream together the butter and sugar.
Mix in eggs and salt.
In a separate bowl, mix flour, cornstarch, and baking powder.
Add flour mixture, alternately with milk and rum, to the butter/sugar mixture. Mix well. This is a very heavy, sticky dough.
Mix in (I use a large wooden spoon) the candied peel, raisins, and currants.
Spoon dough into pan(s) and bake for 65 - 75 minutes or until wooden pick inserted in center comes out clean.
Let cake cool in pan on rack for about 10 - 15 minutes, before turning out onto rack to cool completely.
Hints:
The traditional Königskuchen baking pan is 4.5" x 3" 10" or 4.5"x3"X12". If you use a regular loaf pan, you will probably have enough batter for two. 
For the above recipe and the picture shown above, I used the 12" Königskuchen pan and had a bit of dough left over to make some muffins. If I would have had the smaller pan, I would have made two cakes.
If you wish, you can omit the candied peel and vary the amount of raisins and currants to your liking.

Want nutritional information? Copy and paste the above ingredient list and the number of servings into Calorie Count for an approximate calculation.
Need help doing conversions between cups and grams, etc.? Use this site to give you all the different conversions for the different types of ingredients.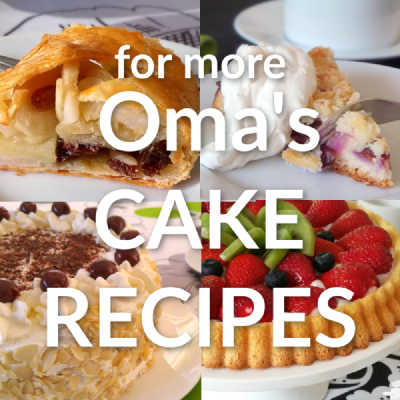 Leave a comment about this recipe or ask a question?
Pop right over to my private Facebook group, the Kaffeeklatschers. You'll find thousands of German foodies, all eager to help and to talk about all things German, especially these yummy foods. 
I pop in all the time as well, to chat and to answer questions. 
Meet with us around Oma's table, pull up a chair, grab a coffee and a piece of Apfelstrudel, and enjoy the visit.
*  *  *  *  *
Want nutritional information for a recipe?
Copy and paste the ingredient list and the number of servings into Calorie Count. 
It will give you an approximate calculation.

Need help doing conversions
between cups and grams or any such thing?
Use this site to give you all the different conversions for the different types of ingredients. 
---
PIN this ...
---
This German sourdough whole grain no knead bread recipe is so delicious and so healthy. Learn this basic method and then alter it to suit your needs. Healthy never tasted this good!

Want a Rhubarb Cake recipe that tastes just like Oma's? Not too sweet, but wunderbar? Try my Rhubarb Streusel Cake that's super quick and easy to make.
---
---
❤️ Königskuchen (German fruit cake) made Just like Oma


By
Oma Gerhild Fulson
Königskuchen is one of the 100's of traditional holiday baking recipes you'll find here. Make it part of your tradition as well. So WUNDERBAR!

Ingredients:
butter,
sugar,
eggs,
flour,
For the full recipe, scroll up ...
Make every day a SUCCESSFUL day!
"This book of the law shall not depart out of thy mouth; but thou shalt meditate therein day and night, that thou mayest observe to do according to all that is written therein: for then thou shalt make thy way prosperous, and then thou shalt have good success."
Joshua 1:8 (KJV)