Oma's Cream Roll Recipe
with Fresh Fruit
➤ by Oma Gerhild Fulson
FTC Disclosure: Making a purchase via a link on the page? I may earn a small commission on the transaction - at no added cost to you. Thanks!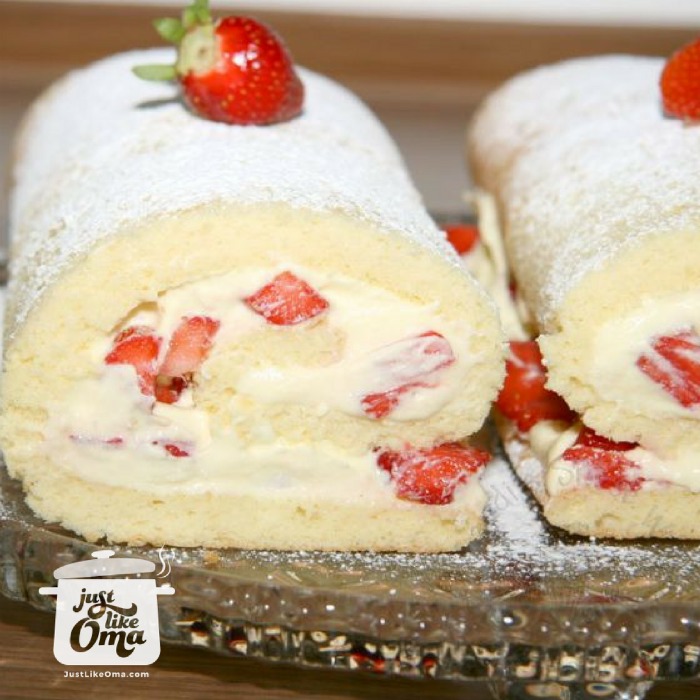 Yum
This cream roll recipe, aka Biskuitrolle, is made just like a jelly roll recipe only it's filled with whipped cream and fresh fruit. This is best made in the morning and served fresh the same day. Above it's filled with strawberries and whipped cream. Check below for info about the photo.
If you get everything ready before you start, the whole process actually goes quickly. AND the final result is so stunning! In fact, the Blueberry Cream Roll, shown below with the step-by-step photos, was made with the help of my 9-year old granddaughter, Lydia.
Oma's Cream Roll Recipe with Fresh Fruit
Ingredients:
3 large eggs, separated
½ cup granulated sugar
¾ cup all purpose flour
3 tbsp corn starch
1 tsp baking powder
1 cup whipping cream
1 package Dr. Oetker Sahnesteif (whipping cream stabilizer)
1 - 2 tsp powdered sugar, sifted (according to taste)
1½ cups prepared fruit
Instructions:
Line a rimmed baking sheet (15" X 10") with parchment paper.
Preheat oven to 400° F.
In a small bowl, mix together flour, corn starch, and baking powder, and set aside.
In a separate bowl, whip egg whites with 3 tbsp water until stiff. Slowly whip in ½ cup sugar. Gently stir in egg yolks. Fold in flour mixture.
Spread batter on paper-lined cookie sheet.
Bake 8 - 10 minutes until wooden pick inserted in centre comes out clean.
Place sheet of waxed paper over damp cloth towel. Sprinkle with a bit of sugar.
Turn out cake onto waxed paper and peel off lining paper. Trim cake edges if needed.
Roll up (lengthwise) cake and waxed paper together. Set aside to cool.
Beat whipping cream,  Sahnesteif (or Whip It), and powdered sugar until stiff.
Mix fruit with whipped cream.
Unroll cooled cake. Brush with jam if desired.
Spread with fruit/cream mixture. Roll up, using waxed paper to lift cake.
Sprinkle with additional powdered sugar.

---
Cream Roll Step-by-Step
Oh, so German. Oh, so delicious. And, oh, so quick and easy!

1.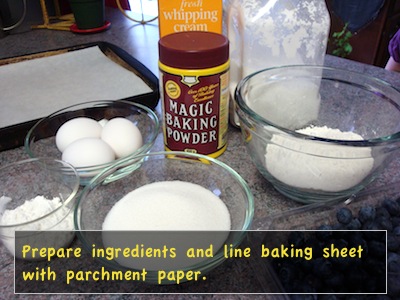 Prepare ingredients and line baking sheet with parchment paper.
2.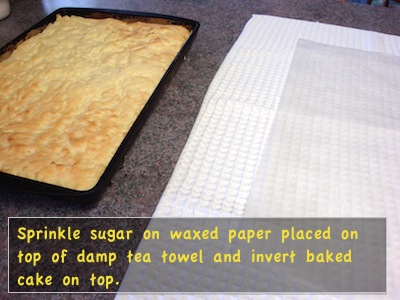 Sprinkle sugar on waxed paper placed on top of damp tea towel and invert baked cake on top.
3.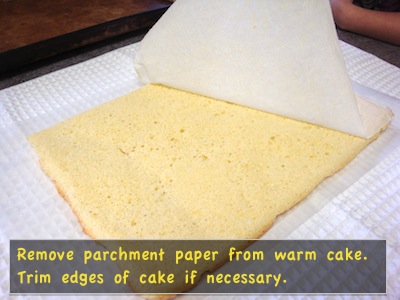 Remove parchment paper from warm cake. Trim edges of cake if necessary.
4.
Roll up warm cake and waxed paper. Let cool completely.
5.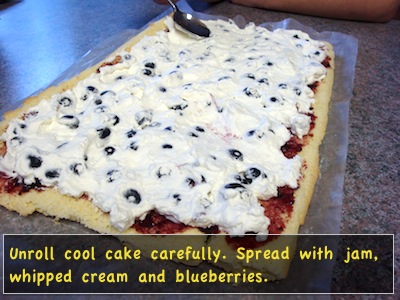 Unroll cool cake carefully. Spread with jam, whipped cream and blueberries or other fruit.
6.
Using waxed paper to help, roll up filled cake.
7.
It needs a bit of time to cool before filling and should stand a bit in the fridge before serving. With a bit of careful planning, this really goes together quite quickly.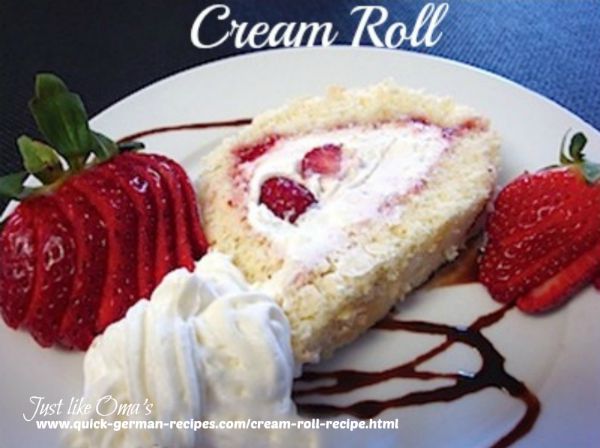 For the fruit, you can use almost any variety. Sliced strawberries, fresh or frozen raspberries, currants, diced or sliced peaches, blueberries, etc., all work nicely.
Even a combination of fruit would be nice. Above is with strawberries, below with blueberries. And at the very top, filled with buttercream filling. 
---
The one below was made by my dear friend, Melania. She then invited me over to enjoy it. Yummy, yummy scrumptious!
She filled this with her secret buttercream filling. She hinted it's pudding, butter and icing sugar. That's simple. Love how she took my cream roll recipe and turned it into hers!

The cream roll is a fun recipe to do with kids.
They just can't figure out how one can roll a cake!
Once they see how easy it is to do, and how much fun they had doing it, it's one they'll add to their growing list of their own special recipes.
The top Photo
The photo at the top of this page is a bit of a mystery to me. It's been pinned on Pinterest thousands of times with the link to this page. I don't know who first posted it with the link, but it's now been pinned over 78,000 times. I'd love to thank the person who took this, and give them credit ... if it's your's, do let me know!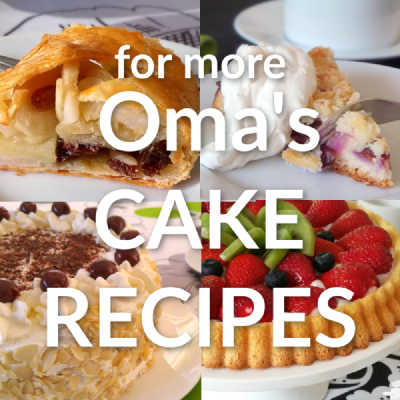 *  *  *  *  *
Thinking of starting your own Handmade Business?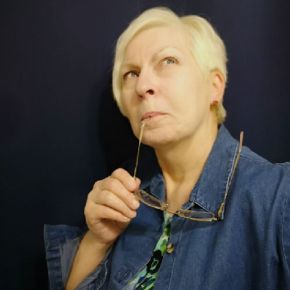 This Oma KNOWS you CAN do it.
How do I know?
Well, if I can do it, anyone can.
I've even figured out how I can help you.
I've teamed up with my own business coach, Renae Christine (yes, do google her!), to bring you this free masterclass. After you watch it, ask me any questions and I'll gladly answer them.
Don't hesitate. I'm not sure how long Renae will keep this free masterclass available.
PS:  Yes, Renae really is as amazing as all the reviews say.
PPS: Yes, the course is for handmade items, but I've used it successfully for my cookbooks. I know others are using her methods for services, direct sales, and even a local ice cream bar & grill that's constantly selling out. You've nothing to lose by taking a look ... and a whole bunch to gain.
*  *  *  *  *
Oma's Cookbooks (downloadable & print)
*  *  *  *  *
Want nutritional information for a recipe?
Copy and paste the ingredient list and the number of servings into Calorie Count. 
It will give you an approximate calculation.

Need help doing conversions
between cups and grams or any such thing?
Use this site to give you all the different conversions for the different types of ingredients. 
---
---
Words to the Wise
"People with integrity walk safely, but those who follow crokked paths will slip and fall."
Proverbs 10:9 (NLT)
---
️❤️ Cream Roll Recipe made Just like Oma


By
Oma Gerhild Fulson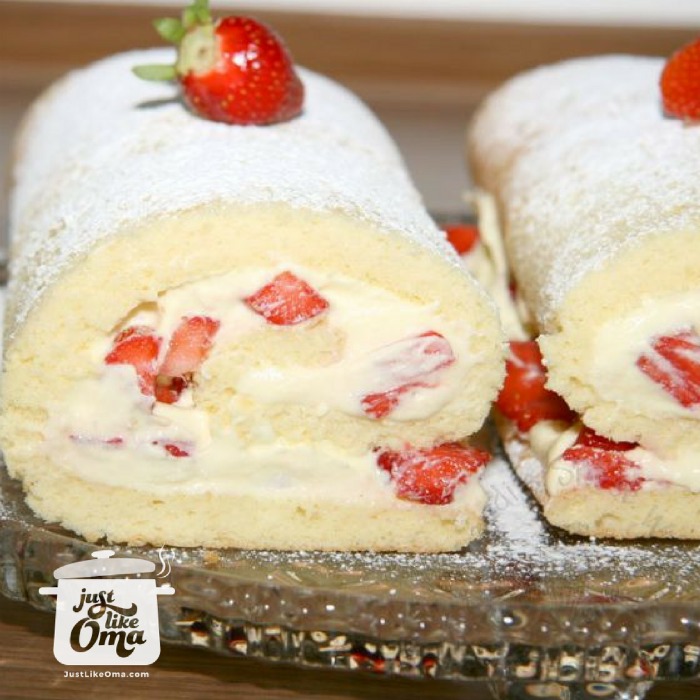 This Cream Roll recipe is made just like a jelly roll only it's filled with a creamed filling. Oh, so German. Check out the one filled with whipped cream and fruit! Wunderbar!

Ingredients:
eggs,
whipping cream,
sugar,
prepared fruit,
For the full recipe, scroll up ...