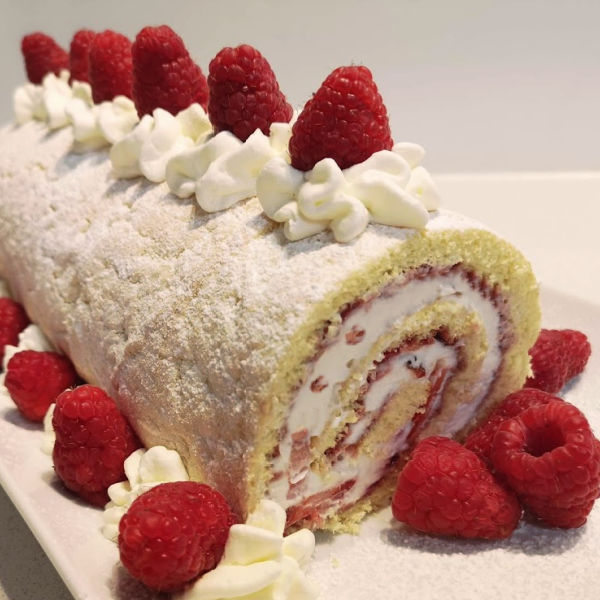 German Cream Roll Recipe – Oma's Biskuitrolle

Oma's Cream Roll recipe, Biskuitrolle, is the German version of a Swiss roll or jelly roll. Filled with whipped cream and studded with berries, this is an easy-to-make treat anytime of the year.
 This is best made in the morning, left to sit covered in the fridge for several hours and served later the same day or the next day.

Prep Time


30 minutes


Bake Time


10 minutes


Total Time

40 minutes

Servings:

Makes 1 cream roll
Ingredients:
3 large eggs, separated
3 tablespoons cold water

½ cup granulated sugar
¾ cup all-purpose flour
3 tablespoons cornstarch
1 teaspoon baking powder
1 cup heavy (whipping) cream
1 package Dr. Oetker Sahnesteif (whipped cream stabilizer) or Dr. Oetker Whip It (see hints below)
1 - 2 teaspoon powdered sugar, sifted (according to taste)
1½ cups prepared fruit
Instructions:
Line a rimmed 17x11-inch cookie sheet with parchment paper. Have a clean dishtowel ready for rolling up the cake.
Preheat oven to 400°F.
In a small bowl, mix together flour, cornstarch and baking powder, and set aside.
In a separate bowl, whip egg whites with 3 tablespoons water until stiff. Slowly whip in granulated sugar. Gently stir in egg yolks. Fold in the flour mixture.
Spread batter on parchment-lined cookie sheet.
Bake 8 to 10 minutes until wooden pick inserted in centre comes out clean.
Generously sprinkle powdered sugar on the clean dishtowel and invert the hot cake right on top of it. Peel off parchment paper. Dust the cake with some powdered sugar and immediately roll up the cake and towel together, starting from the narrow end. Set aside to cool.
Beat heavy cream, Whip It, and powdered sugar (to taste) until stiff.
Unroll cooled cake. Brush with jam if using. Spread with whipped cream. Cover with the strawberries. Roll up, using the towel to help lift the cake.

Cover and refrigerate for several hours.
Sprinkle with additional powdered sugar just before serving.

Notes/Hints:

For the fruit, you can use almost any variety. Sliced strawberries, fresh or frozen raspberries (thawed and drained), currants, diced or sliced peaches, blueberries, etc., all work nicely.
Used to stabilize whipped cream, Dr. Oetker's Whip It really works best. However, it can be replaced with any of the following:
1 tablespoon (8 grams) cornstarch per 1 cup (240 milliliters) of heavy (whipping) cream (plus sugar to taste)
2 to 3 tablespoons (16 to 24 grams) powdered sugar per 1 cup (240 milliliters) of heavy (whipping) cream
2 to 3 tablespoons (28 to 42 grams) instant pudding powder per 1 cup (240 milliliters) of heavy (whipping) cream
*  *  *  *  *

Unless otherwise noted recipe, images and content © Just like Oma | www.quick-german-recipes.com

08.01.2021 revision update