Gerhild's Vanillekipferln

~
 Shortbread Cookie Recipe
FTC Disclosure: Making a purchase via a link on the page? I may earn a small commission on the transaction - at no added cost to you. Thanks!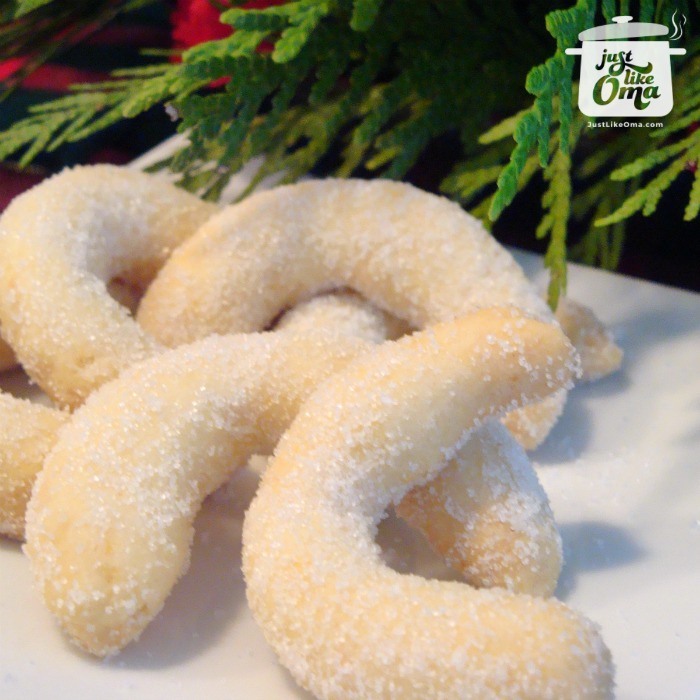 Yum
This Shortbread Cookie recipe, the German Vanillekipferln, is one of the best Christmas cookie recipes that's an easy version of the original. This is a translation of the recipe sent in by Gerhild Froeschke who loves to take recipes and change them to make them her own.  Usually, the dough needs to rest in the fridge for at least one hour. In this recipe, however, this step can be eliminated.
The secret to these German cookies? Using vanilla sugar. Either buy it or make your own following this vanilla sugar recipe.

Gerhild's Vanillekipferln ~ Shortbread Cookie Recipe
Ingredients:
1¼ cups margarine or butter
⅝ cup granulated sugar
3½ cups flour, all-purpose
¼ lb ground hazelnuts
1 package or 1½ tsp. vanilla sugar
Powdered sugar to dust cookies
Instructions:
Preheat oven to 350°F. Line a baking sheet with parchment paper.
In mixing bowl, mix together the margarine or butter, sugar, vanilla sugar, and ground hazelnuts.
Add flour, and continue mixing with mixer or with your hands.
Shape the dough into a roll. Cut slices from the roll and form them into crescents.
Bake about 10 minutes, being careful that they don't get too brown.
Place cookies on a wire rack and dust with powdered sugar while they are still warm. To dust them, put about a teaspoon of powdered sugar in a small sieve and tap sieve to let icing sugar "dust" the cookies.

This photo is actually a picture of Melania's Almond Cookies. (My photo of Gerhild's Vanillekipferln didn't turn out.) Same shape, just different recipe. Melania's use ground almonds as the nuts instead of hazelnuts. 
Both of these recipes are very good. Similar, but different. Why not try them both?
---
More Christmas Baking ...
*  *  *  *  *
Want nutritional information for a recipe?
Copy and paste the ingredient list and the number of servings into Calorie Count. 
It will give you an approximate calculation.

*  *  *  *  *
Need help doing conversions between cups and grams or any such thing?
Use this site to give you all the different conversions for the different types of ingredients. 
*  *  *  *  *
---
---
Words to the Wise
"Pride goes before destruction, and haughtiness before a fall."
Proverbs 16:18 (NLT)