Oma's German Lebkuchen Recipe
➤ by Oma Gerhild Fulson
This Lebkuchen recipe is such an easy German Christmas recipe to make. It's made in one bowl, baked, decorated, and then cut. But the results ... the house smells like I'm back in Germany. 
Memories ... working in the kitchen together with Mutti, making all those delicious Christmas German recipes. I love Christmas ... and the wonderful memories of time spent together with Mutti and my sisters. 
Get ready for Christmas! Grab your copy of Oma's collection of her favorites in Christmas Cookies e-Cookbook.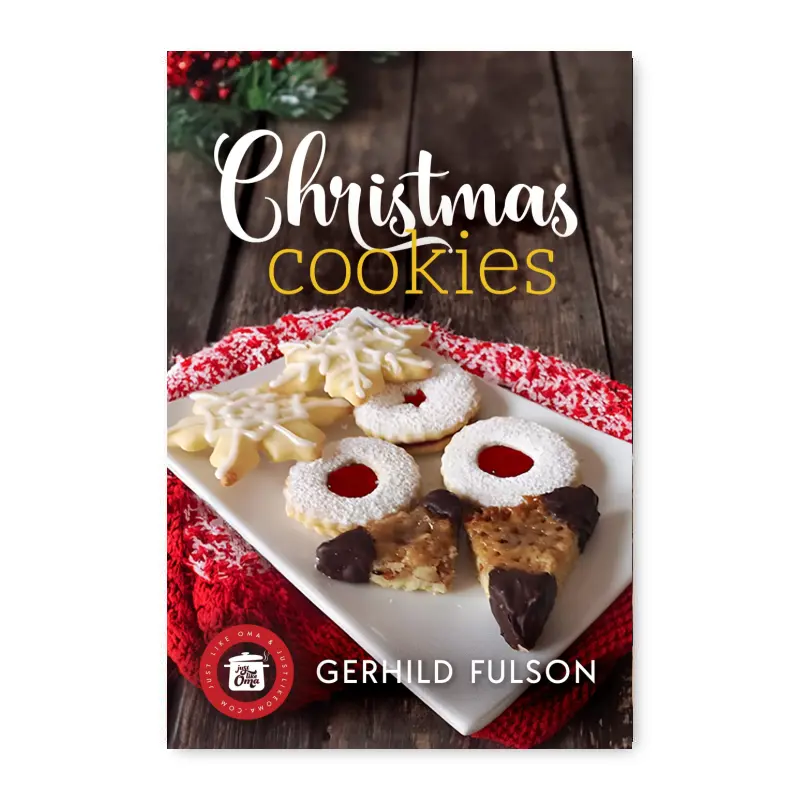 Take a peek at all Oma's eCookbooks. They make sharing your German heritage a delicious adventure!
---
Can't find Lebkuchen Spice?

For the traditional Lebkuchen spice, you'll need to go to a German deli or order it online. If not, can use "pumpkin pie" or "gingerbread" spice.
There are slight differences, but they are similar enough and the final result will still be delicious.
How to make Lebkuchen Spice
If you don't have access to Lebkuchen spice, you can make your own by mixing together the following ground spices and adding this to the recipe.
Lebkuchen Spice Mixture
1 tbsp cinnamon
1 tsp cloves
¼ tsp each mace, coriander, cardamon, and ginger
⅛ tsp nutmeg
This quantity is equal to one package of Lebkuchen Spice Mixture. 
Lebkuchen Cookies?
Perhaps you're looking for these "Gingerbread" cookies that are so popular as well. These are also quite easy to make and would complement the Lebkuchen bars below.
Oma says:
Now, it's time to pass on these traditions to the grandkids. This easy bar recipe is fun to make together. It's filled with spices, candied fruit, and nuts. Just to make it better, more are added on top for decoration.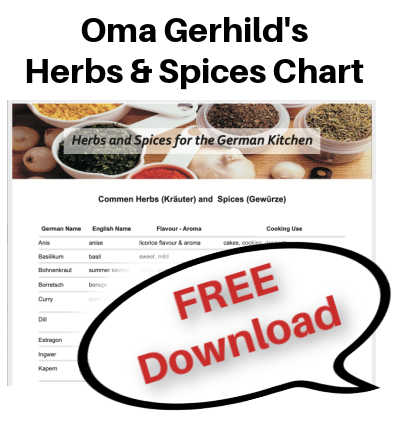 And that's where the fun comes in. The granddaughters use scissors to cut the candied fruit. Using that and nuts, they get creative making the tops look so pretty.

The taste? Similar to gingerbread, only better, I think! It's one of those bar cookie recipes that are a must in my German recipes file.
Ready to make Lebkuchen?
Oma's German Lebkuchen Recipe

This Lebkuchen recipe is such an easy German Christmas recipe to make. It's made in one bowl, baked, decorated, and then cut. But the results ... the house smells like I'm back in Germany. 

Prep Time


20 minutes


Bake Time


23 minutes


Total Time

43 minutes

Servings:

Makes 32 bars
Ingredients:
1 egg
2 tbsp oil
½ cup brown sugar, packed
⅓ cup honey
⅓ cup molasses
2 cups flour, all-purpose
1 tbsp Lebkuchen spice (see hints below)
½ tsp baking soda
½ cup chopped almonds
½ cup mixed candied fruits and peels, finely chopped
1 egg white
1½ cup powdered sugar
1 tbsp lemon juice
diced mixed candied fruits and peels for decorating
Instructions:
Preheat oven to 350°F.
Grease a 15" X 10" X 1" baking sheet.
In large mixer bowl, beat egg and oil. Add brown sugar and beat well.
Add honey and molasses. Mix well.
Mix together flour, pumpkin pie spice, and baking soda. Add to egg mixture and beat till well mixed. 
Stir in almonds and candied fruit and peel. Dough will be very thick.
Spread in baking pan. Use back of spoon to spread, dipping spoon in water so that dough doesn't stick to spoon.
Bake for 15 - 23 minutes or until done.
With a sharp knife, score into bars immediately upon removing from oven by just cutting through the top crust.
With mixer, in small bowl, beat egg white, powdered sugar and lemon juice until smooth.
Spread icing over warm bars. Decorate with candied fruit. Cool completely.
Cut through completely at the score marks to cut into individual bars.
Notes/Hints:

Lebkuchen Spice Mixture for 1 package:
1 tbsp cinnamon
1 tsp cloves
¼ tsp each mace, coriander, cardamon, and ginger
⅛ tsp nutmeg
*  *  *  *  *

Unless otherwise noted recipe, images and content © Just like Oma | www.quick-german-recipes.com

Want Nutritional Information?

Copy and paste the above ingredient list and the number of servings into Calorie Count for an approximate calculation.
Need Help Doing Conversions?

Make it easier to convert between cups and grams, etc. Use this site to give you all the different conversions for the different types of ingredients. 
Leave a comment about this recipe or ask a question?
Pop right over to my private Facebook group, the Kaffeeklatschers. You'll find thousands of German foodies, all eager to help and to talk about all things German, especially these yummy foods. 
I pop in all the time as well, to chat and to answer questions. 
Meet with us around Oma's table, pull up a chair, grab a coffee and a piece of Apfelstrudel, and enjoy the visit.
This recipe for cheesecake is called Käse-Sahne Torte, a baked sponge cake and a no-bake whipped cream/quark or Greek yogurt filling. Add mandarin oranges for a traditional dessert.

Pork hocks and sauerkraut, a favorite of my Opa, is a real traditional German food. This version of Eisbein is a classic in northern Germany, not to be confused with Schweinshaxe from the southern par…

Make this chicken fricassee recipe and you'll think you're back in Oma's kitchen. German comfort food. Originally just a 'leftover' meal, now it graces the best restaurant menus.
*  *  *  *  *
PIN this ...
---
German Lebkuchen Recipe made Just like Oma


By
Oma Gerhild Fulson
A lebkuchen recipe that's easy? Yes, this is it. Made in one bowl, baked, decorated, and cut. Tastes similar to gingerbread, but, in my opinion, better! And the house smells, oh, so heavenly!

Ingredients:
Lebkuchen spice,
almonds,
honey,
egg,
For the full recipe, scroll up ...
Words to the Wise
"For the despondent, every day brings trouble; for the happy heart, life is a continual feast."
Proverbs 15:15 (NLT)