Oma's Almond Bar Recipe❤️
➤ by Oma Gerhild Fulson
FTC Disclosure: As an Amazon Associate, I earn from qualifying purchases.
My Almond Bar recipe, aka Mandelkekse, is a great way to make lots of almond cookies easily. They look absolutely scrumptious and taste divine! Even though these are called "bar" cookies, they are made on a cookie sheet. The dough is formed into rolls that are flattened and then baked. The almond bars are then cut into cookies and iced.
One of the reasons I think I'm so in love with this recipe is almonds. There's almond flavoring in the icing. There're almonds on top. It's almost like a "marzipan high" for me! So German! So wunderbar!
IMPORTANT!
Just be sure to cut these almond bars into cookies while the baked bars are still warm.
If you wait too long, they will crumble when you cut them.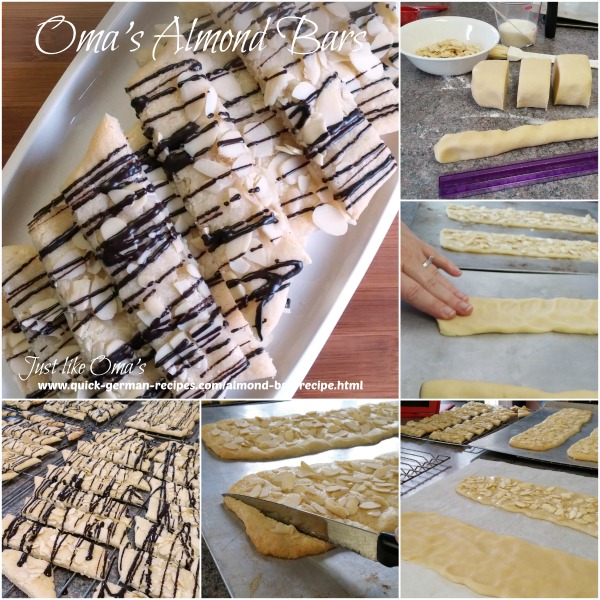 Cookie Origins ...
This recipe for almond cookies has been a part of our German Christmas cookies collection for over 30 years. Even though they would be a treat on other special occasions as well, I like saving them, just for Christmas.
The origins for this cookie seems to be Scandinavia ... perhaps imported to Germany at some point? To me, that doesn't matter. It tastes so 'marzipan-y' to me ... WUNDERBAR!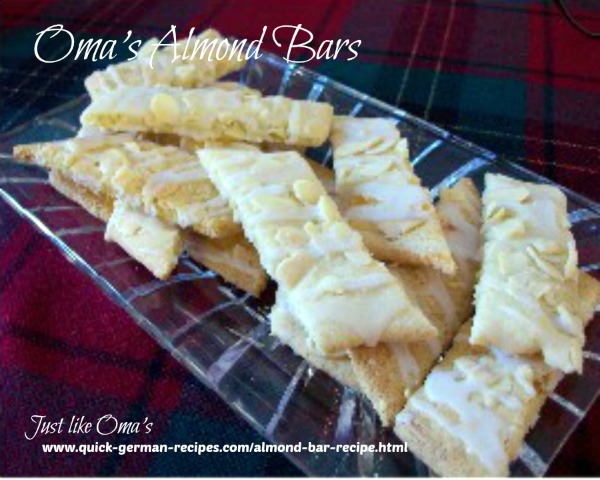 Oma's Almond Bar Recipe❤️
Ingredients:
½ cup butter, room temperature

1 cup granulated sugar

1 egg

½ tsp almond extract

1¾ cups flour, all-purpose

2 tsp baking powder

¼ tsp salt

about ¼ cup milk

½ cup sliced almonds

1 cup powdered sugar

¼ tsp almond extract

3 - 4 tbsp milk

Instructions:
Preheat oven to 325°F. Prepare 2 cookie sheets by covering with parchment paper.

In large mixer bowl, beat together butter and sugar. Beat in egg and almond extract until light and fluffy.
Mix flour, baking powder, and salt together. Add to butter mixture and beat until well mixed.

Divide dough into four portions. Form each into a roll about 12 inches long.

Put two rolls about 4 - 5 inches apart on parchment-covered cookie sheet and flatten rolls with fingers to about 3 inches wide. Repeat with the remaining dough.

Brush with milk and sprinkle with sliced almonds. Bake for 12 - 15 minutes or until edges are slightly browned. Do not let them get too dark.

Remove from oven and immediately cut in 1-inch diagonal strips, but carefully cutting down with a knife. Do not cut back and forth. The delicate cookie will break. Let cool for about 5 minutes and then remove to a wire rack to finish cooling.

Mix powdered sugar, ¼ tsp almond extract and enough milk to make icing.

Drizzle cookies with icing. Makes about 48.

Hints:
These almond bars also taste great drizzled with chocolate!
The original recipe used un-greased cookie sheets. I find that using parchment paper covered cookie sheets works much better.

Leave a comment about this recipe or ask a question?
Pop right over to my private Facebook group, the Kaffeeklatschers. You'll find thousands of German foodies, all eager to help and to talk about all things German, especially these yummy foods. 
I pop in all the time as well, to chat and to answer questions. 
Meet with us around Oma's table, pull up a chair, grab a coffee and a piece of Apfelstrudel, and enjoy the visit.
*  *  *  *  *
Want nutritional information for a recipe?
Copy and paste the ingredient list and the number of servings into Calorie Count. 
It will give you an approximate calculation.

Need help doing conversions
between cups and grams or any such thing?
Use this site to give you all the different conversions for the different types of ingredients. 
---
PIN this ...

---
Jagerschnitzel: Rich creamy bacon & mushroom gravy over crispy breaded pork schnitzel (cutlets). HEAVENLY! A traditional German meal that's PERFECT anytime.

My Bienenstich recipe is a quick version of the traditional "German Bee Sting Cake". Sweet, chewy, nutty top with a creamy filling. Yummy!
---
Make every day a GREAT day!
"This is the day the Lord has made. We will rejoice and be glad in it."
Psalm 118:24 (NLT)
---
Almond Bar Recipe made Just like Oma ❤️


By
Oma Gerhild Fulson
This Almond Bar recipe is a great way to make lots of almond cookies easily. They look absolutely scrumptious and taste divine! A true MUST for the holiday table!

Yield:
48 cookies

Ingredients:
½ cup butter,
1 cup sugar,
1 egg,
1¾ cups flour,
½ cup sliced almonds,
For the full recipe, scroll up ...