Easy Recipe for Scandinavian Almond Bars – Oma's Mandelkekse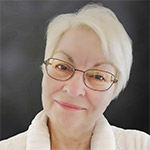 by: Gerhild Fulson  /  Cookbook Author, Blogger, German Oma!
As an Amazon Associate, I earn from qualifying purchases.
These almond bar cookies, Mandelkekse, look absolutely scrumptious and taste divine drizzled with chocolate! They have a deliciously soft shortbread texture and, best of all, they are full of that wonderful almond flavor, which we Germans love so much. These are a Christmas MUST for our family! 
Scandinavian almond bars are typically drizzled with an almond glaze made of powdered sugar, almond extract, and milk. I do make them that way occasionally (pictured further below), but I just love the taste of almonds combined with dark chocolate. Plus, the drizzled chocolate adds a nice contrast and makes the bars look so pretty. A perfect addition to any holiday table!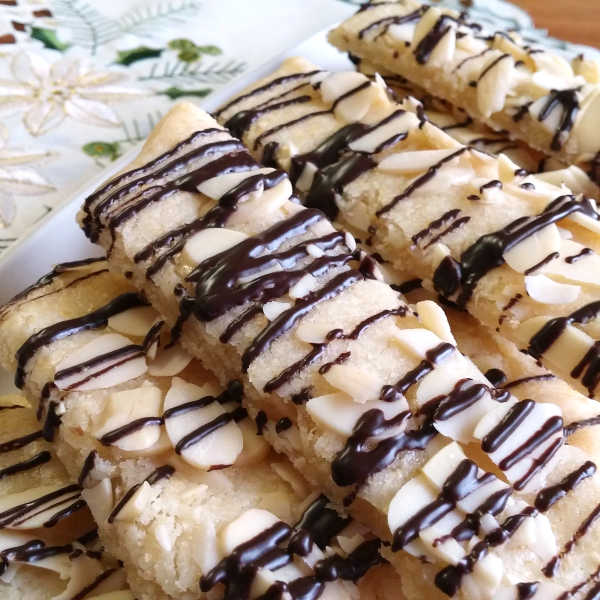 How Easy is it to Make Almond Bars?

This recipe for almond bars has been a part of our German Christmas cookies collection for over 40 years. Not just because they are so delicious, but also because they are so easy to make.
New recipes can seem intimidating at first, especially when those recipes have more steps than you'd like to see. BUT, this is one recipe that you won't mind taking the time to make. 

IMPORTANT!
Just be sure to cut these almond bars into cookies while the baked bars are still warm.
If you wait too long, they will crumble when you cut them.
In the collage I've made below, you can see that it's as easy as these few steps. And after you make these delicious almond bars for the first time, you'll want to make them over and over again. Then soon enough, you'll become a pro!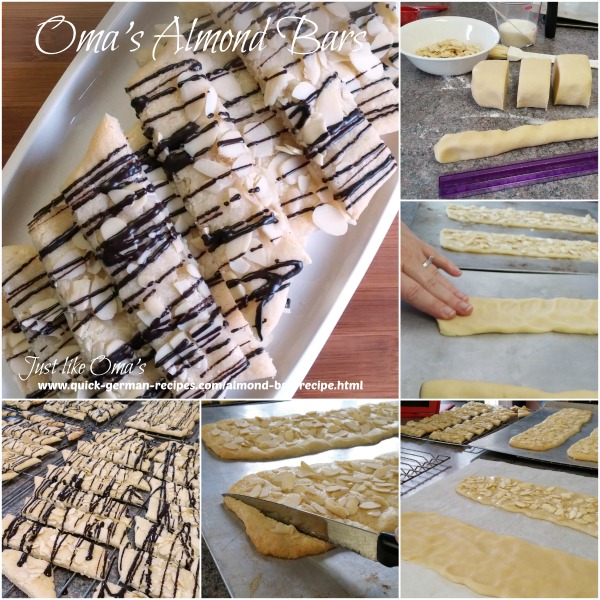 How to make Scandinavian Almond Bars

Start by preheating your oven to 325°F and line two baking sheet pans with parchment paper. Set them aside.
Using either a stand mixer or a handheld electric mixer, beat half a cup butter (unsalted, room temperature) with one cup sugar in a large mixing bowl. Beat in one large egg and half a teaspoon almond extract until mixture is light and fluffy.

Now mix together the dry ingredients: 1¾ cups all-purpose flour, two teaspoons baking soda, and ¼ teaspoon salt. Add the flour mixture to the butter mixture and beat until well mixed.

Divide dough into four equal portions. Form each portion into a roll that is about 12 inches long.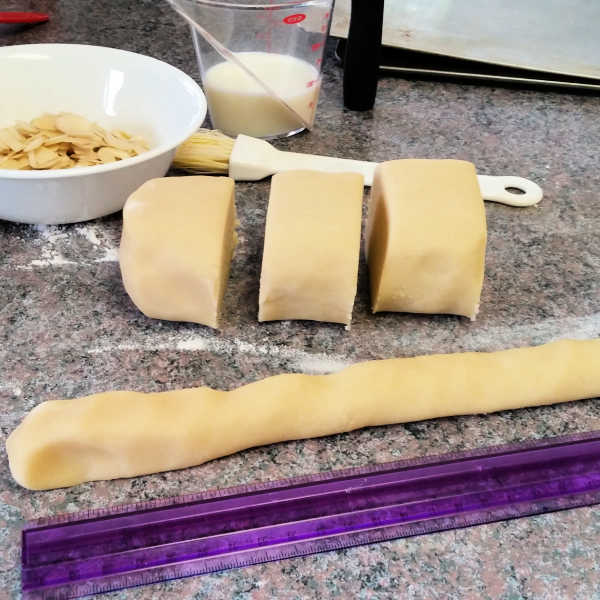 Place two of the rolls onto one of the cookie sheets, about 4 to 5 inches apart, and flatten each roll with your fingers to about 3 inches wide. Do the same with the remaining two rolls and cookie sheet.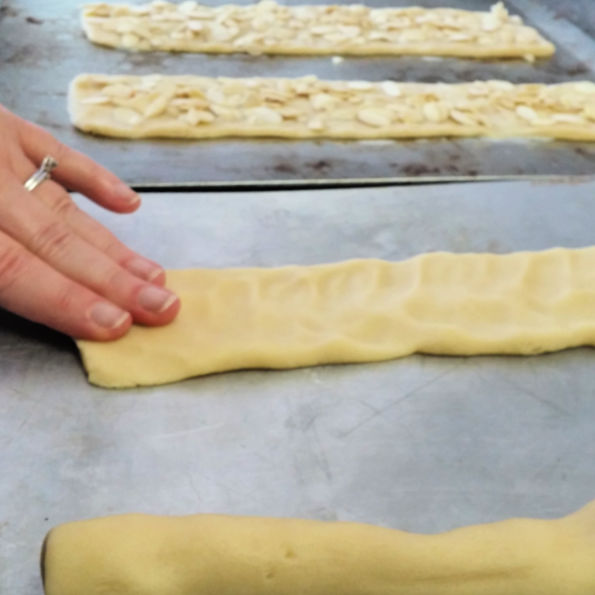 Take a small amount of milk, about ¼ cup, and brush over the top of the dough. A pastry brush or rubber spatula works well for this. Then sprinkle the dough with ½ cup of sliced almonds.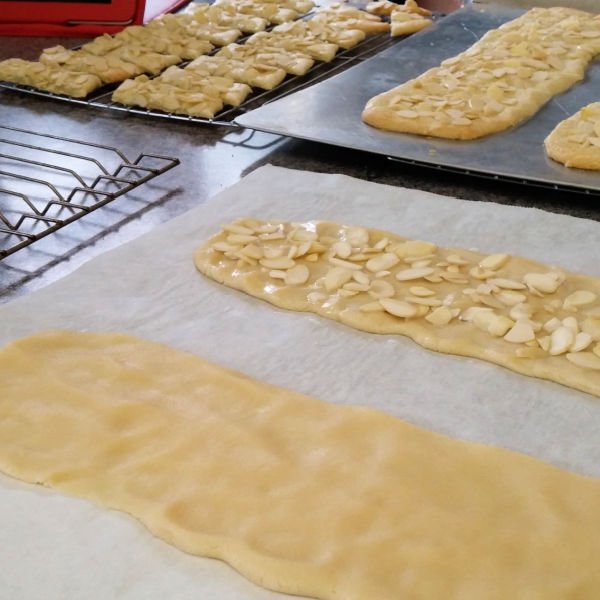 Bake in the oven for 12 to 15 minutes or until the edges are golden brown.

When done, remove the bars from the oven and immediately cut them into 1-inch diagonal strips by carefully cutting down with a knife. Be careful not to saw back and forth with the knife or the cookie bars will break.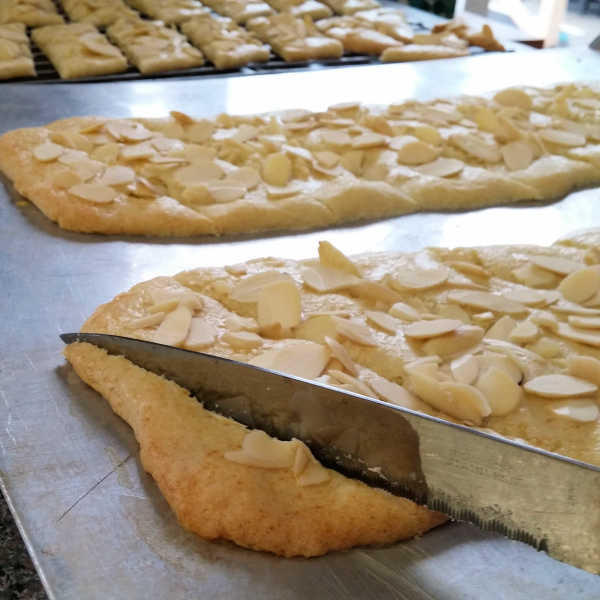 After cutting, let the bars cool another 5 minutes or so on the baking sheets and then remove them to a wire rack to cool completely.

While the bars are cooling, melt one cup of bittersweet chocolate chips. You can use either a microwave-safe bowl and melt the chips in the microwave, or use a saucepan over the stove.

Once chocolate has melted, stir well and drizzle over the cut almond bars.

As an alternative to the melted chocolate, you can make almond icing to drizzle over the bars instead. Simply mix a cup confectioners' sugar and ¼ teaspoon almond extract with some milk, starting with 2 tablespoons, until you've reached the desired consistency.

Or drizzle half the bars with the chocolate and the other half with the almond icing. Either way, you will get you rave reviews!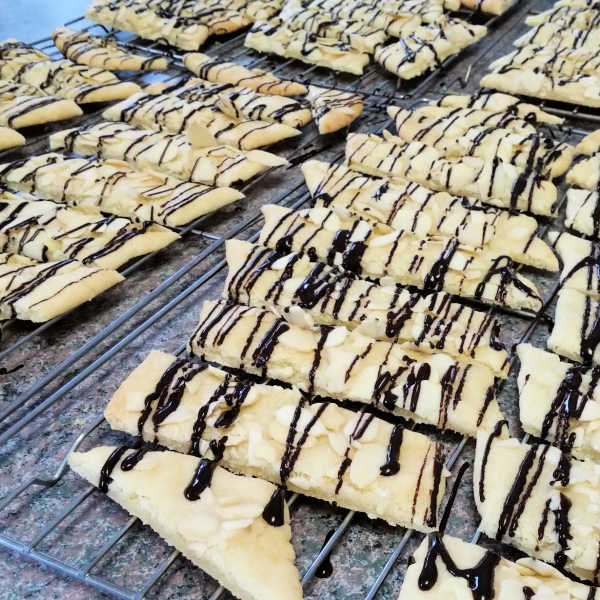 By the way, this almond bar recipe is a staple in our house at Christmas time, but it also makes a great treat any time of the year, especially in the summertime.

These bars are so light and yet a sort of soft, chewy shortbread-y cookie with a crispy outside. They make the perfect dessert for picnics and family BBQs, but especially for Christmas and the holidays. You can even turn them into Raspberry Almond Bars by adding a layer of raspberry jam before sprinkling the top with almonds. That's what makes this recipe so wunderbar.
Almond Desserts and Marzipan

I'm a huge fan of almond desserts, especially this one in particular. One of the reasons I'm so in love with this recipe is the wonderful almond flavor in each layer: the cookie dough, the sliced almonds, and the almond glaze. It reminds me so much of my absolute favorite: marzipan! So German! So wunderbar!
While we Germans know our marzipan very well, it is not always such a common thing elsewhere. It can be hard to find unless you have an international aisle at your local grocery store.

Marzipan is such a treat that simply describing it can hardly do it justice. But I will do my best! It is a delicious mixture traditionally made up of finely ground almonds, sugar, honey, and almond oil or extract. (It's not to be confused with almond paste, which is also made of ground almonds and sugar, in addition to small amounts of cooking oil, beaten eggs, heavy cream, or corn syrup, and has a coarser texture.)

Marzipan has such a wonderful nutty flavor that goes so well in so many recipes. In German culture, marzipan can be found in cookies, cakes, chocolates, candies, etc. You name it! But it's just as good to snack on by itself. Yum!
Below, I've drizzled these Scandinavian almond bars with a yummy almond-flavored glaze… a triple whammy of marzipan flavor!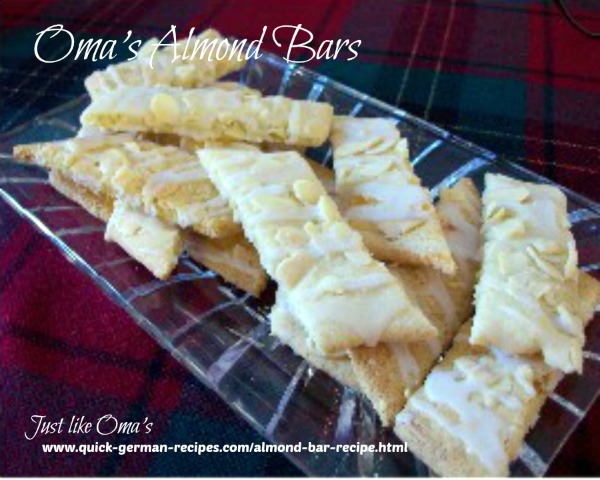 There are so many delicious recipes that use marzipan, but they're more popular during the Christmas season.
Speaking of marzipan Christmas treats...

…this is one that never gets old no matter the time of year. This Stollen Recipe is a great one to make to get that full marzipan experience. 
When it's time for Christmas, baking is at the forefront of preparations. Get Oma's collection of her favorites in Christmas Baking eCookbook.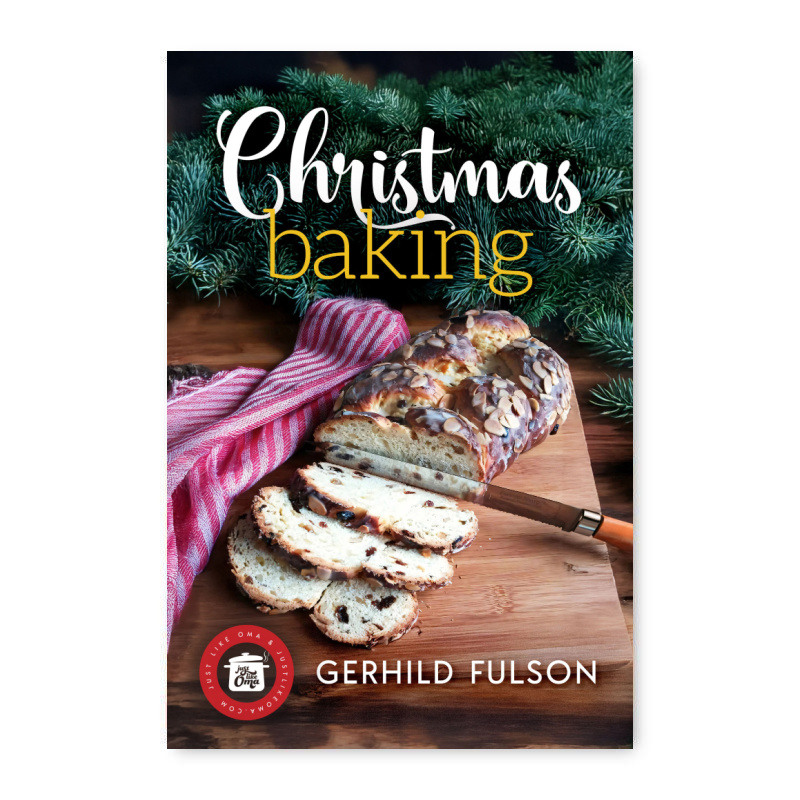 Take a peek at all Oma's eCookbooks. They make sharing your German heritage a delicious adventure!

Ready to make these Almond Bars? Happy Baking!

Is the recipe below locked? Here's why. 
As an Amazon Associate, I earn from qualifying purchases.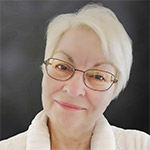 For more German-inspired items that make life easier and yummier, especially in the kitchen and for entertaining, follow my Amazon Storefront.
➙ For groceries,
Try Amazon Fresh
.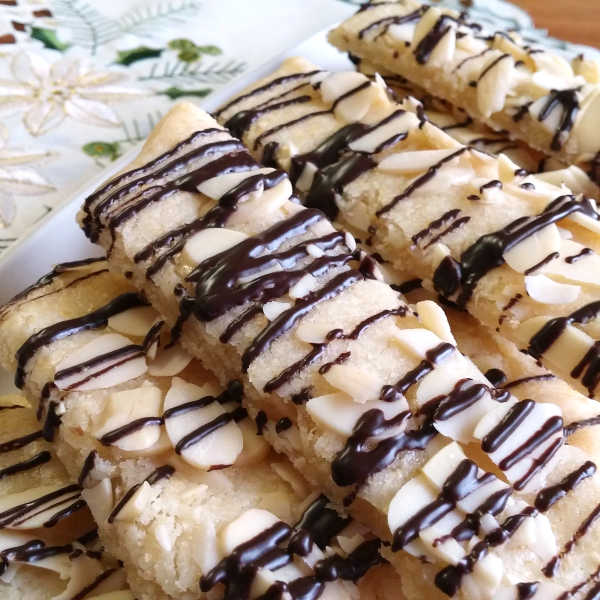 Easy Recipe for Scandinavian Almond Bars – Oma's Mandelkekse

Make lots of almond cookies easily with this almond bar recipe. They look absolutely scrumptious and taste divine drizzled with chocolate! A Christmas MUST for us! 
Called bar cookies, they are made on a cookie sheet. The dough is formed into rolls that are flattened and then baked. The warm almond bars are then cut into cookies and iced.

Prep Time


25 minutes


Bake Time


12 minutes


Total Time

37 minutes

Servings:

Makes about 48 cookies

Ingredients:
½ cup (114 grams) unsalted butter, room temperature
1 cup (200 grams) granulated sugar
1 large egg
½ teaspoon (3 milliliters) almond extract
1¾ cups (228 grams) all-purpose flour
2 teaspoons (8 grams) baking powder
¼ teaspoon (1.5 grams) salt
about ¼ cup (60 milliliters) milk
½ cup (50 grams) sliced almonds
1 cup (170 grams) bittersweet chocolate chips
Instructions:
Preheat oven to 325°F (160°C). Line two 11x17-inch cookie sheets with parchment paper and set aside.
In a large bowl, beat butter and sugar with an electric mixer. Beat in egg and almond extract until light and fluffy.
In a medium bowl, mix flour, baking powder, and salt together. Add flour mixture to butter mixture and beat until well mixed.
Divide cookie dough into four portions. Form each into a roll about 12 inches long.
Put two rolls about 4 to 5 inches apart on one cookie sheet and flatten rolls with fingers to about 3 inches wide. Repeat with the remaining dough.
Using a pastry brush or rubber spatula, brush just enough milk to cover all the dough, then sprinkle almonds on top. Bake for 12 to 15 minutes or until edges are just slightly browned.
Remove from oven and immediately cut into 1-inch diagonal strips by carefully cutting down with a knife. Do not saw back and forth or the delicate cookie bars will break. Let cool for about 5 minutes and then remove to a wire rack to finish cooling.
Put chocolate chips into a small bowl and melt in the microwave, or melt in a small saucepan over low heat. Drizzle the melted chocolate over the bars.
Notes/Hints:

Store in an airtight container at room temperature for up to one week or keep in the freezer.
The original recipe used ungreased cookie sheets. I find that lining cookie sheets with parchment paper works much better.
Try drizzling with melted white chocolate.
If you're not overly fond of too much almond flavor, try replacing the almond extract with vanilla extract.
*  *  *  *  *

Unless otherwise noted recipe, images and content © Just like Oma | www.quick-german-recipes.com

11.26.2021 revision update
Leave a comment about this recipe or ask a question?

Pop right over to my private Facebook group, the Kaffeeklatschers. You'll find thousands of German foodies, all eager to help and to talk about all things German, especially these yummy foods. 
Meet with us around Oma's table, pull up a chair, grab a coffee and a piece of Apfelstrudel, and enjoy the visit.

Make the perfect German Spaetzle with Oma's easy recipe! This traditional German egg noodle pairs perfectly with caramelized onions for a delicious meal.

Discover the ultimate German schnitzel recipe with Oma's quick, easy, and delicious pork version - perfect for any occasion! Taste the authentic flavors of Germany today.

This easy German Apple Strudel recipe is one of those German desserts that brings the traditional strudel taste to your table without all the work. Wunderbar!!
*  *  *  *  *
PIN to SAVE this recipe to your Pinterest board!
And let's be friends on Pinterest!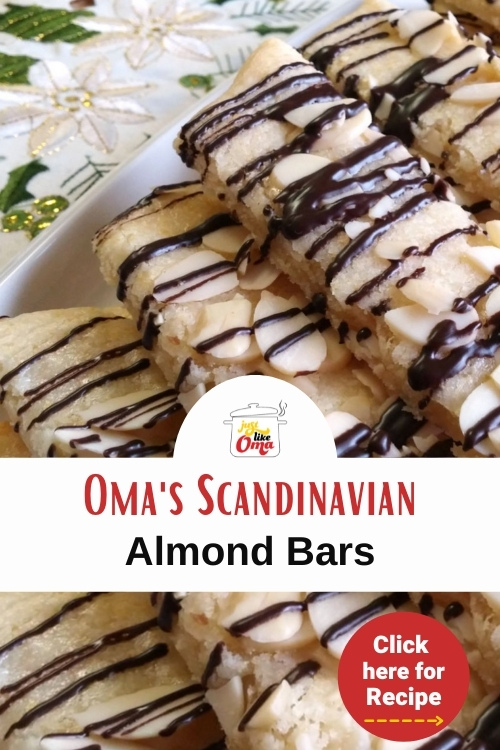 Make every day a GREAT day!
"This is the day the Lord has made. We will rejoice and be glad in it."
Psalm 118:24 (NLT)