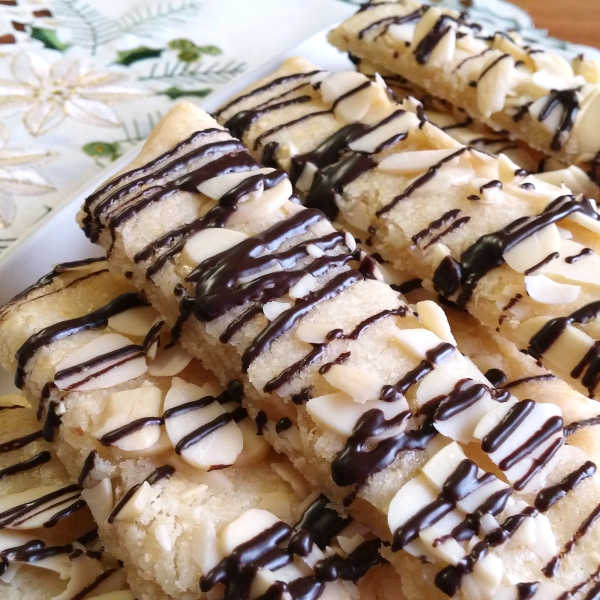 Oma's Almond Bar Recipe

My Almond Bar recipe, aka Mandelkekse, is a great way to make lots of almond cookies easily. They look absolutely scrumptious and taste divine! Even though these are called "bar" cookies, they are made on a cookie sheet. The dough is formed into rolls that are flattened and then baked. The almond bars are then cut into cookies and iced.
Prep Time


25 minutes


Bake Time


15 minutes


Total Time

40 minutes

Servings:

Makes about 48 cookies

Ingredients:
½ cup butter, room temperature
1 cup granulated sugar
1 egg
½ tsp almond extract
1¾ cups flour, all-purpose
2 tsp baking powder
¼ tsp salt
about ¼ cup milk
½ cup sliced almonds
1 cup powdered sugar
¼ tsp almond extract
3 - 4 tbsp milk
Instructions:
Preheat oven to 325°F. Prepare 2 cookie sheets by covering with parchment paper.
In large mixer bowl, beat together butter and sugar. Beat in egg and almond extract until light and fluffy.
Mix flour, baking powder, and salt together. Add to butter mixture and beat until well mixed.
Divide dough into four portions. Form each into a roll about 12 inches long.
Put two rolls about 4 - 5 inches apart on parchment-covered cookie sheet and flatten rolls with fingers to about 3 inches wide. Repeat with the remaining dough.
Brush with milk and sprinkle with sliced almonds. Bake for 12 - 15 minutes or until edges are slightly browned. Do not let them get too dark.
Remove from oven and immediately cut in 1-inch diagonal strips, but carefully cutting down with a knife. Do not cut back and forth. The delicate cookie will break. Let cool for about 5 minutes and then remove to a wire rack to finish cooling.
Mix powdered sugar, ¼ tsp almond extract and enough milk to make icing.
Drizzle cookies with icing. 
Notes/Hints:

These almond bars also taste great drizzled with chocolate!

The original recipe used un-greased cookie sheets. I find that using parchment paper covered cookie sheets works much better.
*  *  *  *  *

Unless otherwise noted recipe, images and content © Just like Oma | www.quick-german-recipes.com