Butterkuchen ~ German Butter Cake ❤️
➤ by Oma Gerhild Fulson
FTC Disclosure: Making a purchase via a link on the page? I may earn a small commission on the transaction - at no added cost to you. Thanks!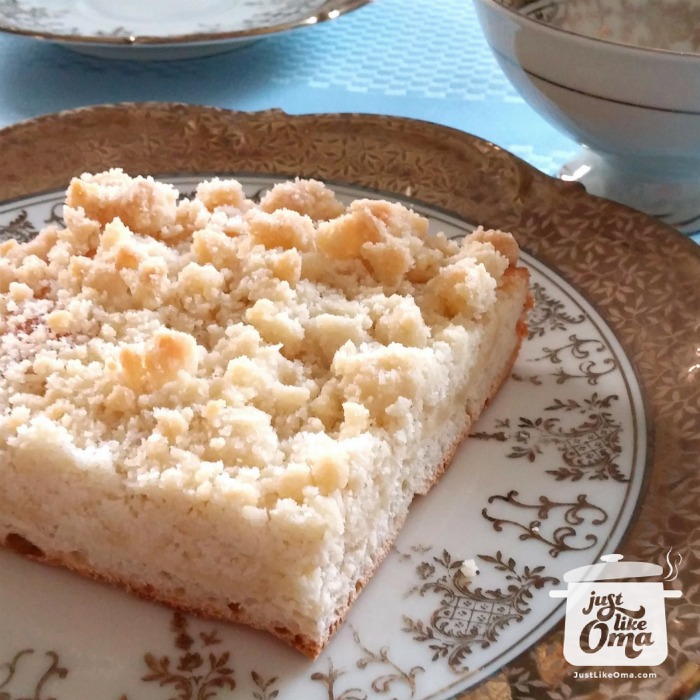 This Butter Cake recipe, aka Butterkuchen or Zuckerkuchen, is a traditional German cake often served for afternoon coffee. In the photo above, this butter cake is topped with streusel.
Popular as well is when it's covered just with butter, almonds, and sugar. You can also include cinnamon, and/or sour cream in the topping giving a completely different cake.


Want something faster? I've included a link at the bottom for a butter cake recipe that uses a bread machine. Faster. Easier. Just as delicious!

---
Baking with Yeast Tips
Haven't used yeast before and are hesitant to make this butter cake recipe? It's not that hard. Follow these tips and you may just find yourself making cakes using yeast quite often. This is a recipe you'll get your hands into ... it's fun to knead!

Don't use ingredients that are hot or cold. Ideally, everything should be at room temperature. The heat can kill the yeast and the cold can hinder the growth of the yeast cells. 
Check expiry date on yeast package. Do NOT use old yeast. It will not rise!
You need to count in time for the yeast dough to rise when calculating how long from starting the cake to serving time. It's a quick cake to make, just takes time to rise.
When letting the dough or cake rise (often both need to rise - just check your recipe), do so in a warm, draft-free area. A great place can be your oven. Often I'll briefly turn it on and then off - just enough to take the chill out (you should be able to easily touch the inside). Then put covered dough/cake in and close the door. Warm and draft-free. Remember to take it out before turning the oven on to bake it!
The yeast dough is a basic cake yeast dough that can be used in many different recipes economically yet absolutely delicious! It's among the best quick and easy cake recipes for that reason.

Faster still?
Do you have a bread machine? You do? Then, you can make this quick cake ever quicker. 

If you're looking for a really, really easy version of this cake, one that uses a bread machine to make the dough, then check out this German Butter Cake.
Oma's Tip:
As with anything made with yeast, this tastes best served the same day it is made. Served still slightly warm from the oven with a bit of whipped cream, it is absolutely YUMMY!
Butterkuchen ~ German Butter Cake Recipe ❤️
Ingredients:
Yeast Dough
1 package (1 Tbsp) active dry yeast
¼ cup lukewarm water
1 tsp granulated sugar
1 cup milk (lukewarm)
½ cup oil
1 egg
½ cup granulated sugar
about 4 to 4½ cups all-purpose flour
½ cup milk or cream
Topping
⅔ cup granulated sugar
¾ cup chopped almonds
⅓ cup cold butter
Instructions:
In a large bowl, mix yeast, water, and 1 tsp sugar. Let stand for about 5 - 10 minutes. This should be foamy. (It will be if the yeast is not old.)
Mix in 1 cup milk, oil, egg, and ½ cup sugar. Beat in 2 cups flour and mix well. Let stand 10 minutes.
Add more flour until a soft dough results.
Remove from bowl and knead until smooth and elastic, adding flour ONLY if necessary if it is too sticky.
Put dough into a greased bowl. Cover and put in a draft-free warm place for about 30 - 60 minutes, until it has doubled in size.
Grease a 15" x 10" jelly-roll pan. Roll out dough to fit pan and place in pan.
Make small hollows in the surface of the dough with your fingers.
Brush dough with ½ cup milk or cream.
Cut butter into small pieces and place in hollows.
Sprinkle ⅔ cup sugar and nuts over dough.
Cover and let stand in a warm draft-free place for about 30 minutes.
Preheat oven to 400° F. Bake for 20 to 25 minutes until golden brown.
Let cool slightly and cut into 20 pieces.
Hints:
Change this basic butter cake recipe by adding 1 tsp cinnamon to the ⅔ cup sugar before sprinkling on top of dough.
Omit nuts if desired or use hazelnuts instead of the almonds.
Add little dollops of sour cream over top, using about ½ cup, before baking.
Or make a streusel topping (as shown above) by mixing together 2 cups all-purpose flour, 1 cup sugar, and 1 cup butter into a crumbly mixture. Spread on top of dough instead of sprinkling the sugar and nuts over the dough.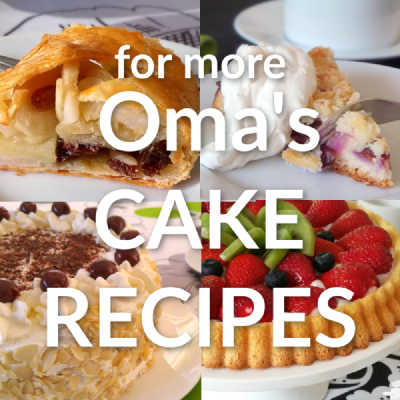 Leave a comment about this recipe or ask a question?
Pop right over to my private Facebook group, the Kaffeeklatschers. You'll find thousands of German foodies, all eager to help and to talk about all things German, especially these yummy foods. 
I pop in all the time as well, to chat and to answer questions. 
Meet with us around Oma's table, pull up a chair, grab a coffee and a piece of Apfelstrudel, and enjoy the visit.
*  *  *  *  *
Thinking of starting your own Handmade Business?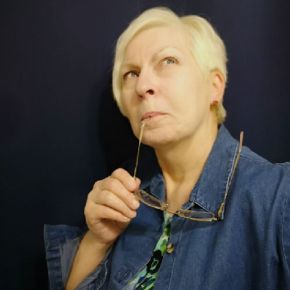 This Oma KNOWS you CAN do it.
How do I know?
Well, if I can do it, anyone can.
I've even figured out how I can help you.
I've teamed up with my own business coach, Renae Christine (yes, do google her!), to bring you this free masterclass. After you watch it, ask me any questions and I'll gladly answer them.
Don't hesitate. I'm not sure how long Renae will keep this free masterclass available.
PS:  Yes, Renae really is as amazing as all the reviews say.
PPS: Yes, the course is for handmade items, but I've used it successfully for my cookbooks. I know others are using her methods for services, direct sales, and even a local ice cream bar & grill that's constantly selling out. You've nothing to lose by taking a look ... and a whole bunch to gain.
*  *  *  *  *
Oma's Cookbooks (downloadable & print)
*  *  *  *  *
Want nutritional information for a recipe?
Copy and paste the ingredient list and the number of servings into Calorie Count. 
It will give you an approximate calculation.

Need help doing conversions
between cups and grams or any such thing?
Use this site to give you all the different conversions for the different types of ingredients. 
---
PIN this... to quickly pull up Oma's butter cake recipe while getting your yeast prepared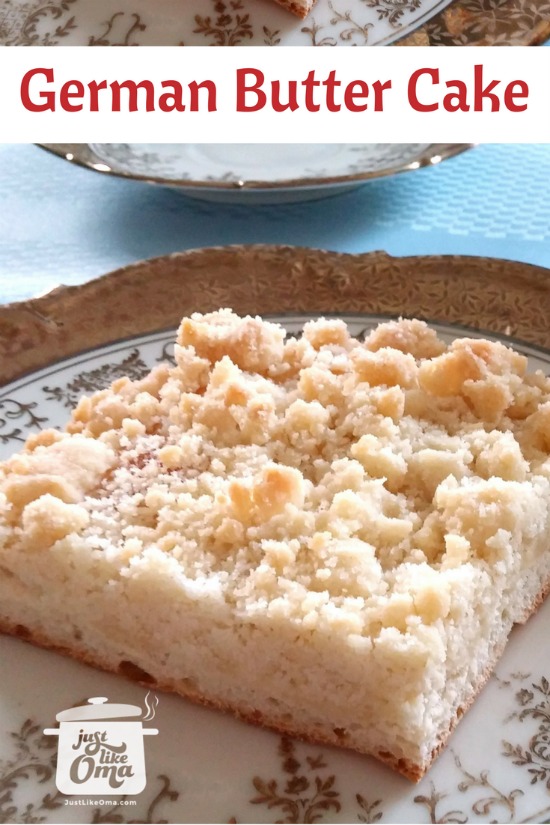 ---
Try this slow cooker roast beef and you'll be amazed at how much this tastes like rouladen WITHOUT the work.

Learn how to cook pork hocks, anytime you want something traditionally German and wonderfully delicious! A hearty meal for any time of the year!
---
Words to the Wise
"Give freely and become more wealthy; be stingy and lose everything. The generous will prosper; those who refresh others will themselves be refreshed."
Proverbs 11:24-25 (NLT)
---
Butterkuchen - Butter Cake Recipe made Just like Oma


By
Oma Gerhild Fulson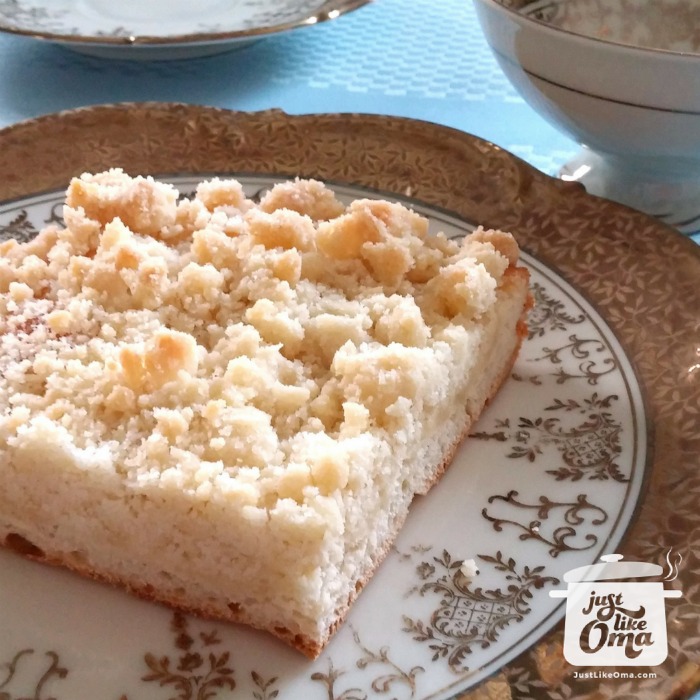 This Butterkuchen, also called Sugar Cake (Zuckerkuchen), a traditional German cake served for afternoon coffee. Loved by all, easy to make, delicious to eat!

Ingredients:
yeast,
sugar,
milk,
water,
For the full recipe, scroll up ...