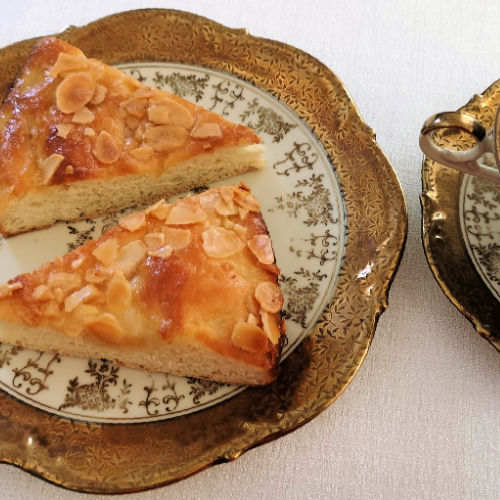 Oma's Butterkuchen (Zuckerkuchen) – German Butter Cake Recipe

This Butter Cake recipe, aka Butterkuchen (sometimes called Zuckerkuchen), is a traditional German cake often served for afternoon coffee.
It's a delicious yeast cake that is light and fluffy with a sweet gooey buttery topping. It's so good when served still warm from the oven with a dollop of whipped cream and a hot cup of coffee or hot tea!
Prep Time


90 minutes


Cook Time


25 minutes


Total Time

115 minutes

Servings:

Makes 20 pieces

Ingredients:
Yeast Dough
1 tablespoon (10 grams) active dry yeast
¼ cup (60 milliliter) lukewarm water
1 teaspoon (4 grams) granulated sugar
1 cup (240 milliliters) lukewarm milk
½ cup (120 milliliters) neutral oil
1 large egg
½ cup (100 grams) granulated sugar
about 4 - 4½ cups (520 - 585 g) all-purpose flour
Simple Topping
½ cup (120 milliliters) milk or cream
⅓ cup (76 grams) cold butter
⅔ cup (133 grams) granulated sugar
¾ cup (75 grams) sliced almonds
Instructions:
In a large bowl, mix yeast, water, and 1 teaspoon sugar. Let stand for about 5 to 10 minutes. This should be foamy. (It will be if the yeast is not old.)
Mix in 1 cup milk, oil, egg, and ½ cup sugar. Beat in 2 cups flour and mix well. Let stand 10 minutes.
Add more flour until a soft dough results. 
Remove from bowl and knead until smooth and elastic, adding flour ONLY if necessary if it is too sticky.
Put smooth dough into a greased bowl. Cover with a clean tea towel and put in a draft-free warm place for about 30 - 60 minutes, until doubled in size.
Grease a 15x10-inch jelly-roll pan. Roll out dough to fit pan and place in pan.
Make small hollows in the surface of the dough with your fingers.
Brush dough with ½ cup milk or cream.
Cut butter into small pieces and place in hollows.
Sprinkle ⅔ cup sugar and nuts over dough.
Cover and let stand in a warm draft-free place for about 30 minutes.
Preheat oven to 400°F (205°C). Bake for 20 to 25 minutes until golden brown.
Let cool slightly and cut into 20 pieces.
Notes/Hints:

Ideally, everything should be at room temperature. The heat can kill the yeast and the cold can hinder the growth of the yeast cells.
Check expiry date on yeast package. Do NOT use old yeast. It will not rise.
When letting the dough rise, do so in a warm, draft-free area.
Store any leftover cake in an airtight container at room temperature.
If you have a bread machine, you can make quick work of making the dough. Take a look at my other German butter cake recipe.
*  *  *  *  *

Unless otherwise noted recipe, images and content © Just like Oma | www.quick-german-recipes.com

10.02.2022 revision update