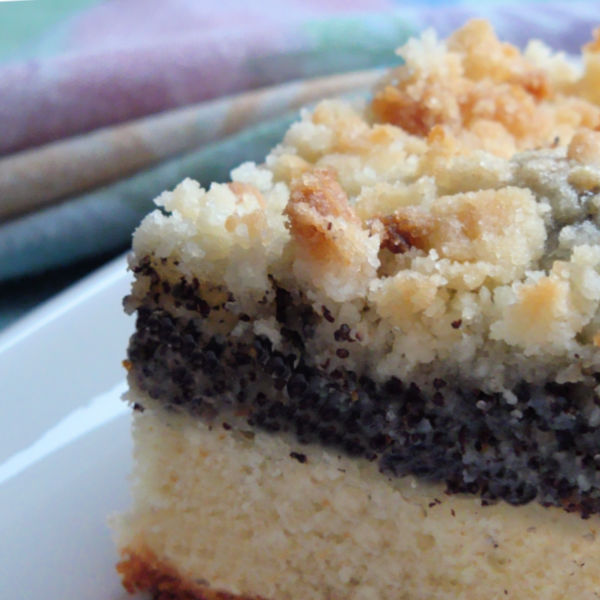 Mutti's Poppy Seed Cake Recipe

My Mutti's German Poppy Seed Cake recipe, aka Mohnkuchen, is so WUNDERBAR! It's among my favorite holiday baking recipes, especially since I just love poppy seed in any type of cake! (Actually, I love this anytime of the year, including my poppy seed roll.) 

Prep Time


30 minutes


Bake Time


30 minutes


Total Time

60 minutes + rise time

Ingredients:
Yeast Dough:
¼ cup granulated sugar
½ cup milk, lukewarm
1 package active dry yeast
2⅓ cups flour, all-purpose
½ tsp salt
4 tbsp butter, melted
2 eggs
Poppyseed Filling:
⅓ cup Wheatlets (Cream of Wheat)
2 cups water
1 cup poppy seeds, ground
1 cup granulated sugar
1 tsp vanilla or almond flavoring
2 eggs
1 tbsp butter
Crumb Topping:
1 cup cold butter
1 cup granulated sugar
2 cups flour, all-purpose
Instructions:
Yeast Dough:
Stir 1 teaspoon of sugar into warm milk. Sprinkle yeast on top. Let sit 5 minutes or until surface is frothy. If it doesn't get frothy, don't continue with the recipe. Get new yeast with an expiry date far into the future.
Into a large mixing bowl, stir together the flour, sugar and salt.
Stir yeast. Lightly beat cooled butter and egg into yeast mixture.
Pour yeast mixture into flour, mixing to make a dough.
On a floured surface, knead dough lightly for about 5 minutes. Cover and let rise in a warm place for 1 hour.
Poppy Seed Filling:
While waiting for dough to rise, make the filling and topping.
Follow package instructions and make cereal with Wheatlets and water. Let cool slightly.
Add poppy seed, flavoring, butter, and sugar. Mix well. Add eggs. Mix well.
Let cool.
Crumb Topping:
Mix ingredients to a crumbly texture.
Finish Cake:
Grease 9" x 13" cake pan or use a large springform pan.
Knead risen dough lightly and roll out to fit cake pan. Pierce dough all over with fork.
Pour poppyseed filling over cake.
Gently crumble topping evenly over filling.
Preheat oven to 400°F.
Let rise in a warm place 15 minutes.
Bake 25 - 30 minutes - or until top is a rich golden brown.
Cool and serve.
Hints:
Instead of making the poppy seed filling, use a good brand of purchased canned poppy seed filling. Try various brands to find your favorite. 
*  *  *  *  *

Unless otherwise noted recipe, images and content © Just like Oma | www.quick-german-recipes.com