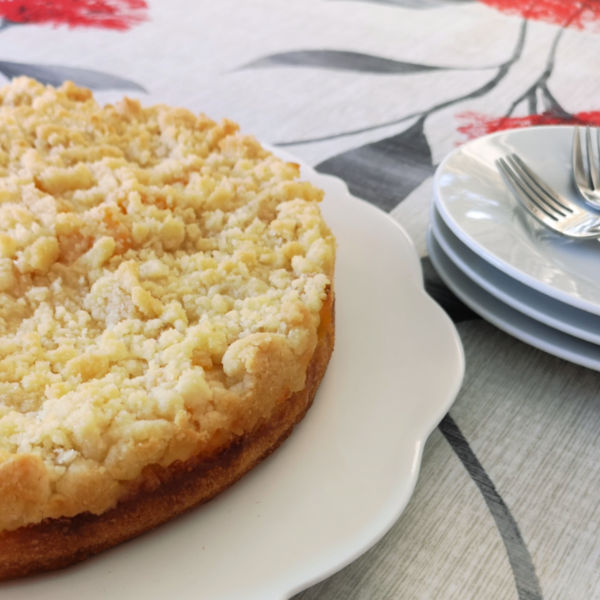 Oma's German Peach Cake Recipe

This German Peach Cake recipe, aka Pfirsich-Streuselkuchen, is a bread machine cake recipe for a yeast dough. 
It is then followed by a quick finishing off by hand before baking in the oven. You can make it with streusel topping as shown or omit the streusel.
Prep Time


20 minutes +105 min rise time


Bake Time


30 minutes


Total Time

155 minutes

Servings:

Makes 8 - 10 servings
Ingredients:
Yeast Dough
2 teaspoons active dry yeast
¼ cup sugar
2¼ cups all-purpose flour
1 teaspoons salt
⅞ cup lukewarm milk
1 egg yolk
1 tablespoon soft butter
Topping & Streusel
28-oz can sliced peaches, well drained
2 cups all-purpose flour
1 cup sugar
1 cup cold butter
Instructions:
Put all the Yeast Dough ingredients into the Bread Machine pan.
Use the "dough" setting and start (usually takes about 1½ hours).
Grease  a 15x11-inch baking sheet or two 9-inch springforms.
Once dough cycle is finished, pat dough onto baking sheet. Pierce dough all over with a fork. 
Preheat oven to 400°F.
Arrange fruit on dough in rows.
Let rise in a warm place about 20 to 25 minutes.
Meanwhile, make streusel topping by mixing flour, sugar and cold butter together to get a crumbly mix. Crumble over fruit just before baking.
Bake 25 to 30 minutes or until yeast pastry is puffed up and streusel is golden brown.
Cool slightly in pan then cut into squares.
*  *  *  *  *

Unless otherwise noted recipe, images and content © Just like Oma | www.quick-german-recipes.com