Grandma's German Plum Cake

➤ by Oma Gerhild Fulson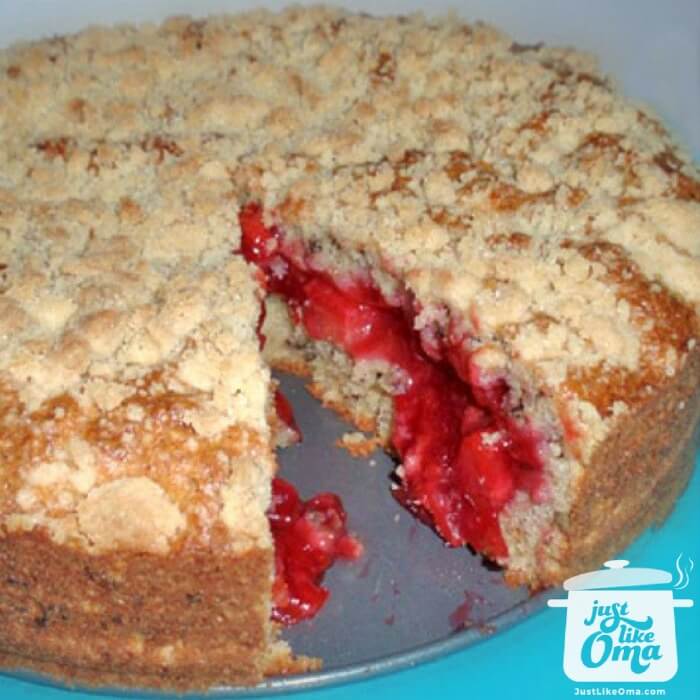 German plum cake, aka Pflaumen-Streuselkuchen! So thankful to my niece, Melissa Judd, for finding this long-lost family favorite from her German Grandma (my hubby's Mutti)! Now that I've posted it, it'll be part of my traditional German baking as well :-)
Melissa added that this is definitely not a quick recipe. But, it is definitely delicious! The lovely bright, rich color is because Melissa made this with Black Doris plums when she lived in New Zealand. However, use whichever plums you have. It will be absolutely delicious!
I remember having it at my mutti-in-law's out in their lovely backyard. She was such a great cook and loved baking. This plum cake was served with a dollop of whipped cream on the side, of course, ... and there were never any leftovers!

You can serve this plum cake either warm or cold. Ice cream or whipped cream on the side? WUNDERBAR!
Now, you may ask, why is the filling so red? Well, that depends on the type of plum you use. Keeping the skins on while cooking the filling increases the color. (If you prefer, you can peel the plums.) I did check with Melissa to see if she added food coloring ... and she didn't. 
Grab your copy of Oma's favorites in her Special Occasion German Cakes & Tortes e-Cookbook.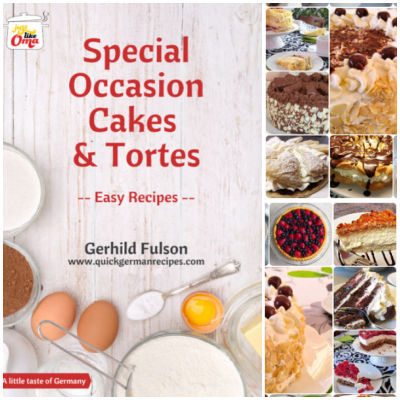 Take a peek at all Oma's eCookbooks. They make sharing your German heritage a delicious adventure!
---
Grandma or Oma?

In our family, we found it so easy to differentiate who was who by using both names.
For my hubby's side, we called them 'Grandma and Grandpa' (even though they were German) and on my side were 'Oma and Opa'. Now, our grandchildren do the same. It becomes easy to figure out who they are talking about. 

---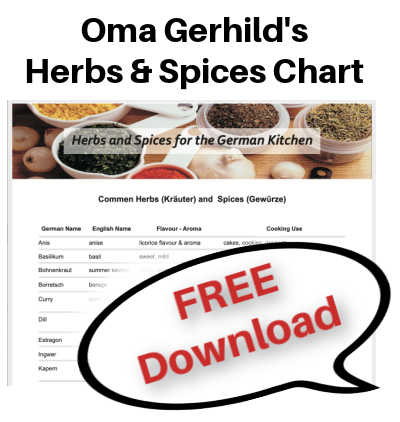 ---
Ready to make this German plum cake?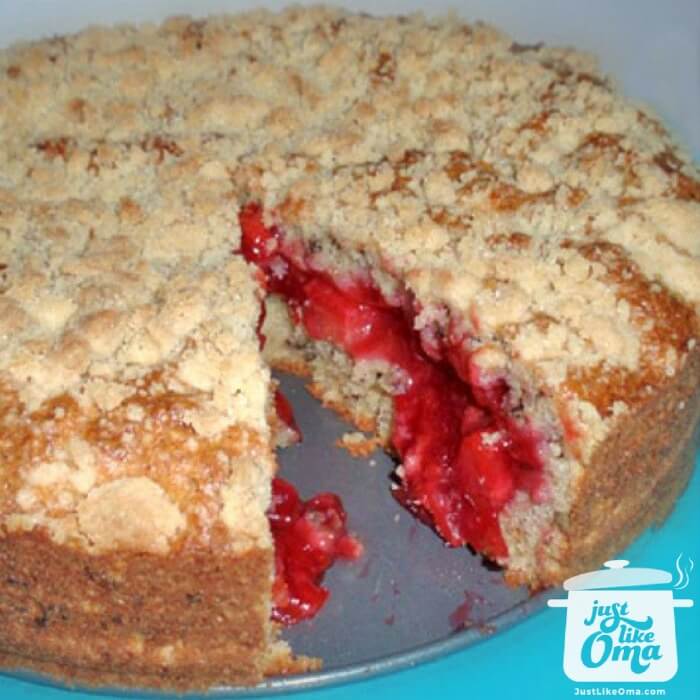 Grandma's German Plum Cake

German plum cake, aka Pflaumen-Streuselkuchen! So thankful to my niece, Melissa Judd, for finding this long-lost family favorite from her German Grandma (my hubby's Mutti) and Oma to our boys.
The lovely bright, rich color is because Melissa made this with Black Doris plums though Italian prune plums are more traditional.
Prep Time


15 minutes


Bake Time


50 minutes


Total Time

65 minutes

Ingredients:
Filling
¾ cup sugar
3 tbsp cornstarch
3 cups sliced plums
lemon juice (if needed)
butter (if needed)
Cake
1 tbsp vinegar
¾ cup milk
1 egg
2¼ cups all-purpose flour
¾ cup sugar
¾ cup butter, cold
½ tsp baking powder
½ tsp baking soda
½ cup finely chopped walnuts
Instructions:
Filling
Stir together sugar and cornstarch. Add to a saucepan with sliced plums. Stir over medium heat until fruit thickens.
Add a couple of tablespoons lemon juice if too sweet. Add some butter if too sticky.
Set aside to cool.
Cake
Preheat oven to 350°F. Butter a 9-inch springform pan.
Stir together vinegar and milk. Set aside for 5 minutes. Then add egg and beat together.
In another bowl combine flour and sugar. Cut in butter until crumbly. Remove ½ cup and reserve for the streusel topping.
To the remainder add baking powder, baking soda, and walnuts. Add milk mixture to dry ingredients, stirring just until moistened.
Spread ⅔ of batter over the bottom and part way up the sides of the pan. Spread the fruit filling over the batter. Spread the remaining batter over the fruit in small spoonfuls, using two forks to spread over the filling as well as you can.
Sprinkle with the reserved streusel topping.
Bake for about 50 minutes or until nicely browned.
*  *  *  *  *

Unless otherwise noted recipe, images and content © Just like Oma | www.quick-german-recipes.com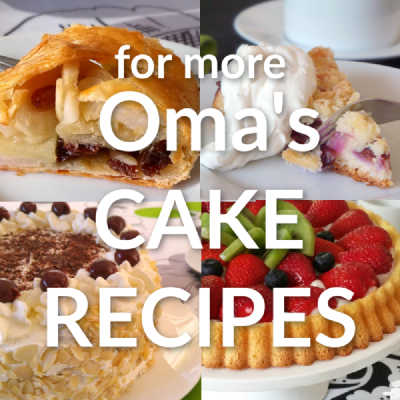 Leave a comment about this recipe or ask a question?

Pop right over to my private Facebook group, the Kaffeeklatschers. You'll find thousands of German foodies, all eager to help and to talk about all things German, especially these yummy foods. 
Meet with us around Oma's table, pull up a chair, grab a coffee and a piece of Apfelstrudel, and enjoy the visit.

Oma's Cream Roll recipe, Biskuitrolle, is the German version of a Swiss roll or jelly roll. Filled with whipped cream and studded with berries, this is an easy-to-make treat anytime of the year.

Make this pan roasted carrot recipe when you're wanting quick and easy carrots just like this German Oma makes them. Similar to oven roasted, just quicker. YUM!

Cooking green beans, German-style, makes a wonderful side dish for almost any meal. Cooking the grüne Bohnen till just tender with a creamy white sauce is so traditional and so lecker!
*  *  *  *  *
PIN this ...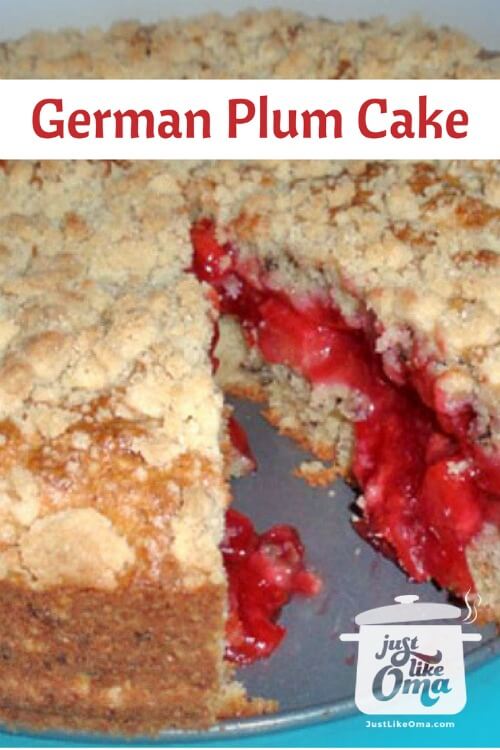 ---
German Plum Cake made Just like Oma


By
Oma Gerhild Fulson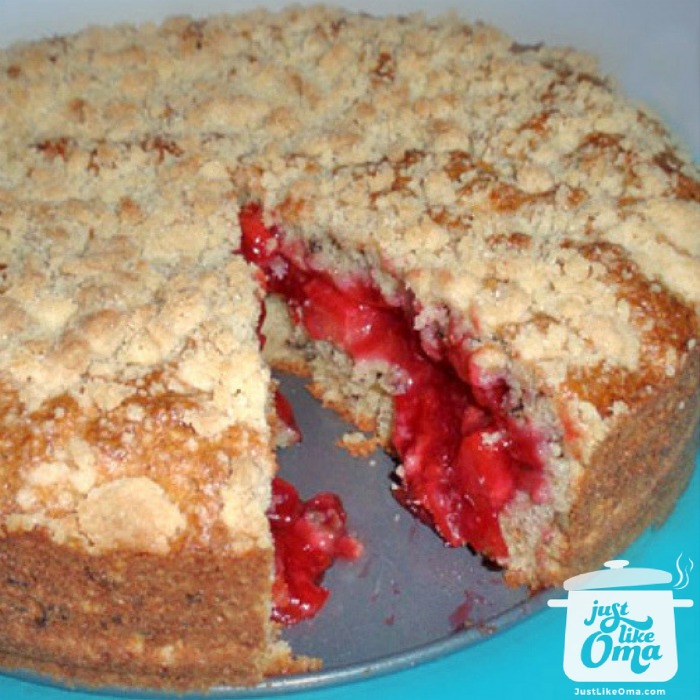 Grandma's German plum cake! So thankful to my niece for finding this long-lost family favorite from Grandma. Now that I've posted it, it'll be part of my traditional German baking as well :-)

Ingredients:
sugar,
cornstarch,
plums,
lemon juice,
butter,
vinegar,
milk,
egg,
flour,
baking powder,
baking soda,
walnuts,
For the full recipe, scroll up ...
Words to the Wise
"Pride leads to conflict; those who take advice are wise."
Proverbs 13:10