Oma's Obsttorte ~ German Fruit Flan Recipe❤️
➤ by Oma Gerhild Fulson
FTC Disclosure: As an Amazon Associate, I earn from qualifying purchases.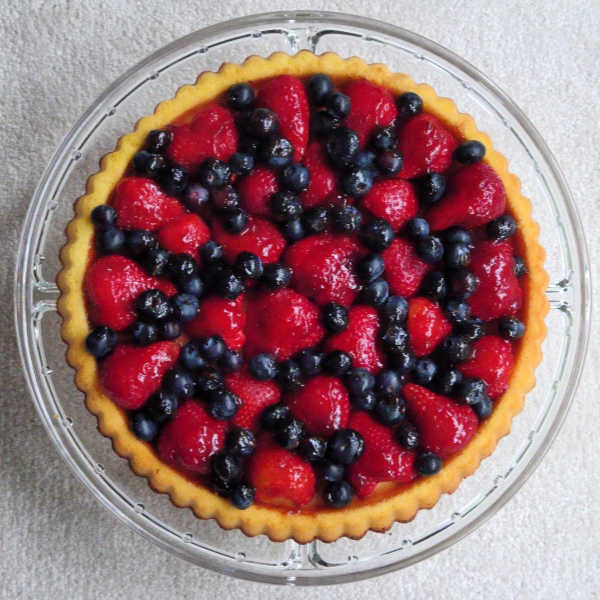 This fruit flan recipe is so quick and easy ... takes just one hour from start to table ... and is so versatile ... and so pretty ... and so good! WUNDERBAR!
This Obsttorte only takes one hour to mix this up, bake it, cool it, and fill it.
Not only that, but you can change this up in uncountable ways. There are so many variations, so many possibilities, so much deliciousness!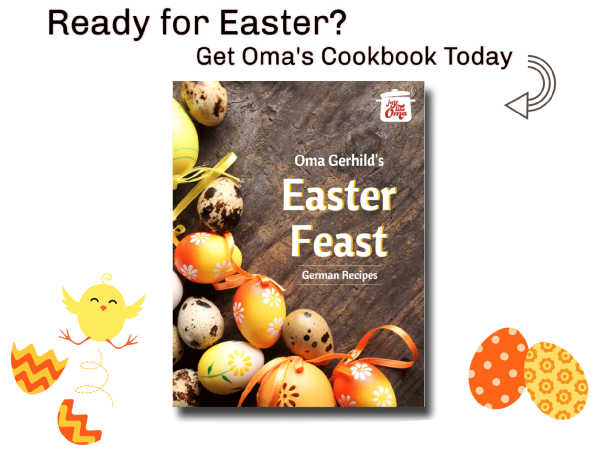 All you need is one bowl to mix the cake and a flan pan to bake it.
Then you become creative in making this German Fruit Flan recipe your own.
The resulting flan is similar to the sponge (biskuit) flans that are available in groceries to buy. It's a thin shell to fill any way you like and will serve 6.

Flan Pan?
---
You'll need a special 11-inch flan pan to make this Obsttorte.
My favorite one to use are this one from Zenker.
There's just something about getting the real thing. Zenker is one of the oldest and largest bakeware manufacturers in the world ... and is located in Bavaria!
There's a 4.5 star rating on Amazon for this and it's no wonder. It's German quality without the German price!
Even though this is a non-stick pan, and really, nothing does stick, I end up being old-fashioned and do a quick spray with Pam anyways ... silly habit :) 
---
Fill your flan with ...
... with vanilla pudding and covered with strawberries, blueberries, and kiwis: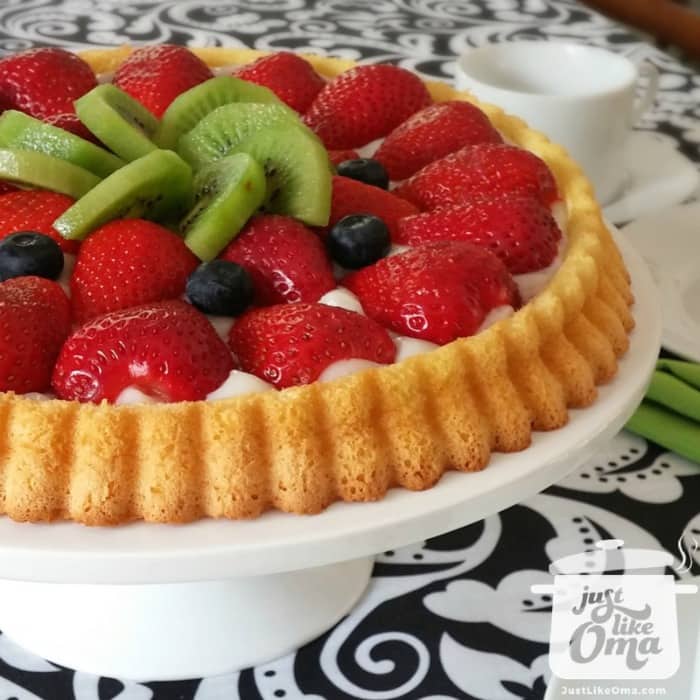 In the photo above, I used what I had on hand. Vanilla pudding (instant from a box), strawberries, and some blueberries. Instead, you can use just canned fruit and cover with a glaze.
Or, you can spread Nutella over the base and cover with strawberries.
... covered with blueberries and a clear glaze (don't forget to serve with whipped cream or ice cream):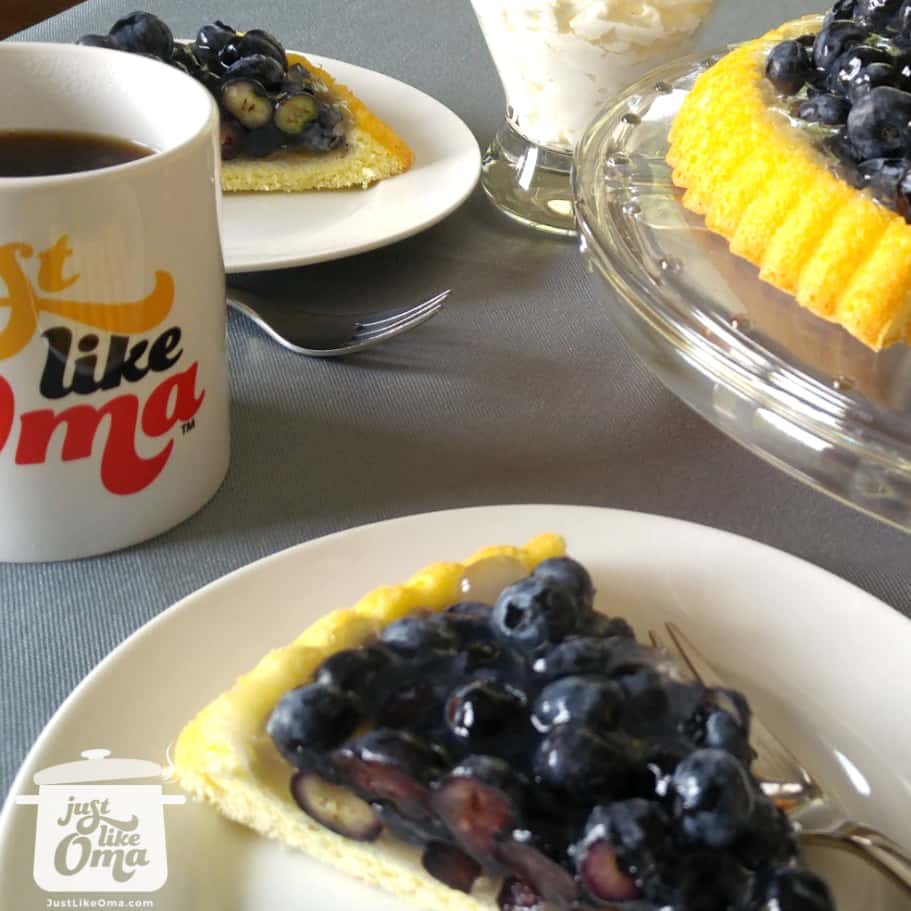 Some "filling" ideas sent in by our Facebook fans:
> Mine would be filled with fresh strawberries and whipped cream!!
> I put banana pudding underneath that way it does not get all mushy.
> a little vanilla crème on the bottom, topped with strawberries and clear glaze
> Canned peaches (save the juice, add gelatin and pour over the peaches) and whipped cream, dust with cinnamon.
> Strawberries, blueberries and peaches and a glaze.
> Nutella and strawberries with lots of whipped cream.
How to make your own glaze from gelatin (granulated, package, or leaf)
The original recipe calls for one leaf of gelatin dissolved in 100 ml of juice.

This is commonly used in traditional German recipes, but does not dissolve as easily as the granulated gelatin. If you have leaf gelatin, you can use it here. 

The conversion for gelatin is 4 leaves = 1 package gelatin = 1 tsp granulated gelatin.
Normally, I dissolved 1 package of gelatin in 2 cups of unsweetened apple juice (following package instructions). I let the gelatin thicken slightly in the fridge for about 1 hour before spooning it over the fruit.
Oma's Tips:
YES, this recipe really only uses 6 tablespoons of flour!
Although it seems like an unlikely small amount, it really is all that is needed to make one tart.
The sponge base for this fruit tart recipe is so easy ... it uses only 4 ingredients!
These are ingredients you probably already have on hand. 
Because the base is so easy to throw together, always keep some pudding and canned fruit in your cupboard so you can throw together this easy dessert recipe when you're in a hurry.
Oma's Obsttorte ~ German Fruit Flan Recipe❤️
Ingredients:
6 tbsp all-purpose flour
6 tbsp granulated sugar (or 5 tbsp granulated sugar and 1 tbsp vanilla sugar
1 tsp baking powder
3 eggs
filling (your choice ... see above and below for ideas)
Instructions:

Preheat oven to 360° F

Grease a flan pan.
Put all ingredients in a bowl and mix with a hand mixer till light and fluffy, about 2 - 3 minutes.
Pour into prepared pan.
Bake for 18 - 20 minutes or until golden brown.
Let cool on rack for about 5 minutes. Turn out onto wire rack and let cool before filling.
Filling for Fruit Tart as shown above
Prepare 1 package of instant vanilla pudding (using only 1¾ cup milk instead of the required 2 cups) Let pudding thicken and then spread onto cold cake base. 
Cover with fruit ... in this case, strawberry slices and fresh blueberries.
See above for other combinations.
Other traditional fillings
Make as above and finish by covering with a glaze.
Or, brush tart with jam, cover with prepared fruit or berries, and spoon glaze over top.
Use Dr. Oetker glaze or make your own using the instructions above. 

Want nutritional information? Copy and paste the above ingredient list and the number of servings into Calorie Count for an approximate calculation.
Need help doing conversions between cups and grams, etc.? Use this site to give you all the different conversions for the different types of ingredients.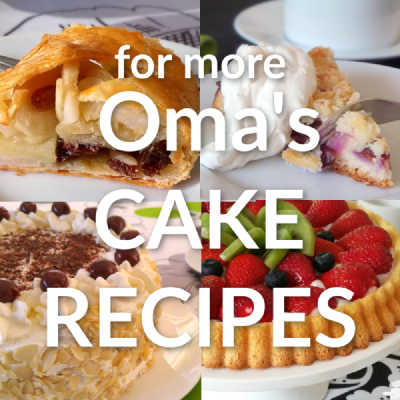 Leave a comment about this recipe or ask a question?
Pop right over to my private Facebook group, the Kaffeeklatschers. You'll find thousands of German foodies, all eager to help and to talk about all things German, especially these yummy foods. 
I pop in all the time as well, to chat and to answer questions. 
Meet with us around Oma's table, pull up a chair, grab a coffee and a piece of Apfelstrudel, and enjoy the visit.
*  *  *  *  *
Want nutritional information for a recipe?
Copy and paste the ingredient list and the number of servings into Calorie Count. 
It will give you an approximate calculation.

Need help doing conversions
between cups and grams or any such thing?
Use this site to give you all the different conversions for the different types of ingredients. 
---
PIN this ... to share and see how Oma makes her Fruit Flan (Obsttorte) and for easy filling ideas, such as vanilla pudding! 
---
Cheese Spätzle is a traditional German noodle dish. A sort of Germanized version of 'Mac & Cheese', only better!

This Butterkuchen, also called Sugar Cake (Zuckerkuchen), a traditional German cake served for afternoon coffee. Loved by all, easy to make, delicious to eat!
---
---
Easy Fruit Flan Recipe made Just like Oma


By
Oma Gerhild Fulson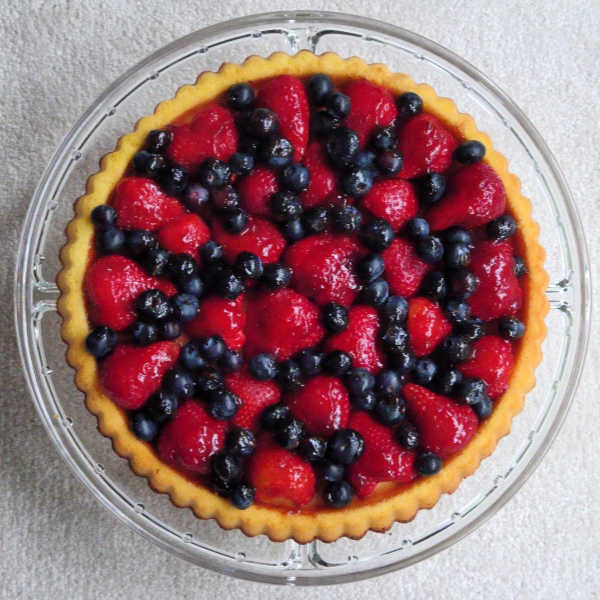 This fruit flan recipe (Obsttorte) is so quick and easy, takes just one hour from the start to the table. So versatile, so pretty ... and so good! WUNDERBAR!

Ingredients:
flour,
sugar,
baking powder,
eggs,
For the full recipe, scroll up ...
Words to the Wise
"Lazy people don't even cook the game they catch, but the diligent make use of everything they find."
Proverbs 12:27 (NLT)