German Blueberry Cake with Streusel: Ann's Blaubeerkuchen mit Streusel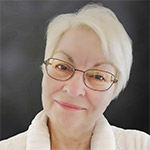 by: Gerhild Fulson  /  Cookbook Author, Blogger, German Oma!
As an Amazon Associate, I earn from qualifying purchases.
When I saw Anne Schrader's German blueberry cake, aka Blaubeerkuchen, in my Kaffeeklatscher Facebook group, I just knew I had to ask her for the recipe. I'm so excited that she agreed to share it with us!
Excited because living in Canada, I can get amazing fresh blueberries, just perfect for this treat.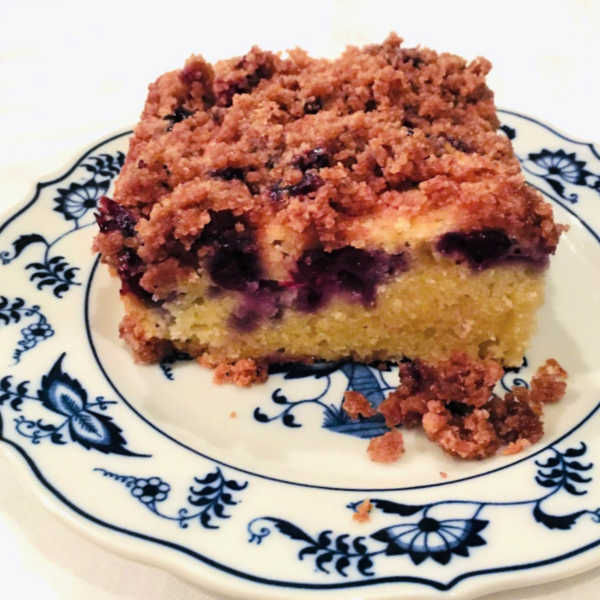 The Lueneburg Heath in in the northeastern part of the state of Lower Saxony in northern Germany is Germany's largest blueberry-producing region and one of the largest in Europe. The blueberries, aka Heidelbeeren or Blaubeeren, weren't ripe when we were there, but this photo will surely make you want to visit as well.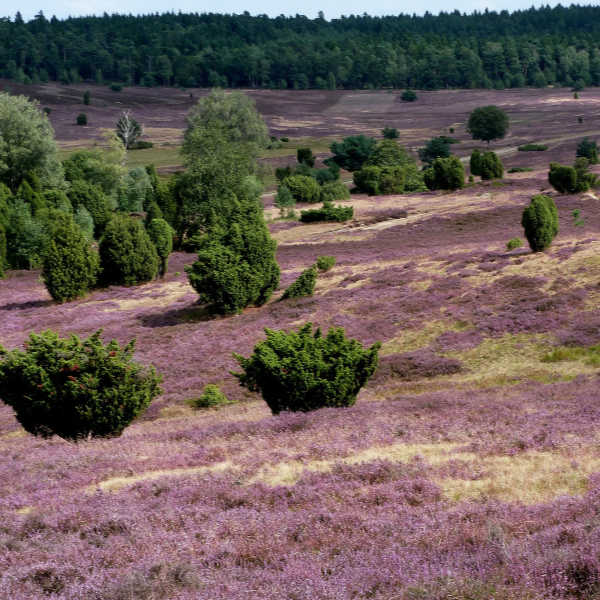 When Anne sent me her recipe, she also wrote a "bit" about it and its history. She added: We've enjoyed the cake - it seems a little bit disappears each time we walk through the kitchen, which is one reason I don't bake regularly! We have a small house and you have to go through the kitchen to go anywhere!"
Grab your copy of Oma's favorites in her Special Occasion German Cakes & Tortes e-Cookbook.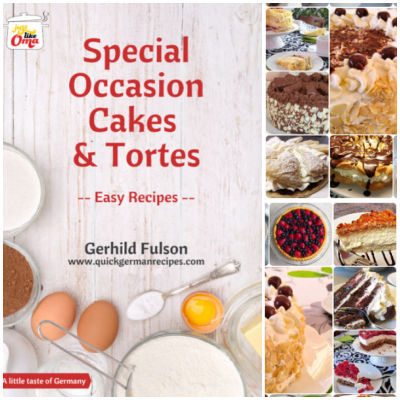 Take a peek at all Oma's eCookbooks. They make sharing your German heritage a delicious adventure!
The History of this German Blueberry Kuchen
I'm letting Anne tell you exactly what she told me ...
As to the history of the Blueberry Kuchen recipe, well it's pretty straight forward. 
In the early '80s our house was next door to a wonderful family.  The couple had 5 adult children, with 2 of their daughters living at home, one daughter living out of state and both of their sons worked in the family business with their dad.
The Gillies just "took us in" and treated us like family. My daughter was about 4 at the time and they only had grandsons living in the area, so they loved having a little girl around. Their daughter, Mary, had worked in restaurants for a while and we shared our interest in food and baking.
Her mother was a wonderful cook and needless to say, the girls learned their way around the kitchen! When Mary provided me with the Blueberry Kuchen recipe that I had enjoyed at their house, I was thrilled.
It has been one I've made throughout the years, although this year (2020), in particular it seemed so appropriate to make something I remember from a carefree summer so many years ago.

I also asked Anne for a bit of her background. I'm going to add just what she wrote right below the recipe. As you will see, she's quite the writer and told me to shorten it as needed. I couldn't. I enjoyed reading it all, so I thought you would as well!
Ready to make this German Blueberry Kuchen?
Is the recipe below locked? Here's why. 
As an Amazon Associate, I earn from qualifying purchases.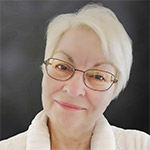 For more German-inspired items that make life easier and yummier, especially in the kitchen and for entertaining, follow my Amazon Storefront.
➙ For groceries,
Try Amazon Fresh
.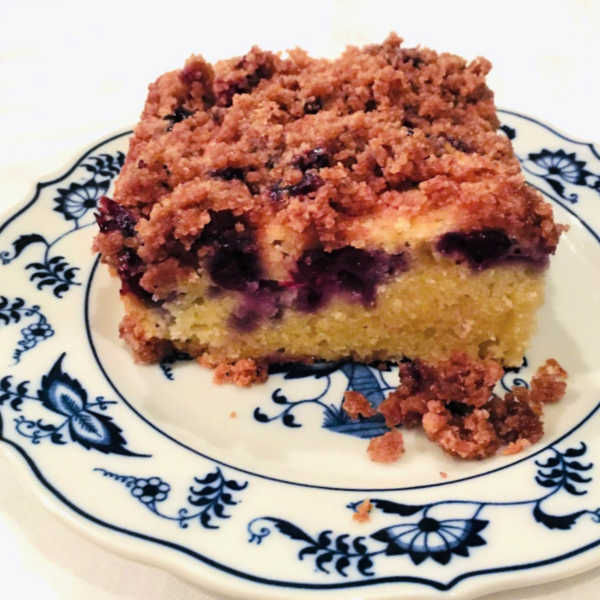 German Blueberry Cake with Streusel: Ann's Blaubeerkuchen mit Streusel

When I saw Anne Schrader's German blueberry cake, aka Blaubeerkuchen, in my Kaffeeklatscher Facebook group, I just knew I had to ask her for the recipe. I'm so excited that she agreed to share it with us!
Topped with streusel, this is a treat you'll make often.
Prep Time


20 minutes


Bake Time


50 minutes


Total Time

70 minutes

Servings:

Makes 12 - 16 servings
Ingredients:
Topping:
¾ cup light brown sugar (packed)
6 tablespoons COLD butter (softened slightly, but not melted)
¾ cup flour, all-purpose
1 teaspoon ground cinnamon
Batter:
2½  cups flour, all-purpose
1 cup white sugar
1½ teaspoons baking powder
½ teaspoon salt (use less if using salted butter)
½ teaspoon ground mace (or ¼ teaspoon nutmeg)
1 teaspoon finely grated lemon peel (zest only)
10 tablespoons COLD unsalted butter
2 large eggs (room temperature)
1¼ cup milk
½ teaspoon vanilla extract
1 pint fresh blueberries (rinsed but be sure they are not wet)
Instructions:
Topping:
Cream butter and sugar until thoroughly blended.
Mix flour and cinnamon and add to the butter/sugar mixture. Do not overmix, as you do want crumbles. Set aside.
Batter:
Preheat oven to 350°F and grease a 9x12-inch baking pan.
Sift the flour, sugar, baking powder mace (or nutmeg) and salt into a large bowl. (As this step is to mix the ingredients and the ingredients are NOT SIFTED before measuring, I usually just mix well with a wire whisk to blend everything.)
Stir in the lemon peel
Cut in the butter with pastry blender or fork until mixture resembles course meal.
In a small bowl beat the eggs until frothy. Add the milk and vanilla stir well. (Because I like to use as few dishes as possible, I will measure my milk into a 2 cup liquid Pyrex measuring cup, add the vanilla and the eggs and mix really well).
Pour the liquid into the dry ingredients, MIX LIGHTLY UNTIL JUST MOIST (DO NOT OVERMIX).
Pour the batter into the greased pan.
Scatter the blueberries over the batter and use the back of a spoon to press them into the batter. Don't push all of them all the way down, you'll give a better effect if some are deeper than others, but should be at least pushed into the batter, not laying on top.
Scatter the topping crumbles evenly over the batter.
Bake
Check with toothpick after 50 minutes. (If you really know how your oven performs you may need to check around 45 minutes.)
Let cool a bit before slicing. This kuchen is good warm, room temperature and the flavors do blend well overnight (if there is any left!)
Notes/Hints:

In the future I might consider putting in a 8x8-inch pan to make it a little higher and a muffin tin to have single servings, too!
*  *  *  *  *

Unless otherwise noted recipe, images and content © Just like Oma | www.quick-german-recipes.com

---
A "little" bit about Anne Schrader
➤ by Anne Schrader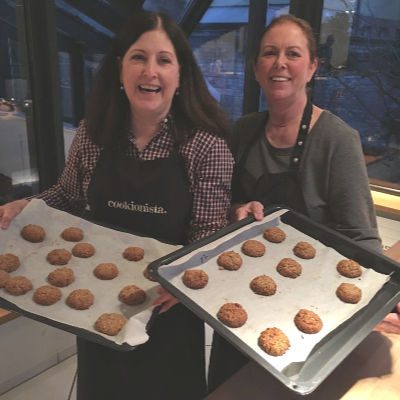 I am attaching a photo from December 2019, taken with my dearest friend, Denise Thomas (on the left).
We do a Christmas market cruise in Germany every year and last year we were on the Danube from Vienna to Nuremberg. (That's one of the perks of owning a travel agency!)
But in December, Denise found a class that we could take to learn how to bake Lebkuchen while we were in Nuremberg.

As far as my background with baking, it's really funny.  I made my first "scratch" cake at the age of 4 (I'm now 68).
I stayed with my Mammaw (grandmother) everyday while my mom worked. Mammaw baked every day, either cakes to be frozen should one of the church members or town's residents "passed" or to ALWAYS have a fresh one should a friend drop by for coffee and, and naturally, so my Gran (grandfather) had dessert after his evening meal.

Hot bread daily, pies and when the weather wasn't too humid, candy.
Along with her baking, she loved to garden; always had flowers to move and replant  And, of course, her clothesline was always full of beautifully laundered linens & clothes.
The latter is why I had access to baking. I was her kitchen "helper", too little to assist with laundry.
Mammaw had just finished baking a cake and unlike most days, she didn't put the ingredients away after their use. So, when the timer went off indicating the wash was finished, she went outside to the wash house and left me and the ingredients together in the kitchen!
I proceeded to "not have idle hands" (because you know what happens with that!) and I proceeded to make a chocolate cake!
It was in the oven by the time she returned to the house so there was nothing to do but wait for the results!
Luckily, she proclaimed I had done a good job, although I remember she told me that it could have used more sugar. She fixed that by adding a layer of apricot jam between the layers, frosting it and voilà – a masterpiece! I had officially started my baking career!
I worked in my school cafeteria for 9 years, progressing from clearing tables after lunch period to cooking on the line for the entire school (might not be too impressive if you knew the school only had around 200 students grades 1-12).
All of the cooks and kitchen staff were moms of the students.  A couple of recipes I still cook today I learned there, but especially macaroni and cheese – I'm still mystified why so many places make it so difficult to cook. My granddaughter has proclaimed it the "best in the world"!
During my last 2 years of high school, I also worked part time as a waitress and short order cook for a local restaurant. I learned so many things from the owners and can make hamburgers, fries, hotdogs and steak fingers for a crowd without thinking about it!

It took me 13 years to truly decide what I wanted to do and after 16 years after my high school graduation, I finally got my degree in Hotel and Restaurant Management in 1986!
I took a position for an intern job with the US Army Morale and Support Division. At basic training, I graduated top of my class in their Food Enhancement Program, which in my mind, was the culmination of many years of working in various restaurant jobs, but mainly learning my cooking skills from my wonderful grandmother!
Oh, lest I forget, my mom did cook, but my brothers always said they'd marry a girl that was fun and loved sports like our mom, but cooked like our Mammaw!

I married Hank in 1986 and believe me, my cooking skills progressed considerably! He had traveled the world, an Army officer, son of an Army officer and except for not really liking vegetables, fish (except shellfish) and not caring at all for my favorite, liver and onions, well, he taught me to be adventurous with spices and use my nose and taste buds to experiment!
Back when he was working full time (I should say for someone besides our business) we cooked and entertained a lot. When we moved back to Texas in 2001, we really put most of that on "hold".
At one point when we lived in Wisconsin, we were featured in our local news for his grilling expertise and my marinates.  Actually, we were enrolled in a German language class and our teacher was a young lady whose "day job" was a reporter for the paper.
She encouraged us to let her write a special interest story about us.  Our daughter was in high school and literally "demanded" that the only way we could be pictured in the paper was if Hank got a new grill to replace the one that truly had seen better days.
I'm not sure if he had encouraged her to give me the "or else", but he did end up with a new Weber, and truthfully, I didn't regret the expense one bit! 
Now this is what I had written and as you'll see I can really get into my stories. It's a family trait – my brother's wife always asks us both "if our caboose ever gets into the station"!
And actually it does, but it sure travels around before then!
Anne Schrader, CTC, ACC, LCS, DS
President & Certified Travel Professional
Dream Destinations ~ We Are Europe River Cruise Experts!
---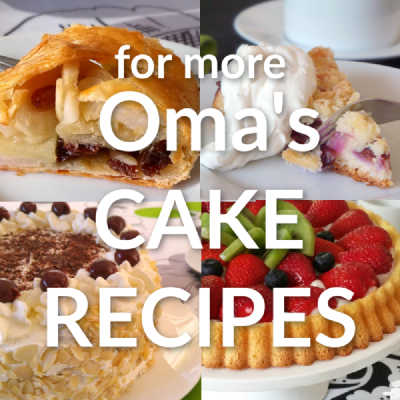 Leave a comment about this recipe or ask a question?

Pop right over to my private Facebook group, the Kaffeeklatschers. You'll find thousands of German foodies, all eager to help and to talk about all things German, especially these yummy foods. 
Meet with us around Oma's table, pull up a chair, grab a coffee and a piece of Apfelstrudel, and enjoy the visit.

This easy German Apple Strudel recipe is one of those German desserts that brings the traditional strudel taste to your table without all the work. Wunderbar!!

Make the perfect German Spaetzle with Oma's easy recipe! This traditional German egg noodle pairs perfectly with caramelized onions for a delicious meal.

Choose from Oma's cookbooks that are immediately downloadable & start cooking easy classic German foods tonight. Or get her newest paperback cookbook. LECKER!
*  *  *  *  *
PIN to SAVE this recipe to your Pinterest board!
And let's be friends on Pinterest!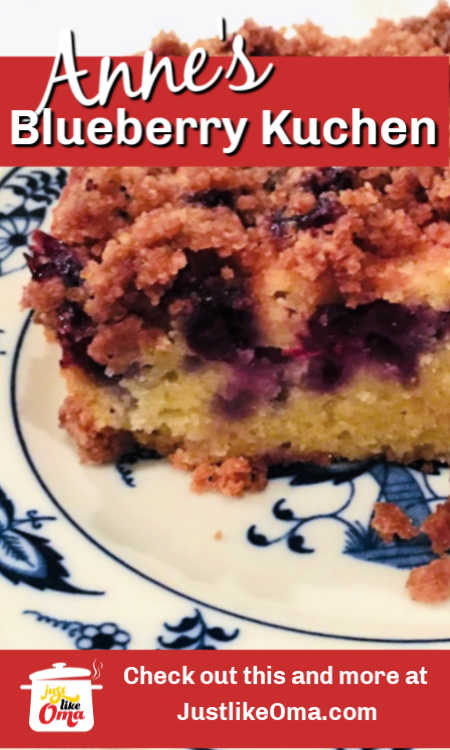 ---
Anne's German Blueberry Cake with Streusel
By
Oma Gerhild Fulson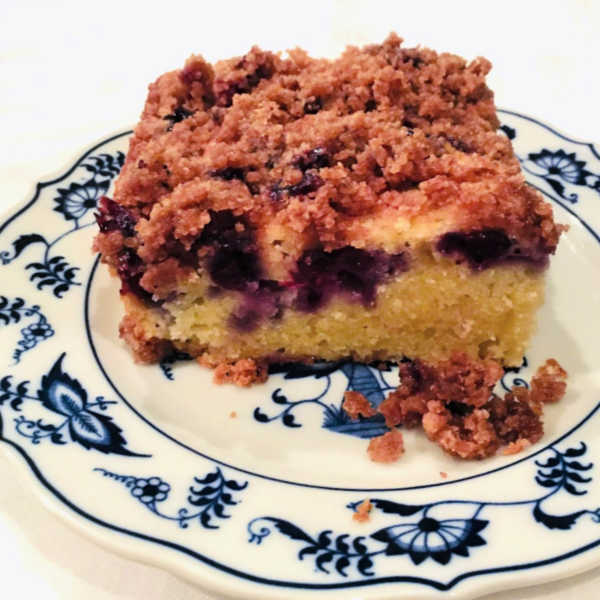 Looking for a German blueberry cake that's so easy to make and so delicious? Look no further. It's here!
Ingredients:
butter,
brown sugar,
all-purpose flour,
butter,
cinnamon,
sugar,
baking powder,
spices,
lemon zest,
eggs,
milk,
vanilla,
blueberries,
For the full recipe, scroll up ...
Words to the Wise
"As a face is reflected in water, so the heart reflects the real person."
Proverbs 27:19 (NLT)