Oma's German Fruit Torte Recipe ❤️

➤ by Oma Gerhild Fulson
FTC Disclosure: As an Amazon Associate, I earn from qualifying purchases.
Yes, my fruit torte recipe, aka Obsttorte,  is so delicious. With fresh berries, it's one of those great fruit dessert recipes to enjoy in the summer. I've used various mixes of berries, such as raspberries, strawberries, blackberries, and/or blueberries. Above, you'll see blackberries, strawberries and green grapes. You could just use strawberries, for example, and make Strawberry Fruit Torte.
Since there's no wheat flour used, this is a gluten-free recipe (check that the cornstarch is pure!) It's a great "diet" German dessert, very light and with little sugar. Actually no sugar is used. Honey is added for sweetness.
Using gelatine (granulated, package, or leaf)
The original recipe calls for one leaf of gelatine dissolved in 100 ml of juice.
This is commonly used in traditional German recipes, but does not dissolve as easily as the granulated gelatine. If you have leaf gelatine, you can use it here. 
The conversion for gelatine is 4 leaves = 1 package gelatine = 1 tsp granulated gelatine.

For the Obsttorte pictured above, I used lots and lots of huge strawberries, blackberries, and halved grapes. Because of the quantity of fruit, I dissolved 1 package of gelatine in 2 cups of unsweetened apple juice (following package instructions). I let the gelatine thicken slightly in the fridge for about 1 hour before spooning it over the fruit.
Oma says,
Serve this with frozen vanilla yogurt for a scrumptious finish to a traditional German meal.
For a more decadent dessert, serve with a dollop of whipped cream!
Oma's German Fruit Torte Recipe ❤️
Ingredients:
2 eggs, separated
pinch salt
3 tbsp honey
1½ cups ground almonds
2 tbsp cornstarch
1 lb fresh strawberries (or mixed berries)
¼ tsp gelatine (or 1 leaf)
3 oz unsweetened apple juice
Instructions:
Preheat oven to 350°F.
Beat egg whites with pinch of salt until stiff.
Stir in honey.
Fold in stirred egg yolks.
Mix ground almonds and cornstarch together. Add to egg white mixture and mix gently.
Put batter into greased 8-inch springform pan. Bake 20 minutes or till done.
Let cake cool. Remove from pan. Place on cake plate. Replace outer ring of spring-form pan around cake.
Place berries on cake (if large, cut in half).
Prepare gelatine according to package. Dissolve in heated apple juice.
Spoon gelatine over berries. Let set. Remove spring-form ring.
Serves 10
Hints: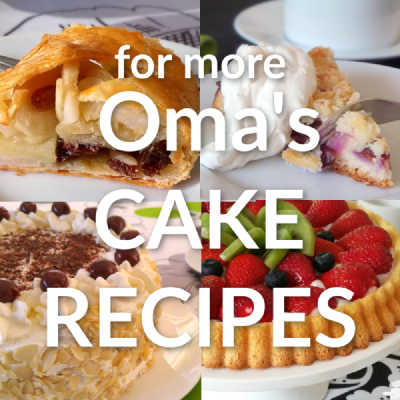 Leave a comment about this recipe or ask a question?
Pop right over to my private Facebook group, the Kaffeeklatschers. You'll find thousands of German foodies, all eager to help and to talk about all things German, especially these yummy foods. 
I pop in all the time as well, to chat and to answer questions. 
Meet with us around Oma's table, pull up a chair, grab a coffee and a piece of Apfelstrudel, and enjoy the visit.
*  *  *  *  *
Want nutritional information for a recipe?
Copy and paste the ingredient list and the number of servings into Calorie Count. 
It will give you an approximate calculation.

Need help doing conversions
between cups and grams or any such thing?
Use this site to give you all the different conversions for the different types of ingredients. 
---
---
Jagerschnitzel: Rich creamy bacon & mushroom gravy over crispy breaded pork schnitzel (cutlets). HEAVENLY! A traditional German meal that's PERFECT anytime.

My Bienenstich recipe is a quick version of the traditional "German Bee Sting Cake". Sweet, chewy, nutty top with a creamy filling. Yummy!
---
Words to the Wise
"Rumors are dainty morsels that sink deep into one's heart."
Proverbs 18:8 (NLT)