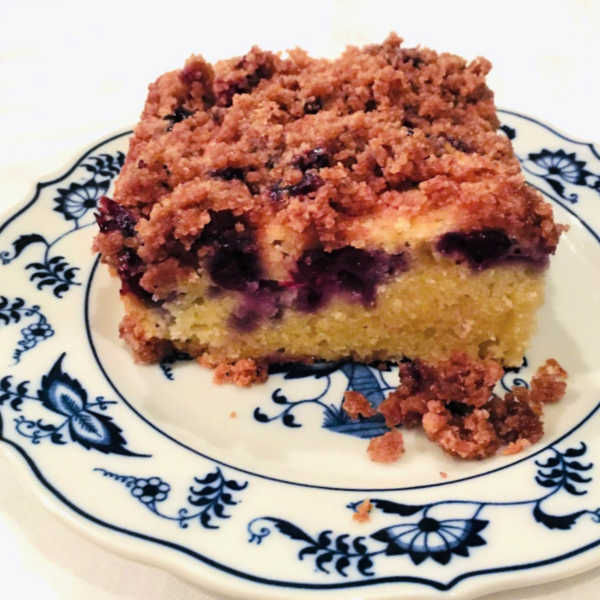 German Blueberry Cake with Streusel: Ann's Blaubeerkuchen mit Streusel

When I saw Anne Schrader's German blueberry cake, aka Blaubeerkuchen, in my Kaffeeklatscher Facebook group, I just knew I had to ask her for the recipe. I'm so excited that she agreed to share it with us!
Topped with streusel, this is a treat you'll make often.
Prep Time


20 minutes


Bake Time


50 minutes


Total Time

70 minutes

Servings:

Makes 12 - 16 servings
Ingredients:
Topping:
¾ cup light brown sugar (packed)
6 tablespoons COLD butter (softened slightly, but not melted)
¾ cup flour, all-purpose
1 teaspoon ground cinnamon
Batter:
2½  cups flour, all-purpose
1 cup white sugar
1½ teaspoons baking powder
½ teaspoon salt (use less if using salted butter)
½ teaspoon ground mace (or ¼ teaspoon nutmeg)
1 teaspoon finely grated lemon peel (zest only)
10 tablespoons COLD unsalted butter
2 large eggs (room temperature)
1¼ cup milk
½ teaspoon vanilla extract
1 pint fresh blueberries (rinsed but be sure they are not wet)
Instructions:
Topping:
Cream butter and sugar until thoroughly blended.
Mix flour and cinnamon and add to the butter/sugar mixture. Do not overmix, as you do want crumbles. Set aside.
Batter:
Preheat oven to 350°F and grease a 9x12-inch baking pan.
Sift the flour, sugar, baking powder mace (or nutmeg) and salt into a large bowl. (As this step is to mix the ingredients and the ingredients are NOT SIFTED before measuring, I usually just mix well with a wire whisk to blend everything.)
Stir in the lemon peel
Cut in the butter with pastry blender or fork until mixture resembles course meal.
In a small bowl beat the eggs until frothy. Add the milk and vanilla stir well. (Because I like to use as few dishes as possible, I will measure my milk into a 2 cup liquid Pyrex measuring cup, add the vanilla and the eggs and mix really well).
Pour the liquid into the dry ingredients, MIX LIGHTLY UNTIL JUST MOIST (DO NOT OVERMIX).
Pour the batter into the greased pan.
Scatter the blueberries over the batter and use the back of a spoon to press them into the batter. Don't push all of them all the way down, you'll give a better effect if some are deeper than others, but should be at least pushed into the batter, not laying on top.
Scatter the topping crumbles evenly over the batter.
Bake
Check with toothpick after 50 minutes. (If you really know how your oven performs you may need to check around 45 minutes.)
Let cool a bit before slicing. This kuchen is good warm, room temperature and the flavors do blend well overnight (if there is any left!)
Notes/Hints:

In the future I might consider putting in a 8x8-inch pan to make it a little higher and a muffin tin to have single servings, too!
*  *  *  *  *

Unless otherwise noted recipe, images and content © Just like Oma | www.quick-german-recipes.com