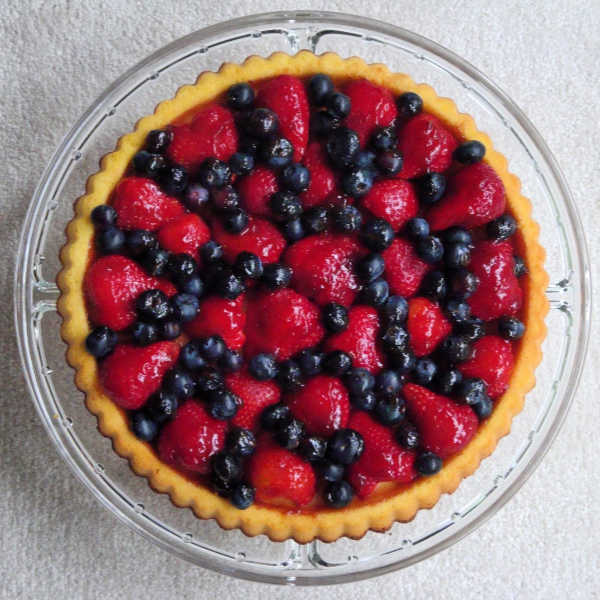 Oma's Obsttorte - German Fruit Flan Recipe
Obsttorte is both quick and easy to make. Taking just one hour from start to table, it's a great dessert to throw together when you have unexpected company dropping by. It's so versatile, so pretty, and so good!
This fruit flan recipe might even become your top choice for special occasions. Served with a dollop of whipped cream on the side, it is absolute perfection. 
Prep Time


15 minutes


Bake Time


18 minutes


Total Time

33 minutes

Servings:

Makes 8 servings
Ingredients:
Ingredients:
6 tablespoons (48 grams) all-purpose flour
6 tablespoons (78 grams) granulated sugar (or 5 tablespoons granulated sugar and 1 tablespoon vanilla sugar
1 teaspoon (4 gram) baking powder

3 large eggs
filling and glaze (see Notes/Hints below)
Instructions:
Preheat oven to 360°F (182°C).
Grease an 11-inch flan pan.
Put flour, sugar(s), baking powder, and eggs in a large bowl and mix with an electric mixer till light and fluffy, about 3 to 5 minutes.
Gently pour batter into the prepared tin.
Bake for 18 to 20 minutes or until golden brown.
Let cool on rack for about 5 minutes. Turn out onto wire rack and let cool completely before filling.
Notes/Hints:

How to Fill your Obsttorte as shown above:
Prepare 1 package of instant vanilla pudding (using only 1¾ cups milk instead of the required 2 cups). Let pudding thicken and then spread onto cold cake base. 
Cover with strawberry slices and fresh blueberries. You can spread them out in a circular pattern or any other pretty design.
Cover with Dr. Oetker's Tortenguss (glaze)
How to Make your own Glaze (Tortenguss):
For a clear glaze, choose apple or white grape juice. 
For a red glaze, choose a dark red berry or grape juice. If you don't have juice, then use water, adding lemon juice and sugar to taste.
Stir 1 tablespoon potato starch into ¼ cup juice until dissolved. Bring ¾ cup juice to a simmer. Stir in the starch mixture and simmer until thickened, about 30 seconds, stirring constantly. Let cool slightly. Spoon over fruit and let sit until set. 
If you are using canned fruit, you can use the juice you get by draining the canned fruit. If it's too sweet and syrupy, then dilute with a bit of water.
Cornstarch can be substituted for the potato starch, but the resulting glaze will be cloudy.
Alternate Glaze:
An easy and traditional alternative is to spread a thin layer of apricot glaze. Heat some apricot jam in the microwave, adding a bit of water if it's still too thick. Pass through a sieve, cool a bit, and brush on fruit glaze with a pastry brush.
Other German Fruit Flan Fillings:

Brush tart with jam, cover with prepared fruit or berries, and spoon glaze over top.
Spread a little vanilla crème on the bottom, topped with strawberries and glaze.
Use canned peaches (save the juice to make Tortenguss) and whipped cream; dust with cinnamon.
Spread melted dark or white chocolate over cake, then spread a layer of vanilla pudding topped with your favorite fruit and glaze.
Spread Nutella over the cake and cover with strawberries and lots of whipped cream.
What to do with Leftover Fruit:
By substituting any fruits for the peaches in this Streusel Cake, you'll have another easy and delicious treat.  
Unless otherwise noted recipe, images and content © Just like Oma | www.quick-german-recipes.com

02.09.2022 revision update