Kaiserschmarrn ~ Torn Pancakes

➤ by Oma Gerhild Fulson
Kaiserschmarrn, aka Torn or Scrambled Pancakes, are among those homemade pancakes recipes that will remind you of Oma's kitchen. These are a real traditional German pancake dish that actually stems from Austria.
"Schmarrn" is a 16th century German word meaning "to smear" or "to pain". It's difficult to figure out the connection of that meaning with this delectable treat! The sweet version of this German pancake recipe is called Kaiserschmarrn (Kaiser's).
Above are the Kaiserschmarrn my granddaughter, Lydia, made as she was staying over for a sleepover ... many, many years ago.
We had so much fun making these. Watching her creatively decorate them with fresh fruit and teaching her how to dust them with powdered sugar (using a sieve) was almost as much fun as we had devouring them. Precious memories.
More Schmarrn ...
There's one made with bread called "Semmelschmarrn"
One made with Cream of Wheat called "Grießchmarrn"
Being German, of course there's one made with potatoes called "Kartoffelschmarrn"
All these Schmarrn are true comfort food! So perfect for imperfect times, such as these. 
Kaiserschmarrn Fun Fact!

Did you know that Kaiserschmarrn first made an appearance during the time just before the 20th century? Or that its name can otherwise be known as "The dessert of the Emperor"?
It was first ever made and served to an Austrian Emperor named Franz Joseph I. It is said that his imperial chef was the one to invent the delicious recipe... I bet he had no idea it would become such a hit across his country, and then the world!
Kaiserschmarrn has become a delicacy among Austria, and all across Europe, especially Germany too! It can be found in bakeries and on the tables of many family homes. Many serve it as a dessert, while many also enjoy it for Sunday brunch.
It isn't hard to find kaiserschmarrn around Germany, especially in Bavaria where it is most popular! During Oktoberfest, you can find this treat under many booths and sold in tents by lots of vendors! 
Seems we have a great imperial chef to thank for inventing such a spectacular treat! :)
Need that "all's good with the world" feeling? Comfort food will do that. Get your copy of Oma's German favorites in her Comfort Foods e-Cookbook.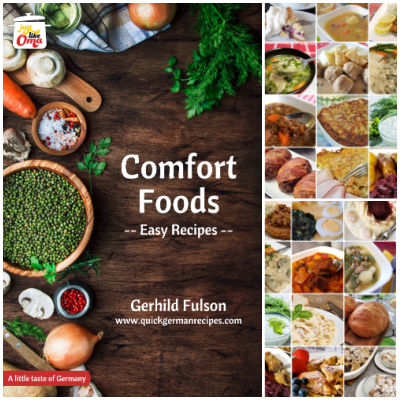 Take a peek at all Oma's eCookbooks. They make sharing your German heritage a delicious adventure!
I was asked about this some time ago. Roger was looking for a recipe for Crostedi. I was finally able to track it down as Kratzeti which is the Austrian name for these pancakes and are very popular in the Swabian or Bavarian region of southern Germany.
Served at breakfast, lunch, or a light supper, you'll find it a reminder of Oma's kitchen. Yummy, yummy!
---
Lydia Remembers...
I have so many Wunderbar memories in the kitchen with my Oma, and have had MANY of her most popular and traditional recipes, like this kaiserschmarrn!
Kaiserschmarrn has by far become one of my favorite recipes I've made with Oma, and is one that I certainly don't make enough. 
I remember making this recipe for the first time with Oma at one of our sleepovers, and my favorite part was getting to tear it up, of course. There aren't many recipes where you get to rip it apart after you make it. It's always, "Don't play with your food, Lydia.".... Well, that's the best part about kaiserschmarrn!
Seeing as I'm not much of a morning person, it's got to be a pretty Wunderbar recipe for me to want to cook so early. ;) This recipe is sooo worth it! Between this one and the German apple pancake, even the not so early-birds will love this breakfast recipe! But the great thing about kaiserschmarrn is that it can be served anytime! Breakfast, lunch, or dinner! I've certainly had it for all three.
Dusted with a little icing sugar and my favorite fruits on the side...YUM! I love adding lots of icing sugar on top, and honeydew melon or fresh peaches on the side. You can serve it with whichever fruit you'd like! Or try it with syrup, even whipped cream, and make it a dessert! 
With a recipe so versatile, there are no rights and wrongs, just have fun!
Learn a little bit about me, Lydia, and my kitchen adventures with Oma!
---
Ready to make Kaiserschmarrn?
German Torn Pancakes aka Kaiserschmarrn Recipe
Kaiserschmarrn, aka Torn or Scrambled Pancakes, are among those homemade pancakes recipes that will remind you of Oma's kitchen. Served at breakfast, lunch, or a light supper, you'll find it a reminder of Oma's kitchen. Yummy, yummy!
This is real traditional German pancake dish actually stems from Austria, but ... shhhh ... we won't tell. 
Prep Time


15 minutes


Cook Time


15 minutes


Total Time

30 minutes

Servings:

Makes 4 servings
Ingredients:
4 large eggs, separated
¾ cup (98 g) flour, all-purpose
½ cup (120 ml)  milk
pinch salt
1 tsp (4 g) baking powder
2 tbsp (26 g) granulated sugar
4 oz (113 g) raisins
4 tbsp (56 g) butter, divided
powdered sugar to sprinkle over pancakes
Instructions:
Mix together egg yolks, flour, milk, salt, baking powder and sugar till well mixed. Let batter stand for 10 minutes.
Meanwhile, beat egg whites until stiff.
Gently fold egg whites into batter.
Gently fold in raisins.
In frying pan, melt 2 tbsp butter over medium heat. Pour in batter and fry until cooked on bottom.
Flip pancake, adding 2 tbsp butter, and continue to cook on other side until crispy.
Using two forks, tear pancake into pieces and continue cooking briefly.
Serve, dusted with powdered sugar. Tastes great served with fruit or fruit sauce.
Notes/Hints:

You can omit the raisins
Or, you can soak those raisins in rum first

Another perfect "pancake" dish for breakfast, lunch, buffets and supper is the German apple pancake that's made in the oven. So goood as well!
*  *  *  *  *

Unless otherwise noted recipe, images and content © Just like Oma | www.quick-german-recipes.com

03.01.2021 revision update
Leave a comment about this recipe or ask a question?

Pop right over to my private Facebook group, the Kaffeeklatschers. You'll find thousands of German foodies, all eager to help and to talk about all things German, especially these yummy foods. 
Meet with us around Oma's table, pull up a chair, grab a coffee and a piece of Apfelstrudel, and enjoy the visit.

Oma's Cream Roll recipe, Biskuitrolle, is the German version of a Swiss roll or jelly roll. Filled with whipped cream and studded with berries, this is an easy-to-make treat anytime of the year.

Make this pan roasted carrot recipe when you're wanting quick and easy carrots just like this German Oma makes them. Similar to oven roasted, just quicker. YUM!

Cooking green beans, German-style, makes a wonderful side dish for almost any meal. Cooking the grüne Bohnen till just tender with a creamy white sauce is so traditional and so lecker!
*  *  *  *  *
PIN this ...
---
Kaiserschmarrn - German Pancake Recipe made Just like Oma
By
Oma Gerhild Fulson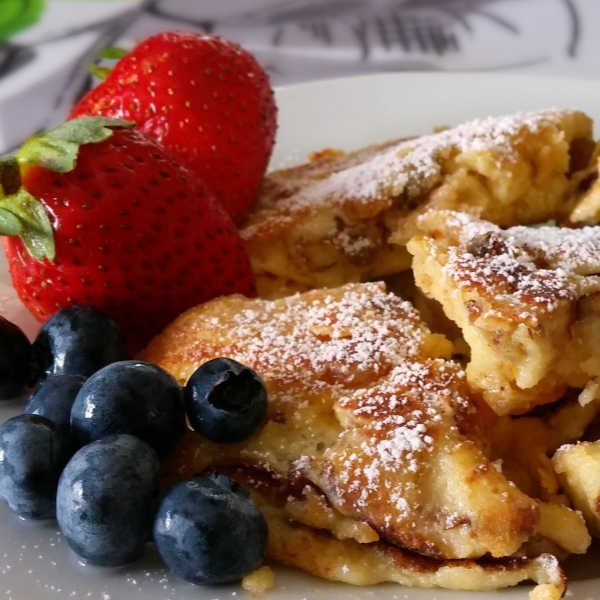 Kaiserschmarrn are among those homemade pancakes recipes that will remind you of Oma's kitchen. A traditional German pancake.
Ingredients:
eggs,
all-purpose flour,
baking powder,
milk,
salt,
sugar,
raisins,
butter,
powdered sugar,
For the full recipe, scroll up ...
Words to the Wise
"Don't waste your breath on fools, for they will despise the wisest advice."
Proverbs 23:9 (NLT)