Kaiserschmarrn ~ Torn Pancakes ❤️

➤ by Oma Gerhild Fulson
FTC Disclosure: Making a purchase via a link on the page? I may earn a small commission on the transaction - at no added cost to you. Thanks!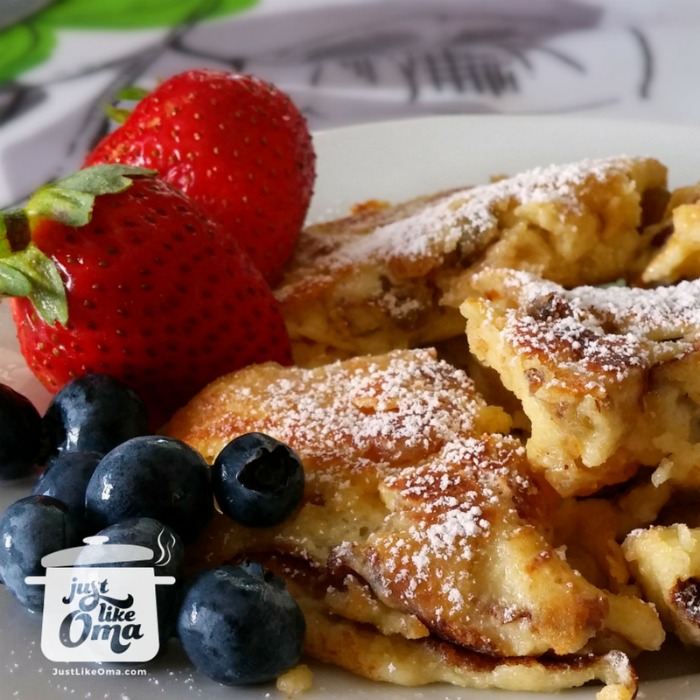 Kaiserschmarrn, aka Torn or Scrambled Pancakes, are among those homemade pancakes recipes that will remind you of Oma's kitchen. A real traditional German pancake dish that actually stems from Austria. Below are two recipes. The first one is the more traditional one. The second is a quicker, also delicious one. Try them both and see which you like best.

"Schmarrn" is a 16th century German word meaning "to smear" or "to pain". It's difficult to figure out the connection! The sweet version of this German pancake recipe is called Kaiserschmarrn (Kaiser's).
1.  German Torn Pancakes
aka Kaiserschmarrn Recipe
Ingredients:
4 eggs, separated
¾ cup flour
½ cup milk
pinch salt
1 tsp baking powder
2 tbsp granulated sugar
4 oz raisins
4 tbsp butter
powdered sugar to sprinkle over pancakes
Instructions:
Mix together egg yolks, flour, milk, salt, baking powder and sugar till well mixed. Let batter stand for 10 minutes.
Meanwhile, beat egg whites until stiff.
Gently fold egg whites into batter.
Gently fold in raisins.
In frying pan, melt 2 tbsp butter over medium heat. Pour in batter and fry until cooked on bottom.
Flip pancake, adding 2 tbsp butter, and continue to cook on other side until crispy.
Using two forks, tear pancake into pieces and continue cooking briefly.
Serve, dusted with powdered sugar. Tastes great served with fruit or fruit sauce.

---
More Schmarrn ...
There's one made with bread called "Semmelschmarrn"
One made with Cream of Wheat called "Grießchmarrn"
Being German, of course there's one made with potatoes called "Kartoffelschmarrn"
I was asked about this some time ago. Roger was looking for a recipe for Crostedi. I was finally able to track it down as Kratzeti which is the Austrian name for these pancakes and are very popular in the Swabian or Bavarian region of southern Germany.
In response to Roger's question, I posted a recipe for "Kratzeti" under his request. It's a really simplified version of this traditional homemade pancakes recipes.
Above is the more traditional recipe for this treat. Served at breakfast, lunch, or a light supper, you'll find it a reminder of Oma's kitchen. Yummy, yummy!
2.  Kratzeti or Schmarrn

Ingredients:

1 cup flour, all-purpose
pinch salt
4 eggs
½ cup milk
Instructions:
Whisk together until well mixed. 
Let stand about 20 - 30 minutes.
Melt about 2 - 3 tbsp butter in frying pan. Add pancake batter. 
When bottom of pancake has browned, turn pancake over, tearing into pieces with a fork.
Continue frying till all is golden brown.
Serve, sprinkled with sugar.
Hints:
If you wish, you can add 2 tbsp. sugar to the pancake batter as well.

Want to leave a comment about this recipe or ask a question?
Pop right over to my private Facebook group, the Kaffeeklatschers. You'll find thousands of German foodies, all eager to help and to talk about all things German, especially these yummy foods. 
I pop in all the time as well, to chat and to answer questions. 
Meet with us around Oma's table, pull up a chair, grab a coffee and a piece of Apfelstrudel, and enjoy the visit.
*  *  *  *  *
Thinking of starting your own Handmade Business?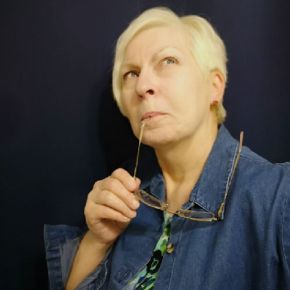 This Oma KNOWS you CAN do it.
How do I know?
Well, if I can do it, anyone can.
I've even figured out how I can help you.
I've teamed up with my own business coach, Renae Christine (yes, do google her!), to bring you this free masterclass. After you watch it, ask me any questions and I'll gladly answer them.
Don't hesitate. I'm not sure how long Renae will keep this free masterclass available.
PS:  Yes, Renae really is as amazing as all the reviews say.
PPS: Yes, the course is for handmade items, but I've used it successfully for my cookbooks. I know others are using her methods for services, direct sales, and even a local ice cream bar & grill that's constantly selling out. You've nothing to lose by taking a look ... and a whole bunch to gain.
*  *  *  *  *
Oma's Cookbooks (downloadable & print)
*  *  *  *  *
Want nutritional information for a recipe?
Copy and paste the ingredient list and the number of servings into Calorie Count. 
It will give you an approximate calculation.

Need help doing conversions
between cups and grams or any such thing?
Use this site to give you all the different conversions for the different types of ingredients. 
---
---
Oma's German schnitzel recipe (Jäger-Schnitzel) is great if you need something delicious that's quick to make as well. So traditionally German and so WUNDERBAR!

Learn how to cook pork hocks, anytime you want something traditionally German and wonderfully delicious! A hearty meal for any time of the year!
---
Words to the Wise
"Don't waste your breath on fools, for they will despise the wisest advice."
Proverbs 23:9 (NLT)
---
❤️ Kaiserschmarrn - German Pancake Recipe made Just like Oma


By
Oma Gerhild Fulson
Kaiserschmarrn are among those homemade pancakes recipes that will remind you of Oma's kitchen. A traditional German pancake.

Ingredients:
eggs,
sugar,
baking powder,
flour,
For the full recipe, scroll up ...