Easy German Potato Pancakes Recipe – Oma's Kartoffelpuffer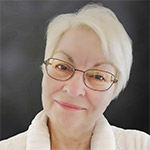 by: Gerhild Fulson  /  Cookbook Author, Blogger, German Oma!
As an Amazon Associate, I earn from qualifying purchases.
Traditional Kartoffelpuffer made with this easy potato pancake recipe will bring back memories of Oma's kitchen, for sure! Crispy and delicious, just they way they should be.
I had rebelled against making these German potato pancakes in the traditional way after I had scraped my knuckles grating potatoes. Everyone loved the pancakes, but I had to find easier and safer way to make potato pancakes. 
Out came the blender ... and you'll find that recipe linked below. It's the way I USED to make this treat. HOWEVER, I've just recently purchased a food processor with a grating blade, so now we're enjoying the traditional German potato pancakes, once again.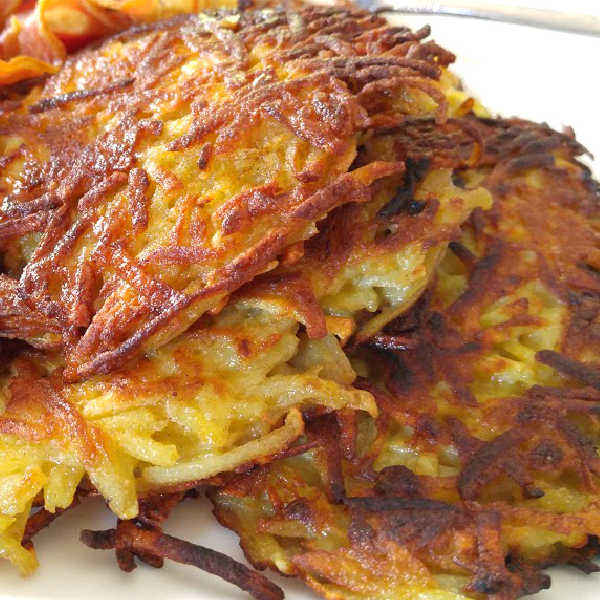 In the photo above, hubby has loaded his plate of traditional potato pancakes with bacon.
Me? I like to sprinkle sugar over mine or have some home-made apple sauce on the side. So lecker! 
In Germany, these pancakes are readily available at outdoor markets, festivals, and beer garden menus. One of the reasons that it's a popular street food is that it's easier and doesn't smell up the kitchen. Never-the-less, fresh, made-at-home potato pancakes are a treat!
I often use the side burner of my BBQ in the summer to make these. However, nothing really stops me from making these inside when that craving hits.
Different Names for German Potato Pancakes
There are several common names for these potato cakes in German. They are Kartoffelpuffer (that's what I grew up with), Reibekuchen, Reiberdatschi, Erdäpfelpuffer and Erdäpfellaibchen. It all depends upon which region of Germany one is from.
The word, Erdäpfel (plural for Erdapfel), is literally translated as earth apple ... an interesting name for the potato and is most commonly used in the Bavarian region. It's actually the same way that the French name their potatoes, pomme de terre also meaning apple of the earth. I'm curious if anyone knows why?
Oma's German BLENDER Potato Pancakes:
If you like really super easy recipes, then make these easy Kartoffelpuffer, by using a blender. They won't have that grated potatoes look or texture, but the flavor will still be there: delicious.

Above, they are served with applesauce on the side.
If you don't have an electric grater like I do, and don't want to use a hand grater to make the recipe below, then you can use your blender and instead follow my simple recipe here.
What to serve with Potato Pancakes?

For me, this is really an unusual question.
I grew up in a German household and all we had were potato pancakes as the main meal with either sugar on them or sweet applesauce on the side. That was a great dinner meal and that was so good!
However, as I grew up, I realized that many people actually use these yummy German Kartoffelpuffer as a side dish or as appetizers. What a novel and delicious idea.
Here's what many serve them with these yummy potato cakes:
a side of apple sauce, fruit compote, cranberry sauce, a sprinkle of sugar, a drizzle of maple syrup ...
savory toppings and sides, such as a yogurt-herb sauce, plain sour cream, hummus, homemade quark with herbs, sauerkraut, caramelized onions ...
along side other potato dishes, such as potato soup or potato salad ...
as the starch side dish for roasted chicken, pork chops, salmon, bratwurst sausage, herring salad ...
Some of these may seem a strange combination to you. I know they do to me. But these are the results of my investigation. Interesting indeed. 
Celebrate Oktoberfest right at home with these German recipes found right here in Oma's Oktoberfest e-Cookbook.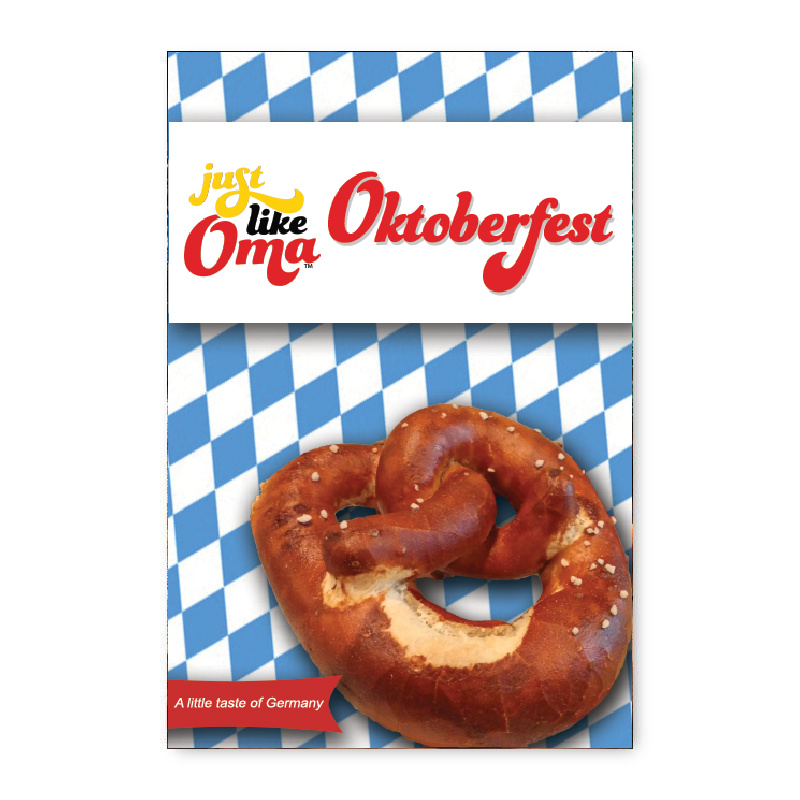 Take a peek at all Oma's eCookbooks. They make sharing your German heritage a delicious adventure!
What's the difference between Potato Pancakes and Potato Latkes?

Very little ... and yet a lot.
During Hanukkah, the Jews use a potato latke recipe that's very similar to the German potato pancake recipe. Theirs, however, are fried in oil because the oil is in keeping with the story of the flame that miraculously stayed lit. Chicken schmalz (fat) is also used to fry these.
For the German pancakes, I use a mixture of canola oil and butter. The oil has a higher burning point than butter, but adding butter to it will help with the flavor. An alternative is to use Butterschmalz or clarified butter. 
Latkes also use more coarsely grated potatoes than do the German ones. That also makes ours just a bit more rounded in shape. The Latkes have more strands of crispy potatoes 'sticking' out of theirs. Also, for the starch binder, instead of using flour or potato starch, the latkes usually have matzo meal or breadcrumbs in them.

Both the potato pancakes and the latkes satisfy the craving for wonderfully fried potato cakes. Both so good. In fact, many eastern European countries also enjoy their own versions of potato pancake recipes. For example, when I think of Switzerland, their wonderful rösti come to mine. 
Actually anything potato is fantastic in my books. At the top of the list? It's got to be this German pancake recipe to make  the traditional grated potato pancakes.
What are the best potatoes to use for Potato Pancakes?

The best potatoes to use for both potato pancakes and latkes are starchy types, such as the Russet. Since these aren't always available, Yukon Golds can be used. These are considered all-purpose potatoes and work well for most recipes. 
Ready to make Oma's traditional potato pancake recipe?
Is the recipe below locked? Here's why. 
As an Amazon Associate, I earn from qualifying purchases.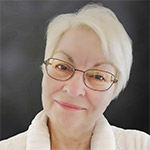 For more German-inspired items that make life easier and yummier, especially in the kitchen and for entertaining, follow my Amazon Storefront.
➙ For groceries,
Try Amazon Fresh
.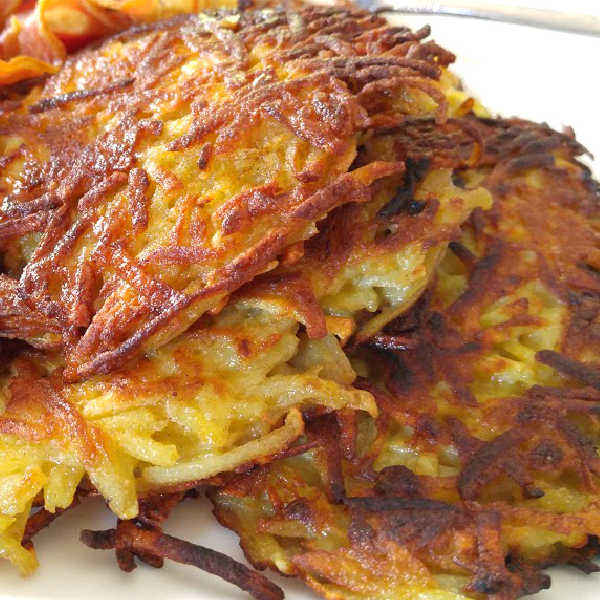 Easy German Potato Pancakes Recipe – Oma's Kartoffelpuffer

In Germany, these classic German potato pancakes, aka Kartoffelpuffer, are readily available at Christmas markets and festivals. Now, make them at home because these fresh, made-at-home potato pancakes are a food lover's treat! Crispy on the outside, creamy on the inside. So good!
Prep Time


20 minutes


Cook Time


about 30 minutes


Total Time

about 50 minutes

Servings:

Makes about 12 'hand-sized' pancakes or 20 small ones
Ingredients:
5 - 6 potatoes, peeled (see hints below)
3 large eggs
½ cup onions, grated
1 teaspoon salt
4 tablespoons all-purpose flour or potato starch 
butter and vegetable oil for frying (see hints below)
Instructions:
Preheat oven to 300°F. Put cookie sheet into oven.
Grate potatoes, either with a box grater or using the grating blade with your food processor. Drain grated potatoes (in batches) by putting them into a clean dish towel and squeeze to remove as much moisture as possible. 
Put drained grated potatoes into a large bowl. Add eggs, grated onion, salt, and flour. Mix well.
Using a large spoon, drop tablespoonfuls of the potato mixture into hot oil or butter in a large skillet. Use the back of the spoon to flatten them out. Fry over medium-high heat until golden brown (about 3 to 4 minutes), flip over, and continue frying until cooked through and crispy brown (about 3 to 4 minutes). If they are frying too fast, lower to medium heat.
Remove to a plate lined with paper towels to remove excess oil and then transfer to the oven to keep them warm. Continue frying till all batter is used, adding more butter or oil as needed.
Serve with applesauce, sprinkled with sugar, or serve plain with sour cream on the side.
Notes/Hints:

I use Yukon gold potatoes, but any starchy potatoes will work. Grate the potatoes as fine or as coarse as you wish. 
Change the quantities as needed. Depending on how little or how much liquid is in your squeezed potatoes, you may need to add an extra egg yolk or you may need to add more flour. 
Use a mixture of butter and oil for frying. Canola oil is great and it keeps the butter from burning.
Adding the onion is optional. You could add green onions instead.
Add some freshly ground black pepper to the mixture.
Authentic german potato pancakes call for peeling the potatoes. Keeping the skin on when you have nice, new potatoes, though, is healthier (and quicker)
*  *  *  *  *

Unless otherwise noted recipe, images and content © Just like Oma | www.quick-german-recipes.com

09.23.2021 revision update
Leave a comment about this recipe or ask a question?

Pop right over to my private Facebook group, the Kaffeeklatschers. You'll find thousands of German foodies, all eager to help and to talk about all things German, especially these yummy foods. 
Meet with us around Oma's table, pull up a chair, grab a coffee and a piece of Apfelstrudel, and enjoy the visit.

This easy German Apple Strudel recipe is one of those German desserts that brings the traditional strudel taste to your table without all the work. Wunderbar!!

Make the perfect German Spaetzle with Oma's easy recipe! This traditional German egg noodle pairs perfectly with caramelized onions for a delicious meal.

Choose from Oma's cookbooks that are immediately downloadable & start cooking easy classic German foods tonight. Or get her newest paperback cookbook. LECKER!
*  *  *  *  *
PIN to SAVE this recipe to your Pinterest board!
And let's be friends on Pinterest!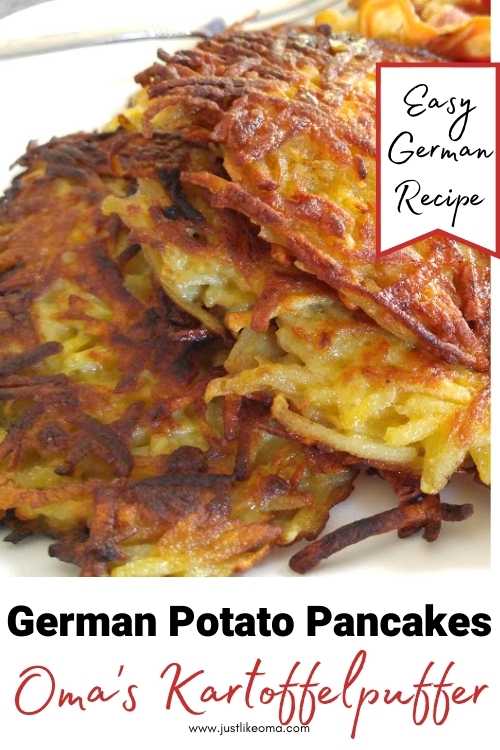 ---
Easy German Potato Pancakes Recipe ~ Oma's Kartoffelpuffer


By
Oma Gerhild Fulson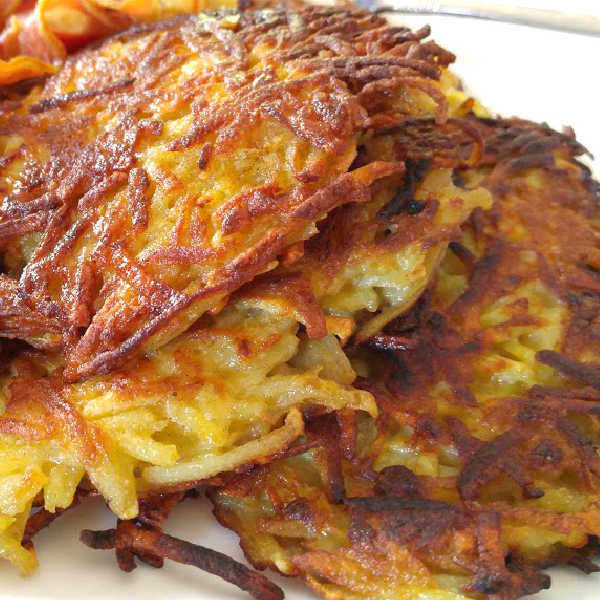 Traditional Kartoffelpuffer made with this easy potato pancake recipe will bring back memories of Oma's kitchen, for sure! Crispy and delicious, just they way they should be.

Ingredients:
potatoes,
eggs,
flour,
onion,
salt,
oil and butter,
For the full recipe, scroll up ...
Words to the Wise
"Those who follow the right path fear the Lord; those who take the wrong path despise him."
Proverbs 14:2 (NLT)