Oma's Traditional Potato Pancake Recipe ❤️
➤ by Oma Gerhild Fulson
FTC Disclosure: Making a purchase via a link on the page? I may earn a small commission on the transaction - at no added cost to you. Thanks!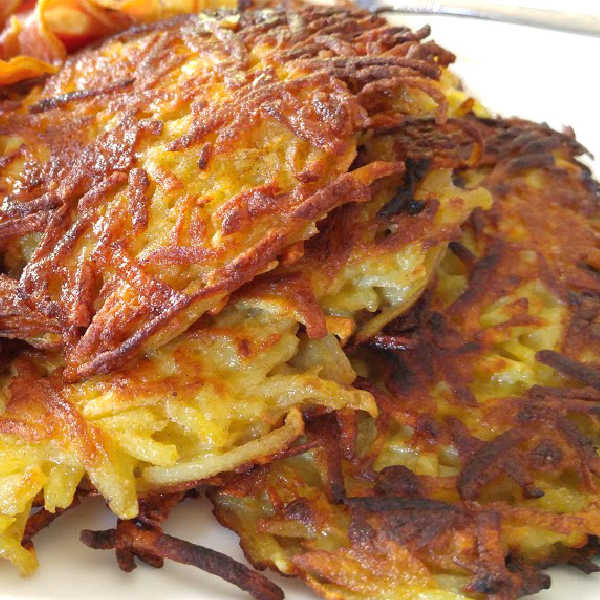 I rebelled against making this German Potato Pancake Recipe, aka Kartoffelpuffer, after I had scraped my knuckles grating potatoes. Everyone loved the pancakes, but I had to find easier (and safer) potato pancake recipes. Out came the blender ... and you'll find that recipe linked below. HOWEVER, I've just recently purchased a food processor with a grating blade, so now, we're enjoying the traditional German potato pancakes, once again.

In the photo above, hubby has loaded his plate of potato pancakes with bacon and plum jam.
Me? I like to sprinkle sugar over mine or have some home-made apple sauce on the side. So lecker! 
---
In Germany, these pancakes are readily available at outdoor markets and festivals. One of the reasons is that it's easier and doesn't smell up the kitchen with the "frying smells". Never-the-less, fresh, made-at-home potato pancakes are a treat!
I like to use the side burner of my BBQ in the summer to make these in order to keep the frying smells outside.
Oma says,
Did you know that during Hanukkah, the Jews have a potato latke recipe that is very similar to the German potato pancake recipe.

Theirs, however, are fried in oil because the oil is in keeping with the story of the flame that miraculously stayed lit.

Oma's German BLENDER Potato Pancakes ...
Want an easier way to make potato pancakes? Use a blender. Delicious as well. Here they are served with applesauce on the side.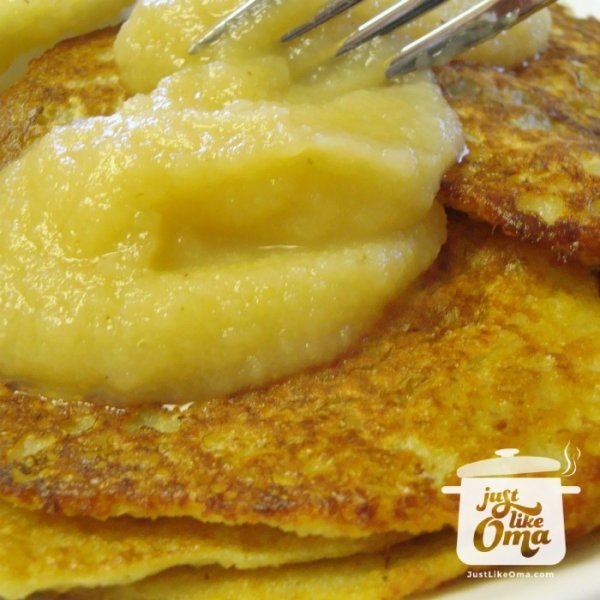 If you don't have an electric grater like I do, and don't want to use a hand grater, then use your blender. You won't have the 'shreds' of potatoes, but the flavor will still be there. Check out my recipe here.
But, if you're wanting to make the traditional grated potato pancakes, then here you go ...
Oma's German Potato Pancake Recipe 

❤️

Ingredients:
5 - 6 potatoes, peeled (see hints below)

3 egg
1 small onion, grated

1 tsp salt

4 tbsp flour

butter or oil for frying
Instructions:
Preheat oven to 300 °F. Put cookie sheet into oven.
Grate potatoes. Put grated potatoes (in batches) into a dish towel and squeeze to remove as much moisture as possible. 
Put 'dried' grated potatoes into a large bowl. Add eggs, grated onions, salt, and flour. Mix well.
Using a large spoon, drop batter into hot oil/butter in a large frying pan. Fry until brown (about 3-4 minutes), flip over, and continue frying until cooked through and crispy brown (about 3-4 minutes).

Remove and keep warm in oven. Continue frying till all batter is used, adding more butter or oil as needed.

Serve with applesauce, sprinkle with sugar, jam, or serve plain.
Makes about 12 'hand-sized' pancakes or 20 small ones.
Hints:
Please use butter, if possible. Oil will work, but you can't beat the butter flavor! Or use a mixture of butter and oil.
Change the quantities as needed. Depending on the moisture content of your potatoes, you may need to add an extra egg. OR, you may need to add more flour. 
Grate your potatoes as fine or as coarse as you wish. 
Adding the onion is optional.
The traditional German recipe calls for peeling the potatoes. Keeping the skin on when you have nice, new potatoes, though, is healthier (and quicker)

Leave a comment about this recipe or ask a question?
Pop right over to my private Facebook group, the Kaffeeklatschers. You'll find thousands of German foodies, all eager to help and to talk about all things German, especially these yummy foods. 
I pop in all the time as well, to chat and to answer questions. 
Meet with us around Oma's table, pull up a chair, grab a coffee and a piece of Apfelstrudel, and enjoy the visit.
*  *  *  *  *
Thinking of starting your own Handmade Business?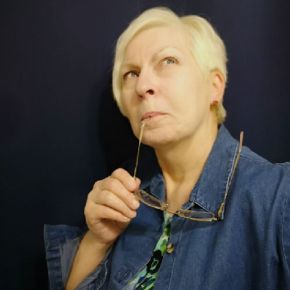 This Oma KNOWS you CAN do it.
How do I know?
Well, if I can do it, anyone can.
I've even figured out how I can help you.
I've teamed up with my own business coach, Renae Christine (yes, do google her!), to bring you this free masterclass. After you watch it, ask me any questions and I'll gladly answer them.
Don't hesitate. I'm not sure how long Renae will keep this free masterclass available.
PS:  Yes, Renae really is as amazing as all the reviews say.
PPS: Yes, the course is for handmade items, but I've used it successfully for my cookbooks. I know others are using her methods for services, direct sales, and even a local ice cream bar & grill that's constantly selling out. You've nothing to lose by taking a look ... and a whole bunch to gain.
*  *  *  *  *
Oma's Cookbooks (downloadable & print)
*  *  *  *  *
Want nutritional information for a recipe?
Copy and paste the ingredient list and the number of servings into Calorie Count. 
It will give you an approximate calculation.

Need help doing conversions
between cups and grams or any such thing?
Use this site to give you all the different conversions for the different types of ingredients. 
---
PIN this ... for easy access to this fun recipe while you pull out your large frying pan and grate your potatoes
---
Try this slow cooker roast beef and you'll be amazed at how much this tastes like rouladen WITHOUT the work.

Learn how to cook pork hocks, anytime you want something traditionally German and wonderfully delicious! A hearty meal for any time of the year!
---
Words to the Wise
"Those who follow the right path fear the Lord; those who take the wrong path despise him."
Proverbs 14:2 (NLT)
---
❤️ Traditional German Potato Pancake Recipe made Just like Oma


By
Oma Gerhild Fulson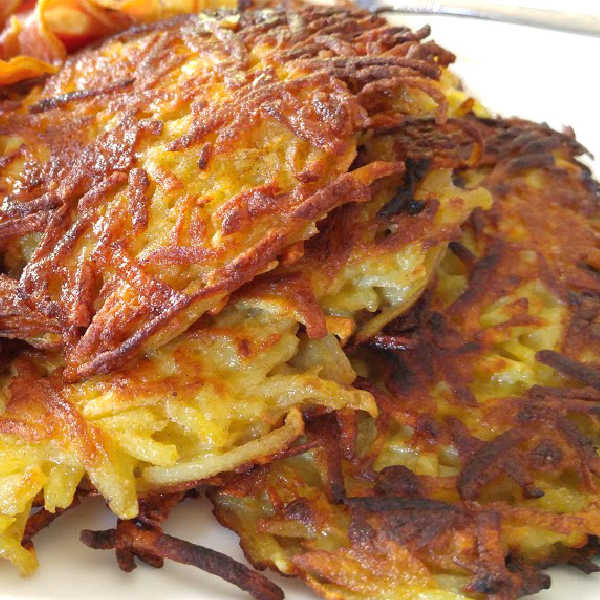 Making this traditional potato pancake recipe will bring back memories of Germany, for sure! Crispy and delicious. Try them sprinkled with sugar or with applesauce.

Ingredients:
potatoes,
eggs,
flour,
onion,
For the full recipe, scroll up ...