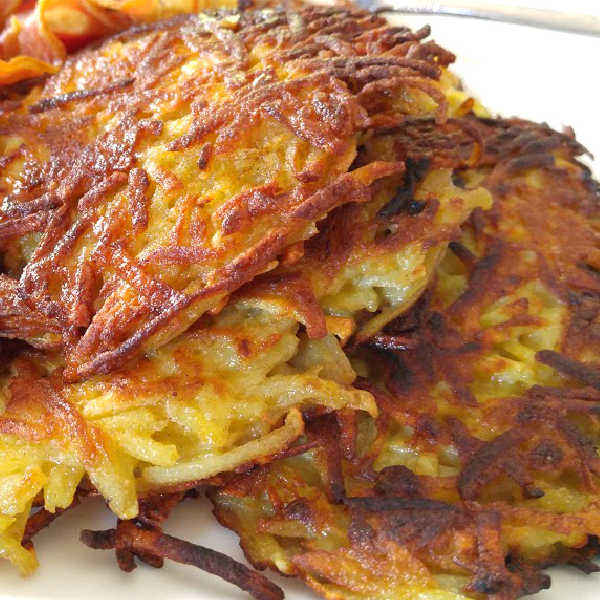 Easy German Potato Pancakes Recipe ~ Oma's Kartoffelpuffer

In Germany, these classic German potato pancakes, aka Kartoffelpuffer, are readily available at Christmas markets and festivals. Now, make them at home because these fresh, made-at-home potato pancakes are a food lover's treat! Crispy on the outside, creamy on the inside. So good!
Prep Time


20 minutes


Cook Time


about 30 minutes


Total Time

about 50 minutes

Servings:

Makes about 12 'hand-sized' pancakes or 20 small ones
Ingredients:
5 - 6 potatoes, peeled (see hints below)
3 large eggs
½ cup onions, grated
1 teaspoon salt
4 tablespoons all-purpose flour or potato starch 
butter and vegetable oil for frying (see hints below)
Instructions:
Preheat oven to 300°F. Put cookie sheet into oven.
Grate potatoes, either with a box grater or using the grating blade with your food processor. Drain grated potatoes (in batches) by putting them into a clean dish towel and squeeze to remove as much moisture as possible. 
Put drained grated potatoes into a large bowl. Add eggs, grated onion, salt, and flour. Mix well.
Using a large spoon, drop tablespoonfuls of the potato mixture into hot oil or butter in a large skillet. Use the back of the spoon to flatten them out. Fry over medium-high heat until golden brown (about 3 to 4 minutes), flip over, and continue frying until cooked through and crispy brown (about 3 to 4 minutes). If they are frying too fast, lower to medium heat.
Remove to a plate lined with paper towels to remove excess oil and then transfer to the oven to keep them warm. Continue frying till all batter is used, adding more butter or oil as needed.
Serve with applesauce, sprinkled with sugar, or serve plain with sour cream on the side.
Notes/Hints:

I use Yukon gold potatoes, but any starchy potatoes will work. Grate the potatoes as fine or as coarse as you wish. 
Change the quantities as needed. Depending on how little or how much liquid is in your squeezed potatoes, you may need to add an extra egg yolk or you may need to add more flour. 
Use a mixture of butter and oil for frying. Canola oil is great and it keeps the butter from burning.
Adding the onion is optional. You could add green onions instead.
Add some freshly ground black pepper to the mixture.
Authentic german potato pancakes call for peeling the potatoes. Keeping the skin on when you have nice, new potatoes, though, is healthier (and quicker)
*  *  *  *  *

Unless otherwise noted recipe, images and content © Just like Oma | www.quick-german-recipes.com

09.23.2021 revision update