Oma's Oven Fried Chicken ~ Brathendl❤️
➤ by Oma Gerhild Fulson
FTC Disclosure: As an Amazon Associate I earn from qualifying purchases.
Oven Fried Chicken, aka Gebratenes Hühnchen or Brathendl, was (and is) a real treat for our family. The easy way was when my hubby brought home fast-food fried chicken pieces. Now, I know what you're probably thinking - this doesn't sound like a German-style chicken dinner. But remove that breading and include paprika in the rub ... German!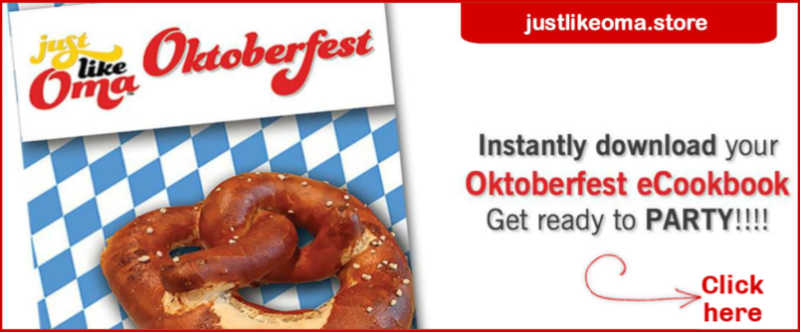 But when I served it with potatoes and red cabbage, m-m-m-m-m, it sure tasted like traditional German cooking! Really! One of our kids' favorites. And, leftovers are great.

Fast Food Chicken?
The were two problems with getting fast-food chicken. First, it was expensive. Second, since we live way in the country, it was almost cold by the time he got it home. In other words, what I really wanted was quick and easy dinner recipes.
I experimented and came up with this easy version. Made in the oven, it was quick and didn't splatter! The above posted recipe is my solution. I wanted a recipe for roasted chicken that was easy and economical.
Easy, I just take my favorite seasoning salt, sprinkle it on the chicken pieces and bake.
Economical, I use whatever is on sale - chicken drumsticks, chicken thighs, quarter chicken pieces or I cut up a whole chicken.
Easy Clean-Up ...
Quick clean up was also important. As much as I like quick and easy dinner recipes, if they take forever to clean up afterwards, I don't' use them often.
In the beginning, I put the chicken pieces on a cookie rack on a cookie sheet (with an edge). Good, but messy to clean. Not a winner.
So, I tried lining a cookie sheet with foil. That worked better.
However, I found that my stoneware cookie sheet with an edge works best of all. I just put the chicken pieces directly on the stoneware - no rack. What's great about stoneware, there's very little splattering. 
Both ways will give finger-lickin' good chicken.
Oma says,
Please don't use an old stewing hen! Tough! For these types of quick chicken recipes you'll need a nice young bird!
Bake as many pieces as you need - leftovers are always nice!
Oma's Oven Fried Chicken ~ Brathendl❤️
Ingredients:
1 (approx. 3 lb.) chicken, cut into pieces

Seasoning Salt (or salt and pepper)

paprika
Instructions:
Preheat oven to 400°F.

Trim any fat from chicken with scissors.
Arrange chicken pieces, skin side down, in a single layer on stoneware cookie sheet, or on cookie rack on foil-lined cookie sheet.

Sprinkle seasoning salt and paprika all over. Turn pieces over, skin side up, and sprinkle seasoning salt and paprika all over. Do not cover chicken.

Put on center rack in oven and bake for one (1) hour.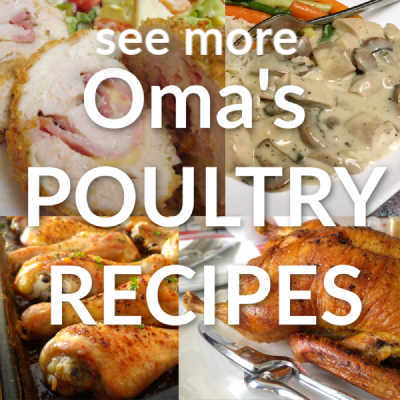 Leave a comment about this recipe or ask a question?
Pop right over to my private Facebook group, the Kaffeeklatschers. You'll find thousands of German foodies, all eager to help and to talk about all things German, especially these yummy foods. 
I pop in all the time as well, to chat and to answer questions. 
Meet with us around Oma's table, pull up a chair, grab a coffee and a piece of Apfelstrudel, and enjoy the visit.
*  *  *  *  *
Want nutritional information for a recipe?
Copy and paste the ingredient list and the number of servings into Calorie Count. 
It will give you an approximate calculation.

Need help doing conversions
between cups and grams or any such thing?
Use this site to give you all the different conversions for the different types of ingredients. 
---
PIN this ...
---
Schwenkbraten recipe that has been a delish hit an alle familien & freunde... Total Approx. Time: Prep: 15 min. + Marinating 8 hrs min. + Grill: 15 min.

My Oma made this cake every Christmas. She iced it with a white frosting that ran down the sides. She decorated it with little silver balls (candy). It
---
Words to the Wise
"If you help the poor, you are lending to the Lord -- and he will repay you!"
Proverbs 19:17 (NLT)
---
Oma's Oven Fried Chicken ~ Brathendl❤️


By
Oma Gerhild Fulson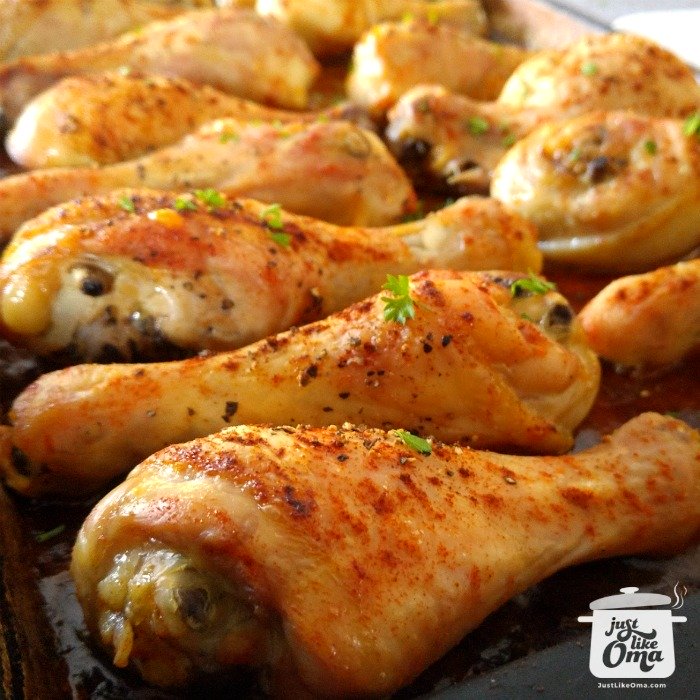 Finger-lickin' good Oven Fried Chicken pieces, easy and economical, perfect for family night dinners and company too! Why not make some tonight? Make enough for leftovers for tomorrow!.

Yield:
4 - 6 servings

Ingredients:
3 lb chicken,
seasoning salt,
paprika,
For the full recipe, scroll up ...